Ads allow content creators to provide free useful and compelling content to the public. We may earn money or products from the companies mentioned in this post. See the Affiliates and Disclosures page in the top menu of this website for detailed information.
Christmas tree crochet set free pattern
Learn to make this free crochet Christmas tree pattern. This trio of Christmas trees coordinates with the Gingerbread coastal cottage crochet Christmas stocking free pattern. This is a nautical beachy take on a Christmas crochet theme.
My living room has a spa vibe and I wanted a Christmas variation that compliments it. A seashell craft tree, fisherman's netting and bigger shells all accent the hearth. I have cats so a Christmas tree is out of the question. My mantle always gets decked out instead.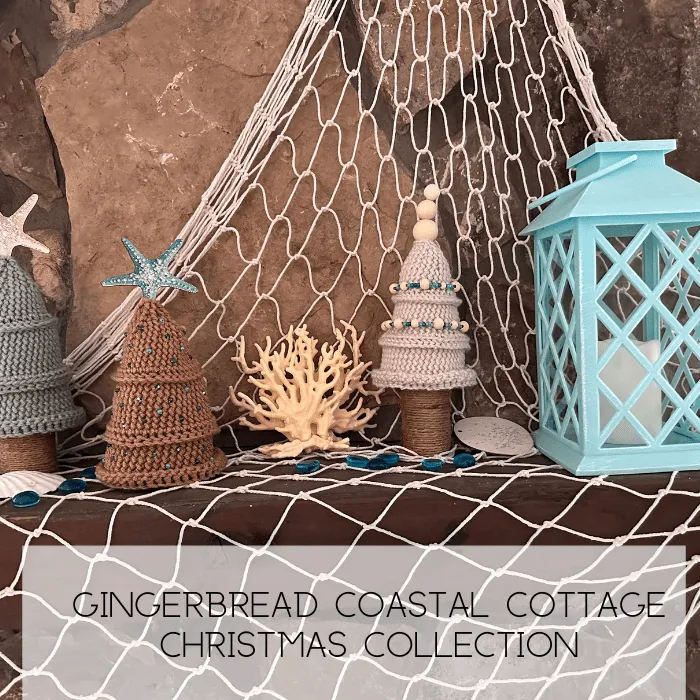 Table of Contents
Skill Level for this project:
You should be an experienced beginner comfortable with tension, decreasing and some special stitch techniques-and unconventional ones that I will use. This is all single crochet but they are worked uniquely so that this stitch will work for this type of project.
The finished height of the tree is 6″.
You may find these posts helpful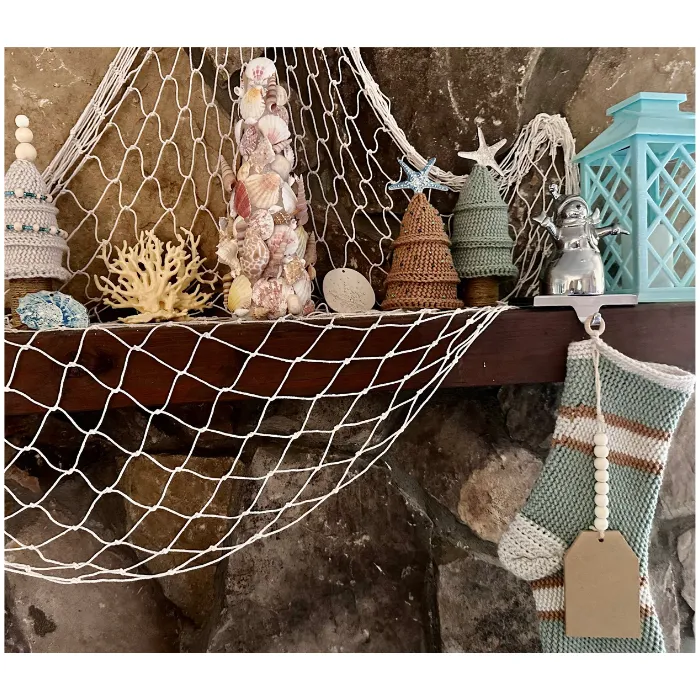 See how to make a DIY seashell tree in this post.
Materials to make a crochet Christmas tree trio pattern set
For this project you will use category 4 yarn, a 6 mm and 5 mm crochet hook, tapestry needle, scissors and any ornament elements (optional). Additionally, twine for wrapping the base, toilet paper and paper towel cores, hot glue gun or other method to attach the base twine. The trees can stand on their own with stuffing and no base if desired.
If you're making the coastal style setup shown in images I will have that linked in another post here.
See all my free crochet Christmas patterns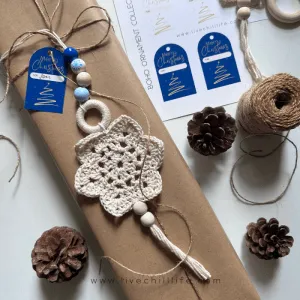 Christmas tree crochet pattern
Notes: If you need to join in a new skein for some reason, bring it in from the inside. Do not use methods such as magic knots.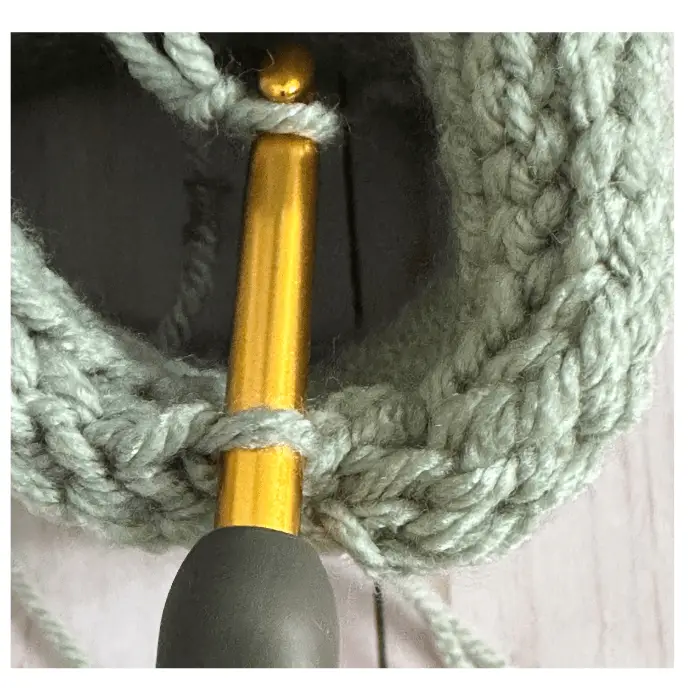 Terms: sc- single crochet, fpsc – front post single crochet, blosc- back loop only single crochet , sk- skip stitch, dec- decrease
Supplies:
5 mm and 6 mm crochet hooks
Category 4 yarn (shown Hobby Lobby I love this yarn in spa, linen and toasted almond) Allow 80 yards of yarn per tree
Polyfil (or these free and natural polyfil alternatives) for top (or for entire tree if standing flat)
Tapestry needle
Thread and needle for beads and a topper if using
Ornamental beads if desired
Paper towel and toilet paper empty rolls if not sitting tree flat against a surface
Twine for covering base of paper rolls
Hot glue or other adhesive to secure twine to rolls
Tree is worked from the bottom up in a single piece.
Create a slipknot with a 6-8″ tail. With 6 mm hook Ch 46. In second ch from hook, sc across row.
Round 2. Join round with a slip stitch then chain 1. You will work in a spiral until the end of round 10. To begin fpsc, insert hook into first st like you're going to work a single crochet, bring hook behind the post and through the other side of it, pull up high then yarn over and finish the stitch.
This stitch will constrict as work so you will need to keep loose with the stitching. It will also naturally curl up at the bottom and that works in favor of the tiered Christmas tree look.
Continue to work this stitch all the way around. Do not slip to join rounds. The small gap at the bottom from joining the round will be closed up at the end when you weave in that long tail. In the meantime let the tail alert you are at the end of the rounds.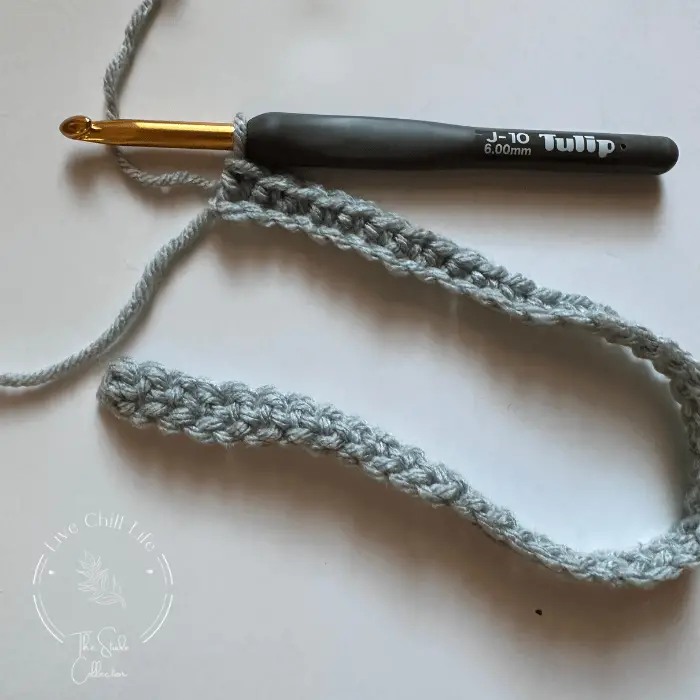 Rounds 2-10. Fpsc around. At the end of round 10 slip to join. ch 1 and move on to round 11.
Round 11: Decrease round. To decrease this stitch you will skip the stitch. This helps to maintain the straight lines. FPSC skipping every 9th stitch. By the end of this round you will have 40 sts. Cut yarn leaving 6″ tail.
Check out my project trackers!
Check off style tracking with room for a note on each row.
Large print and regular print available. Large print is great for tired eyes.
Sections for small, medium and large projects so you don't waste any pages.
See the Shop my Books section.
Work center crochet tree tier
Create a slipknot and insert it from the inside. Follow video instructions at the end of post on how to work the inside blosc stitch to set this round. (see more on the blo stitch) Double check stitch count at end of round that you have not gone over 40 blo setup row sts.
Rounds 2-10. fpsc around rows. At the end of round 10 slip to join. ch 1
Round 11: Decrease round. To decrease this stitch you will skip the stitch as you did in first tier. FPSC skipping every 8th stitch. By the end of this round you will have 35 sts. Cut yarn leaving 6″ + tail.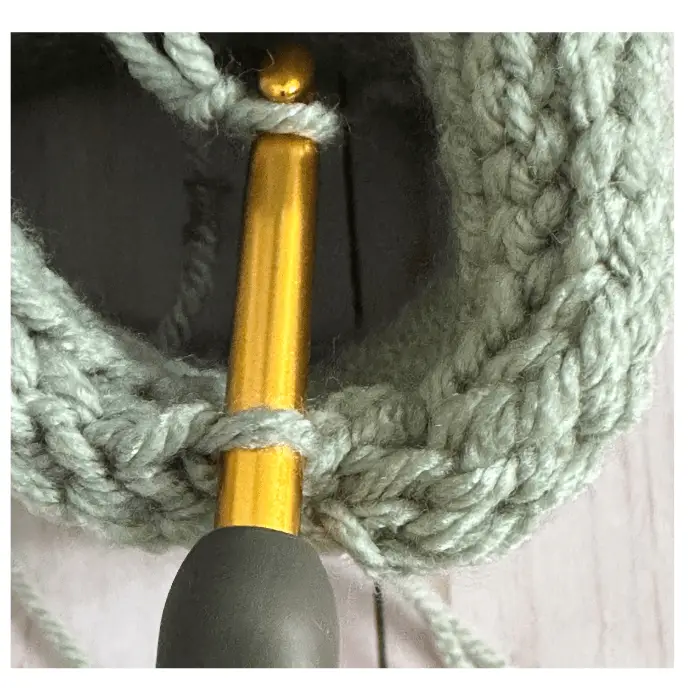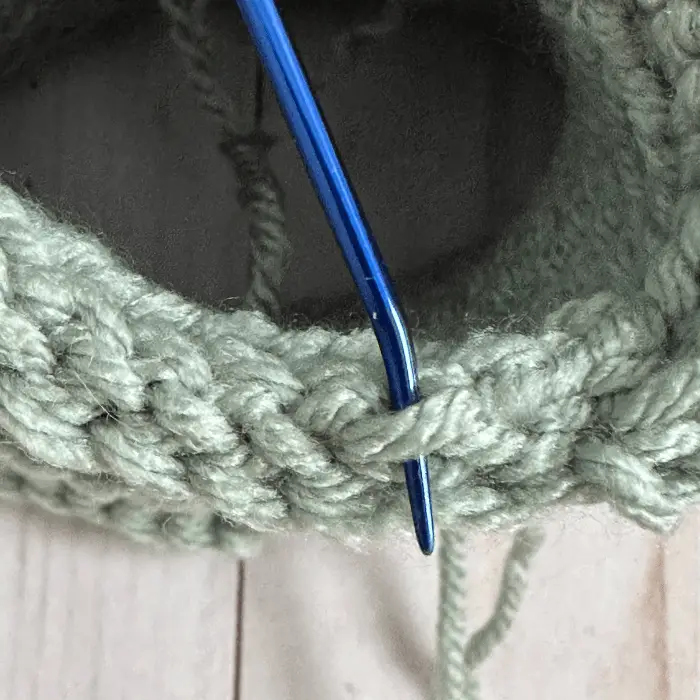 To
Finishing your Christmas trees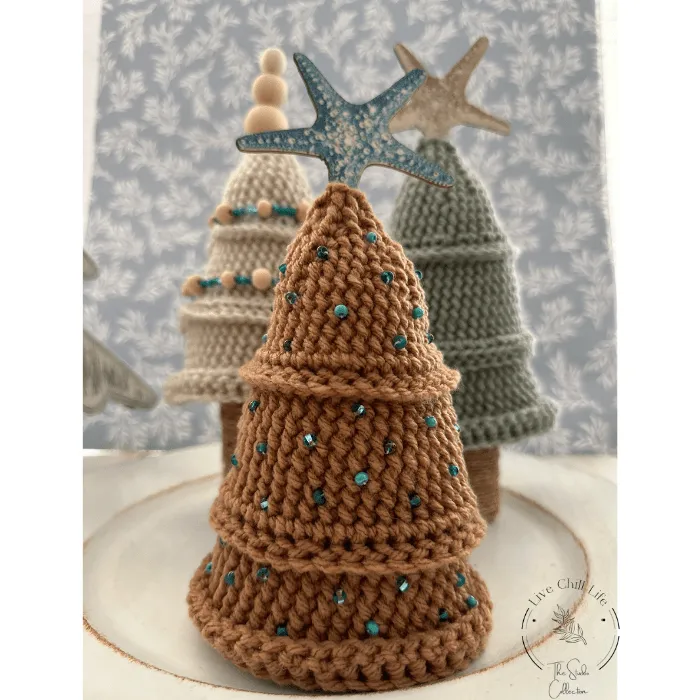 I put a little polyfil (or polyfil alternatives) into the top of my trees after pulling the top tail through and before adding a star topper.
If you want to stitch in some beads use thread and needle to work them into the body of the tree using even spacing. You can also thread beads with a mix of wood beads to create a garland effect.
If you want to stand any of the trees flat, fill them entirely with polyfil or use twine wrapped around toiler paper or paper towel holders cut in different heights.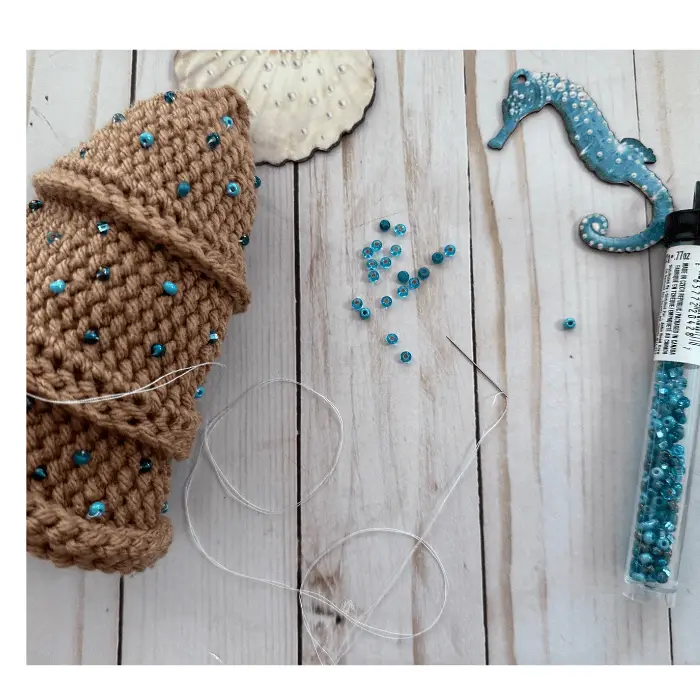 Video tutorial crochet Christmas tree pattern