Ads allow content creators to provide free useful and compelling content to the public. We may earn money or products from the companies mentioned in this post. See the Affiliates and Disclosures page for more information.
How to determine your crochet skill level
When you look at a potential new project crochet pattern and see the skill level do you wonder if your skills are adequate to make it? In this post I will explain what each crochet skill level is and examples of what fit each category.
Also, you will learn some ways to increase your skill level and move up to make more varied projects.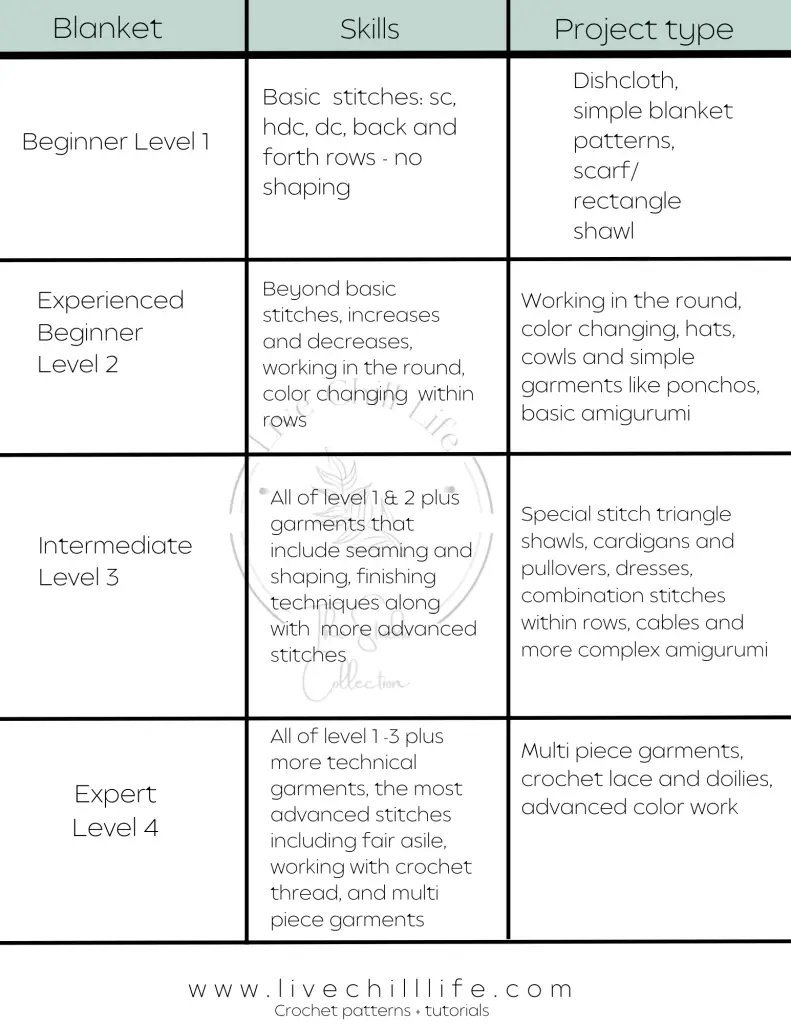 What is crochet beginner level 1?
This skill level is the very beginner where you are learning and using the most basic stitches of crochet on which other stitches build. The most basic stitches can be used to make beautiful projects despite seemingly simple.
You may never move past this stage and still have a long satisfying crochet hobby the rest of your life!
Beginner stitches are the single crochet (sc), half double crochet (hdc) and double crochet (dc). You may do some chain skip to create a more open texture without needing knowledge of different stitches or shaping techniques needed for projects like garments.
Blankets, scarves, dishcloths and towels, rugs are all easily made with these basic stitches.
What is experienced beginner crochet level 2?
A level two beginner has worked techniques like increase and decrease, which is a technique used to shape projects like hats and simple garments. You also have worked in the round, used more than one color and understand best practices for changing color in a project.
Stitches that are more complex like front and back post crochet, puff stitches, etc. See these beginner friendly textured stitches as more examples.
What is intermediate crochet skill level 3?
As you master levels one and two you can push to enter into level three. This is where you're able to do more complex shaping and finishing. More advanced amigurumi and combinations of special stitches within rows.
This level is very comfortable with colorwork and working with different categories of yarn.
What is an expert crochet level 4?
A level four crochet expert can work the most complex pattern structures that combine intricate work, advanced stitches and shaping techniques.
Garments that have multiple segments with finishing techniques, very advanced stitch combinations and intricate designs.
How to grow your crochet skills?
The best and likely only way you will grow your skills is by doing. Find a project you like that is classified as one skill higher and see if the project comes with a video tutorial.
Learn the stitch or technique by doing it. As you work the project your new technique will be repeated many times and you will grow comfortable with it as you work through it. It can be a small project or one that you know you will use like a blanket or cardigan and this will encourage you to work it through to the end.
Chose something just a bit more challenging so you don't overwhelm yourself but rather challenge yourself.