Ads allow content creators to provide free useful and compelling content to the public. We may earn money or products from the companies mentioned in this post. See the Affiliates and Disclosures page for more information.
If you're a beginner when it comes to crochet, don't worry – these five tips will have you stitching like a pro in no time!
Choosing the right yarn for a project
When it's early days in your crochet hobby, chose yarns that are easy to work with. Why are some yarns easier than others?
Some yarns can be prone to splitting and this is frustrating for a newbie. Fuzzy/textured yarns are pretty but it's difficult to see the stitches so you will struggle finding where to insert the hook.
Color matters as well. Black is notoriously difficult to work with. You won't find a lot of black crochet projects, never mind black and very dark colors don't show the stitch work well.
Chose a color yarn that isn't white or black but on a colorscale between 3 and 7.
Also chose a yarn weight or category that isn't too thin or too thick as they are just a bit more difficult to manage for a novice. Category 4 yarn, which is aran weight (medium weight) is ideal and likely one you will use frequently as your skills grow. Read below: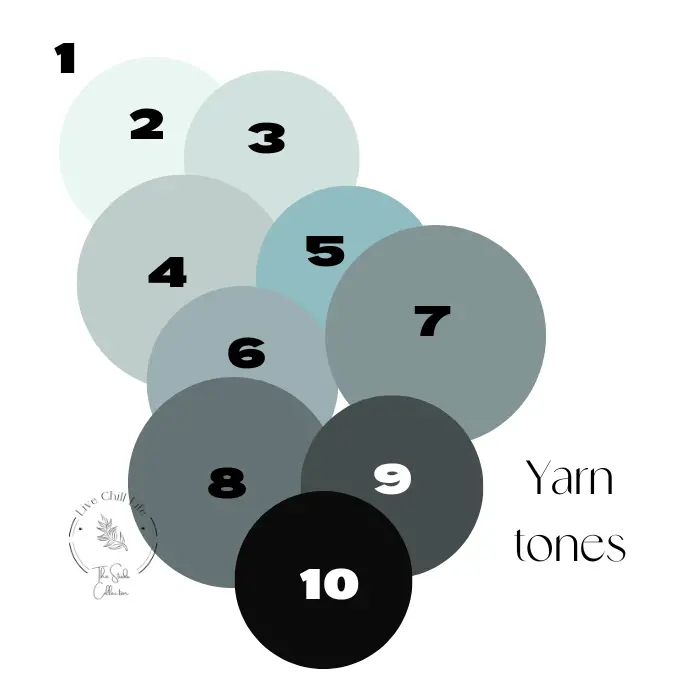 Avoid yarns that have flecks , marble look or two tone stripes as they also can make seeing stitches more difficult than solid colors.
Chose basic cotton or acrylic yarn until you get comfortable with stitches and can advance to some of the fancier yarns.
Chose the right crochet hooks – mastering crochet
In this post I wrote about five essential tools every beginner crochet needs, choosing crochet hooks is included for good reason. Not all hooks are created equal. Because our hands are all different, how we hold the hook is different this affects the question of, " what is the best crochet hook?"
In early days you won't need many. As you get started and likely will be working with a basic category 4 yarn, get one or two hooks sized for that yarn- a 5.0 and 5.5 mm hook. You should look for one that feels comfortable in your hand, moves smoothly through yarn and doesn't split the yarn.
Plastic hooks can be a bit slippery for newbies and you may lose control of your yarn and stitches. Try metal or wood. I love Etimo hooks, the metal glides through stitches and the handle is thoughtful and easy to maneuver.
A value set with many sizes and ergonomic handles are another good starting point. The kits have a little bit of everything a beginner will use but the metal isn't as smooth as higher end hooks. You can upgrade over time as you see which sized hooks you use most often.
Know basic crochet stitches
Learn the very basics like chaining, single crochet, half double crochet, double crochet and working in front and back loops. Fastening off and weaving in ends (many techniques to do this) are all components of completing projects.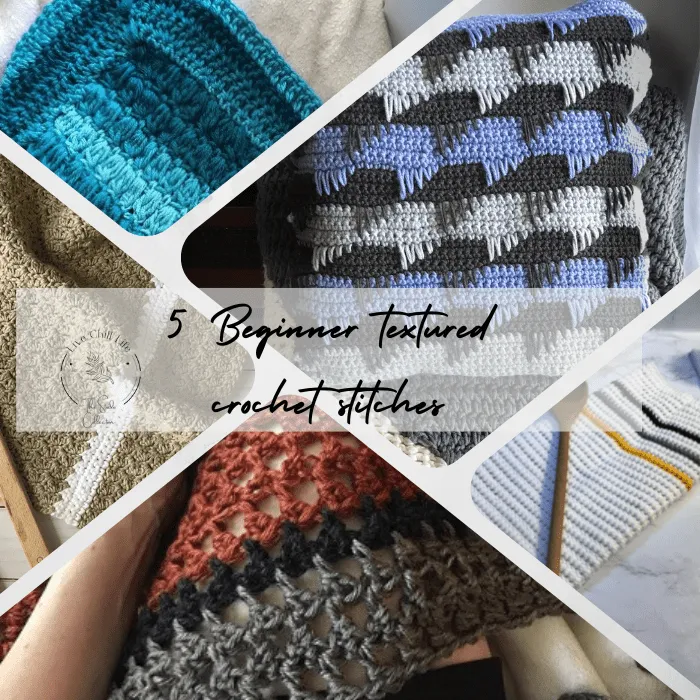 When I was getting started I always would pick next projects based on it being a new stitch or technique so I could push my skill each time. This is a craft that layers skill and technique to get to an advanced level so the more you do the more you know.
As you have those all in your arsenal you can move into these 5 beginner friendly textured stitches.
Beginner patience
It's okay to not get it perfect the first few tries. Edges may be lopsided while you learn counting, how to finish the last stitch of a row, the turning chain, and figuring out the tension of your yarn.
Every new crocheter has a little (or a lot) struggle with tension. Tension is how you hold the yarn in your non working hand to feed the hook. In a short time it will be a no brainer and you easily weave the yarn between your fingers but early on expect to not get this right. Your stitches will look uneven because of tension issues.
This is where practice comes in. I promise you will find your tension groove. If you watch crocheters on youtube you will see each of them holds their yarn tension style differently. There is no right and wrong way to do it.
Think of your two hands as spinning yarn into a fabric. Yes your hook hand is active but your yarn feeding hand is just as active.
Practice makes perfect
As with most everything, the more you do the better you get. I would discourage putting things down for too long before you have a good foothold on the basics of crochet.
I suggest making three different dishcloths, that use different stitches. They work up fast because of the small size and generally they are a one or two row repeat of the same stitches with each row having the same count. AND you can use them when you're done even if they have gone a bit wonky.
I still have and use my first two wonky dishcloths many years later.
I hope these tips encourage you to stick to it and master your new craft. It's a timeless hobby that brings hours of relaxation with a tangible result.