We may earn money or products from the companies mentioned in this post. See the Affiliates and Disclosures page for more information.
How to crochet a hook organizer
A large size crochet hook organizer free pattern. I designed this because premade organizers do not hold all of my hooks! By the time you buy a set like this, add in a few pretty or special ones here and there you can accumulate two dozen hooks in a flash!
This organizer is customizable not only for how many hooks you would like to store but also the ability to make some wider slots and some slimmer slots to snuggly hold all your prized hooks.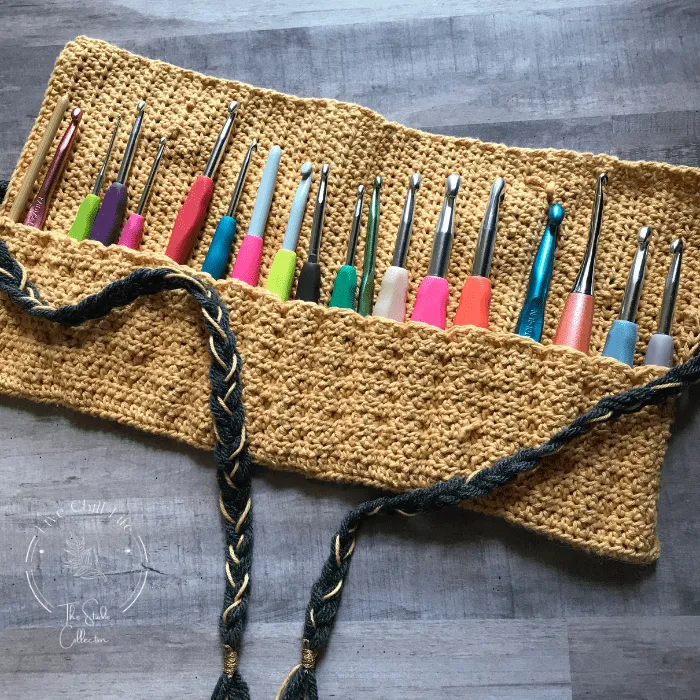 Crochet hook organizer pattern
Materials:
Category 3 yarn 220-300 yards based on size you make
Extra yarn in a contrasting color for exterior accent and braided tie
4 mm hook (F) (tulip 4mm crochet hook that I use)
Tapestry needle
Ruler or tape measure
scissors
optional gold embroidery floss for braid ties, regular yarn may also be used.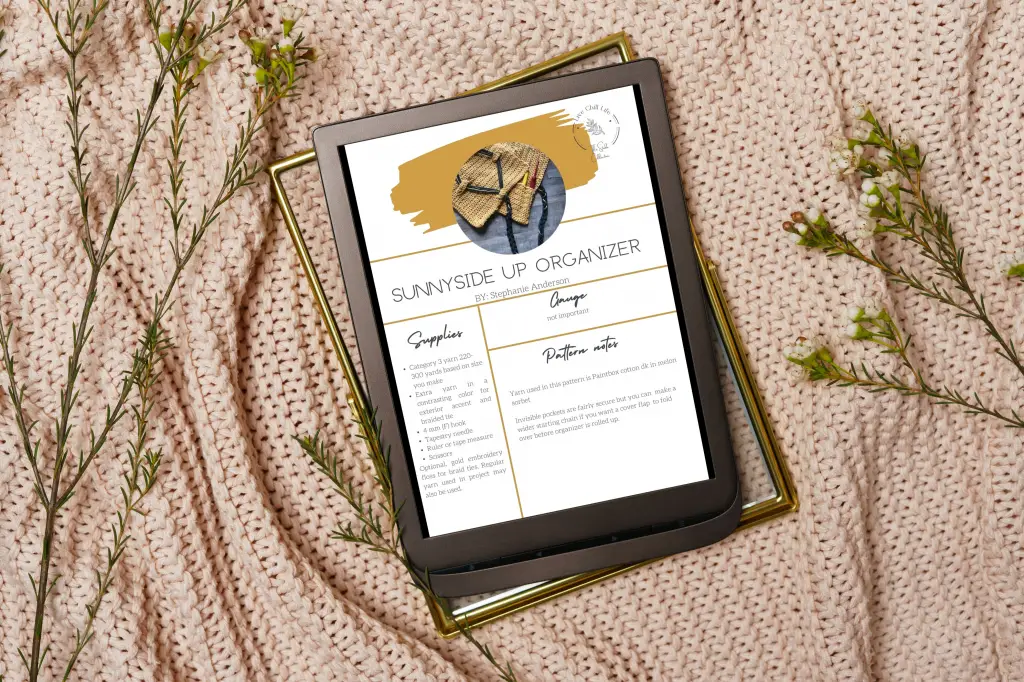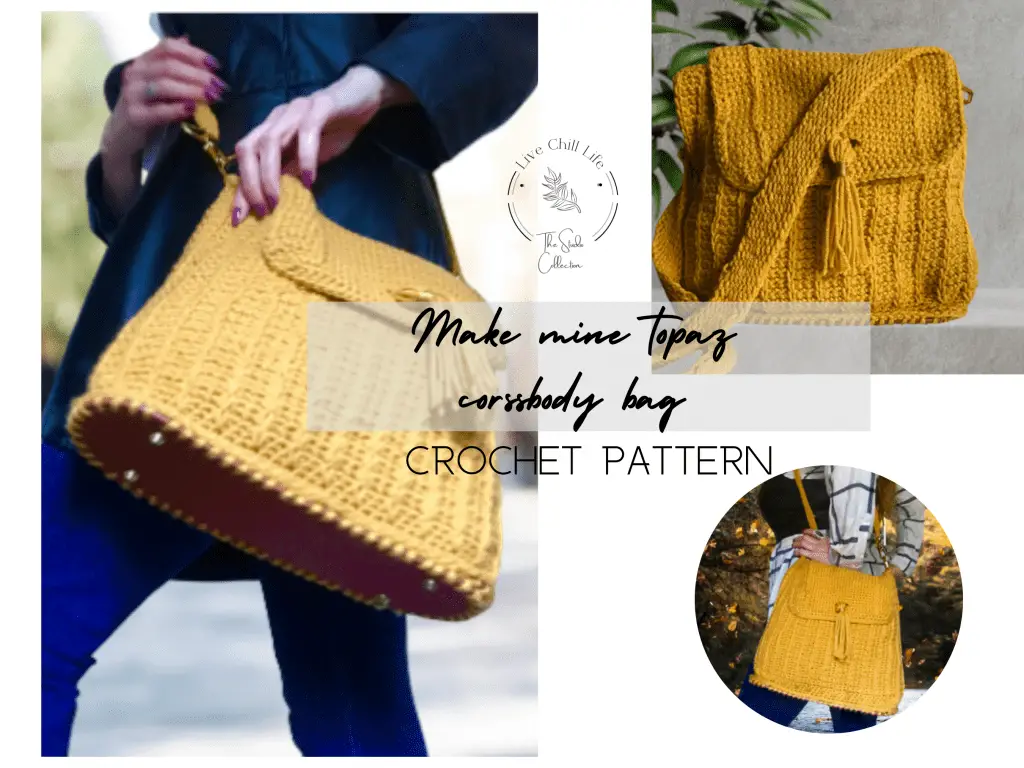 Yarn used in this pattern is Paintbox cotton dk in melon sorbet. Category 4 yarn in graphite used for outside accent and braid tie. Invisible pockets are fairly secure but you can make a wider starting chain if you want a cover flap to fold over before organizer is rolled up. See notes below on how to do this.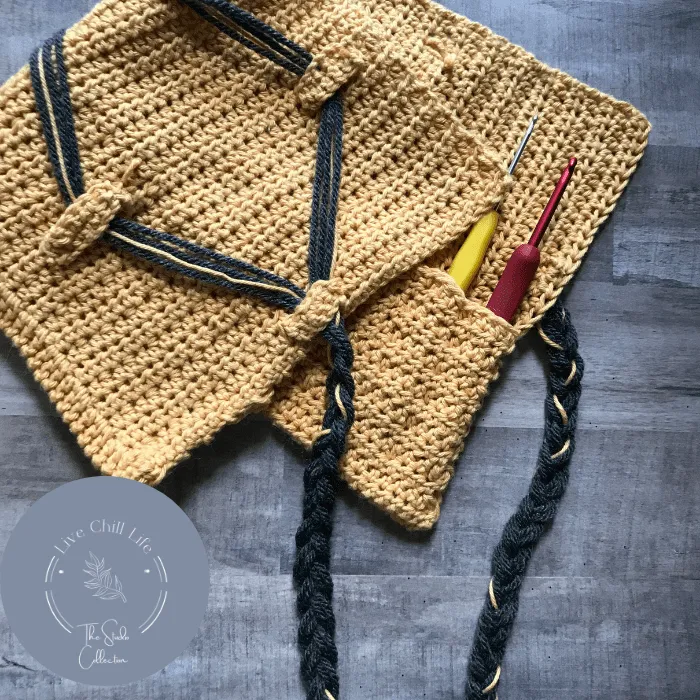 US Terms:
SC – single crochet
HDC – half double crochet
yo – yarn over
st – stitch
ch – chain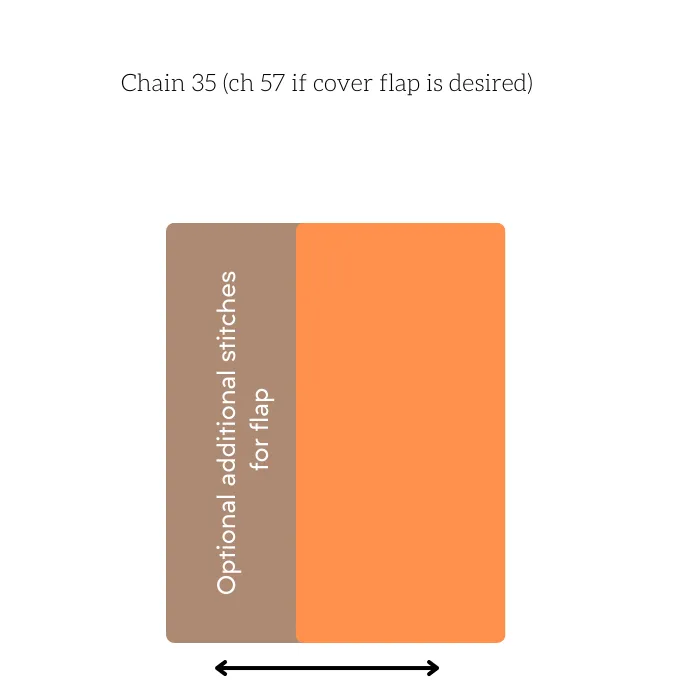 Ch 35 (if you want a foldover flap, chain 57 and allow for more yarn yardage . This will give approximately 5" cover flap over your hooks) Second chain from hook, hdc across, turn.
Ch 1 (34 sts). Hdc across finishing last hdc in ch 1 from previous row. This will keep your edges straight. Repeat til rectangle is the length that accommodates the amount of hooks you need to store.
Length in image is 14.5" inches and holds approximately 19-20 hooks. Allow ¾" per hook on average.
T-shirts and project totes for crocheters available in my Etsy shop!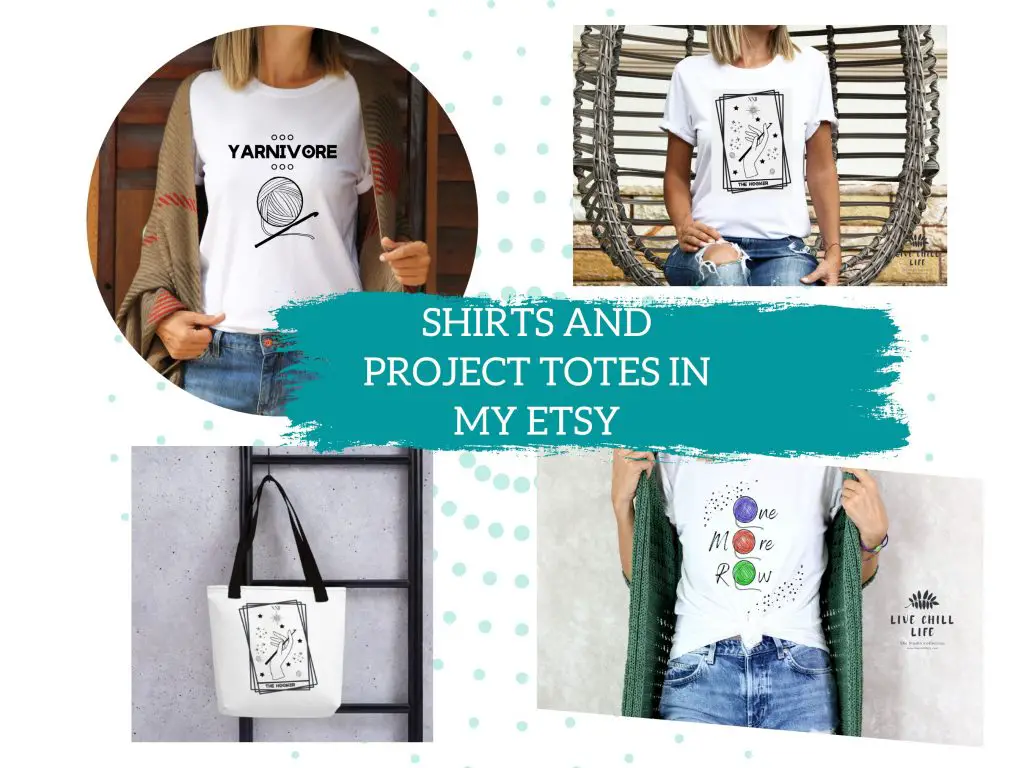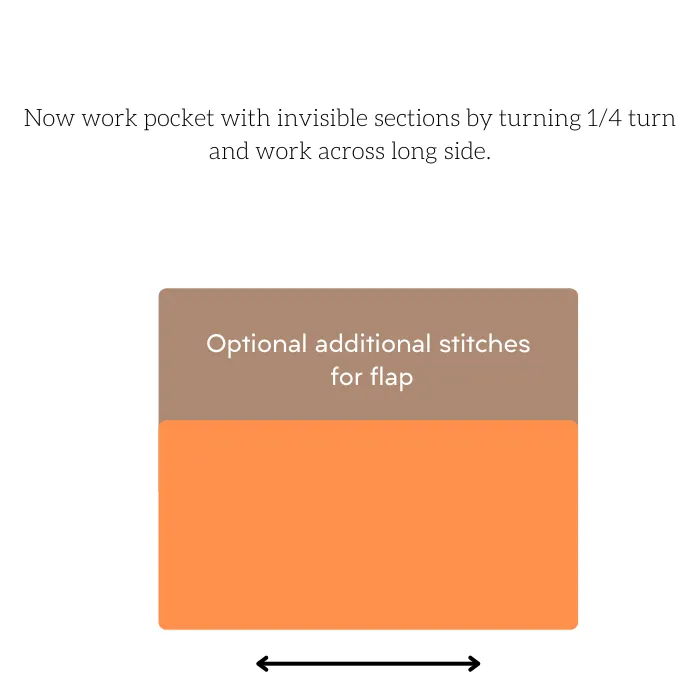 Ch 1 and turn to long side. Hdc across edge. Ch 1 slip st into stitch above. Size shown has 73 hdc sts across. Row 2: HDC across. Finish row by slipping into corresponding stitch above on short side row as shown in figure 1 below.
This is creating the pocket. Finish each row like this. Keep mindful as you go back and forth you will slip into 2 stitches above to accommodate the previous row worked.
Row 3: Working in back loop only, HDC to create the curve.
Row 4: HDC across Make sure on this row you work into the top of the stitch, you may have to turn your work a bit so that row faces you as shown in video.
Create invisible pockets:
Row 5: *hdc 3. On 4th st, Yo, go through stitch and connect to corresponding stitch in main body. Yo pull through.* Repeat *to* end. Do smaller spaces of 2 hdc between if desired for narrow hooks.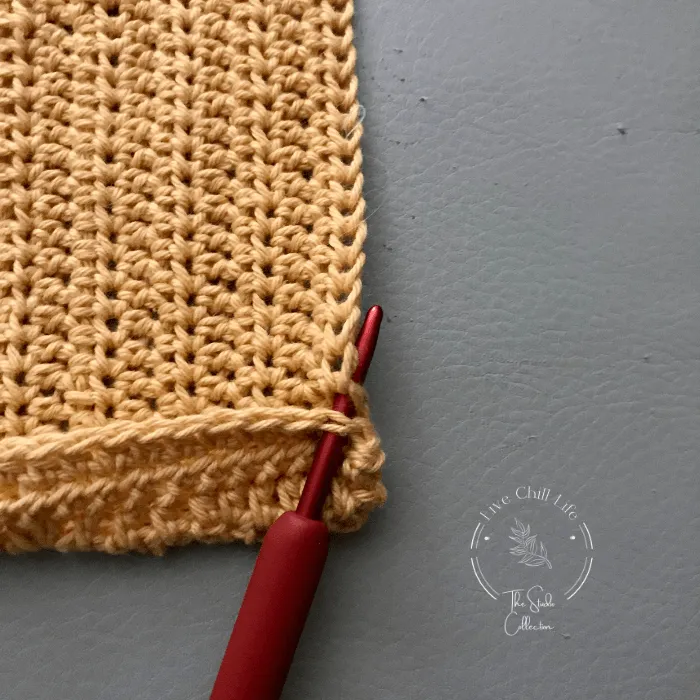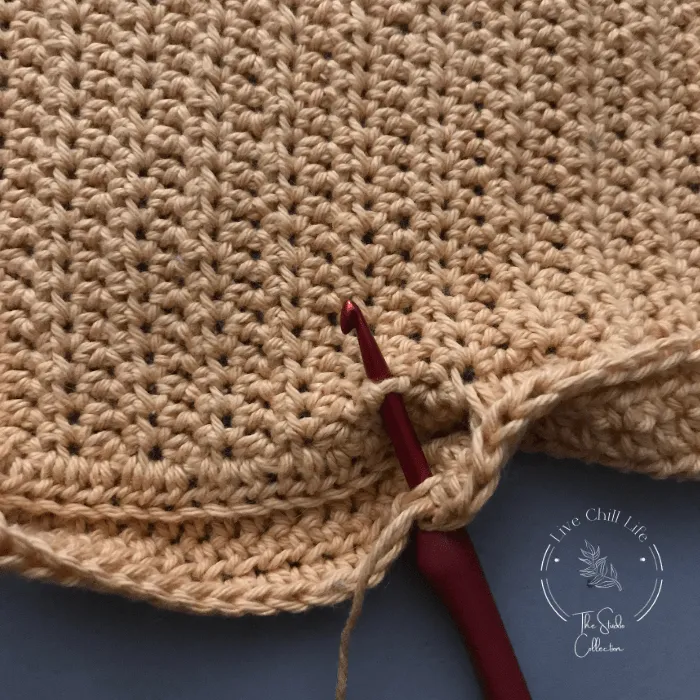 Row 6: HDC across.
Rows 7-12: Alternate row 5 and 6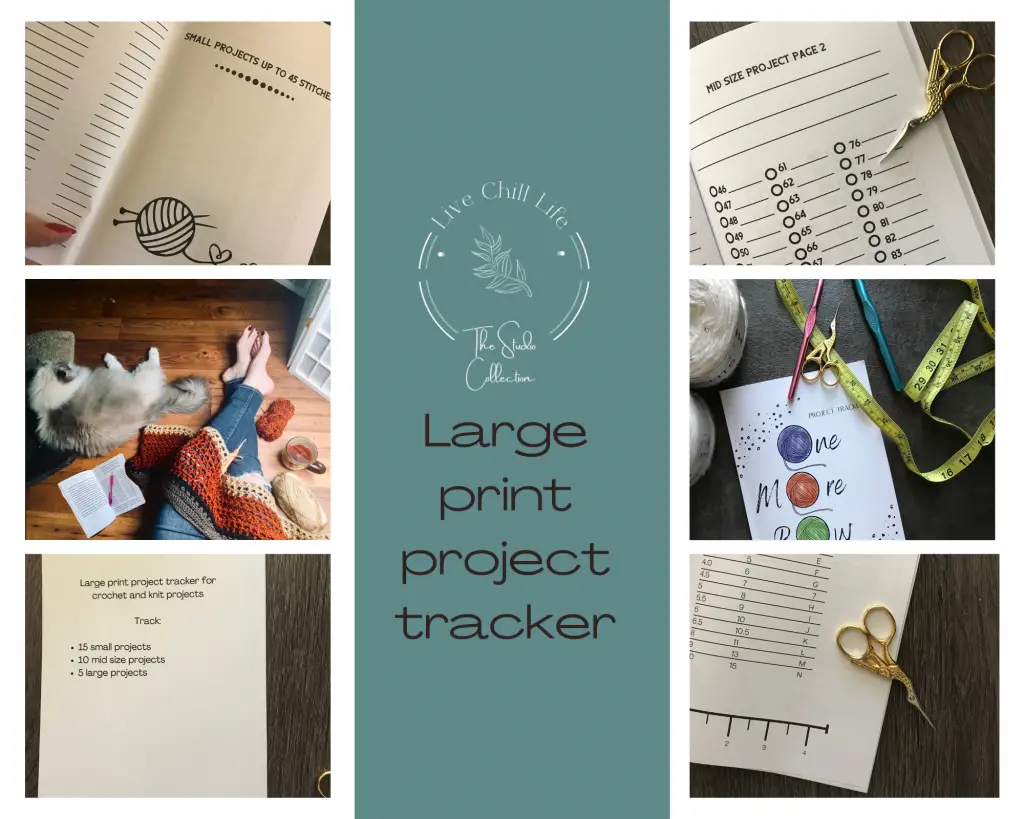 I designed knit and crochet project trackers! Keep track of your cardigan pattern with this tracker.
This is the large print version for tired eyes. So much easier than using apps, scraps of paper or a plain notebook.
Three project sizes, a handy ruler and hook guide inside the cover and plenty of room for notes in each pattern.
Buy the  Large print project tracker.
Buy the regular size print project tracker.
I have had bad eyesight since age 18 so large print is a godsend when you can't see apps and dark yarn, let alone going from one to the other on a crochet-a-thon during a Netflix binge.
Make tabs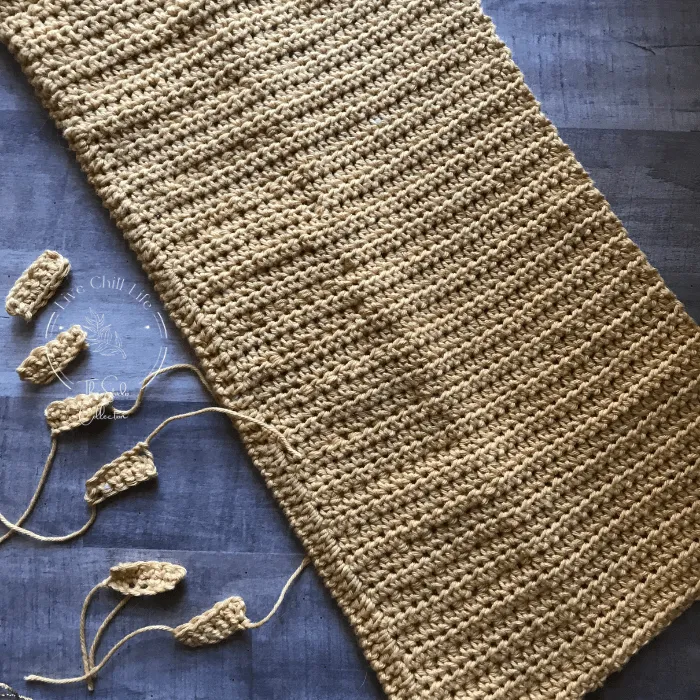 Make 7
Ch 6. in second ch from hook work 5 sc. Ch1 turn. SC across. Secure and weave in ends.
Using tapestry needle, attach top and bottom of tabs (to allow yarn strands to pass through) where shown in image below. Use tiny invisible knots to secure and weave in end before cutting yarn. Reminder if you made a longer base to create a flap, turn the flap down so it is not included in the placement of exterior.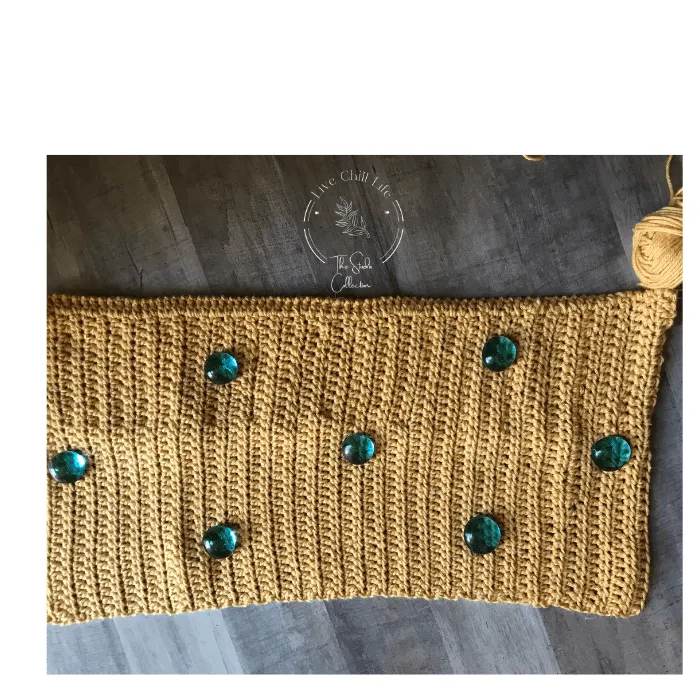 Create 6 even lengths of contrasting color yarn (shown, each length is 36"), plus two strands of the yarn used for body of organizer.
Group yarns 3 each contrasting color with one each of the body color.
Feed them through tabs as shown in video leaving same amount of free strand length on each side. Divide yarn for braiding: Three sets of 2 strands of contrasting color, two of the three sets will have one strand of body color. Braid snuggly then secure with invisible tassel knot (shown in this video).