Ads allow content creators to provide free useful and compelling content to the public. We may earn money or products from the companies mentioned in this post. See the Affiliates and Disclosures page for more information.
The difference in the best crochet hooks
What is the best crochet hook ? Finding the best crochet hook for your isn't a simple answer.
After many years of trying different types of hooks with different types of yarns I have come to some conclusions.
Table of Contents
What makes crochet hooks different from one another
Comparing hooks to let's say cars, there is a huge amount of variance – and pricing.
A value set like this one is a perfect place to start if you're new to the hobby. When you're just getting your footing in crochet and learning yarn tension, basic stitches and hook placement I do like the inexpensive hooks because they are less smooth.
Really slick metals can make it harder to grab the yarn and work your stitches while you are still trying to find your "rhythm".
Picking the best crochet hook based on your skill level
Once you graduate to working at a higher speed and more complex stitches, the less smooth metals may begin to frustrate you . They also will cause you to work harder to create each stitch because of the "grab".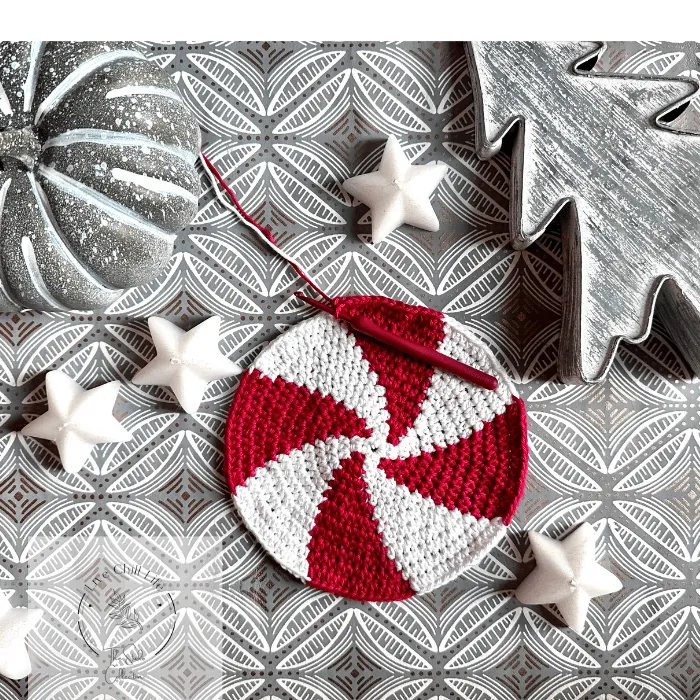 I have solutions to crochet hand and wrist pain in this post . SPOILER: one of the solutions is using a smoother more expensive hook. They need not be a big expense but I do recommend you get 2-3 in the sizes you find you use most often. The Etimo red series to me is outstanding and reasonably priced if you're just getting 2-3. I have zero arm, hand or wrist pain when I work with them.
I took my red hook to my crochet group once and let a few of the group members try it, even against their good hooks and they all were impressed. This type of ultra smooth metal works through stitches quickly.
Having a few plastic hooks in your collection is a good idea because for some yarns they work the best, they are also ideal for chunky yarns.
Crochet hook shape
The actual tip of the hook matters! As you start working different stitches and different yarn categories you will realize this.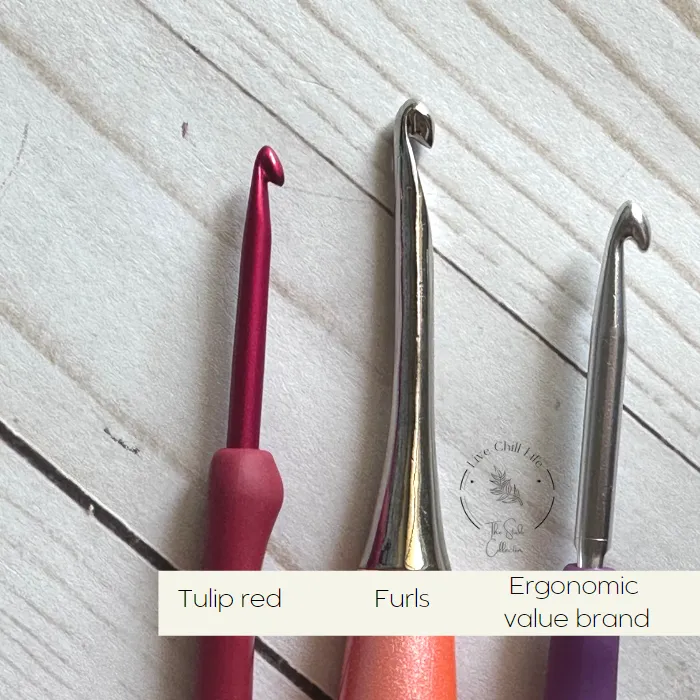 The head or tip of the hook and how it dives into stitch placement is one aspect. The other is the curved point at the end of the hook. How sharp is it? Furls has pointy ends that can dig into stitches but if you're not careful it can also split your yarn.
A dullish end can make it hard to dig into special stitches and cause frustration.
You will find there is a right hook for the right project. I think of it as knives. You need a steak knife for steak but a butter knife is great for spreading things. Both are necessary in your eating utensils.
Crochet hook handles review
So what's the deal with all those handle shapes anyway? The handle part of the hook and your comfort with it is going to vary greatly from person to person. I cover why this matters in the video at the end of this post.
The very basic crochet hook that is all metal I remember my grandmother using (the all pink hook in image below), I can't even hold it in my hand. It fumbles and flies across the floor! My hands are very different from my grandmother.
The long handle of something like furls hook feel great to me (furls hook is the orange handled hook in the image below), a tall woman with long hands and long fingers. Shorter hands may find this hook style difficult to manage.
Very large hooks that range in the 9-15mm are going to be worked with the knife holding method and will take more effort no matter how smooth it is (usually they are all plastic which is fairly smooth by nature).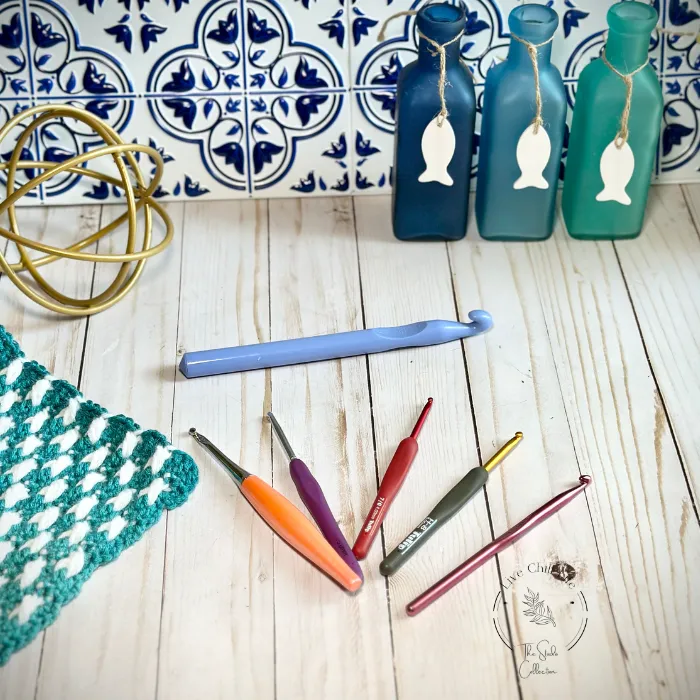 In this post I discuss the difference in crochet hooks by price, by material, by handle and more. Is it worth it to invest in crochet hooks?
In my video I will help you decide how to pick the right hook for you. I talk ergonomic, furls crochet hooks and the classic hook my grandma uses.
in summary, the answer is you need the right hook for you hand, your project and you skill level. You are going to have a collection of hooks as your hobby expands
I have a free crochet hook holder pattern to accommodate all the hooks you may acquire over time.