Ads allow content creators to provide free useful and compelling content to the public. We may earn money or products from the companies mentioned in this post. See the Affiliates and Disclosures page for more information.
Peppermint crochet Christmas potholder free pattern
The holiday season is just around the corner, and what better way to add a touch of festive cheer to your kitchen than with a Crochet Christmas Potholder Pattern? These adorable and charming large hanging peppermint potholders work up fast and are double thick.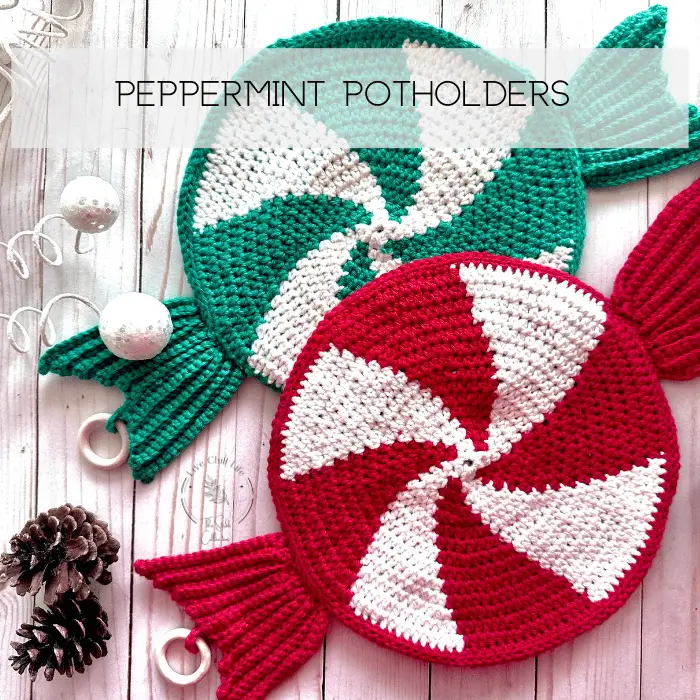 This pattern is for a comfortable beginner. See the chart, what is your crochet skill level? The potholder is worked in a simple round as a spiral with evenly spaced increases (see my spiral placemat pattern). If you are very new to crochet, watch the video tutorial at the end of this post to see if you think you want to try it.
No counting rounds! Just work the rounds as instructed until you reach the 90″ diameter mark.
You will work two peppermint circles then join them to make the potholder double thick. Then add on the whimsical wrapper and wooden hanging hook which is optional. You may just have a yarn hook or no hook at all. They are so pretty when hanging though!
Matching kitchen towel holder pattern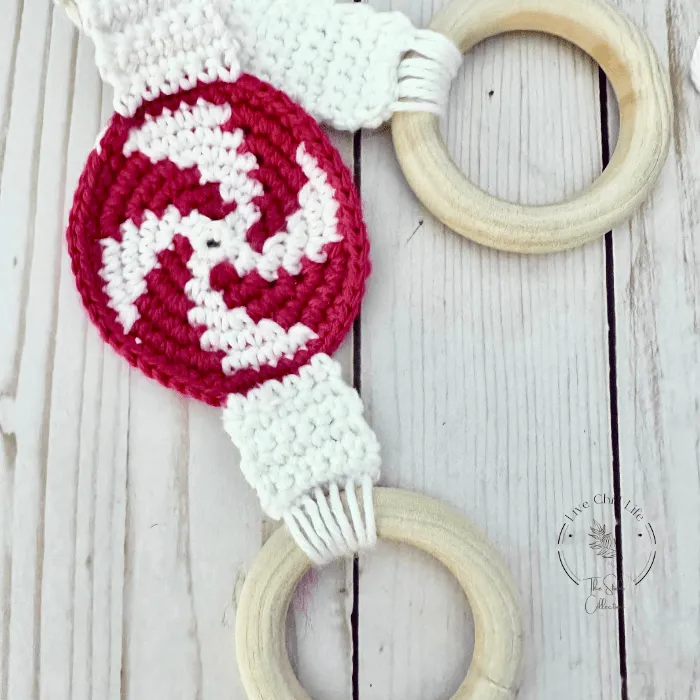 Table of Contents
Materials to make the free Christmas Peppermint Potholder crochet pattern
To make these fun potholders you will need 100% cotton yarn (shown, I used Hobby Lobby I love This Cotton in white, red and true green), a 4 mm crochet hook, 1 to 1 1/2″ wood rings, ruler to customize your measurement (I recommend a full 9″), scissors , a stitch marker (use a hairpin!) and a tapestry needle.
Check out these 20 free crochet Christmas patterns
You may also like this harvest home set crochet pattern
If you prefer an ad free PDF click here.
US Crochet terms found in this pattern:
ch – chain
sc – single crochet
hdc – half double crochet
scblo – single crochet back loop only (see more about this stitch)
slpst – slip stich
Crochet Christmas potholder supply list
Category 4 cotton yarn in white COLOR A and accent color COLOR B ( 90 yds white, 100 yds color) per potholder. Value yarn will work just fine
4 mm crochet hook (As always, I recommend the tulip red hook)
Ruler
Tapestry needle
Scissors
1″ wood ring – I use these
Make 2.
Note: You may use tapestry style crochet where you carry the yarn across the top of rows but I don't like how it shows through in the white areas.
Instead I recommend using the fair isle technique or carry yarn along the back. I show you how to do both in the video tutorial at the end of this post.
Do no slip in new color with last stitch. Bring up new color as you work first stitch in next color section.
Take care as you work around that the yarn isn't pulling in the back which will make your potholder buckle.
Fair isle crochet technique
Using color A, ch 2. Work 7 hdc into first st. Do not slip to join. This pattern is worked in spiral form.
I do recommend placing stitch marker in the first stitch of each round initially but after you've completed the first 4-5 rounds you will find it unnecessary.
This is worked with standard flat circle increases with color changes added in to create pinwheel candy effect.
Make sure your color sections have the exact same number on each round or your peppermint will warp/buckle. If you find yourself off by one or two, work two stitches into the center area of the color section in addition to the two stitches you add at the end of each color section.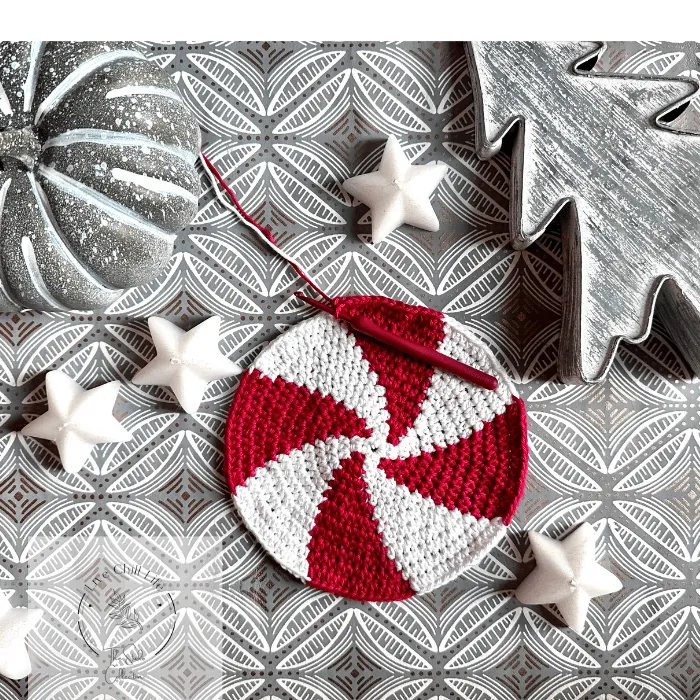 Continue increases each round as you have been until piece reaches a full 9″ in diameter. Finish Using color B to sc around, continuing to work 2 stitches at the end of each color section. For first peppermint side, cut yarn and secure end. When the second peppermint is complete, use a stitch marker to keep stitch open. You will use that to connect the two pieces together.
Connecting both sides to create a double thick potholder
Line up your two sides facing out. Work a slip stitch with working color B yarn by slipping both back loops together.
Make the candy wrapper
Work in the back loop only when working the wrapper. ch 1 turn at end of each row.
Leave long enough tail with starting slipknot so you can easily weave it in.
Using color yarn, Chain 21.
Attach wrapper to side of peppermint potholder
Line flat side of wrapper along the edge and begin first slip stitch to attach. Carefully create a gathering effect by matching every one stitch on potholder to every third row/stitch of the wrapper.
Repeat with other wrapper on directly opposite side.
Create hanging hook on crochet potholder
6 stitches down from center of wrapper, go into the backside of rapper and sc first st. Then slip stitch into next stitch above. Then chain 14 , insert ring holder if using, then slipstitch back into starting two sts. Cut yarn and weave in ends.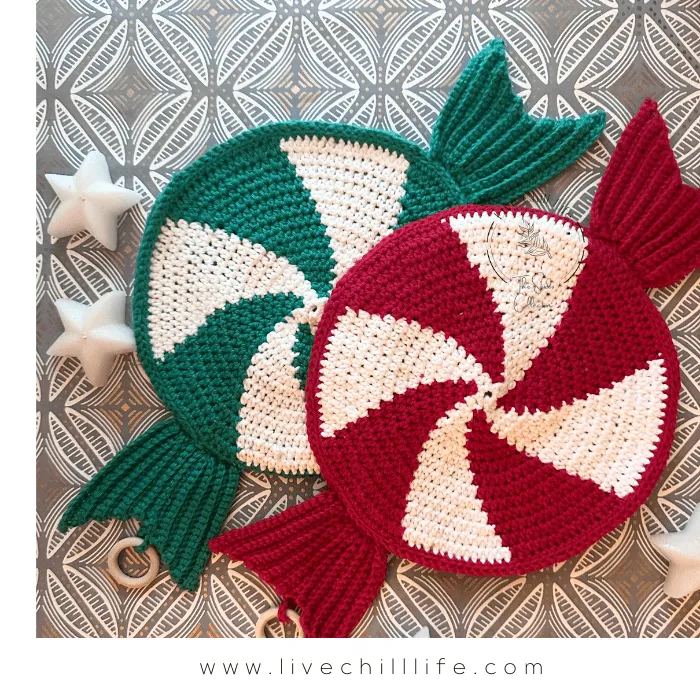 Video tutorial for crochet Christmas potholder