Ads allow content creators to provide free useful and compelling content to the public. We may earn money or products from the companies mentioned in this post. See the Affiliates and Disclosures page for more information.
Crochet hand pain relief tips
If you crochet for hours at a time week after week you know the feeling crochet wrist pain. The feeling of arms that are spent, wrists that don't have any more to give and various shoulder complaints. I have a solution!
Making the same movements over and over as you work your craft are the culprit for the pain. It's so enjoyable you don't notice it or even mind it when the first signs set in. Then they worsen. It can come to the point that your joyful hobby is now painful.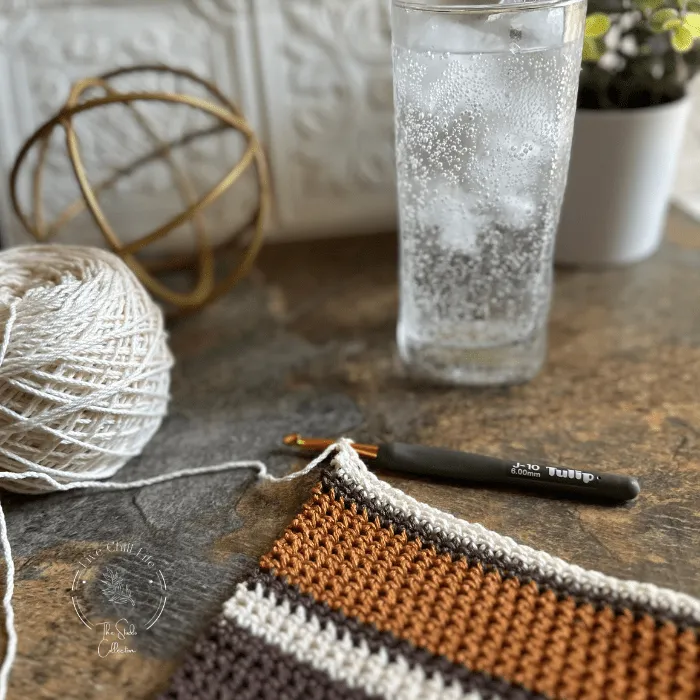 Table of Contents
I encourage you to read this post on why hobbies are so important and how they help cognitive function with age among many other benefits!
Your discomfort severity ranges based on your body size, how you hold your hook and feed your yarn as you work. The solution is the same though.
Crafter gloves like these certainly do offer some support but they aren't comfortable for longer stretches that happen during a Netflix binge.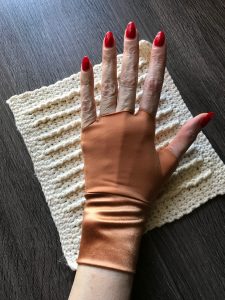 What is a crochet lover to do? I was determined to find a solution. When I am feverishly working on something either to get a design prototype done or a gift ready in time the pain sets in. If you're reading this it has happened to you too, friend.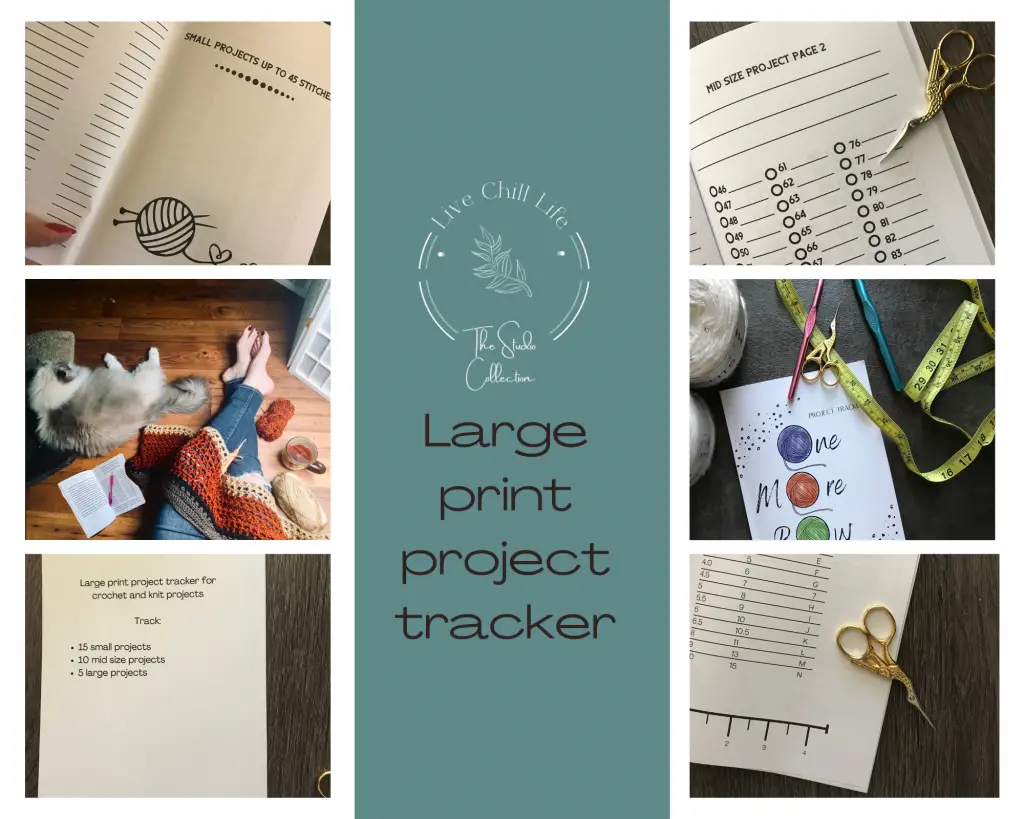 I designed project trackers! This is the large print version for tired eyes. So much easier than using apps, scraps of paper or a plain notebook.
Three project sizes, a handy ruler and hook guide inside the cover and plenty of rooms for notes in each pattern.
Buy it here.
Regular size print here.
I have had bad eyesight since age 18 so large print is a godsend when you can't see apps and dark yarn, let alone going from one to the other on a crochet-a-thon during a netflix binge.
How to get relief from wrist and hand pain when crocheting
I found the solution and it's been a real crochet game changer! I did try one desperate day (I really needed to finish but my arms were spent) so I grabbed a body pillow from the bed and wrapped it around my torso like a horseshoe and voila! What a difference. All the pressure was off my forearms and my wrists breathed a sigh of relief.
While the body pillow works in a pinch it is not a long term solution. It is bunchy, awkward and isn't meant to folded around your waist but something is! A nursing pillow. I got a high quality one called a boppy because lesser quality pillows I know from experience just don't give the right support.
It's made of course to fit around the midsection and has a great firmness that really supports the forearms and wrist placement. It is meant to support a baby so of course it is going to support those sore arms and wrists.
How to support arms and wrists while crocheting or knitting
The boppy works so well because of the height it positions your wrists, hands and arms. You may have to tweak how you hold your tools but try this first instead of trying to spend weeks training yourself to knit or crochet another way.
Imagine breezing through your next garment, blanket, holiday gifts and other long crochet projects with minimal discomfort!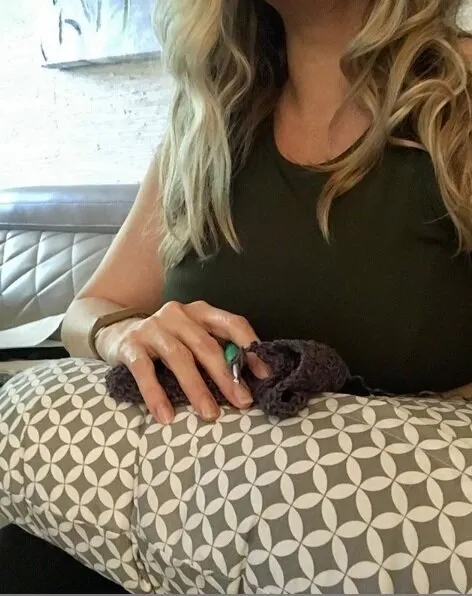 How to go about big crochet projects without wrist/hand pains?
Using the right hooks
Hook quality matters. Working with very smooth metal hooks over value hooks or wood hooks makes a difference. Not only do smooth hooks allow you to work more quickly as you speed through stitches but there is less effort required to use them.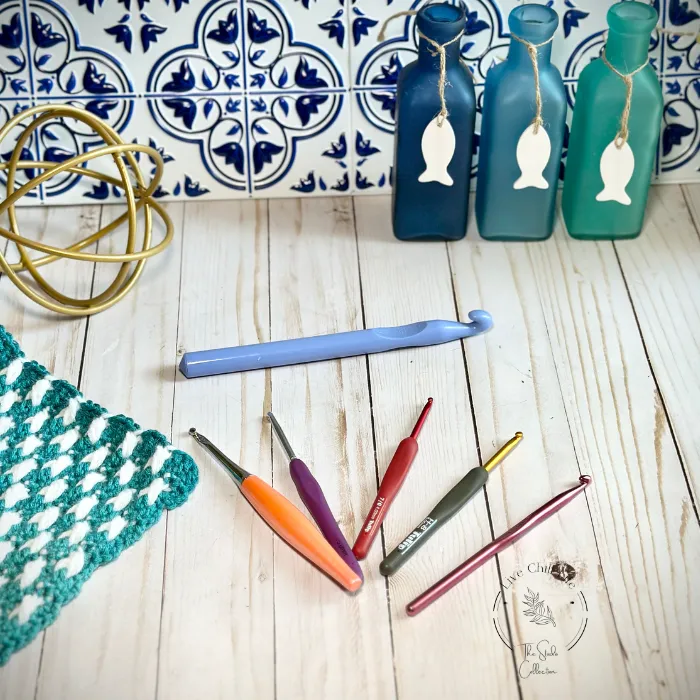 Ergonomic handles make crochet hooks more comfortable to hold but if you are working hard with metal that grabs and splits yarns you will be using more wrist tension to work each and every stitch.
This is why some hooks have a higher price point. It is the hook part itself (sometimes the handle can increase price). They need not be budget breaking but they will cost a few dollars more than standard or value hooks. My favorite smooth hook is the etimo red series. Even if you can just get 2-3 smooth metal hooks in your most used sizes it will make a big difference in how much effort you need to exert with each stitch.
How I crocheted this big project in 3 weeks no NO PAIN
I designed this crochet poncho earlier in 2023 and I made the whole thing in 3 weeks! Sure I have several hours a day to devote to my crochet as it is my profession but I had zero days off from making this and not even once did my wrist have discomfort nor did my forearms.
It was all due to using a smooth metal hook. It worked effortlessly through the stitches and didn't split a yarn that is prone to splitting (that slows your roll too!).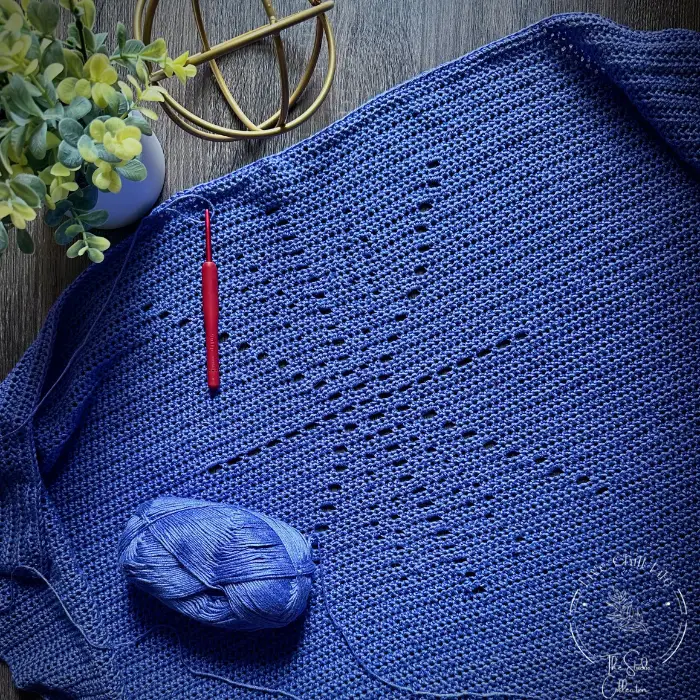 One more secret tip I just learned the hard way in this video.
A quirky tip that I discovered by accident
While laid up with an injury for several week in my moveable base bed (the kind that folds up like a hospital bed) changed where gravity pulls on my arms and wrists. Don't run just yet if you don't have one of these fancy beds.
There are ways to mimic this zero gravity position. To shift your back and elbows to simulate zero gravity you can try a bean bag chair or recliner. If you don't have those you can position yourself on your sofa leaned back a bit and notice how your elbows and forearms are shifted naturally as you crochet.
You should feel your elbows naturally relax at the sides of your body and gravity will pull more against your upper arms and not the working part of your lower arms and wrists.