Ads allow content creators to provide free useful and compelling content to the public. We may earn money or products from the companies mentioned in this post. See the Affiliates and Disclosures page for more information.
Crochet Christmas Ornament idea free pattern
Handmade christmas ornaments are so specail. This project is one you can get your kids to help if you like. While you work the crochet Christmas ornament they can be working the top hanger.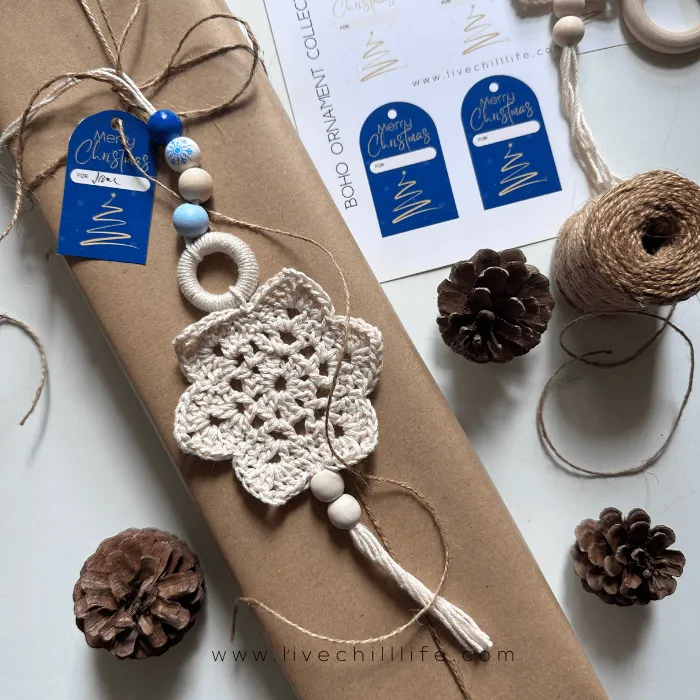 Table of Contents
You may also like these 20 free crochet Christmas patterns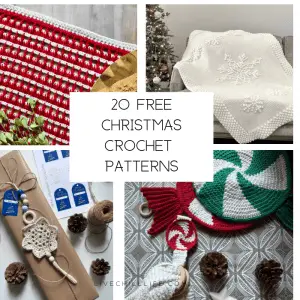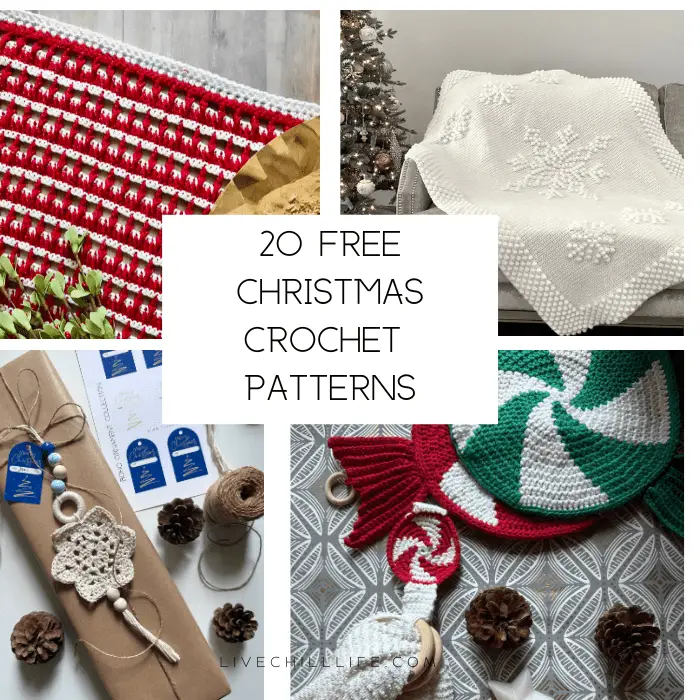 Materials to make a crochet christmas ornament
For this project you need either mercerized or crafter cotton (no soft cotton because it will fuzz up), wood rings, wood beads, a straight tapestry needle and scissors.
It all comes together quickly, in fact you can make 4 or 5 in a day.
They also look great fashioned into a garland or gift topper for a bottle or wrapped box.
Free coordinating gift tag download
I have a free blue tag gift download if you'd like to replicate this look. Click in the box below to download your gift tags. It is a letter sized document that will work with a thicker printer friendly paper like matte photo paper – I use this one from Canon. Of course you will need a color printer to print them.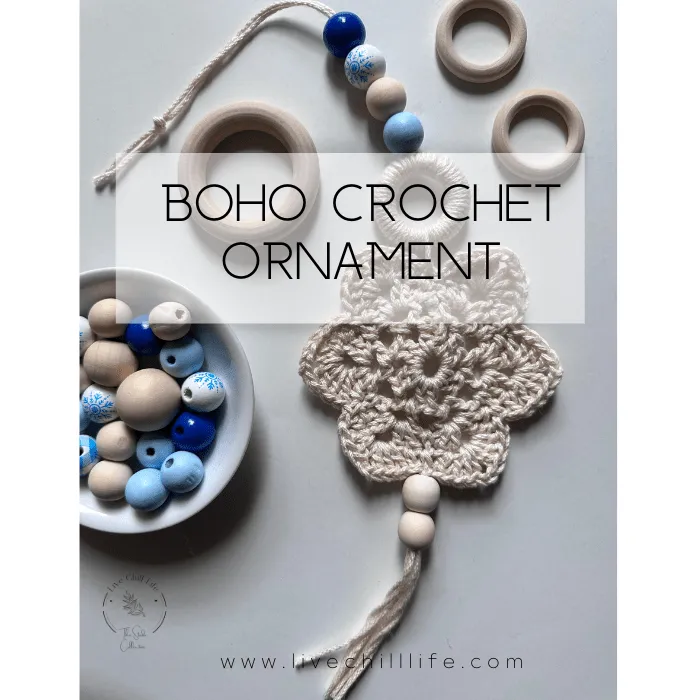 Supplies to make a boho crochet Christmas ornament
Mercerized cotton category 4 yarn like Lion Brand 24/7
3.75 mm crochet hook (go down to 3.5 mm if you don't have a 3.75 mm hook)
wood beads (find at craft stores, or the blue winter set I am using is from Temu)
Small wood rings about 1.25″ (I use rings from this set)
Tapestry needle
Ruler or tape measure to keep track of length of yarn for weaving
These are the beads I have. They may no longer be available but you may be able to use the description to find something similar or at full retail. Temu is a wholesaler.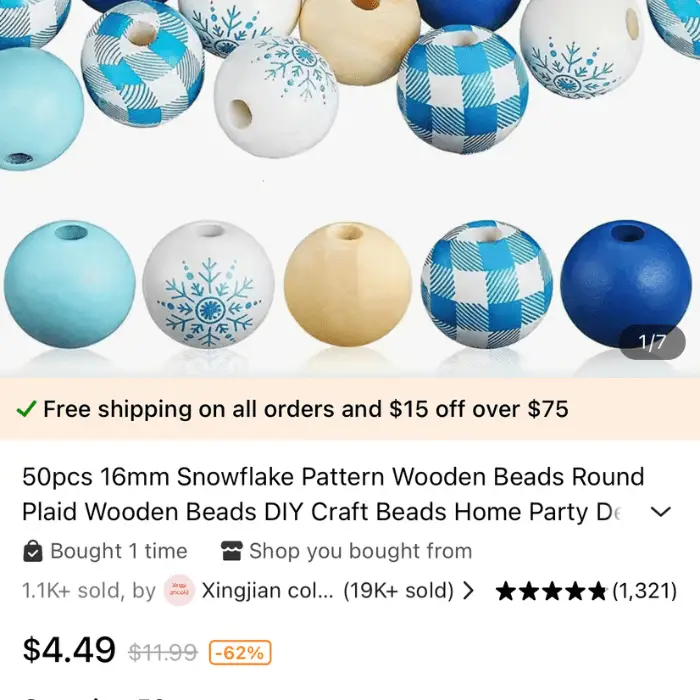 If you cannot get mercerized cotton yarn or are on a budget, use a craft cotton, not a soft cotton. Crafter's Secret, Lily's Sugar and Cream type is a good crafter's yarn for this project. Soft yarn will get fuzzy.
See all my free crochet Christmas patterns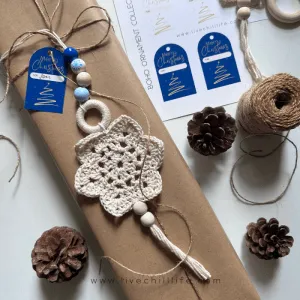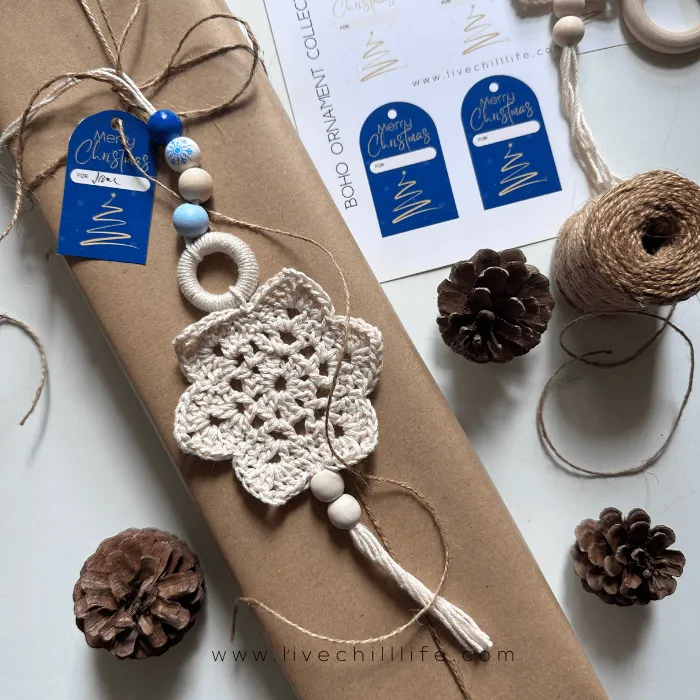 T-shirts and project totes for crocheters available in my Etsy shop!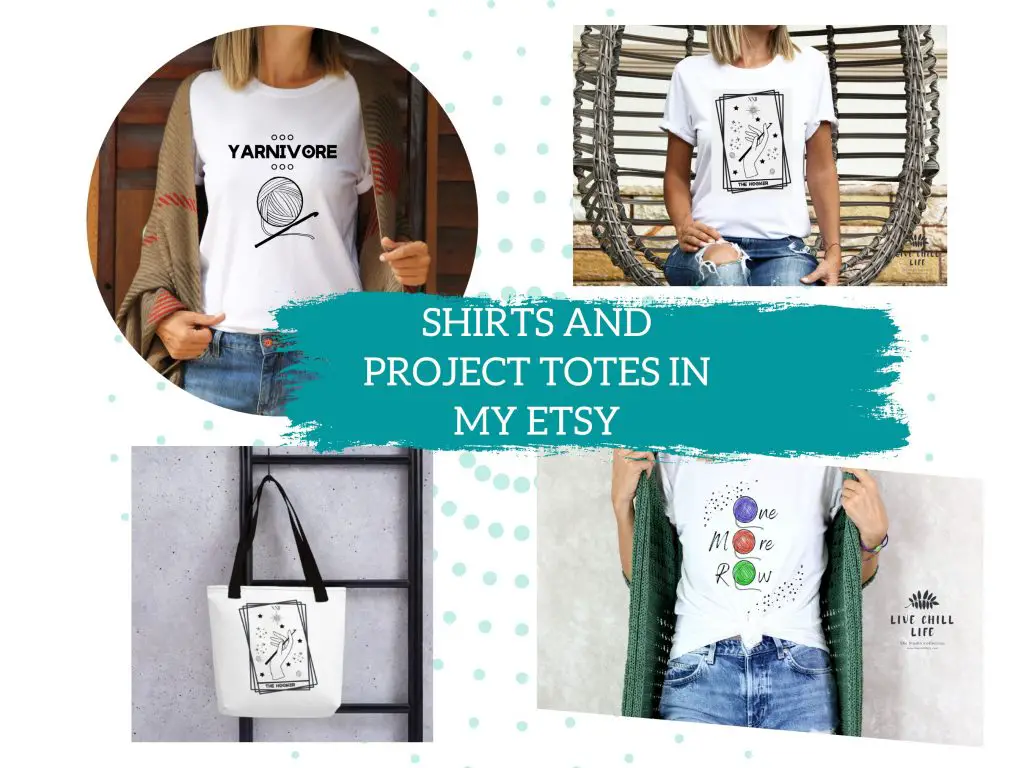 Star crochet Christmas ornament pattern
Create a magic circle.
Ch 3, then work a dc. (counts as two dc). *Ch 2, dc 2*. Repeat * to * until you have 6 sets of 2 dc and 6 sets of 2 ch-2 spaces. slip to join round.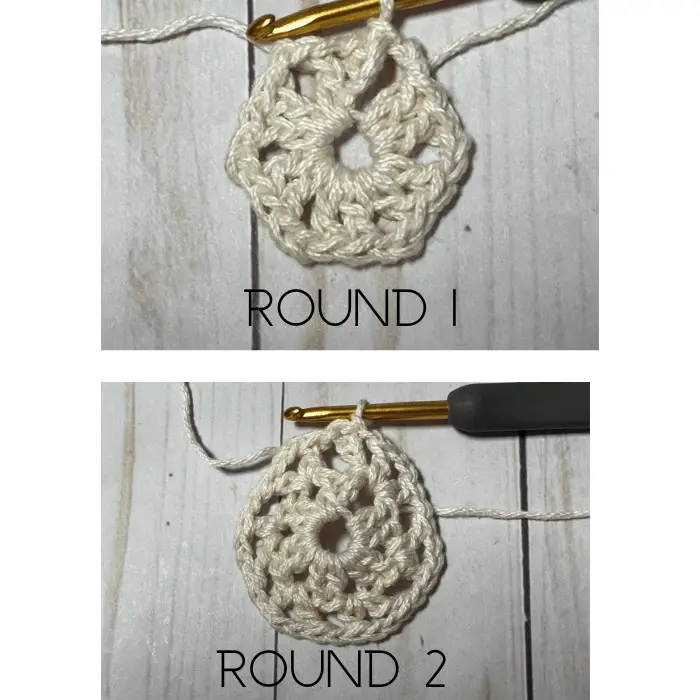 Round 2: ch 4.* Dc inch 2 sp, ch2, dc in ch 2 sp, sc 1.* Repeat to end of round. Sip into top of ch 3 .
Round 3: sc in first st., *2 dc in ch 2 sp, ch 2, then 2 dc in same ch-2 space (this will form a star point), sc in ch 1 sp.* slip to join.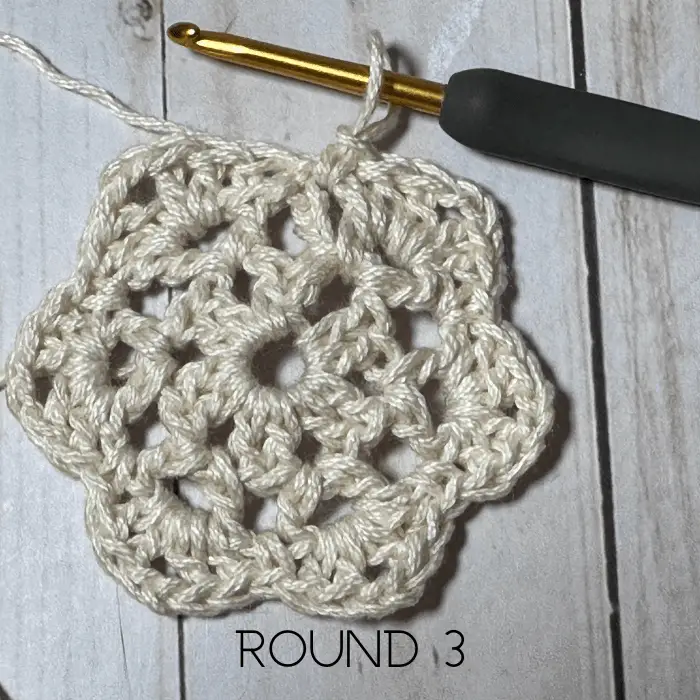 Round 4: Sc in first. Sk next st, dc in next, 3 dc in ch 2 sp, ch 2, 3 dc, 1 dc in next. sk next, sc. Leave a long tail to work into hanger.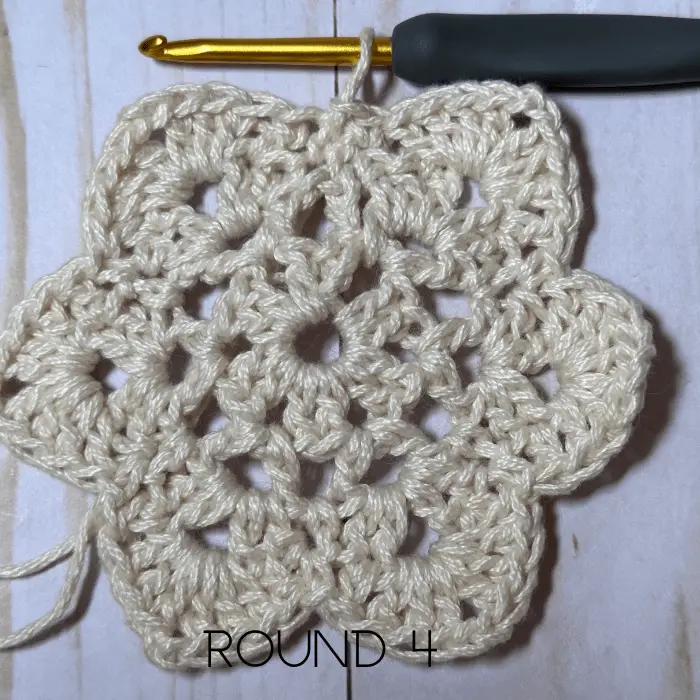 Work top part of ornament
Cut a 4 foot length of yarn and thread it on a tapestry needle. Leave 8-9″ as a non working end and begin to work a single strand evenly around the wood ring leaving just enough wiggle room for another strand to be worked in at the bottom.
Join long ends and thread onto a straight tapestry needle. Add beads. Secure top of strands into a knot for hanging.
With long tail from crochet star, loop it around in the bottom center space of ring to look seamless then weave in well to connect to star.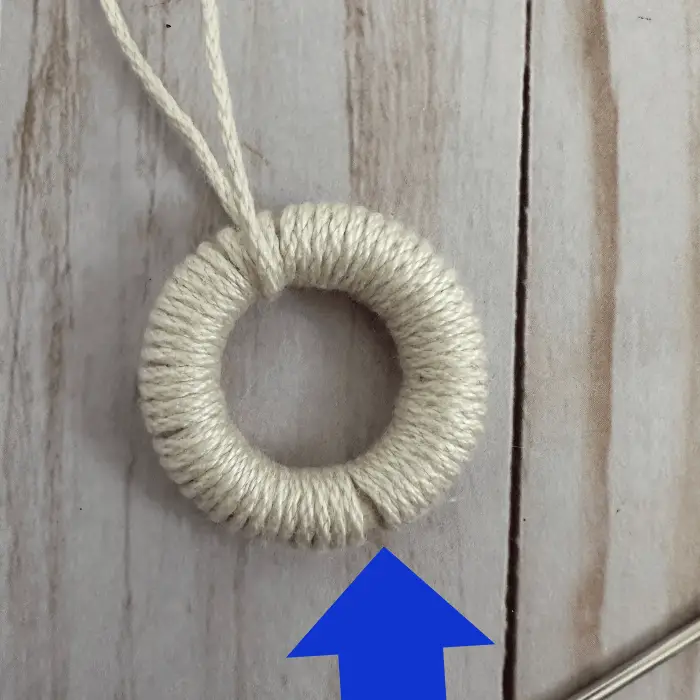 Work bottom bead tassel
Cut 4-5 feet of yarn. Use the tapestry needle to loop it around your fingers between the beads until you can't fit anymore in the holes.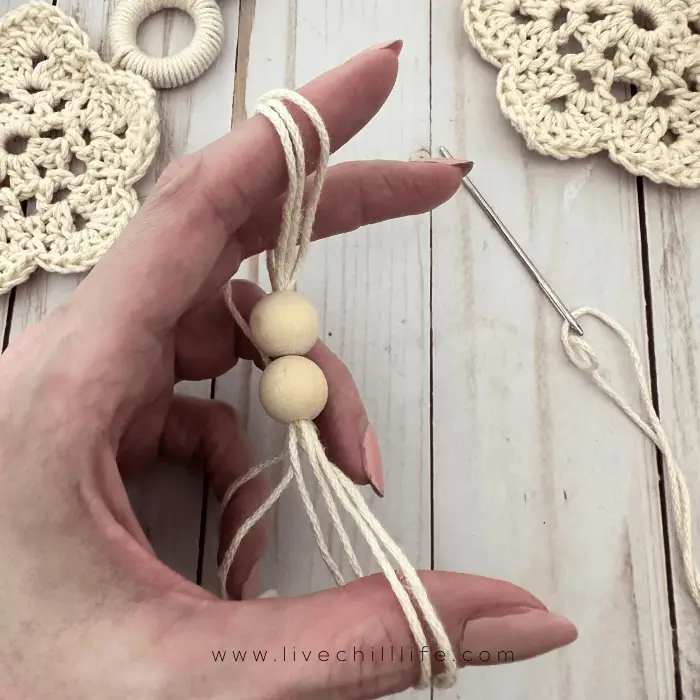 Thread a single strand of yarn in the top loops and connect them to the base of the star.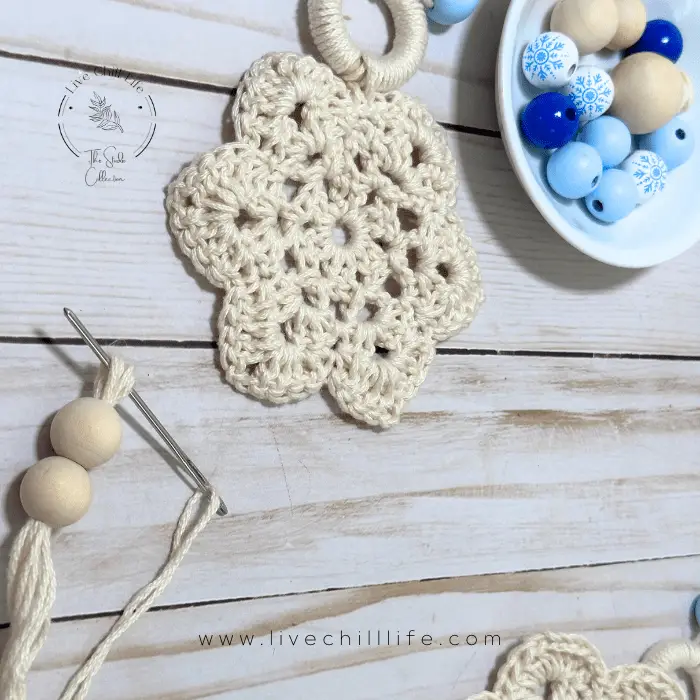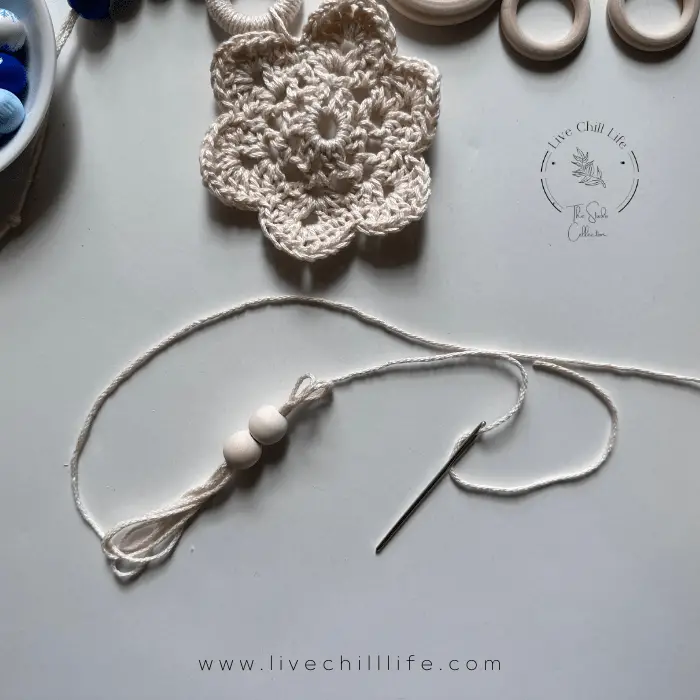 Secure with a double knot then slide beads up flush against the base of the star. Trim open bottom ends and cut to desired length.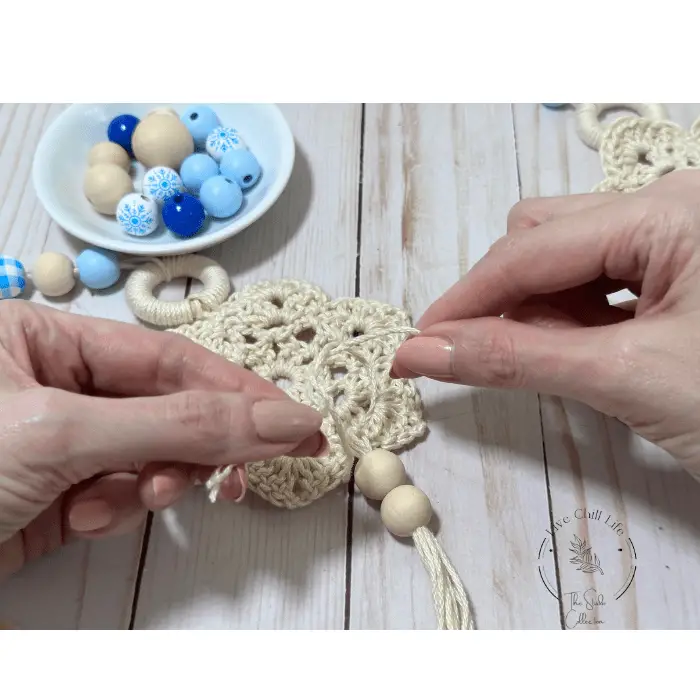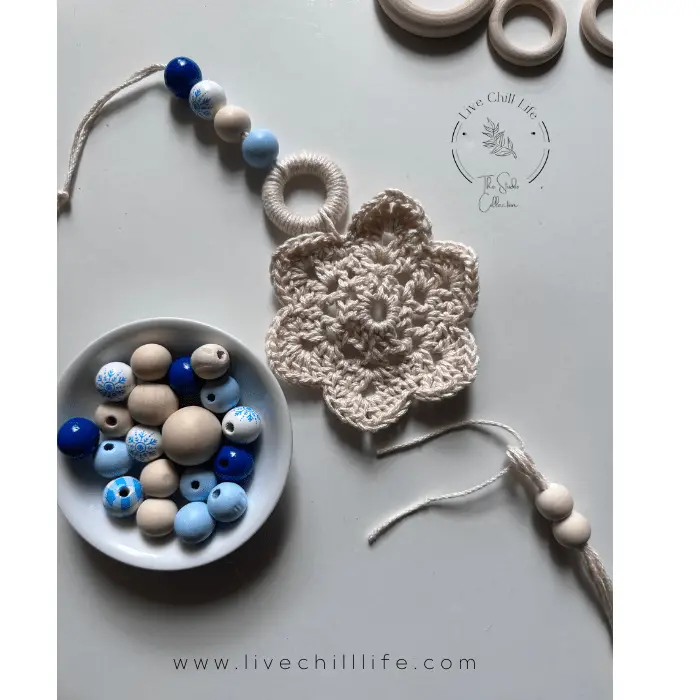 Crochet ornament video tutorial