Ads allow content creators to provide free useful and compelling content to the public. We may earn money or products from the companies mentioned in this post. See the Affiliates and Disclosures page for more information.
Crochet kitchen towel holder free pattern
This fun and festive Christmas crochet towel holder pattern coordinates with the peppermint crochet Christmas potholder free pattern.
If you love whimsy and charming Christmas decor these will be welcome in your kitchen this holiday season and for many more to come. Consider making some sets as crochet Christmas gift ideas too!
The peppermint crochet Christmas collection works up quickly and is made with budget friendly 100% cotton yarn. This is a beginner friendly pattern.
You may also like these 20 free crochet christmas patterns
Table of Contents
Materials needed to make the crochet towel holder
For this project you will need large wood rings (big enough to hold a towel and I have them linked below), a 3.5 mm and 4 mm crochet hook, scissors , two colors of cotton yarn, tapestry needle and a ruler.
Once you complete the set up first 2 rounds you likely won't need to keep looking back at the pattern. It works intuitively but the written instructions are here if you need them! Once you finish the peppermint you work in the straps and wood rings that hold the towel.
See all my free crochet Christmas patterns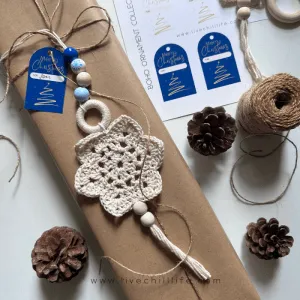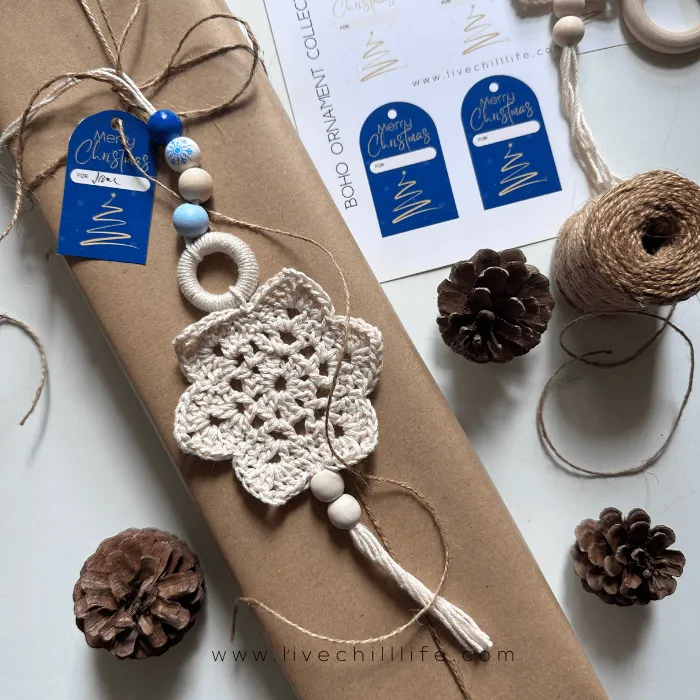 Supplies
Two colors of 100% cotton yarn (Color A is white, Color B is your choice) Shown is Hobby Lobby I love this cotton in Red and White
Stitch marker or thread of yarn in an opposite color
Ruler or measuring tape
3.5 & 4 mm crochet hooks
2 large wood rings that can accommodate a kitchen towel (I used these)
sc- single crochet
Crochet Christmas Towel Holder Pattern
This pattern is worked in spiral form. I do recommend placing stitch marker in the first stitch of each round initially but after you've completed the first 2-3 rounds you will find it unnecessary.
This is worked with standard flat circle increases with color changes added in to create pinwheel candy effect.
Use mosaic style crochet carrying the yarn around as you go.
Do no slip in new color with last stitch. Bring up new color as you work first stitch in next color section.
Using color A, ch 2. Work 7 sc into first st. Do not slip to join.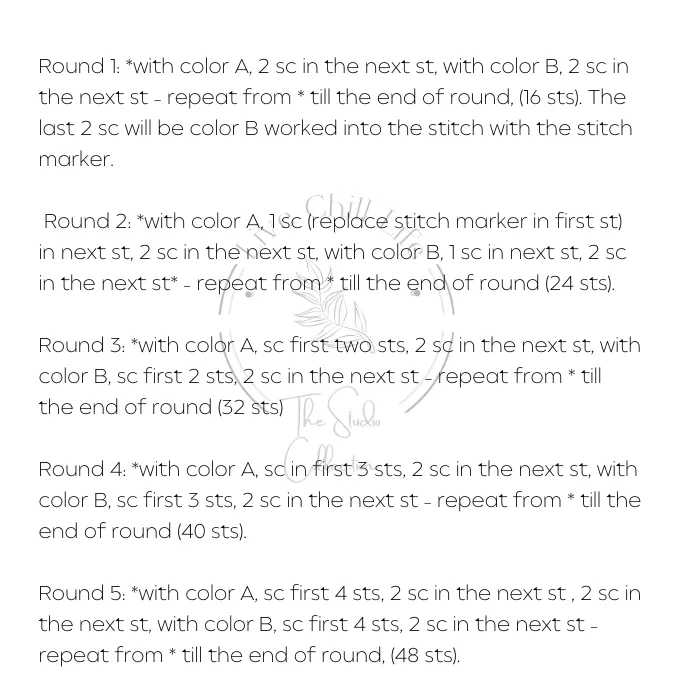 Continue this method of increasing your peppermint until you have completed 7 rounds or 2.75″ diameter.
As you finish the round do not cut white yarn, pick up color B and sc around, slip to join end of round. Cut color B and weave in end.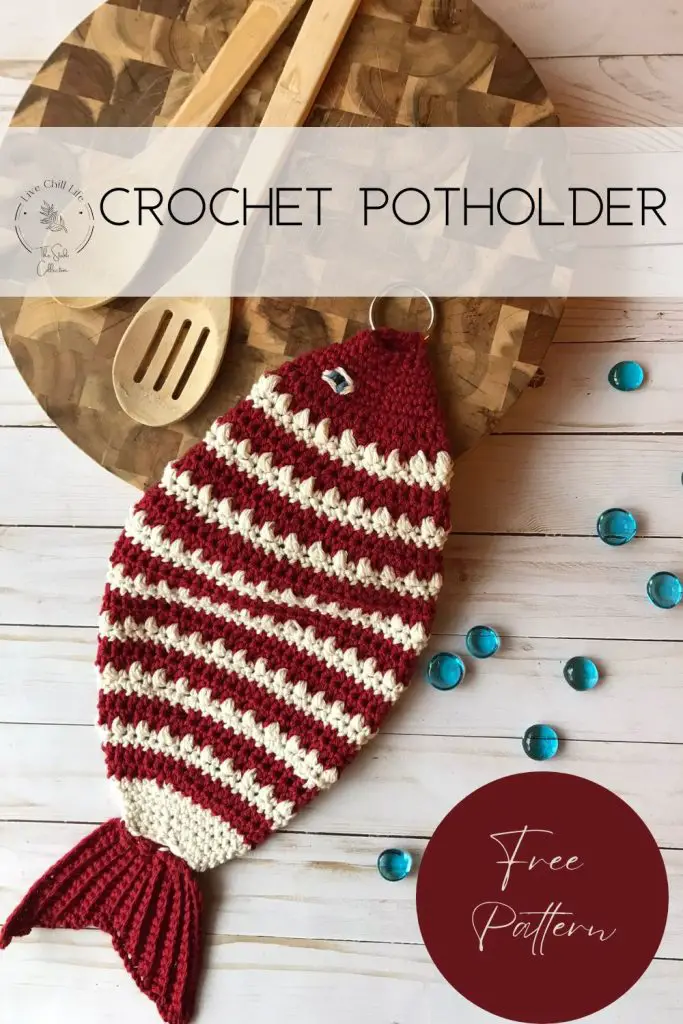 Work the hanger straps
Switch to 4 mm hook.
Bring up white yarn and insert into an outer rim red stitch. sc 6 stitches . Ch 1 and turn. sc in same 6 stitches. Continue back and forth to create a 4″ (or longer) length that will hang behind your peppermint. Base this length on the thickness of your oven door handle or wherever it is you will be hanging your crochet kitchen towel holder. Go test it out before you finish off!
Keep in mind the front part of the strap will be quite short, about 1.5 inches.
Once back strap is completed, attach to wood ring per instructions in next section.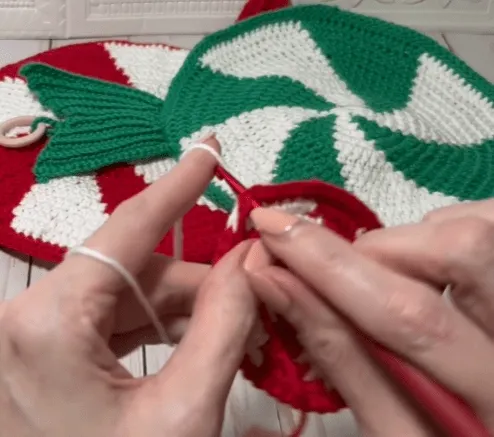 For front part of hanging strap, repeat by inserting white yarn on opposite side of back strap placement. Work back and forth rows until front strap reaches 1.5″. Then attach to wood ring per instructions in next section.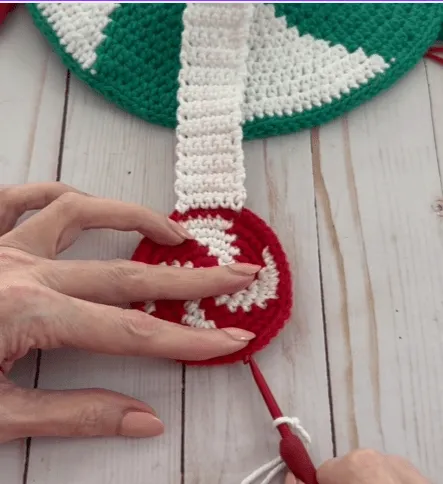 Attach wood rings to kitchen towel holder
When finished with strap , cut a long tail of 18-24″. Throw the tail over the wood ring and bring it back under toward the hook. Slip stitch through first stitch. Throw tail over ring again bringing it back under to meet the hook and complete the next slip stitch.
Continue to repeat this for all 6 stitches. Finally throw tail over one more time and bring it back under then thread onto a tapestry needle.
Weave in very well so that it will provide enough support and stability for weight of a hanging towel.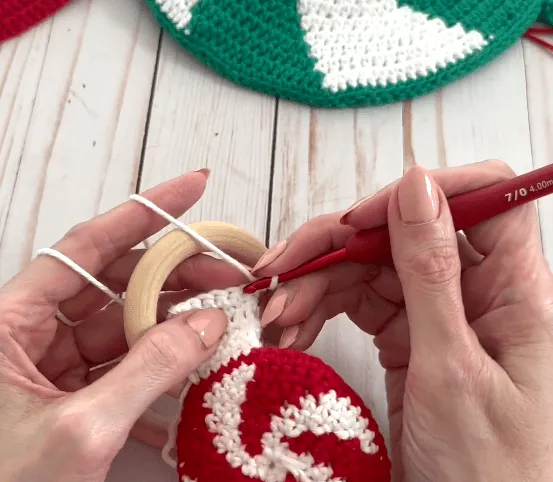 Video tutorial for crochet kitchen towel holder