We may earn money or products from the companies mentioned in this post. See the Affiliates and Disclosures page for more information.
If you are looking for a crochet gnome pattern look no further! These gnomes are full of personality and full customizable!
I am using woodland colors for this crochet gnomes free pattern to give a true Nordic feel to my gnomes but you get creative and use colors that work with your own tastes and decor!
I went with colors of nature: wheat, leaf and bark. I also used a wood bead for a nose to keep it extra woody!
Finished size from base to hat: 7 " tall x 3″ wide
Video tutorial for gnomes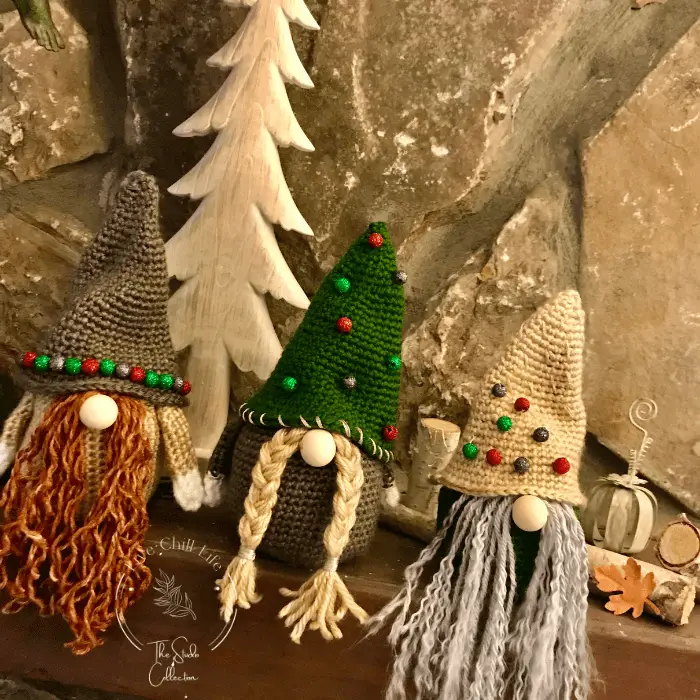 Make a holiday woodland gnome
Materials:
4 mm crochet hook (I use the etimo tulip hook)
category 4 yarn in colors for skin, main body & hat ( allow approx 125 grams per gnome)
polyfil or enough reserved yarn scraps or combination of both
tapestry needle
stitch marker
decorations such as gold embroidery floss, wood bead for nose, decorations for hats
For these I used:
Lion Brand Heartland yarn in Mammoth Cave & Acadia and Red Heart soft in dark leaf.
To begin the gnome body it will be worked like the crochet apple pattern, a circle that gradually increases.
Do not slip the stitch at the end of round. Work in a continuous round and mark start of each round with a stitch marker to keep track of which round you are on.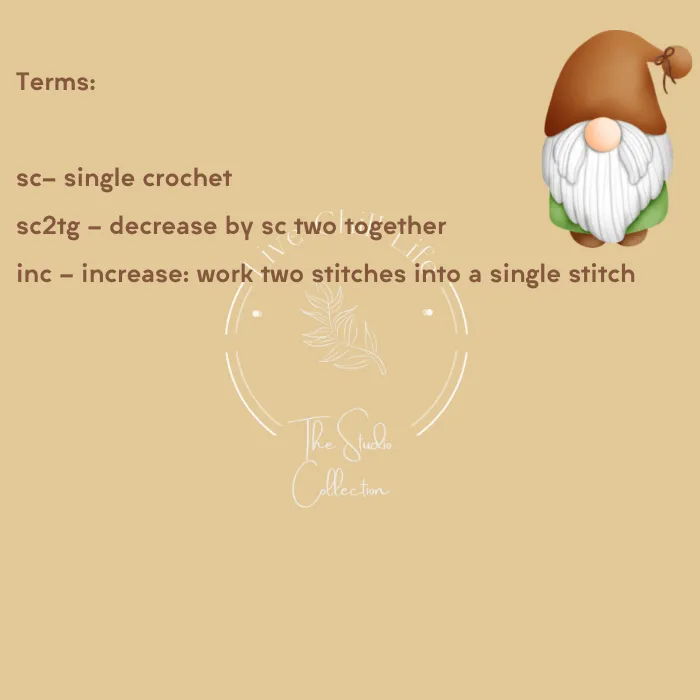 Begin:
Gnome body:
Create a magic ring then sc 10 into it. (10 sts) Use stitch marker to mark end of round. Move each time and replace it to end of new round.
Round 2: *2 SC in the next st* repeat from *to* . (20 sts)
Round 3: *SC in the next st, 2 sc in the next st,* repeat from *to*. (30 sts)
Round 4: *SC in the next 2 sts, 2 SC in the next st,* repeat from *to* . (40 sts)
Round 5:  *SC in the next 3 sts, 2 sc in the next st,* repeat from *to* . (50 sts)
Rounds 6-21: SC around all 50 sts. (50)
Round 22: *SC first 4, sc2tg next. * . (40 sts)
Round 23: Repeat round 22 ( 32 sts)
Round 24: Repeat round 22 again. (26 sts) Cut yarn leaving a long tail.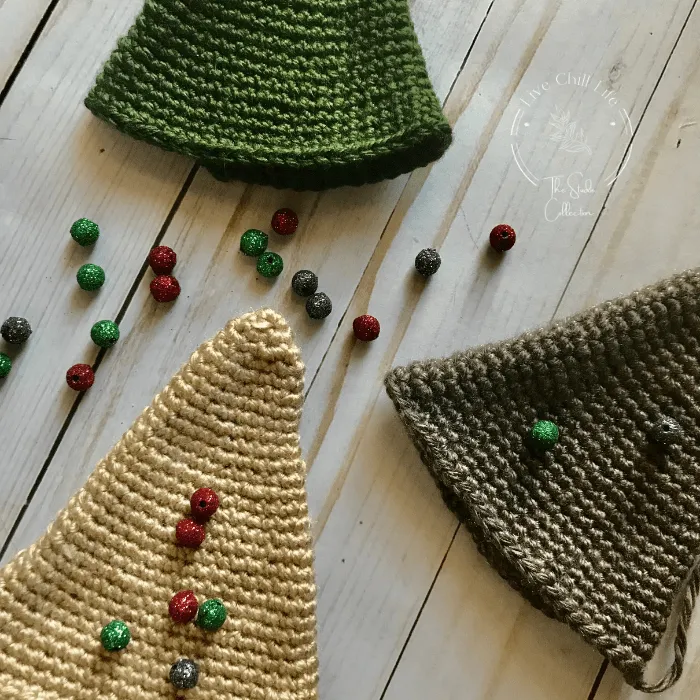 *****************
Make hat as instructed in graphic below:
This is a traditional crochet cone shape.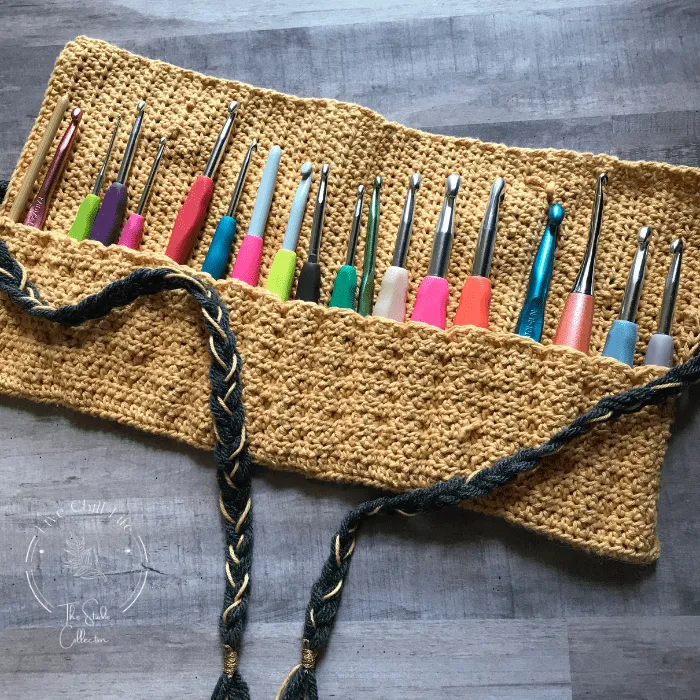 Arms:
I used white yarn for a gloves look. Skin color yarn is another good options if you prefer your gnomes to have bare hands.
Arms are worked from the hand up. Begin with hand or glove color.
Make a magic ring and work 3 sc . Using same technique as shown for hat, work 2 sc in each st so you have a total of 6 sc in the round.
Work two more rows of the hands, bring up the body color or sleeve color if using a different shade than the body as you complete the last stitch of the hand color round.
Work 6 sc rounds with sleeve color until the arm is the length you like. Pull all ends through to the inside. Attach to the side of the body at the top opening so that hat will sit over it and cover where it is attached. Leave flat do not stuff.
Attach wood bead nose.
Stuff body.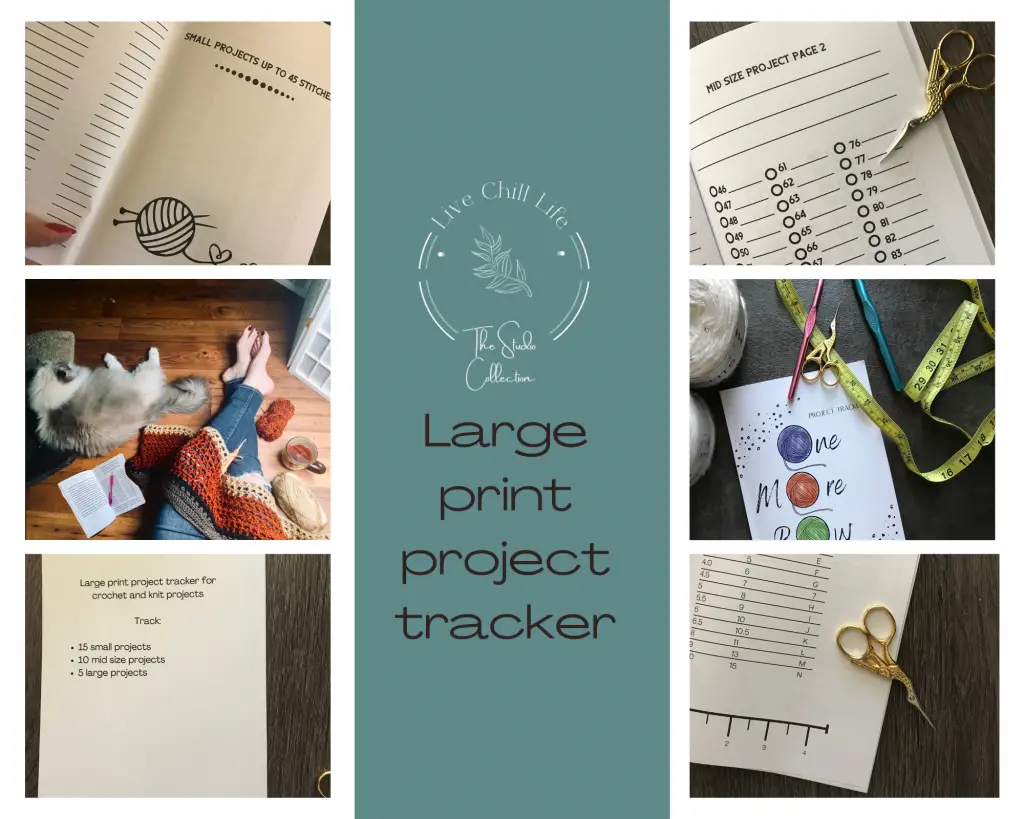 I designed knit and crochet project trackers! This is the large print version for tired eyes. So much easier than using apps, scraps of paper or a plain notebook.
Three project sizes, a handy ruler and hook guide inside the cover and plenty of room for notes in each pattern.
Buy the  Large print project tracker.
Buy the regular size print project tracker.
I have had bad eyesight since age 18 so large print is a godsend when you can't see apps and dark yarn, let alone going from one to the other on a crochet-a-thon during a Netflix binge.
Beards and braids
Decide on beard or braids to adorn your gnome and give it some personality. Each of my gnomes has a very different look.
Jorgen graybeard
Helga blonde braids
Sven red curly beard
I put gold embroidery floss in different areas of each gnome to keep them unique but still look like a family.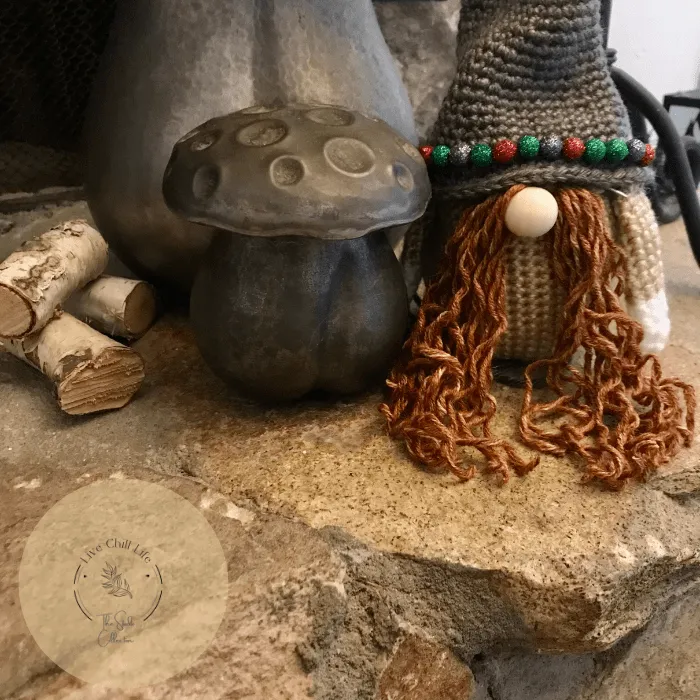 Decorate hats as desired.
For Jorgen graybeard I worked sections of gold floss on the diagonal for half the hat and some beads on the other half. (curly beard technique in video tutorial)
Helga blonde braids has beads dotted all over the hat, gold floss on her gloves and hat brim and tying her braids. See the invisible tassel knot tutorial here.
Sven redbeard has a single line of beads adorning the brim. To get the yarn curly I wrapped cotton blend yarn (lion brand jeans yarn) around a 1″ diameter glass then mist with water and leave it for several days.
Finishing your gnome
After arms, nose and beard/braids are attached, using a tapestry needle, attach hat with hat color yarn securing it over back, and around the body top opening. I do not stuff hats because I like them to bend but you may stuff them if you prefer them to be firmly straight prior to attaching to body.