Ads allow content creators to provide free useful and compelling content to the public. We may earn money or products from the companies mentioned in this post. See the Affiliates and Disclosures page in the top menu of this website for detailed information.
A crochet apple pattern
Learn to crochet apple coasters with this easy simple pattern. Great fall crochet project!
A beginner-friendly crochet pattern, this works up quickly and you can use scrap yarn to make them. What is your crochet skill level? Check out the chart.
Table of Contents
Crochet apple coasters are not only adorable but also practical. They can be used in various ways to add a touch of charm to your home decor.
One way to use crochet apple coasters is by placing them under hot or cold beverages. These coasters provide a protective barrier between the drink and your furniture, preventing any damage or unsightly marks. The apple design adds a fun and whimsical element to your table setting, making it perfect for parties or gatherings.
Try them as a gift topper with brown kraft paper gift wrap.
Give them as a teacher gift.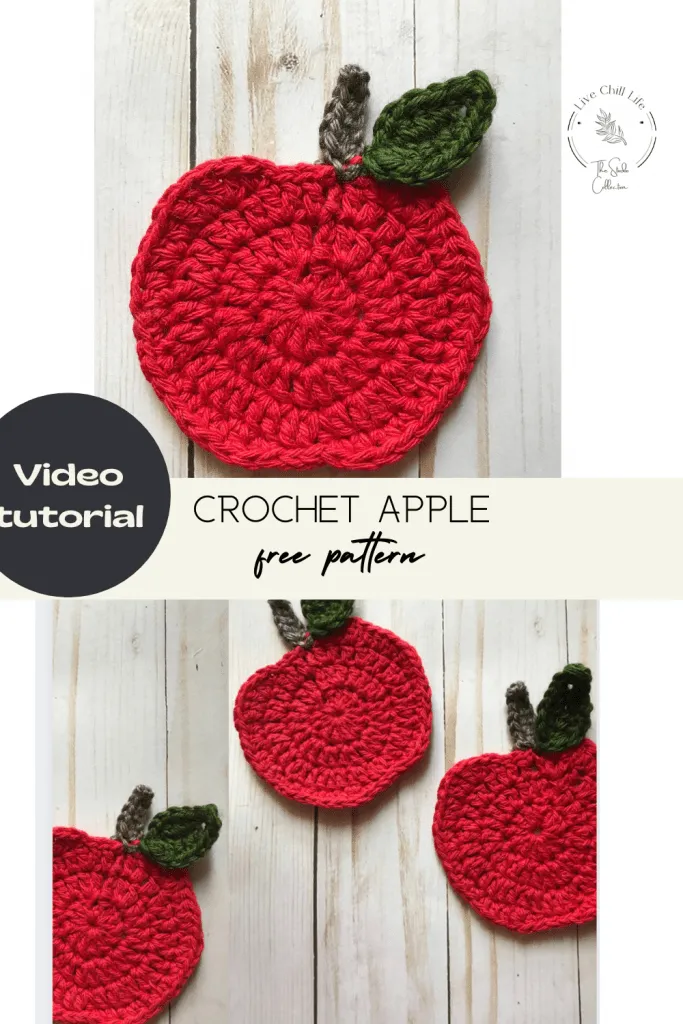 Another way to put these crochet apple coasters is to incorporate them into your kitchen decor. You can hang them on hooks or display them in a decorative bowl, adding a pop of color to your space. These coasters can also be used as trivets to protect your countertops or dining table from warm pots and pans.
Additionally, crochet apple coasters can be used as decorative accents in other areas of your home. You can place them under small potted plants to catch any excess water, use them as mini doilies to add a touch of charm to your shelves or dressers, or string them up to make a garland.
In summary, crochet apple coasters are versatile and can be used in various ways to enhance your home decor. Whether you use them as functional coasters, decorative accents, or both, these adorable apple-shaped creations are sure to bring a smile to your face and add a touch of whimsy to your space.
Get creative with apple colors using yarn shades like pink, deep red, green and yellow!

What you can do with crochet apples
To make these adorable crochet coasters, use this post to follow along with the video tutorial.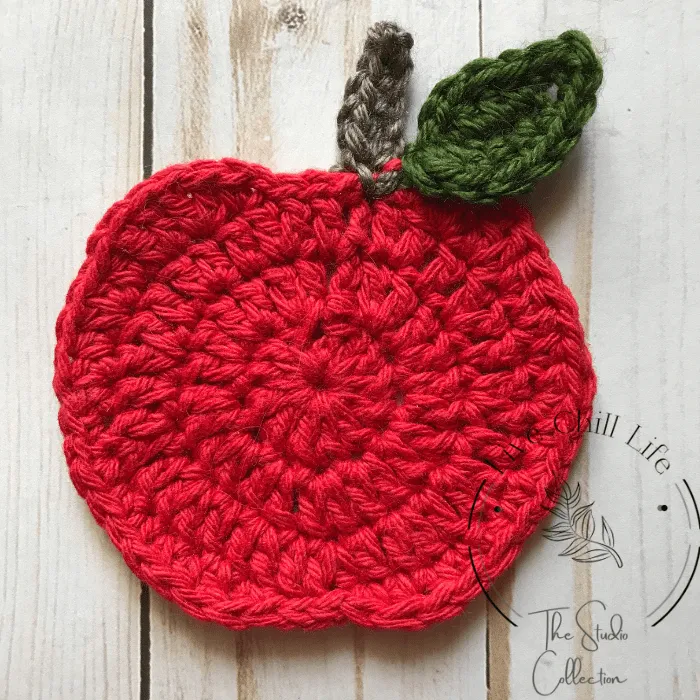 Supplies to make crochet apple coasters
Apples shown are made with big twist cotton cranberry, red heart soft in dark leaf and Lion brand heartland in mammoth cave.
Category 4 100% cotton yarn in apple color, leaf color and brown stem color.
4 mm or 4.5 mm crochet hook
scissors
tapestry needle
How to make crochet apples
Make the body of apple:
Create magic ring. Chain 3, work 12 dc into ring and close. Chain 3 (does not count as stitch)
Round 1: Work 2 dc into each stitch . 24 sts
Round 2: ch 3 (this is for height and does not count as a stitch) Work 1 dc, then 2 dc. Alternate around to end and slip to join. 36 sts.
Round 3: follow instructions in graphic what to work in each stitch.
US terms
hdc- half double crochet
dc- double crochet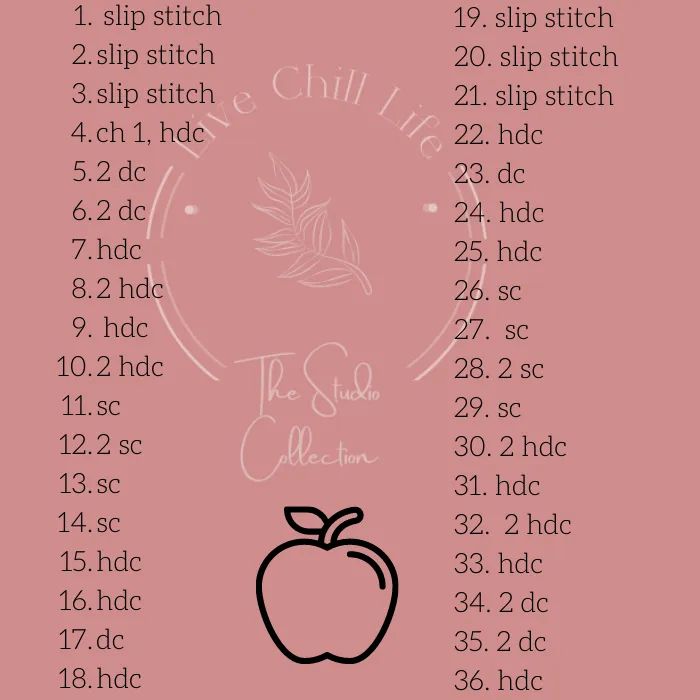 Join stem color when slipping to join final round of apple. Chain 7.
In second chain from hook work a sc, then sc next two. HDC next three, slip at base to join. Cut yarn. Weave in ends or knot 3 times tightly.
you may also like these harvest coasters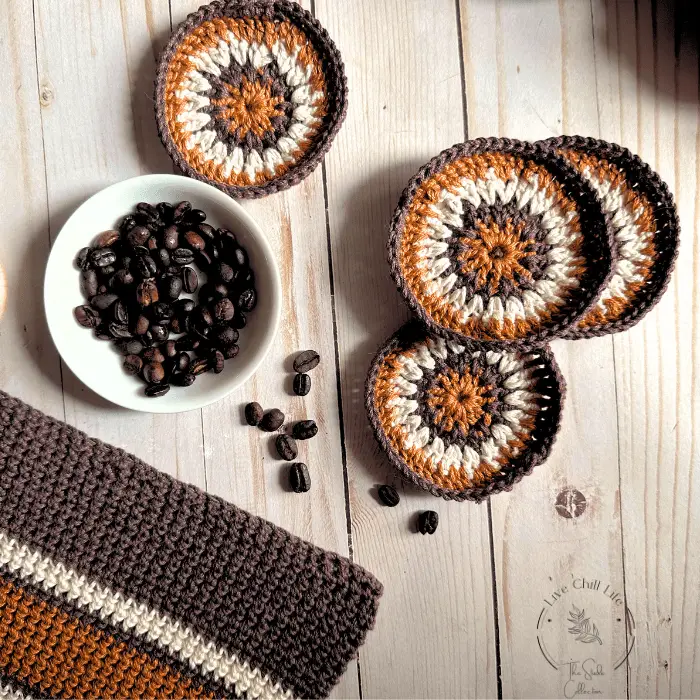 Leaf:
Chain 8.
Hdc into second ch from hook.
Dc
Dc
hdc
sc
sc
sc
turn
Now you will work back up the other side of the chain.
sc(skip making this sc if you want that pixied tip, work it if you want a more balanced leaf)
sc
sc
hdc
dc
dc
hdc
slip to join.
Attach leaf base near stem allowing tapered side to float free.
You may like this crochet placemat pattern. Get creative with yarn colors. I made a Christmas crochet placemat version below. In the post you will also find a day to day everyday crochet placemat colorway.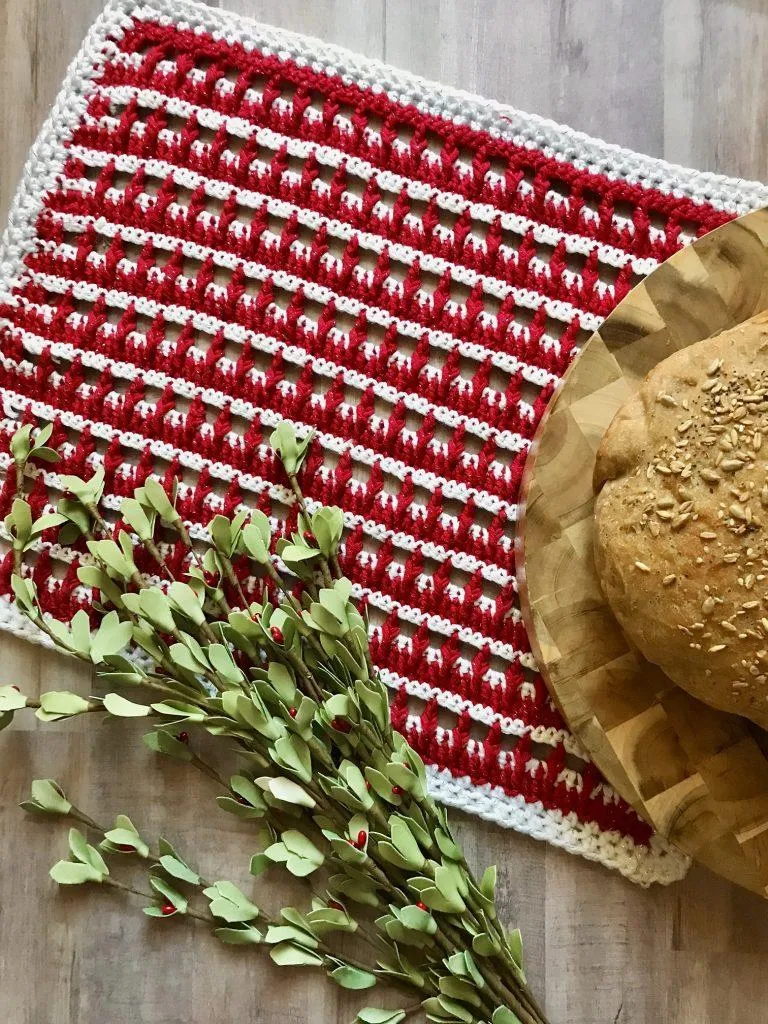 How to crochet apples video tutorial