Ads allow content creators to provide free useful and compelling content to the public. We may earn money or products from the companies mentioned in this post. See the Affiliates and Disclosures page for more information.
Free crochet fall patterns to make your home cozy
Dress your home for fall with these free crochet fall patterns.
You may be surprised how many different crochet projects you can make in a fall theme! Handmade items add such a cozy warm touch as the weather cools and leaves change. It lends itself to the gorgeous yarn colors that represent nature.
Gold, browns, oranges and greens all conjure up dreamy relaxing fall images in the mind. It's also a good time to start working on crochet gift projects to give during the upcoming holidays. We're inside more when it's cold out and crocheting by the fire feels like the ultimate relaxation time, doesn't it?
Table of Contents
Get a warm drink and use this list to start planning your next fall crochet project.
1. Crochet table runner
A table runner for fall is perfect for displaying a fall centerpiece. It adds texture as well as protection to any table you use it for. Try crocheting a table runner for your entryway, a coffee table or your main dining table.
Add a basket of gourds, a sunflower silk bouquet or a crochet pumpkin stack.
Check out the free table runner crochet pattern.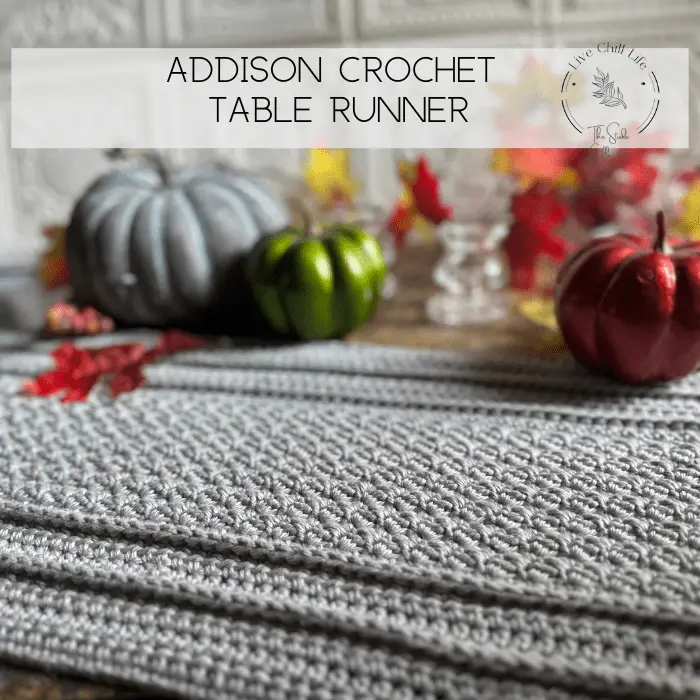 2. Crochet pumpkin stack fall pattern
In a modern twist, this crochet fall pattern is a fantasy display for pink, glam or barbie lovers. Certainly if you like a classic pumpkin display you can work the pumpkins in traditional fall colors.
Either way you make it, styling it on a tray makes the display portable when needing to move it for dusting or just to enjoy in another area of your home.
Check out the fall fantasy crochet pumpkins free pattern.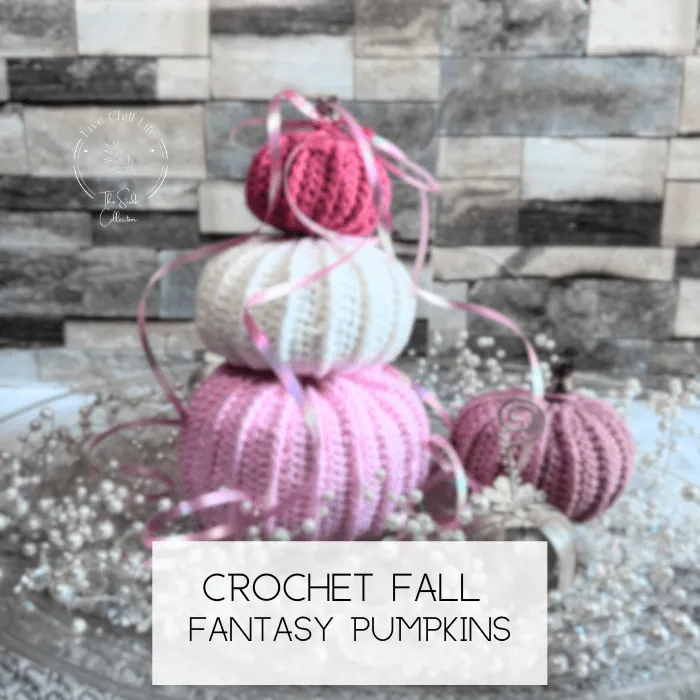 3. Pumpkin blanket wrap crochet pattern -slounge wrap
This wrap is designed to be used at home. Very oversized, it is ideal for keeping cozy by the fire or watching your favorite shows. No matter what position you shift into you can easily adjust the generous size to be warm.
Not as cumbersome as a blanket, the hybrid of a wrap and blanket is a must have in my home during cooler months.
Check out the free crochet blanket wrap pattern that uses caron latte cakes.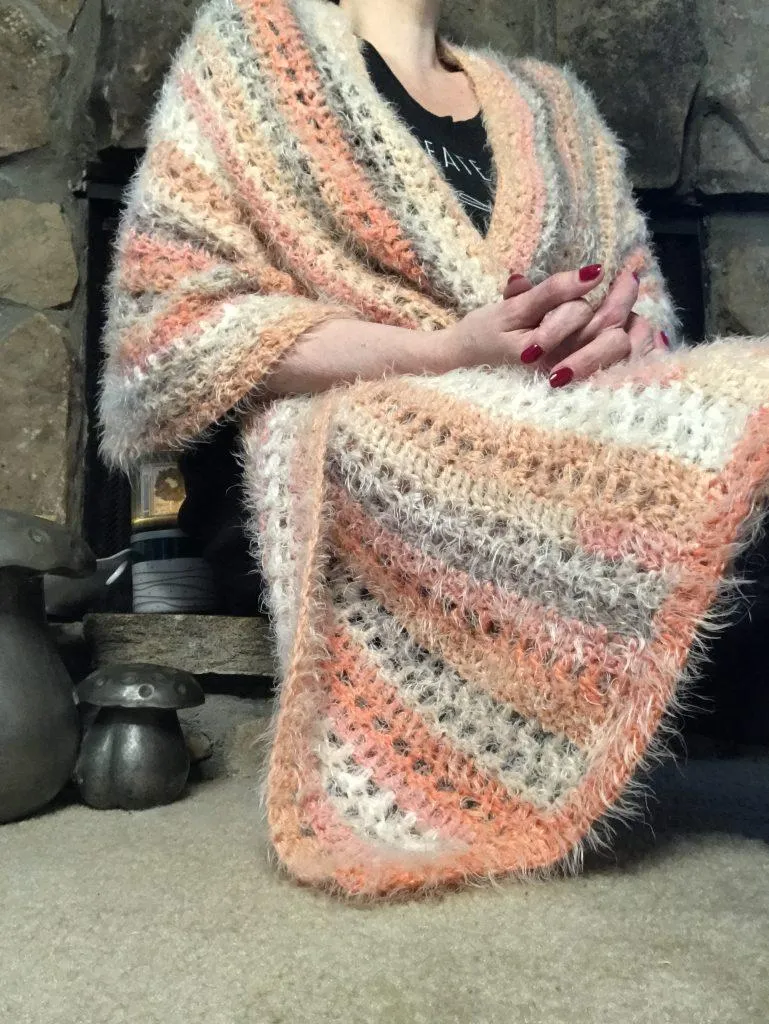 4. Fall crochet home set
This free pattern crochet potholder and crochet coaster set is made with rich fall colors.
With the heat of summer gone, many people tend to do more baking and home cooking if they had previous avoided hot foods, heating up the kitchen with the oven on and heavier meals. All that changes when fall rolls in and we want comfort cooking.
Soup, stews and homemade bread are on the menu. These double thick thermal stitch potholders come in handy. Warm mugs of cider rest in coasters that protect surfaces beautifully.
This gorgeous set also makes a wonderful gift!
Check out the thermal stitch potholder free pattern
Check out the sunburst harvest crochet coasters free pattern
5. Fall crochet gnomes pattern
To dress your hearth or other special area of your home, make the woodland gnomes family. This small but distinct set of gnomes are each unique but fit together perfectly.
You can work them up in woodland colors like rich pine green, harvest wheat and a tree bark tone. I show you options to style them for fall or for the holidays in the free crochet gnomes pattern post.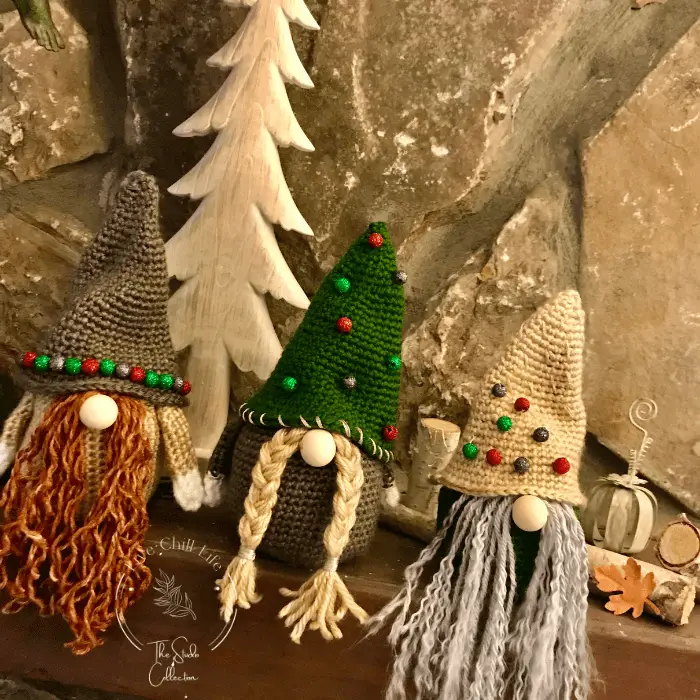 6. Crochet apple coaster pattern
The quintessential fall fruit, the apple. This cheery coaster not only is useful as a coaster, but look great adorning a simple gift wrap or make a stack as a teacher appreciation gift.
Get creative with different apple colored yarns like burgundy, pink, red, gold and green!
Check out the free apple coasters crochet pattern.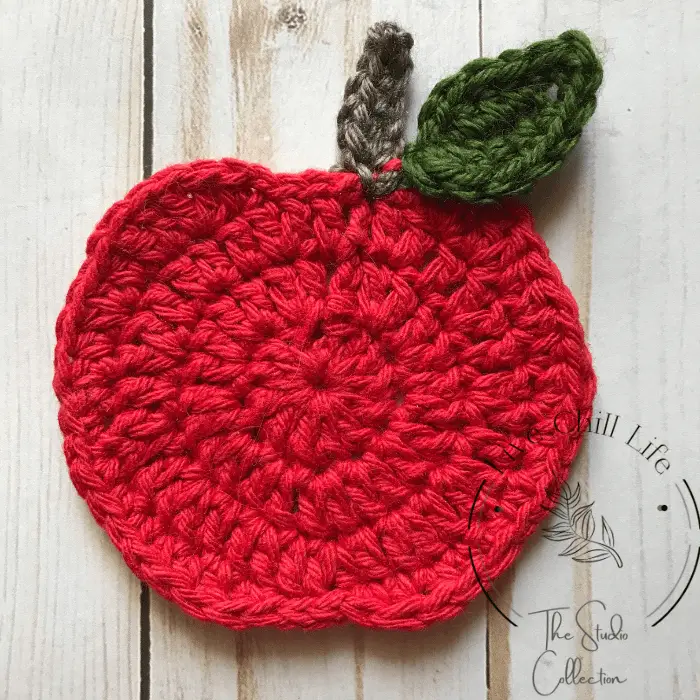 You may also like these 10 Halloween inspired cocktails for your adult Halloween party!
7. Fall modern plaid crochet blanket wrap
A unisex design, this modern plaid wrap is big enough to adorn your sofa or big chair. The whole family will enjoy having this to grab when it gets chilling in the evenings.
Check out the highlands plaid crochet blanket wrap details.
8. Crochet Halloween Pillow ideas
A pumpkin crochet pillow or one that is more spooky is a wonderful handmade touch to crochet for your fall home decor.
Check out the 10 best Halloween crochet pillow patterns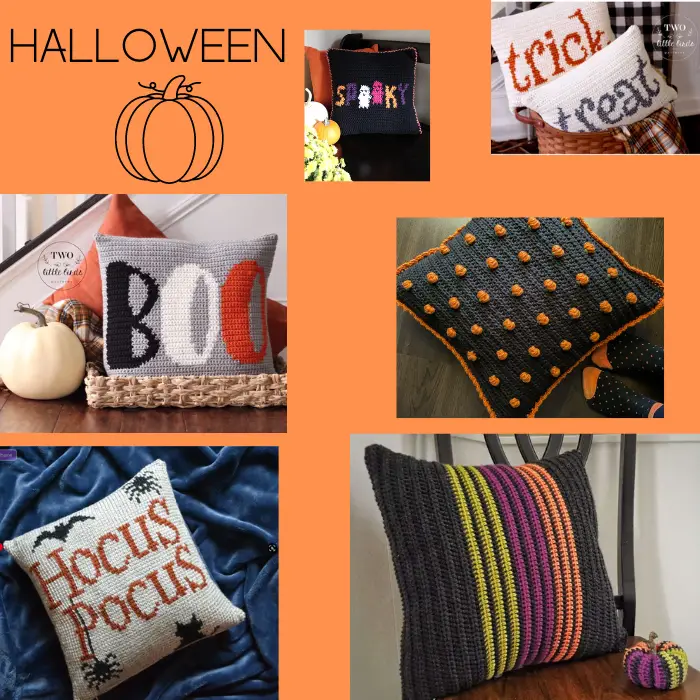 9. Crochet Halloween patterns
Whether it's a wreath, a crochet black cat or pumpkin, crochet Halloween patterns have endless options for crafts inspired by iconic Halloween symbols. From tiny, to large, even to Halloween trees, this selection of spooky crochet patterns will inspire your fall home decor.
10. Crochet sunflowers
Sunflowers look great in a fall display! Why not crochet some to add to some silk greenery and fall pumpkins and gourds?
Check out the crochet flowers post to see a beautiful sunflower pattern!