We may earn money or products from the companies mentioned in this post. See the Affiliates and Disclosures page for more information.
Are your crafter fingers itching to make some spooky crochet and yarn crafts? Wondering what crochet Halloween patterns you can make to decorate the spooky fun holiday? The answer is LOTS OF THINGS! Witches, pumpkins, ghosts, goblins, spiders and more!
A great start is your front door because the most people will see it! I've got a few fun Halloween DIY wreaths to inspire you and lots of unusual other spooky crochet decor ideas for inside your home.
Read on to explore some fun crochet Halloween projects.
Halloween wreath crochet project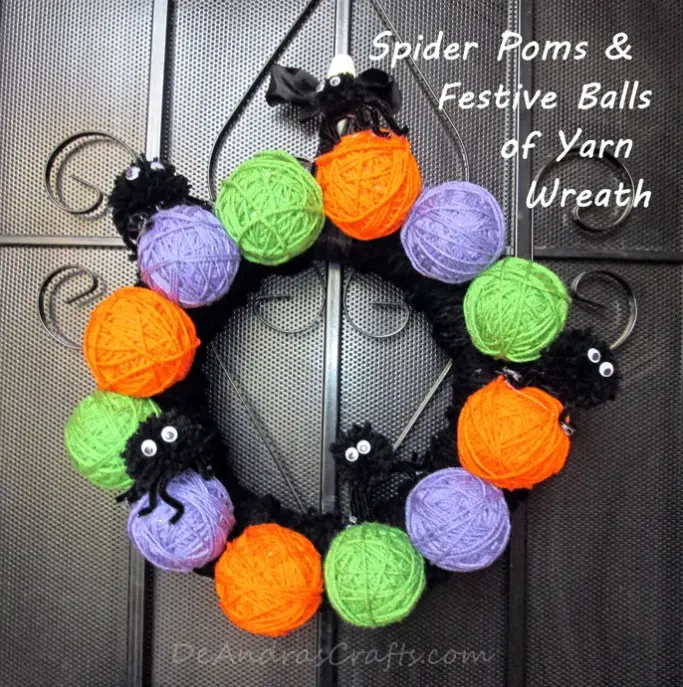 This Halloween themed yarn wreath you can lessen the amount of yarn you use by wrapped yarn around old paper, mail flyers, newspaper or paper bags.
I'd even consider it a stash buster if you have the holiday shades of yarn in your bins.
Get the instructions from DeAndra's crafts here to make a Halloween wreath
.
Crochet Halloween pumpkin pillow pattern
This darling bobble pillow the Knotted Nest is so pretty you will keep it out all of the Autumn season! Sit on the sofa with this Halloween project waiting for your trick or treaters in style with this cozy home addition.
Best thing about it is you can enjoy the pumpkin pillow all fall season.
Get the pattern for the crochet pumpkin pillow.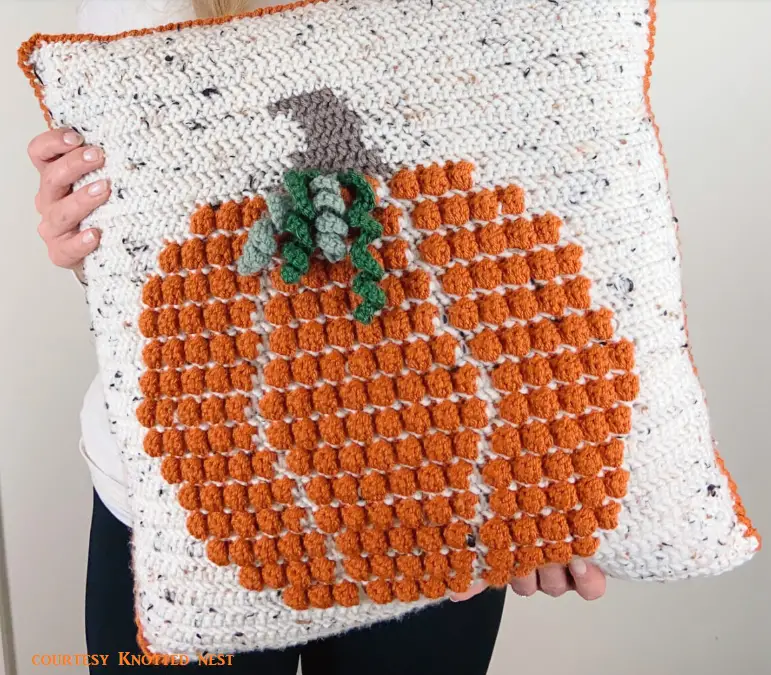 Crochet Halloween pattern – ghost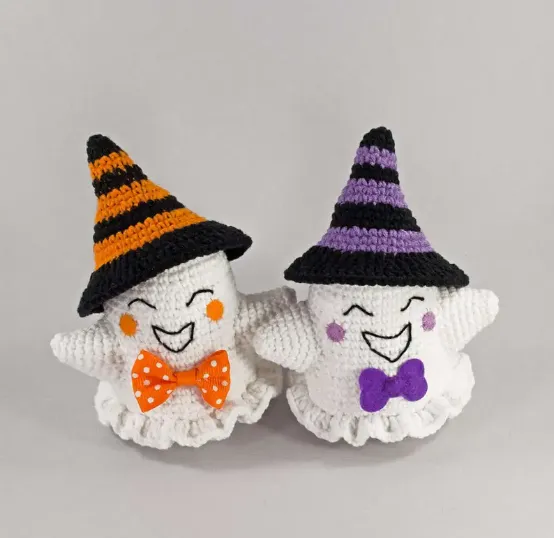 Not all ghosts are scary. Case in point, these cheery crochet ghosts come with a smile for all who see them.
Imagine them on your trick or treat table, in a window looking out on outside passersby, in your kitchen windowsill or kid's room.
Get the crochet ghost pattern .
A crochet witchy backpack
A cute and festive backpack for your trick or treater to use all month long. The tag along witchy striped legs move as the youngster walks and will be the envy of every kid in class.
get the Crafty Concept crochet halloween backpack pattern.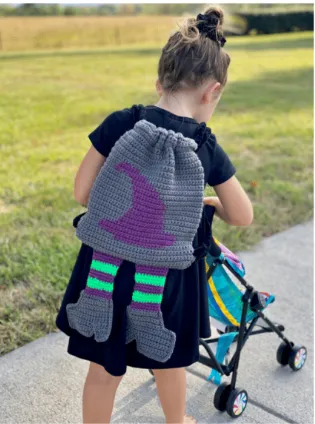 Crochet Halloween pattern for cat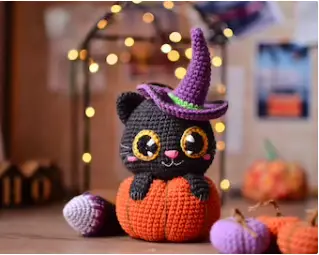 An adorable black cat excited for Halloween! This may be a good luck black cat even though it wants all the pumpkins. Will you share with kitty?
Get the pattern to make a halloween crochet cat .
Crochet witch hat pattern
This fun witch hat will get you in the mood of the season either to wear alone or be the finishing touch to a wonderfully witchy costume.
Get the pattern for a crochet witch hat.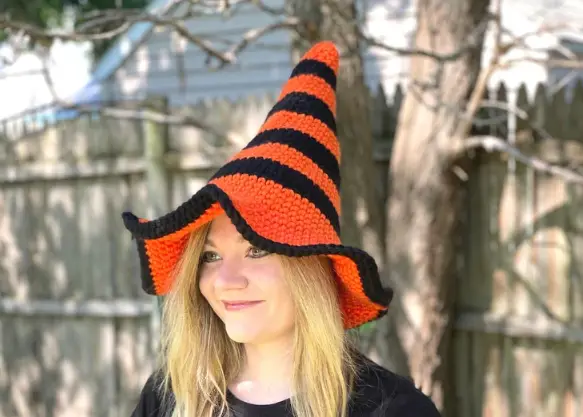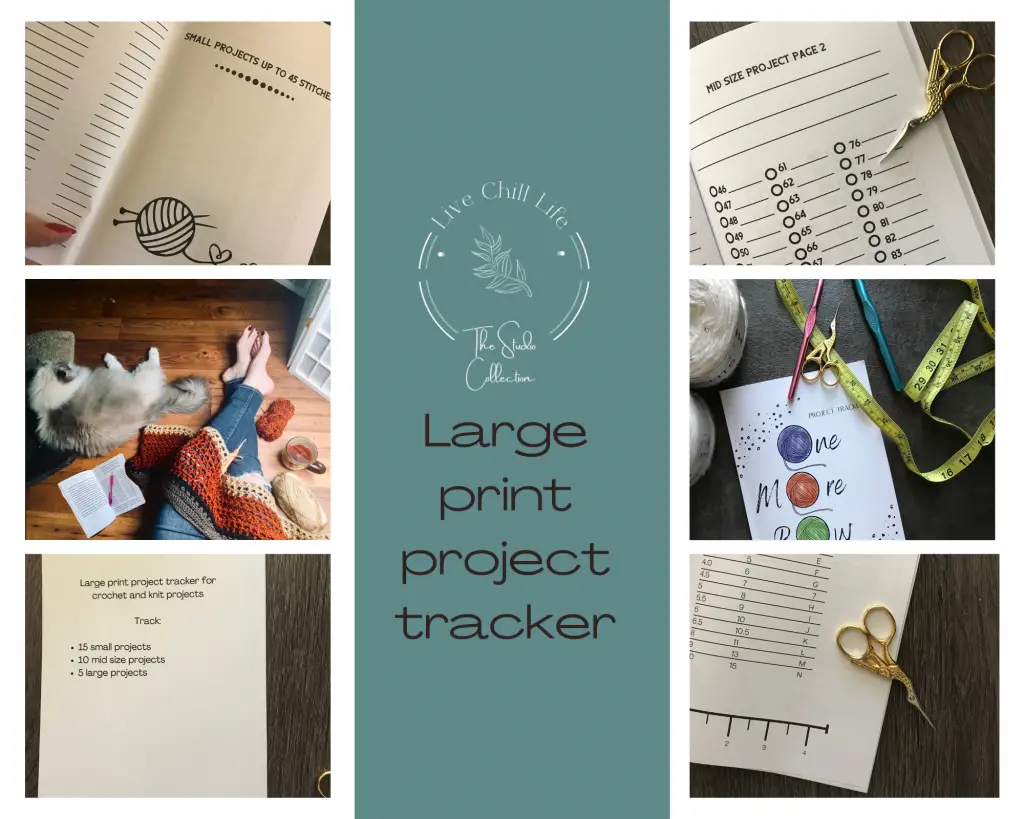 I designed knit and crochet project trackers! Keep track of your cardigan pattern with this tracker.
This is the large print version for tired eyes. So much easier than using apps, scraps of paper or a plain notebook.
Three project sizes, a handy ruler and hook guide inside the cover and plenty of room for notes in each pattern.
Buy the  Large print project tracker.
Buy the regular size print project tracker.
I have had bad eyesight since age 18 so large print is a godsend when you can't see apps and dark yarn, let alone going from one to the other on a crochet-a-thon during a Netflix binge.
Crochet autumn and Halloween themed blanket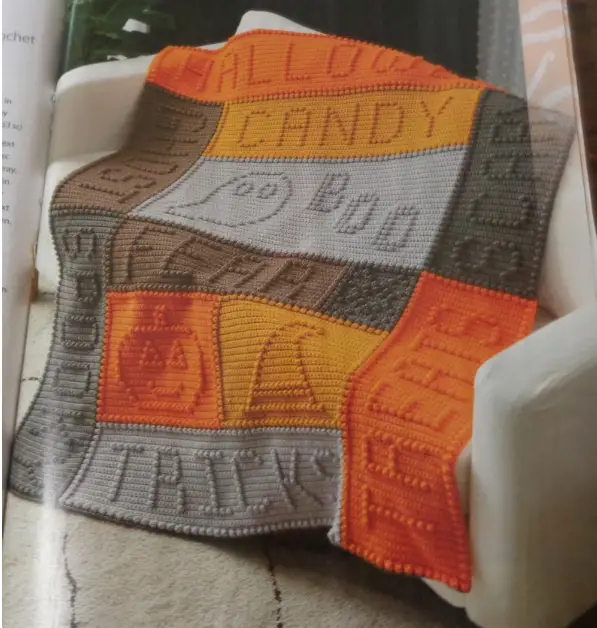 A novelty blanket for the Halloween season! Bring this out year after year to show your love of the holiday.
Spooky words like Boo, Tricks, Treats, Fear, Candy and Ghost are all cleverly worked in to the design.
Get the pattern for a halloween crochet blanket .
A spooky spider crochet pattern
Isn't she gorgeous decked out for an eight legged Halloween party? Don't mess with this spider because she isn't in a good mood it seems!
Get the pattern cute crochet spooky spider.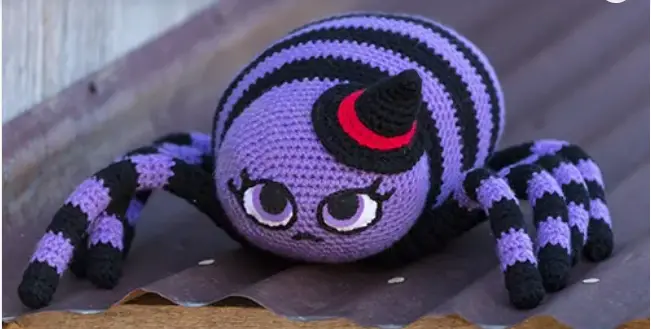 Halloween themed crochet witch wreath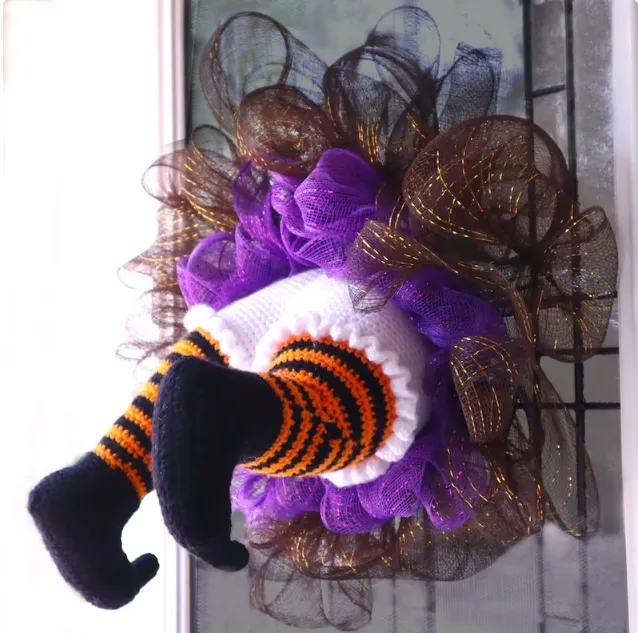 This fun witch wreath will bring a smile to every trick or treater at your door! Imagine the delight and surprise to find a witch got stuck trying to get through your door!
Get the pattern to make a crafty Halloween wreath.
A spooky crochet Halloween tree full of ghosts and mini crochet pumpkins
Are you a themed tree lover for any and every holiday? Or do you just want something to dress up your entryway or living space for Halloween? This ghost and pumpkin Halloween crochet ornament set could be the perfect thing to get your space in the spooky mood.
Get the pattern spooky tree pattern .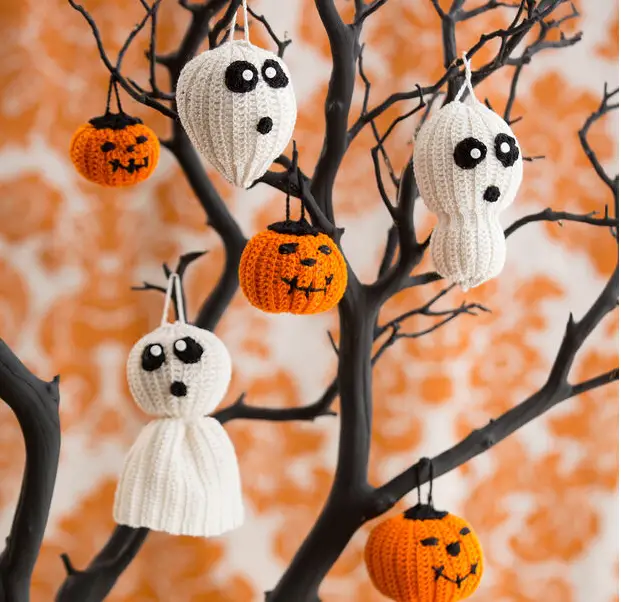 Crochet Halloween witchy pattern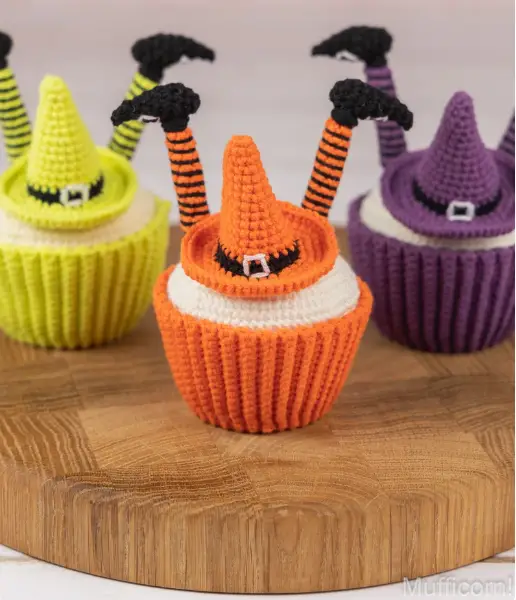 Have we finally met a sweet witch? Or perhaps a gang of witches that love sweets themselves and dive right in!
This adorable humor amigurumi will look great near your candy dishes. Get the pattern here.
Jack Skellington wreath
Much beloved Jack Skellington can be your wreath theme this Halloween and for many more to come.
Love to be in stitches it available Jack Skellington wreath pattern.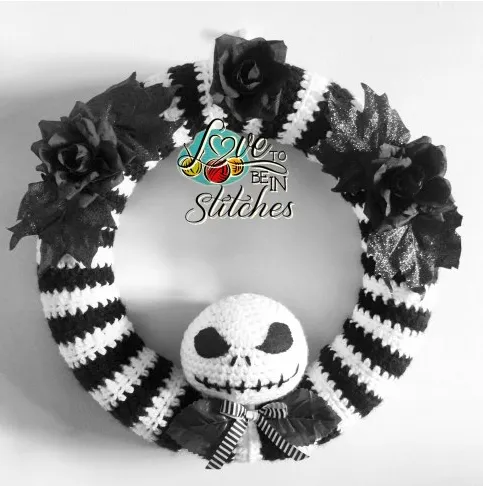 If you have a cat or dog you may like this free crochet pet collar pattern.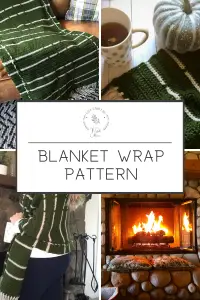 to further get you in the fall mood, this fall modern plaid blanket wrap pattern.