Ads allow content creators to provide free useful and compelling content to the public. We may earn money or products from the companies mentioned in this post. See the Affiliates and Disclosures page for more information.
Halloween inspired cocktail recipes
If you love to host a Halloween adult party, these cocktail recipes inspired by scary movies are perfect for your guests.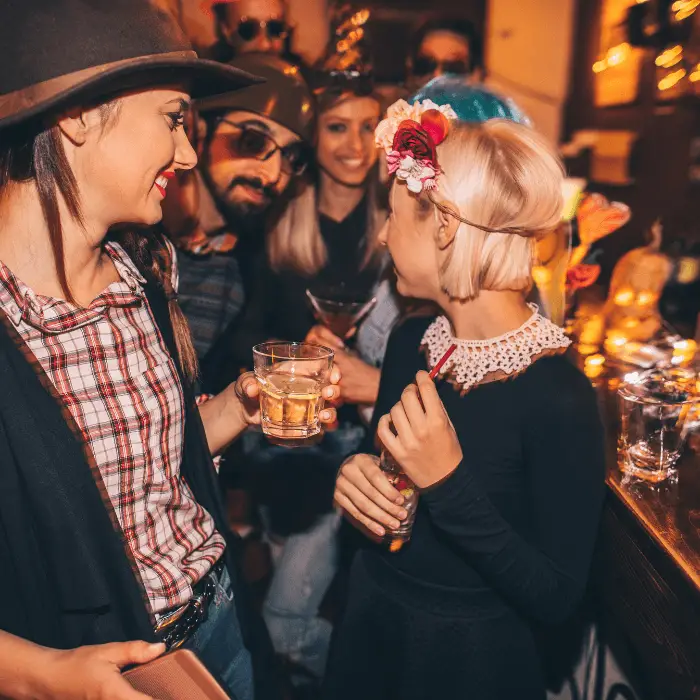 The Horror Movie Night Cookbook by Richard S. Sargent has loads of recipes inspired by specific movies and go along with your Halloween party theme. If you need adult Halloween party ideas this is a great place to start!
The cookbook has anecdotes, summaries of movies and drinking games for your adult Halloween party! Recipes include appetizers, entrees, salads, snacks and of course, cocktails.
Custom cocktails with a party theme are not only delicious but inspire conversation at parties.
Post a drink card at the bar that talks about the movie and what inspired the drinks you are serving!
I have selected a large variety of cocktails including martinis, beer based, cola based and more.
Table of Contents
The Bloody Knife cocktail
Inspired by a modern classic, Scream (1996) The Bloody Knife is served in a martini glass and is, you guessed it, a red drink.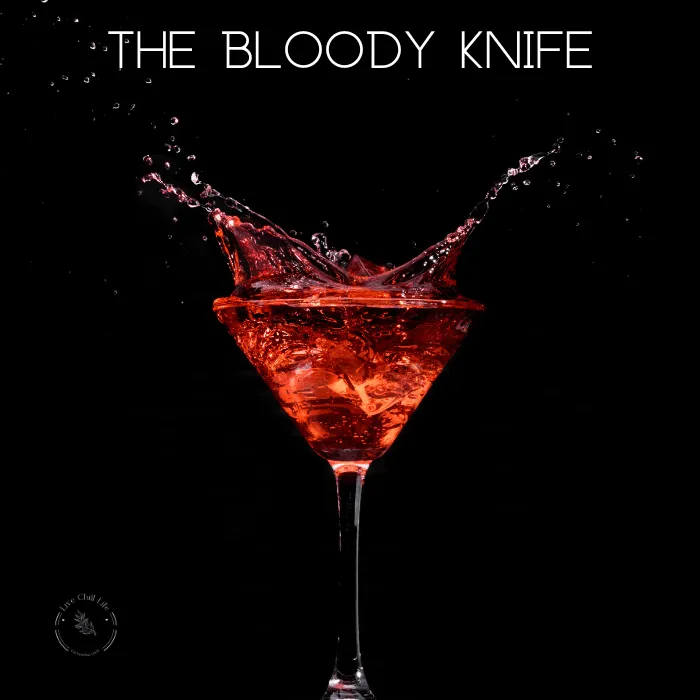 This cocktail is made with strawberry vodka, raspberry liquor and pomegranate juice. Sweet, fruity and delicious!
Adult Halloween parties never had it so good!
The Campfire Sour cocktail
This drink is full of fall vibes which makes it perfect for a late October soiree. Inspired by the terrifying Blair Witch Project It features a bourbon base complimented with lime juice, pure maple syrup and rosemary sprigs
The Croaker Queen cocktail
This fruity bright drink is vodka based and blood red. Inspired by I Know What You Did Last Summer which had the Croaker Queen Beauty Pageant.
This cocktail includes vodka, cran-raspberry juice and ruby red grapefruit juice finished with fresh mint.
You may like these Halloween crochet pillow patterns!
The Winchester
Beer lovers, this cocktail is for you. This Shaun of the Dead (2004) inspired drink shares the chapter with a delicious steak and ale pie that is paired with fried mac and cheese. To drink with it? The Winchester of course.
The survivors of the zombie apocalypse hole up in the local pub called The Winchester.
The drink combines chilled apple brandy, DeKuyper Pocker Sour Apple schnapps and Hefewiszen beer.
You may also like these 5 Refreshing Summer Cocktails when the weather becomes warm again!
The Storm cocktail
Not to be confused with the dark and stormy drink, this bloody looking cocktail is inspired by the movie Identity (2003) and is splendid.
Bourbon is the liquor base stirred with blackberry liquor and ginger beer. Delicious!
Debbie Salted Apple Cider Martini
Fall needs something showcasing apples and that's exactly what this martini does.
Scream 2 (1997) inspires this drink, specifically the character Debbie Salt.
The martini uses vodka, apple cider (store bought is fine), pink salt and a cinnamon stick or apple slice garnish.
The Flaming Zombie
Rum lovers, this is your spooky cocktails! Dawn of the Dead (2004) is the inspo for this impressive looking drink.
Light and dark rum build up the base, adding in pineapple juice, orange juice, grenadine and lime juice give it a tropical flavor. The wow factor is the final touch of high proof flammable rum to impress your guests!
The Albino Animal
In The Descent (2005) The villains in the move are white creatures that have adapted to their underground environment, which inspired the name of this tasty drink.
It combines vodka, anisette liqueur, triple sec and fresh lime juice. Finish with a drop of bitters and the animal is ready to serve!
The Burning Man Cocktail
The Wicker Man (1973) is the impetus around this cocktail. The movie premise is a young girl gone missing during the annual harvest.
Bison grass vodka, elderflower liqueur and sparkling rose comprise this drink and of course, garnish with a blade of clean grass or wheat sprig.
The Man Cannot Live on Booze Alone
A cola cocktail is a welcome addition to this collection of spooky drinks. Piranha (1978) inspires this very potent drink. It gives long island iced tea vibes.
Scotch, gin, bourbon and tequila are combined with cola and one each lemon and lime wedge.
Check out the Horror Movie Night cookbook for the full recipes along with many more spooky cocktails in the 129 page recipe book.