Ads allow content creators to provide free useful and compelling content to the public. We may earn money or products from the companies mentioned in this post. See the Affiliates and Disclosures page in the top menu of this website for detailed information.
Christmas stocking crochet pattern free
Learn to make a crochet christmas stocking with this free pattern.
The Gingerbread coastal Christmas cottage collection features this free crochet Christmas stocking pattern and a matching trio of trees.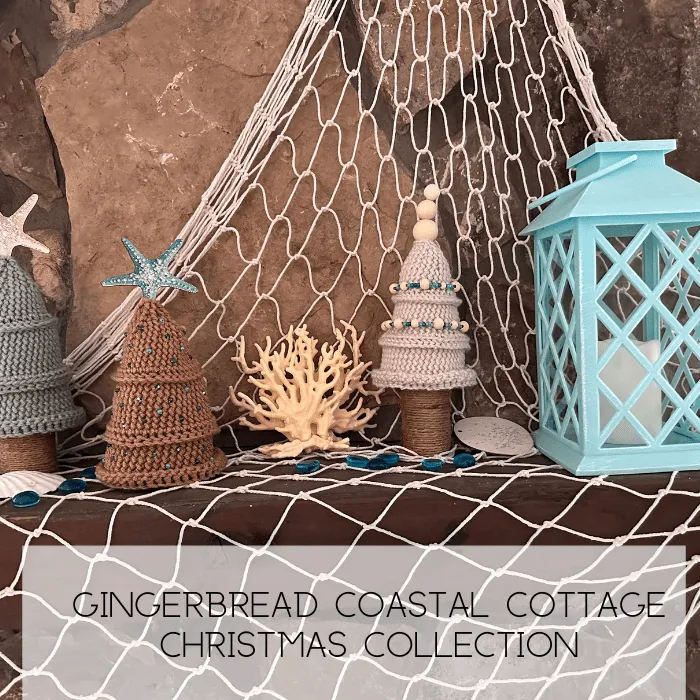 I really wanted a coastal theme for my mantle this year. I used a gentle ginger tone then mellowed it out with the colors of the ocean and seashells. Feel free to change up the color combinations to more traditional colors or colors that compliment your holiday decor.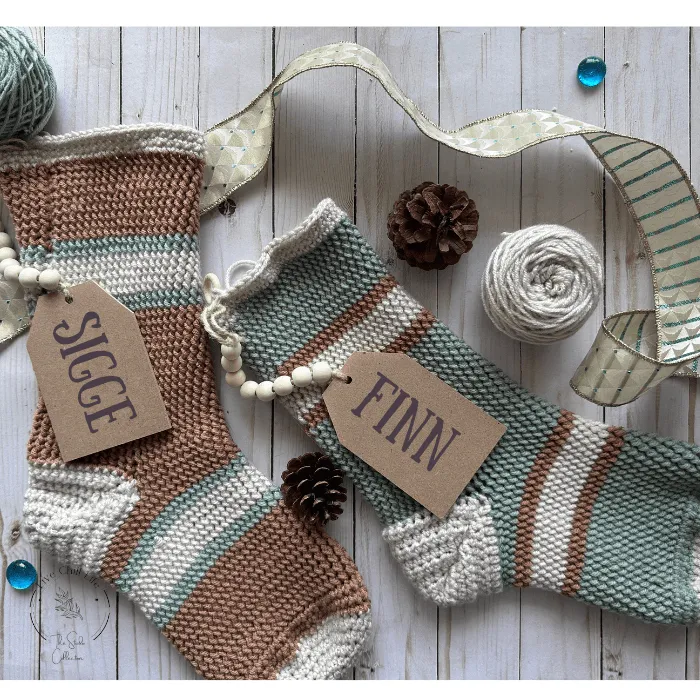 I styled the mantle with a seashell tree, a lantern (Dollar Tree plus has these) and some fisherman's netting.
Table of Contents
About the free crochet Christmas stocking pattern
This design is for an experienced beginner. The stitch used is a bit persnickety. It will want to constrict and it curls. I have worked it to avoid some of the drawbacks but you should be very comfortable with even tension, working in the round, joins, changing colors and switching hook sizes within a project.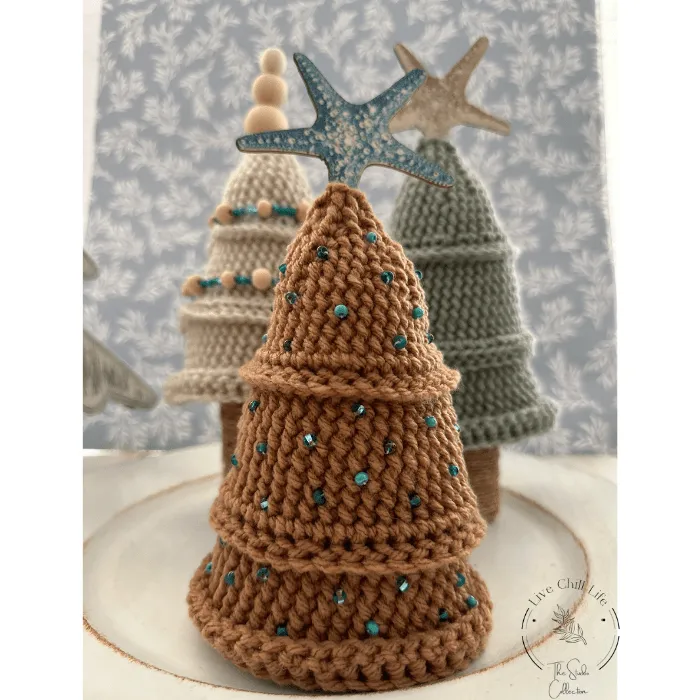 The same stitch is used in the coordinating crochet Christmas trees to achieve a cohesive look.
You will need category 4 yarn in three colors, a 5.5 & 8 mm crochet hook.
Stocking is 13″ h from base of heel to top cuff.
See all my free crochet Christmas patterns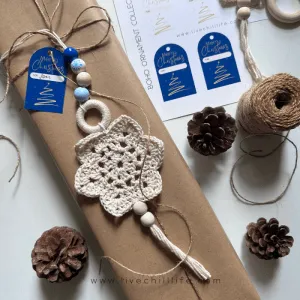 Crochet terms used in the crochet christmas stocking pattern
US terms
sc single crochet
Ch – chain
sk– skip stitch
hdc – half double crochet
fpsc- front post single crochet
slp – slip stitch
inc- two stitches in same stitch
Feel free to download the single page project tracker for this project. It's just big enough for this design.
Pattern
5.5mm and 8mm crochet hooks
category 4 yarn in three colors 200 yards of main color and small amounts for toe/heel and accent stripes (shown is Hobby Lobby I Love This Yarn in toasted almond, linen and spa)
optional hangtag for name
1.5″ wood ring for hanging (I used rings from this set)
work toe box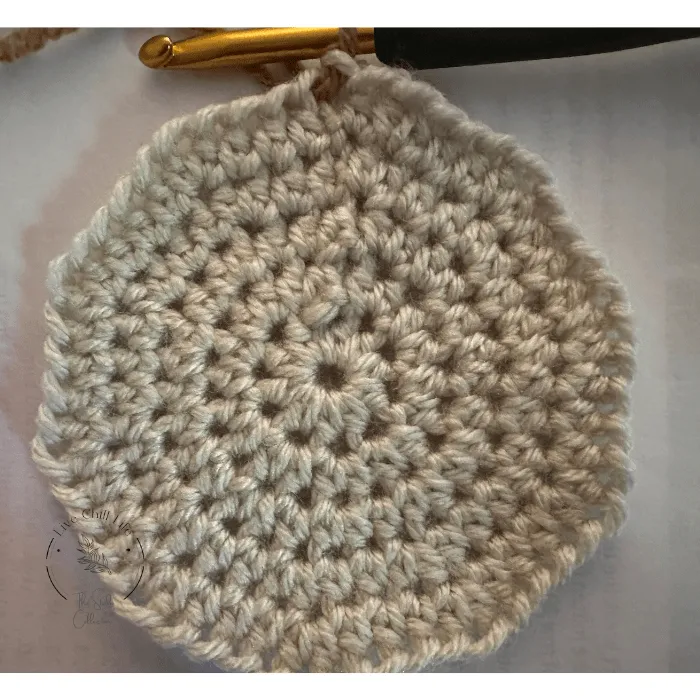 Using 5.5 mm crochet hook, create a slipknot then ch 2
Round 1: 10 hdc in first ch. Join to 1st hdc with sl st. Ch 1, do not turn. 10 hdc
Round 2: Hdc-inc in each stitch. Join with a sl st. Ch 1, do not turn. 20 hdc
Round 3: Work Hdc-*inc in first st, 1 hdc in next st* 10 times. Join with a sl st. Ch 1, do not turn. 30 hdc
Round 4: Work Hdc-*inc in first st, 1 hdc in next 2 sts* 10 times. Join with a sl st. Ch 1, do not turn. 40 hdc
Round 5: Work Hdc- *inc in first st, 1 hdc in next 3 sts*10 times. Join with a sl st. Ch 1, do not turn. 50 hdc. Change to main color when slip stitching last st of this round .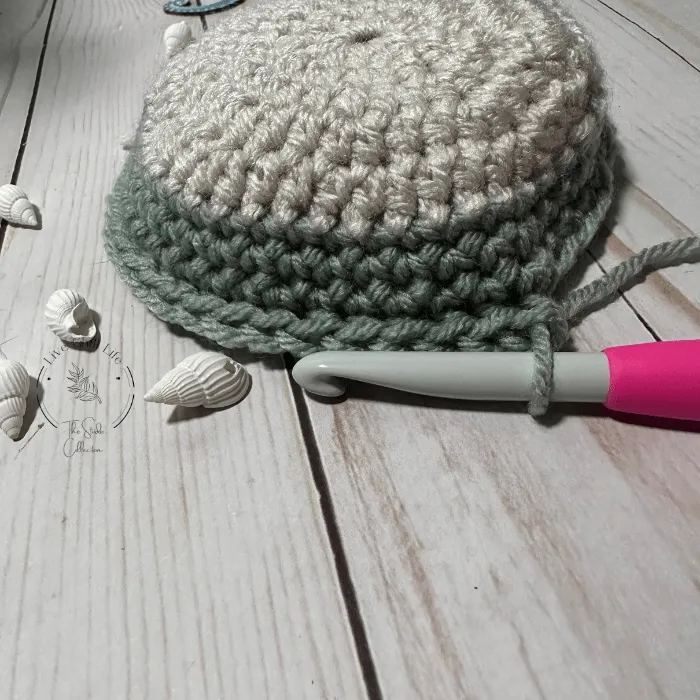 Next begin crochet stocking pattern.
Crochet stocking pattern
You can't weave in ends as you go with this stitch so you will stop at different points of the stocking to work in ends near the stripe sections.
Round 1-3: change to main body color, sc around for rounds 2-3 switch to the 8 mm hook to set up the rows for the body stitch.
Begin stocking body texture stitch
Round 4-14: fpsc (make sure you pull up your loops high to prevent stitch from constricting, tension is key for success with this stitch)
Stripe section 1
Round 15-16: Change to accent color 1, fpsc around
Round 17-21: Change to accent color 2, fpsc around
Round 22-23: change to accent color 1, fpsc around
End stripe section
Round 24-26: change to main color, fpsc around cut yarn and pull through to inside while you work on the heel inset.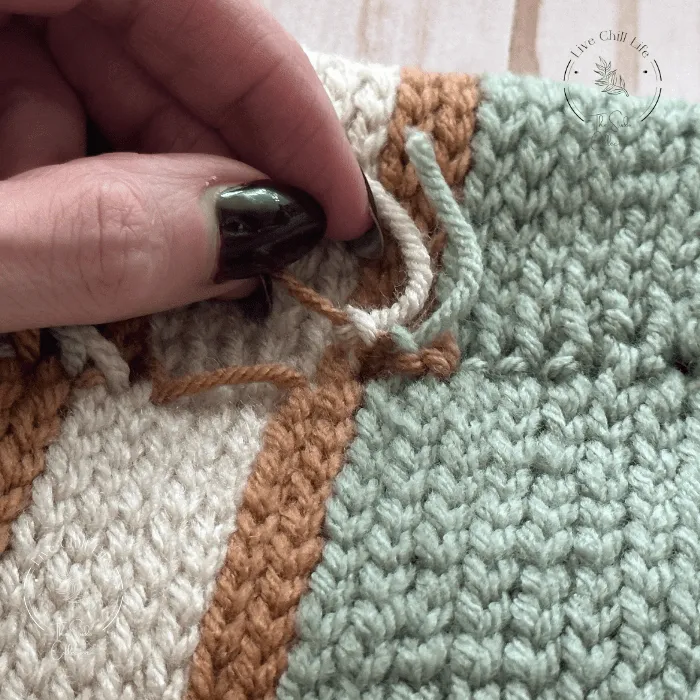 Turn inside out and work on the loose ends. Knot opposing strands together then weave in ends so everything lays flat. This ensures if you do fill the stocking nothing will come undone when items are removed.
Crochet stocking heel pattern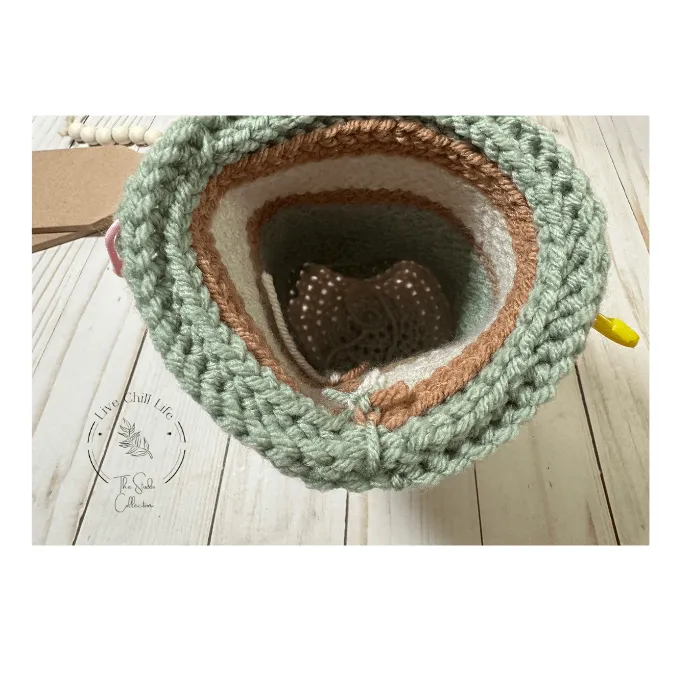 From slip stitch point count 13 stitches right and left to total 26 and mark them. Because this stitch can slant, check eveness of spacing by folding flat north-south (shown are markers east-west) and see if they line up evenly. Shift markers so they are even if need be (see video demo of this adjustment)
Use 5.5 mm hook for heel work.
Row 1: hdc from one marker to other working 26 sts.
Row 2: (do no chain 1 when you turn on the decrease rows) sk first st, hdc 24 sts leaving last st unworked.
Continue this decrease in row 2 until you have 12 sts (6 more rows)
Row 9: inc row. Ch 1 turn, work 2 sts in first stitch and last stitch of each row. 14 sts
Repeat this row 9 increase until you reach a final row of 26 sts. it will look like image below.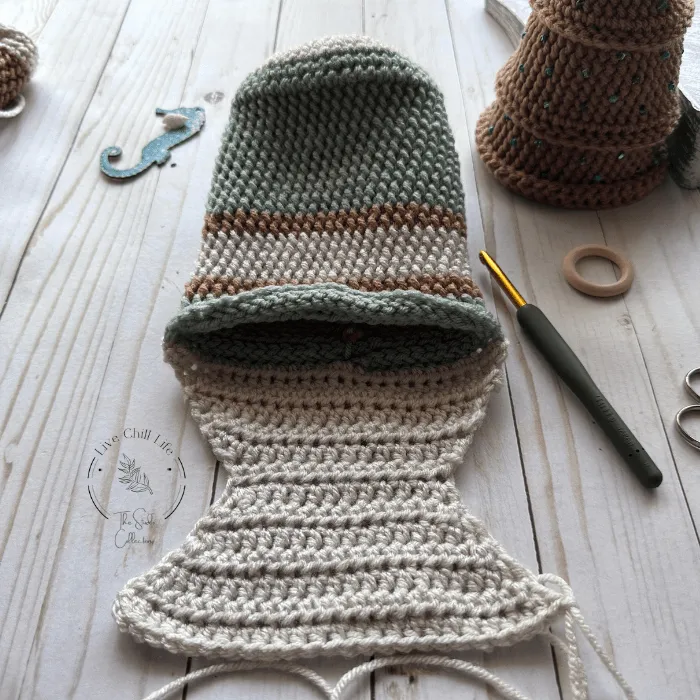 Do not cut yarn. Turn over and fold so outside is facing out . Slip stitch along the sides taking care not to leave any gaps. Cut yarn and weave in end. Turn right side out then continue working your stocking body in the round.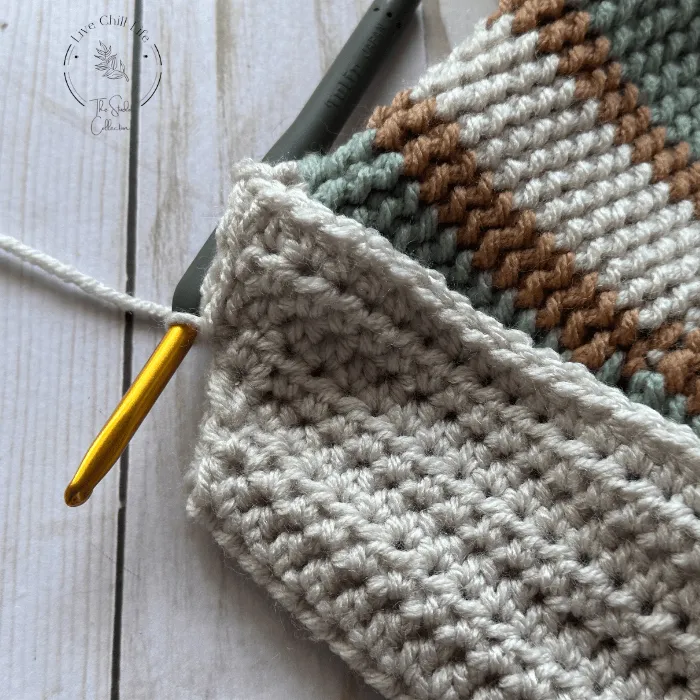 Finish crochet Christmas stocking
Once the heel is seamed you will continue to work in the round.
Round 27: Find the most center point of the back of the heel that lines up with the last slip stitch of the sole (before the heel began) and insert main body color yarn using 8 mm. hook. SC around until you meet the main color row, working the hook into the top stitch that meets the first "column" you will be continuing around. There will be 24 main body stitches and 26 heel stitches (the first round of the heel stitches are sc to set up for fpsc on next rounds)
As you meet the opposite side of heel, revert to the 13 sc needed to finish round before slipping the stitch to end the round. From here you will continue fpsc with main body color.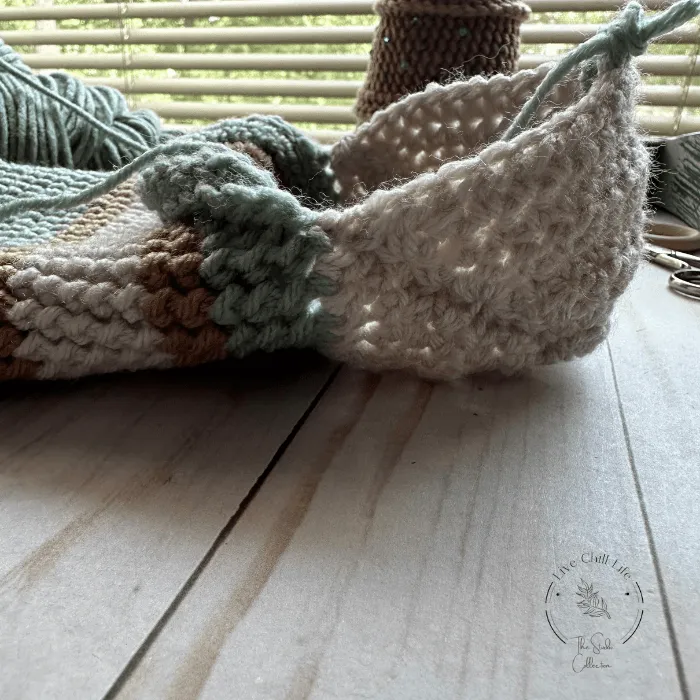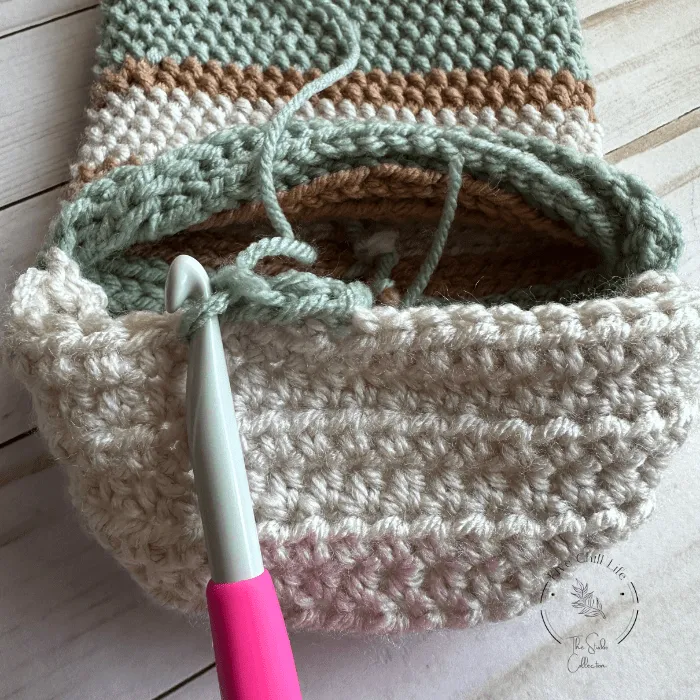 Rounds 28-46: fpsc with main color
Begin stripe 2
Round 47-48: change to accent color 1 and fpsc
Round 49-53: switch to accent color 2, fpsc around
Round 54-55: change to accent color 1, fpsc around
End stripe 2
Round 56-64: change to main color, fpsc around.
Round 65-67: change to 5.5 mm hook, insert toe/heel color, sc around.
Finishing the crochet Christmas stocking
Use 3 slip stitches to attach wooden ring.
If using a hang tag or string of beads, cut a long tail after attaching ring and us it to thread through the decorative (I got these at dollar tree) hanging element. Bring through to the inside and tightly knot to other loose ends.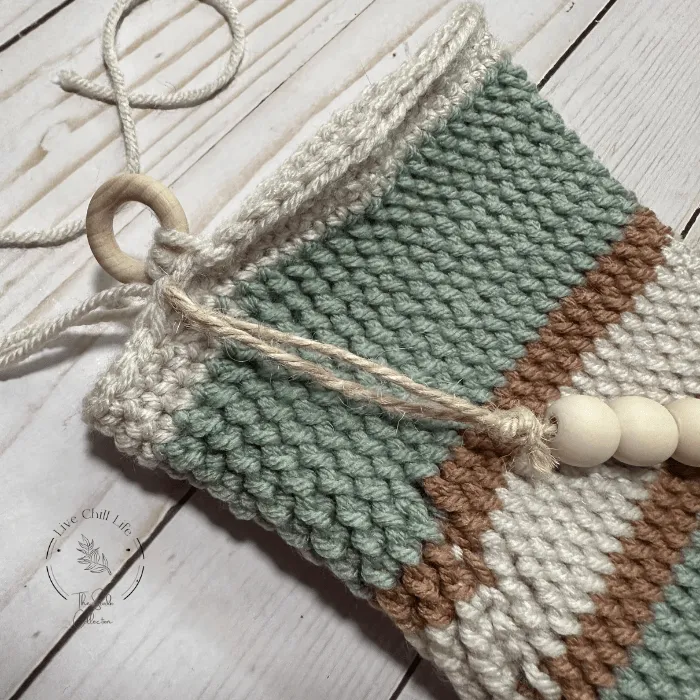 Crochet Christmas Stocking Video Tutorial