Ads allow content creators to provide free useful and compelling content to the public. We may earn money or products from the companies mentioned in this post. See the Affiliates and Disclosures page in the top menu of this website for detailed information.
Make a seashell Christmas tree with Dollar tree shells
It is easy to make a seashell tree for your home using inexpensive shells from Dollar tree and other stores. I will show you how to make one!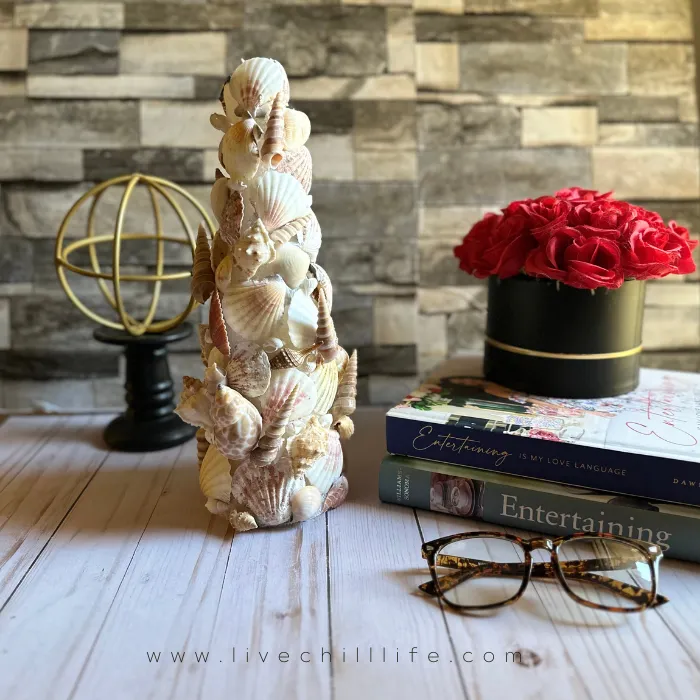 Table of Contents
Seashell home decor ideas (not just for Christmas)
When it comes to decorating a sea shell Christmas tree, there are various styles you can choose from to create a unique and beautiful display. This natural display is beautiful in a variety styles of home decor. Call it a shell tree or tree of shells if you don't want it for Christmas decor specifically.
I've chosen the popular coastal theme for my holiday mantle (it doesn't snow everywhere on Christmas after all!).
This tree incorporates a range of sea shells in different shapes, sizes, and colors. This style is perfect for those who want to bring a touch of the beach to their holiday decor.
Some trees are a single type of shell which is a bold statement as it looks more intentional than the natural layout I am showing here.
For my mantle, I added crochet Christmas stockings and crochet Christmas trees to bring together a Gingerbread Coastal Cottage theme to my mantle this season. Both are free patterns on this website.
My blue lantern and stocking hang tag are Dollar Tree finds too!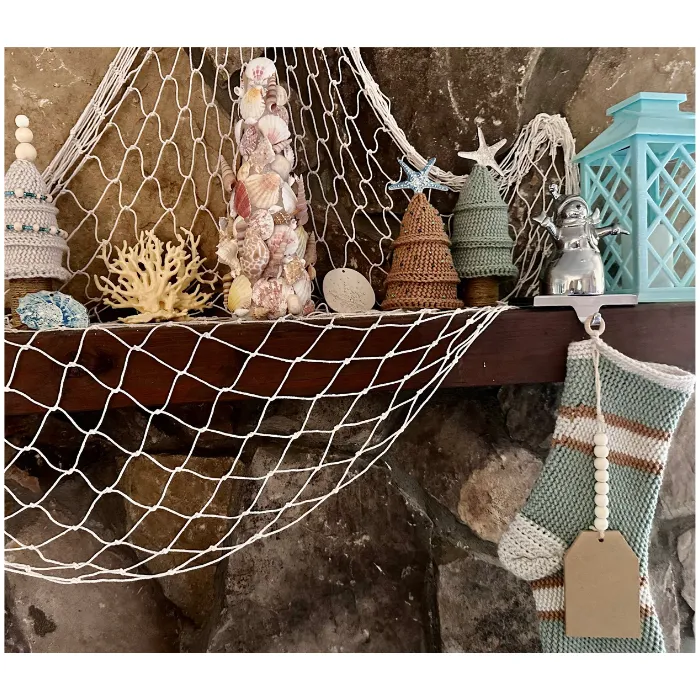 To achieve the coastal design look for your tree, start by selecting a variety of sea shells in shades of white, cream, browns, and blue. I have some resources where to find them in the next section. I promise they are right under your nose and you never noticed them!
Glue them to your choice of tree base, mixing different types and sizes for visual interest. You can also add other beach-inspired elements like starfish, sand dollars, and miniature sailboats to enhance the theme. I have a crystal sailboat ornament (my father was a competitive sailor) but it doesn't quite go with this particular setting.
Another style to consider is the elegant and sophisticated approach. This style focuses on using larger, more intricate sea shells as the main decorative elements. Opt for shells with intricate patterns or unique shapes, such as conch shells or nautilus shells. Place them strategically on the tree, spacing them out evenly for a balanced look.
To add elegance you can consider amping it up with pearls dotted around the shells, filling in gaps and placing an elegant feathery floral accent nearby.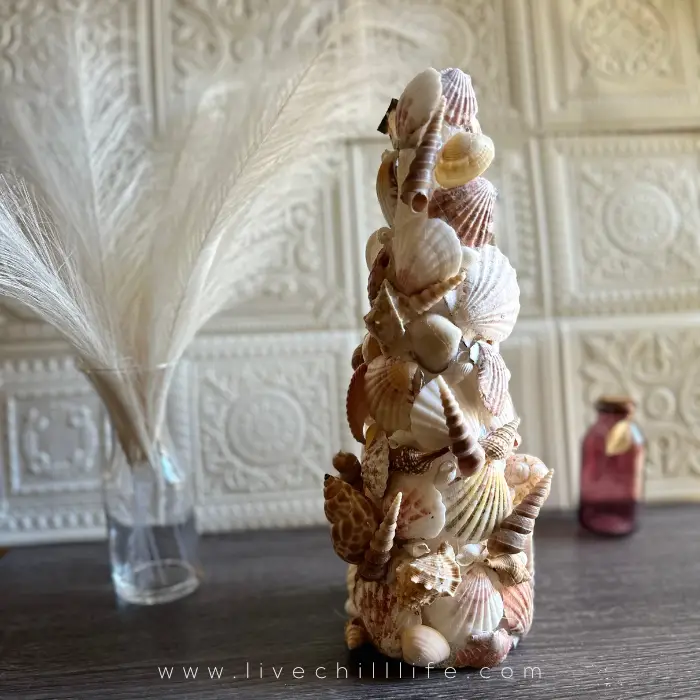 No matter which style you choose, remember to complement your seashell tree decor with coordinating ornaments, lights, and ribbons. This will help tie the entire look together and create a cohesive and visually appealing display. I used fisherman's net to amp up the coastal look!
With these ideas in mind, you can create a stunning sea shell Christmas tree that will be the centerpiece of your holiday decorations.
If you love coastal design you may like these free crochet fish potholder patterns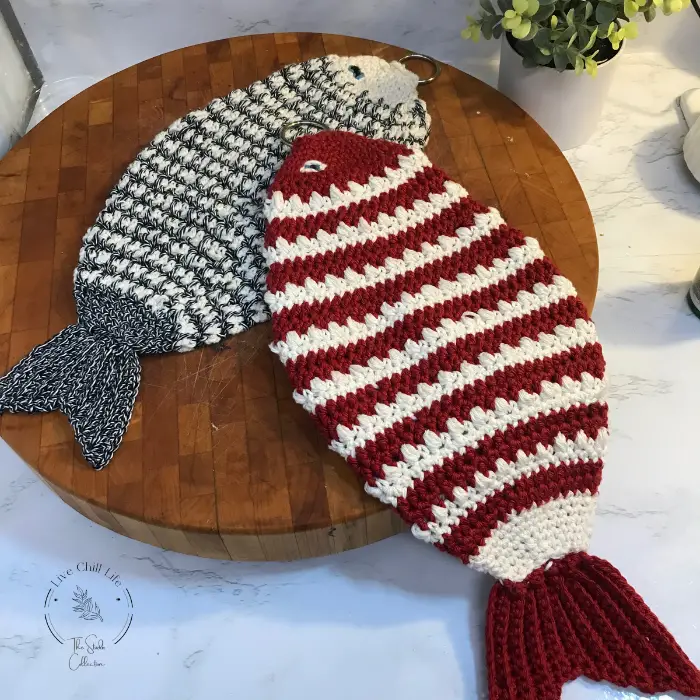 Supplies to make a sea shell Christmas tree
Pick your base: Use a styrofoam cone (just be careful with hot glue so it doesn't melt it) or a kraft paper-style heavy-duty cone. They are in craft stores during the holiday months.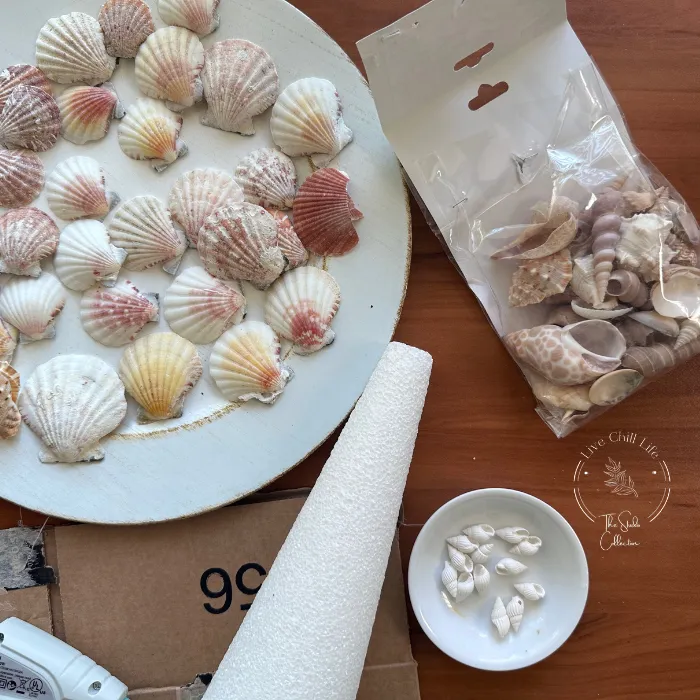 Sea Shells: I found seashells in Dollar Tree! They are in the floral section in bags. I only saw scallop-type shells there and wanted more types than that. I added a mixed bag from Hobby Lobby on sale for $3.29 then some small resin conch shells from Temu 50 ct for 1.23.
You can also add things like sea glass (hobby stores and Dollar Tree), wood beads or jewels and muted silver or gold beads and pearls.
Adhesive: Hot glue is the choice for this project. If you are using it with a styrofoam cone just let it cool a second or two before sticking it to your tree.
I have craft tweezers to help me with placing the filler tiny shells in place at the end. You may not need this but I have long nails and they can get in the way of tiny detail work like this.
How to make a DIY sea shell Christmas tree
Organize your shells so the larger ones are in one area then gradually decreasing sizes above them so the top row is your smallest shells.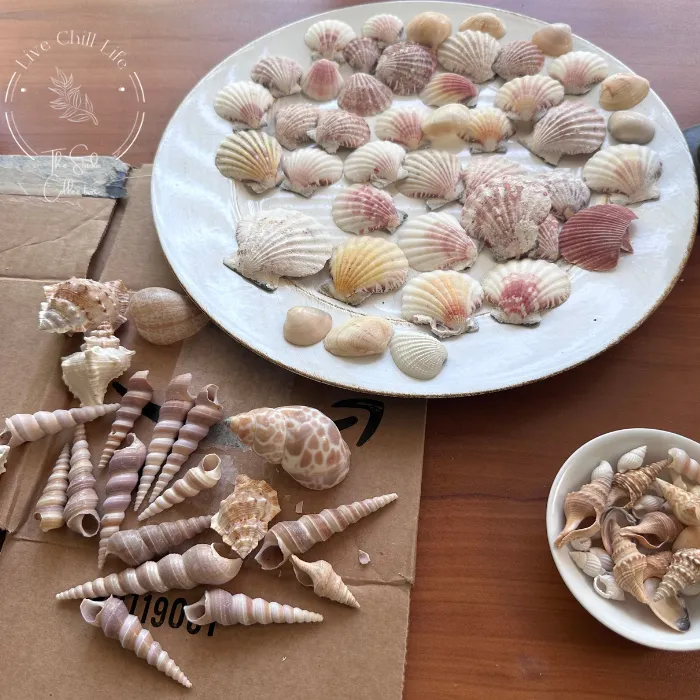 Heat up the glue gun then get gluing. I started at the base with large scallop shells.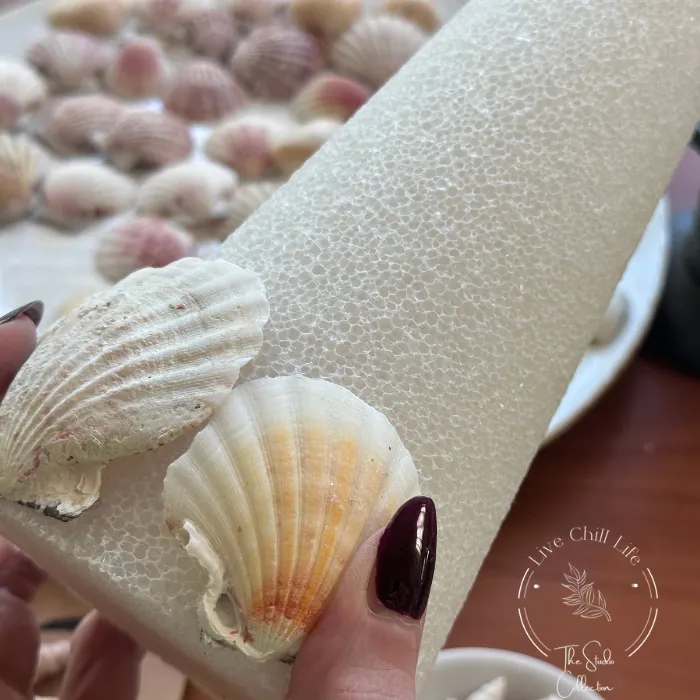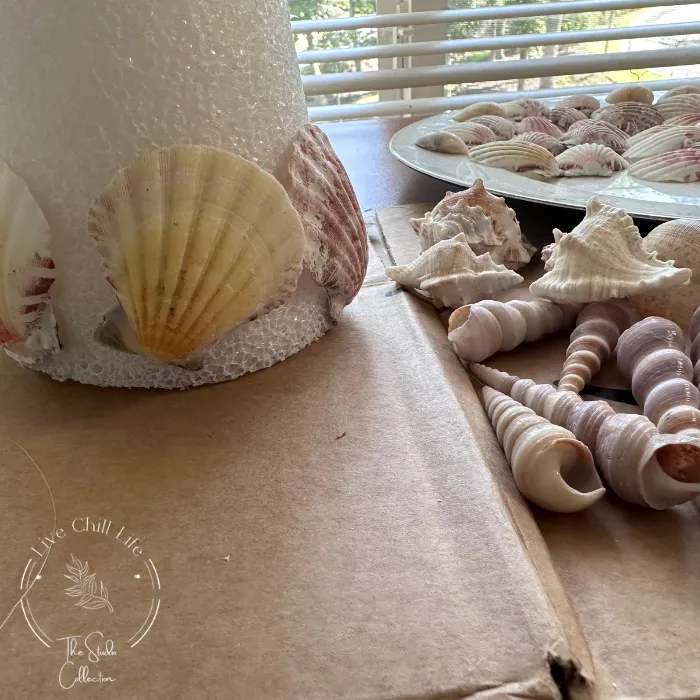 Keep applying the shells shifting the angle to keep it organic looking and use the smallest shells to fill in the gaps as you finish.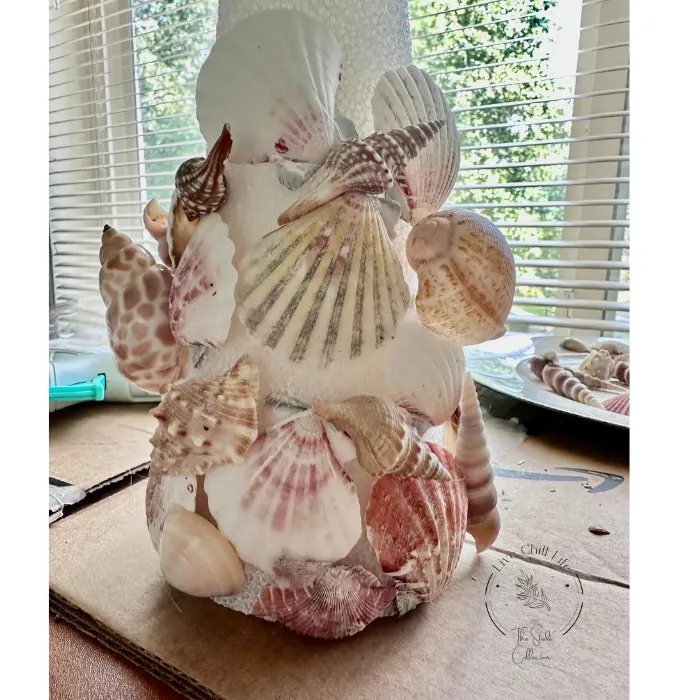 You can finish the top with a small starfish (Hobby Lobby has them) but I prefer to keep mine more simple.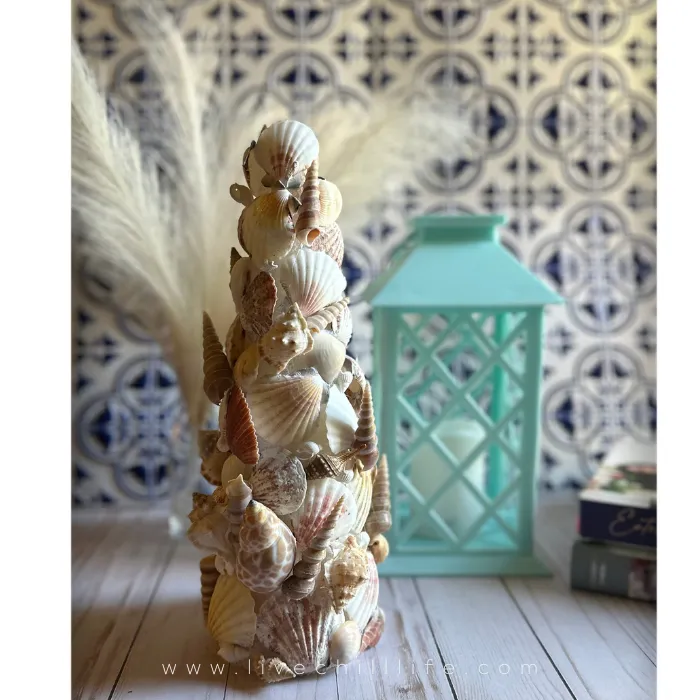 Video tutorial for seashell christmas tree