Ads allow content creators to provide free useful and compelling content to the public. We may earn money or products from the companies mentioned in this post. See the Affiliates and Disclosures page in the top menu of this website for detailed information.
Ribbed crochet dishcloth pattern
Crochet dishrags may be the most useful thing you can crochet! This ribbed crochet dishcloth pattern has just enough texture to grab dirt yet is smooth on your hand side to be comfortable to use.
This crochet project will help beginner crocheters improve their stitch repertoire and end up with something you can actually use.
In the ribbed series, this stitch is the vertical one-sided post-stitch ribbing. It works nicely for dishcloths because the extra texture helps with scrubbing.
Table of Contents
A crochet dishcloth pattern with a built in border
The pattern is designed with the border built in so there is no fussing around with working in the round once the piece is done. How many of you have a deep dislike for working in the first row down the side where the rows are a little cattywampus?
The built-in crochet border may be your favorite thing about this crochet dishcloth pattern!
You may like to read why your crochet hobby is important in cognitive health as you age.
You may find these posts helpful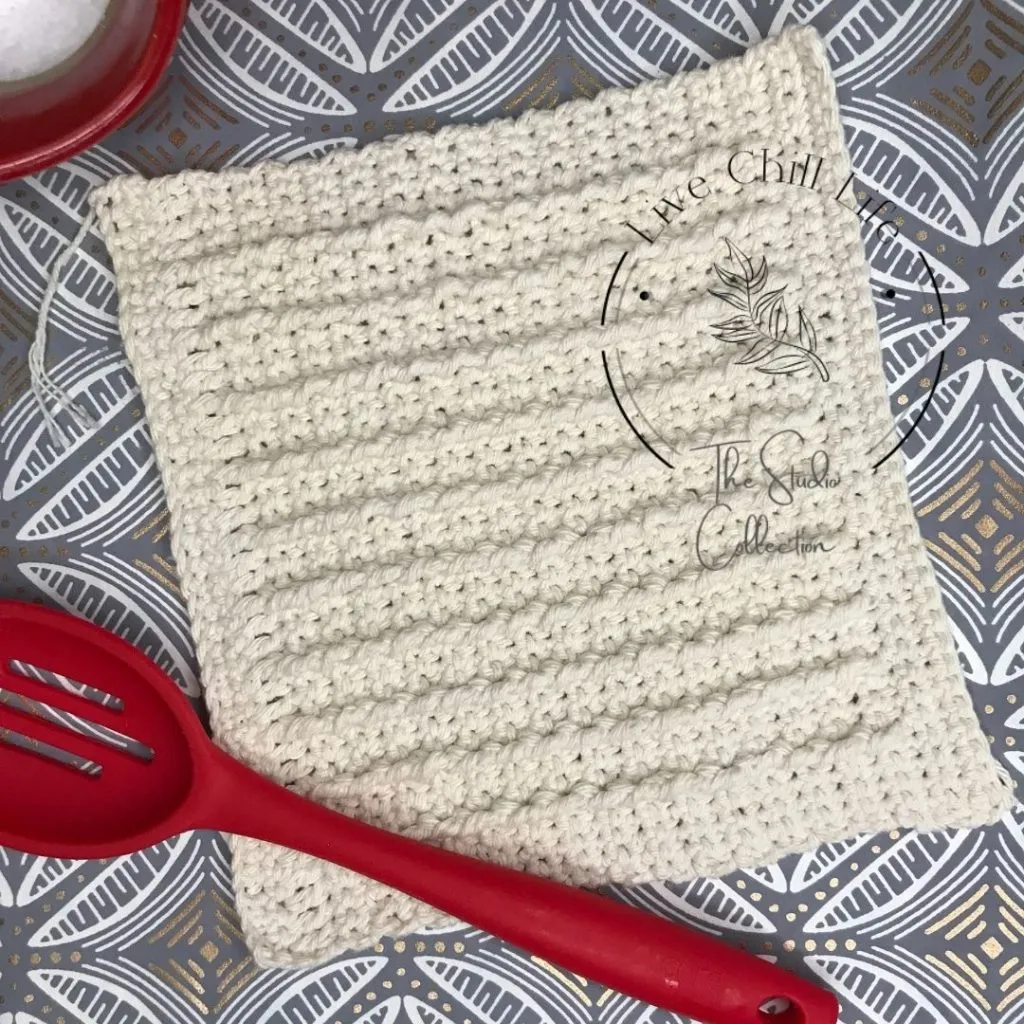 The best yarn for crochet dishcloths
Use cotton yarn, category 4 for this free ribbed dishcloth pattern. 100% cotton is the go to yarn for all kitchen items. It is durable, washable, heat resistant and wears well with a lot of use.
I used Premier just cotton yarn in cream. See my review of Dollar Tree yarn here. You can work this pattern longer to make a kitchen towel, it would be so pretty hanging on a hook in your kitchen or as a makeshift light hot pad.
I have several kitchen towels and cotton dishrags I love using them on a daily basis.
You may like this free pattern for a thermal stitch crochet potholder and matching coasters that also use 100% cotton yarn.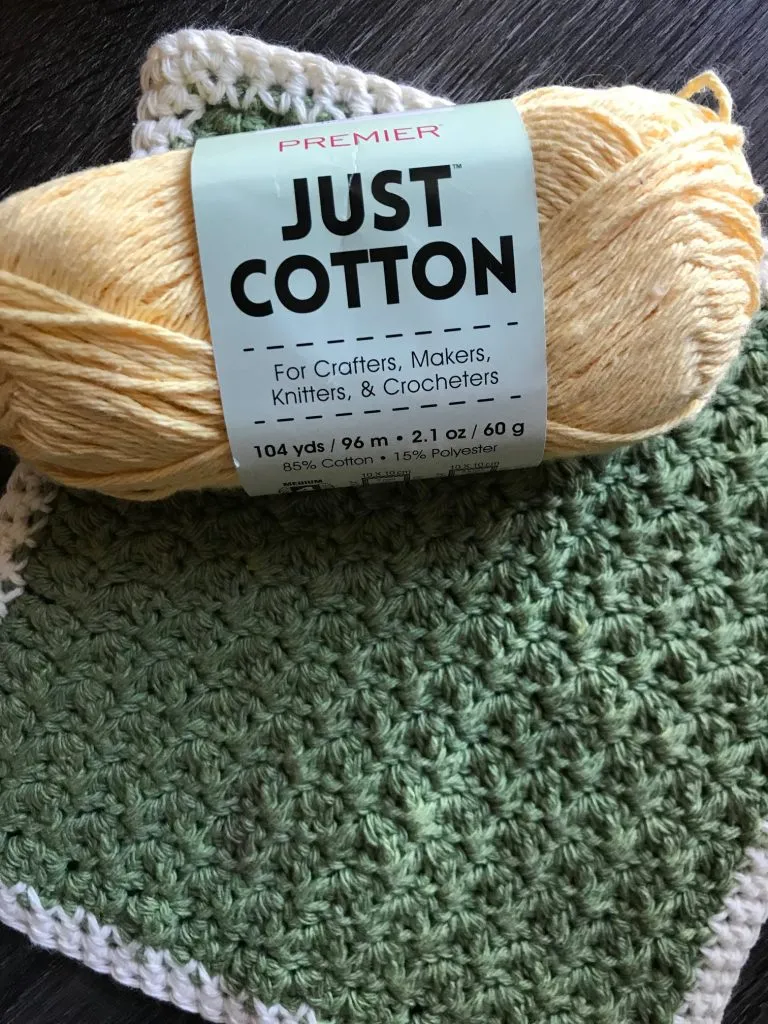 How to make ribbed crochet dishcloth pattern
If you're using one of my project trackers, select a page in the small projects section.
Finished size of this crochet dishcloth pattern: 8.5″ x 8.5″
Gauge: 4″ = 18 stitches and 19 rows
Materials:
Category 4 cotton yarn 80 yards/50 grams
4.5mm crochet hook
Scissors
Terms used in this pattern:
SC: Single Crochet
FPTC: Front Post Treble Crochet
Crochet the ribbed dishcloth pattern
Chain 37. If you'd like to make this into a kitchen towel, chain 57.
Row 1: In second chain from hook, sc across row. Chain 1, turn. 36 stitches.
Row 2: Repeat row 1. Turn.
Row 3: Chain 2 (does not count as stitch) Dc across row. Chain 1, turn.
Row 4: Sc across row.
Row 5: Sc first four stitches. FPTC in post from row 3. *sc next. FPTC next.* Repeat until 3 stiches remain. Work sc in remaining 3 stitches.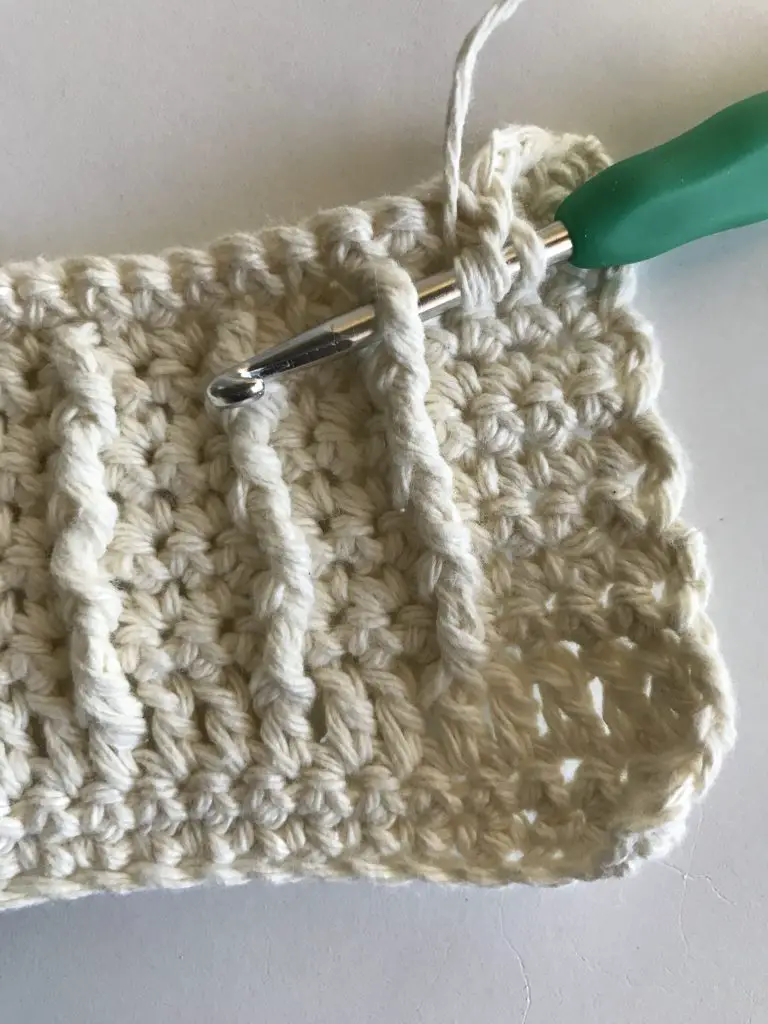 Row 6- 33 repeat row 4 and 5. Work two more rows of single crochet for rows 34 and 35. Work more row 4 and 5 repeat if you'd like to make it into a kitchen towel length of about 18″ length.
You may also like my favorite crochet dishcloth pattern done in the lemon peel stitch. It's a free crochet pattern on this website. The project works up quickly and also has great texture for all the things you use crochet dishcloths for.