We may earn money or products from the companies mentioned in this post. See the Affiliates and Disclosures page for more information.
It happens to the best of us. Different things can make our skin and body flake. Too much sun, dryness, medication, age, skin conditions, etc.
There are things you can do to help relieve the situation and I am going to tell you my favorite remedies.
Spoiler: None of them have to do with putting creams and oils on your skin! Sometimes our skin isn't shedding as quickly as it could or should so a little help so your body works at its best is all it needs. These are all inexpensive effective fixes for the very annoying problem of flakey skin.
A DIY Gentle face exfoliant
This one is so gentle I can do it every day or every other day (depending on what I have planned for the day but definitely on the days I am going to wear makeup to smooth the skin first).
Combine equal parts coconut oil and baking soda. Mix melted coconut oil with the baking soda and keep it in a dish or container that you can easily scoop out a teaspoonful when you want it. Dissolve it in your fingers first then spread it over the rough areas of your face making sure to get in the corners of the nose and around the lipline where. Use a finger tip to work between the brows, the chin and temples.
What I like about this is it doesn't foam up and get all over, leave specks of things around my sink and mirror or cost much of anything. You can make it for pennies. I like it better than any store bought exfoliant.
I pat dry after I rinse it off well with warm water and let what little coconut oil is left soak in. Be sure to rinse very well though otherwise you will have a film of baking soda left on the skin and that can feel mildy itchy later in the day.
Live Chill Life only recommends products personally recommended after trying and is a participant in the Amazon Services LLC Associates Program, an affiliate advertising program designed to provide a means for sites to earn advertising fees by advertising and linking to Amazon.com
Skin brushing helps maintain smooth skin
While the benefits of skin brush extend far beyond skin smoothing, for this purpose I want to talk about it for dry flaky body skin.
I have been doing this for several years, it helps circulation and this can boost natural skin moisture. It also mechanically brushes away dead skin on the body. How to use one?
It can take a little getting used to if you haven't' done it before. I use this brush, work from the feet up (always move the brush toward the heart but you can start with up and down motions initially then graduate to sweeping motions toward the heart).
Work your way up around the groin, buttocks, back, arms, gently on the chest and circular motions on the midsection.
It helps ingrown hairs too. If you're losing weight and worry about your skin being a little loose this will help. It's not a miracle worker but it does make a difference.
Do your skin brushing before you bathe when skin is dry. It is a dry brush experience. I will talk about a wet method next.
An ultra effective exfoliating mitt
I discovered these when I managed a beauty studio. We offered spray tan and the last few days where it looks like the body is molting can be mortifying for some people. These mitts took every bit of it off with one shower! I continue to use them once a week now.
If you have an Asian market near you you may find them there (in the kitchen section!) otherwise Amazon has them. I like that the larger size is available now. When I first started using them a few years ago they weren't quite big enough to cover my long hands but I made them work because they are magic!
Used with the correct technique the skin will come off in rolls and you will see it pilling up in the bottom of your shower! One mitt can be used again and again, I replace them about 2x a year.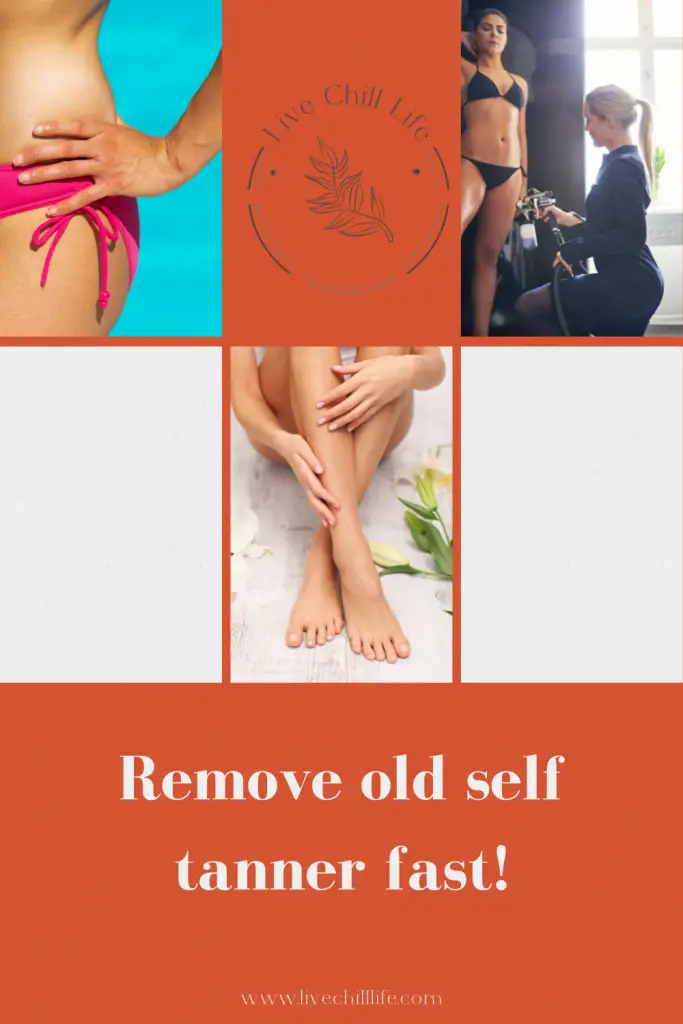 How to use:
I am a quick shower take so the days I want to use this I have to force myself to be in there more than 5 minutes! The warm water softens up the skin but to really get your dead skin saturated it needs a few minutes to hydrate. After a bath (with no oil or soap) works the best but a warm/hot shower for a good 5-10 minutes will work just fine.
Do not shave prior to doing this or your skin will be raw. Do not use this treatment before going out in the sun because you will burn much more quickly.
Step out of the direct water flow or step out of your bath, with no soap or oil on your skin (no hair conditioner left that's run over your body after washing, to allow the fibers of the cloth to grab the dead skin it must be free of anything slick.
With firm back and forth movements run the gloved hand over your body 5-10 times per section. Rinse away the collected skin on both the cloth and your body before moving to the next section. Repeat until you're done.
You may use this on the neck and chest with a bit more gentle motion. If you need to shave you may do so after finishing with the glove.
This is great if you have the upper arm bumps, a bumpy bottom, back of legs or ingrown hairs. Do it before waxing as well to loosen up any hairs trying to break through the skin.
If you do like to use a DIY bath scrub I have one here you can make yourself.
There you have it. Three easy ways to get rid of those face and body flakes fast!