We may earn money or products from the companies mentioned in this post. See the Affiliates and Disclosures page for more information.
If gloppy drippy runny salt scrubs isn't your thing I have a hack for you!
I happen to like charcoal in my scrubs but you can leave it out. It doesn't impact the texture.
Here's what you need and I have a video linked below to show you how I put it together and what the final texture looks like.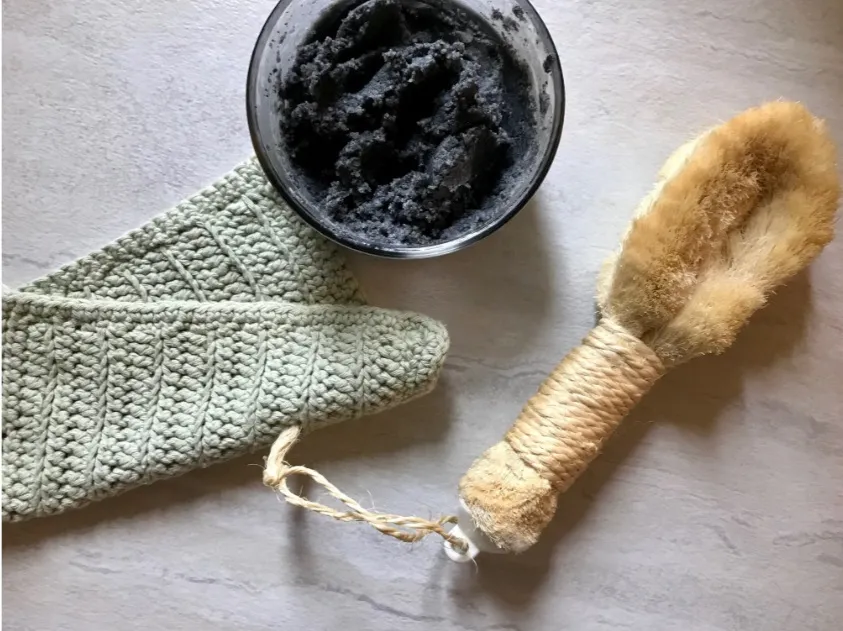 Mix up your salt scrub
Xantham gum is what will give us the gummy spreadable texture that gives you more time to work it into your skin before it drops off to the shower floor. I have it on hand because I follow a low carb diet and it is readily available online here or most grocery stores in the health area or the flour and sugar aisle.
What to know about Xantham Gum? It does not need heat to thicken and it thickens/gels up on contact so I have a method to prevent clumping when mixing this.
Make it:
While coconut oil melts in a double boiler, in a small bowl combine half the salt, xantham gum and charcoal powder.
Add honey to coconut oil and when mixture is 90% melted take off the heat. Stir in remaining salt then add the charcoal xantham salt mixture and combine well. add essential oil to your liking. I use about 20 drops for this amount of scrub.
Put in wide mouth dish/jar/container and cool. Break up cooled mixture with a spoon if you like before putting it in your shower.
You may also like this guide how to get rid of flakey skin fast.