Ads allow content creators to provide free useful and compelling content to the public. We may earn money or products from the companies mentioned in this post. See the Affiliates and Disclosures page for more information.
Make your skincare work better to hydrate your skin fast
What's my secret to no wrinkles after menopause? I'll show you how to fix dehydrated skin for a youthful look well into your 50's and 60's.
Table of Contents
Let me start with the disclaimers:
I have slept face down face mushed into a pillow since age 14- it doesn't cause wrinkles
I don't wear sunscreen unless I am out in full summer sun for more than 2 hours
I have never had botox or injectibles
I only wear makeup when I have to – I am bare skinned as much as possible
I am in menopause, average age women go through menopause. It's not early onset.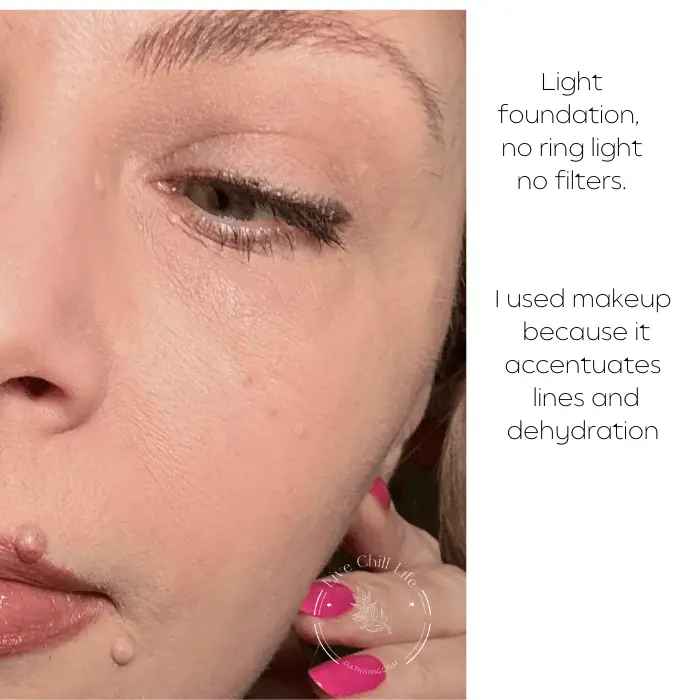 I do have a lifetime of good habits
8 hours of sleep every night
Good water drinker since my teens
I eat a whole foods diet in general. home cooked meals 95% of the time
Low stress life (the foundation of my "cultivating calm" brand)
Not once have I gone to bed with makeup on – EVER
Now all that said, good genetics are one thing but the other is how you take care of what your parents gave you.
Use what you have. This is not a post to sell anything but I will list what I use if you are curious. Nothing is over $20.
In this post I am going to explain my "hydration" treatment that makes all skin care work better. You can do this with a $10 drugstore cream or a $600 cream from wherever sells $600 face cream.
You may also like "How to get rid of flakey skin overnight"
Dry skin vs. dehydrated skin – the difference
While both conditions can exist at once, there is a difference. Dry skin feels tight, can be flakey, etc. Dehydrated skin looks deflated. Go look in the mirror, magnifying mirror even better. Look at your upper cheek area. It will have a deflated balloon look. Not enough water in the cells to plump them up.
This will happen when something sucks natural oils from the skin (for me sleeping face down on pure cotton sheets does this) and/or the natural lipids in each cell have decreased. Cells are meant to be mostly water and be pliable so the lipid and water molecules work in tandem to make this happen. Let's help them out with a hydration session!
1. Prep skin for hydration treatment
Do this 1-2x a day (worst case 4x a week). Cleanse skin with either my luxe spa facial cloth (if you're a crocheter) or a white washcloth. This provides a gentle exfoliation. If it is a morning treatment you don't even need to use cleanser.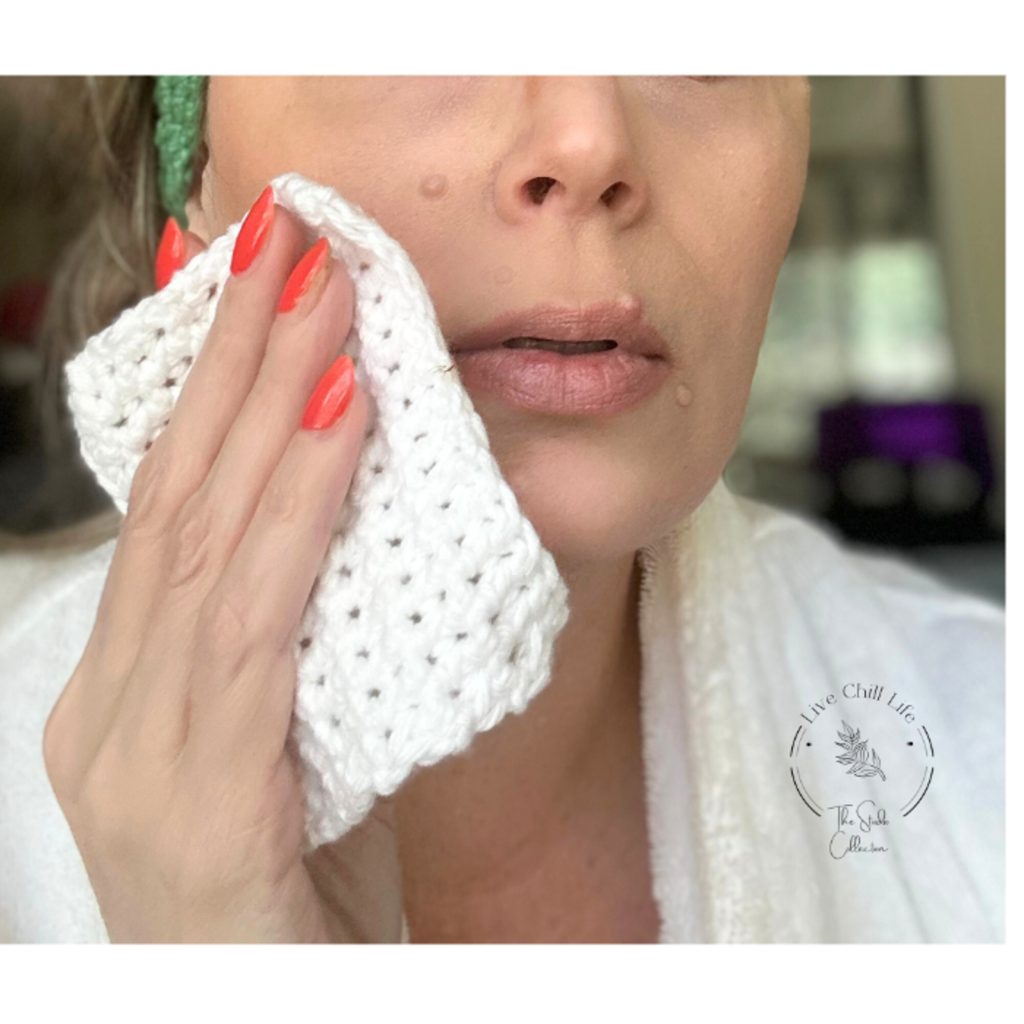 If you are due for a full on exfoliation, do that and rinse well. The whole point of this step is to "wake up" the skin. Get the blood flowing. It should look rosey when you're done.
I use coconut oil and baking soda as my exfoliant.
2. Apply your skin care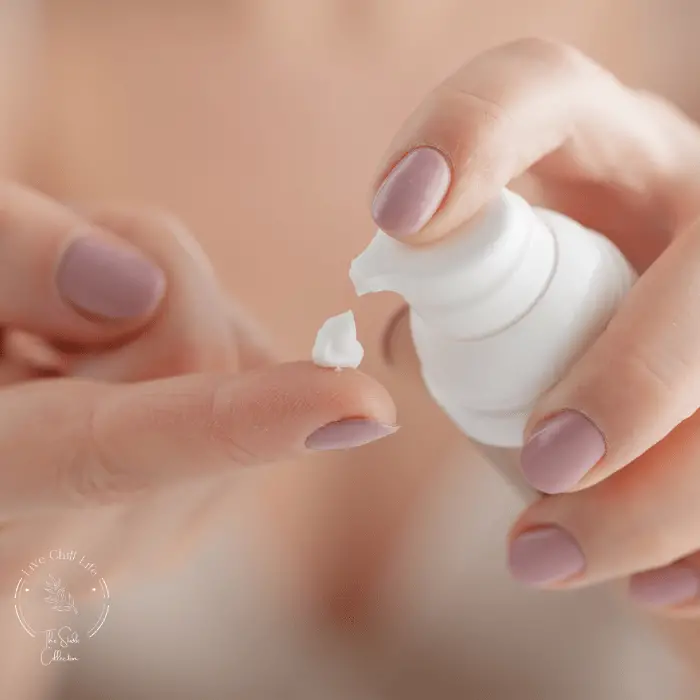 If you use a serum(s) apply it now. If you have a toner you like with treatment in it, use that too. Layer all the things you use if you use them before the moisturizer.
For the purposes of this treatment I will define moisturizer as a product that has the first ingredient as water. The point of moisturizer is to hold the water onto the skin while it absorbs. Simple inexpensive moisturizer will do this. Anything else in the product is a bonus. They all are meant to do the same thing.
I like to use Vitamin C serum as it gently exfoliates ( you will peel slightly when you use this and it brightens the skin) and Plant squalene. I follow with the all important moisturizer. Currently I am using black snail cream. Don't forget to work the product down the entire neck and onto the upper chest.
When you apply your skincare make sure to keep a firm touch to massage product into the skin to keep it awake with increased circulation. We want blood flowing to this area so it soaks up the hydration about to come.
For the next step, allow up to an hour. Do this in the AM when you make your coffee and have breakfast, journal, clean up, etc. Or do it at night when you read, watch tv, do your hobby, wash up from dinner. Whatever time you have 30-60 mins to have a clean face.
Use a continuous mist water bottle or evian spray mist. Mist the entire area that has product on it. This reactivates the moisturizer and it will hold the water in place. Some will evaporate. That fingertipfull of moisturizer does not have enough water in it to hydrate thirsty cells! A sip of water won't quench your thirst, but 24 ounce bottle will when sipped over the course of 30 minutes. This is the same principle.
Continue to remist the skin as needed until you no longer feel a tacky surface on your face. At that point all of the active ingredients in the moisturizer have done their job.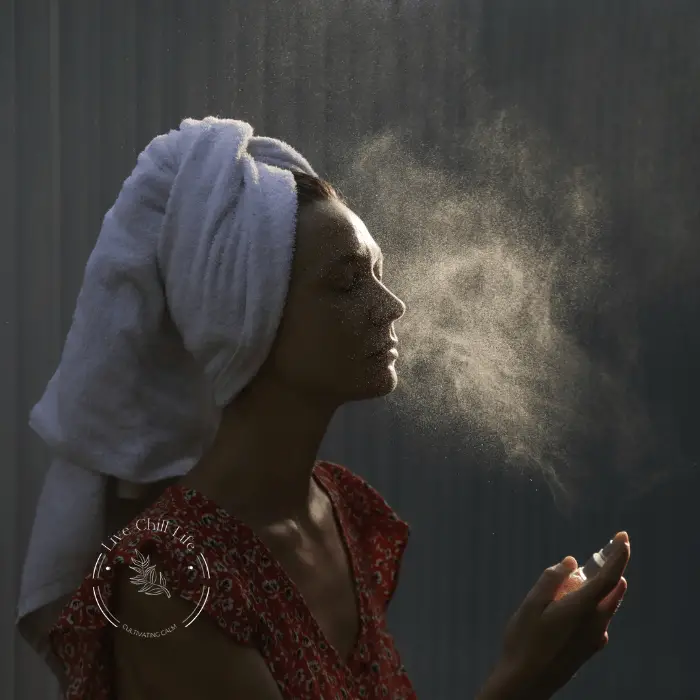 If you use face oil this is the time to apply it. It will help to lock in all the moisture you just fed your skin. Just a few drops is all you need. I use Jojoba oil because it is very close to our natural skin oil. I use this jojoba oil and having a pump makes it more likely you will be consistent with it because it is so convenient. Rub excess into cuticles to keep them soft.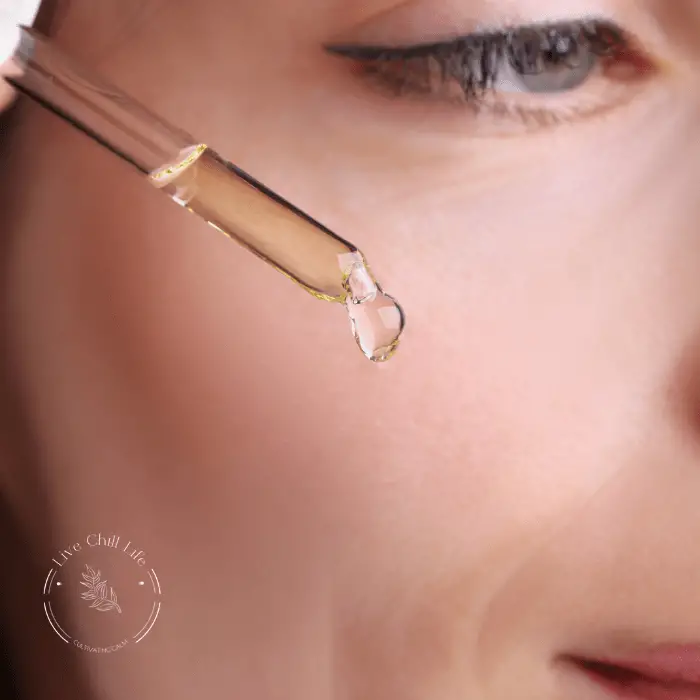 3. How long it takes to fix dehydrated skin
Keep up this process as often as you can. If you have badly dehydrated skin you will see it plumped up within a week or two. Maintain it by doing this process regularly.
This doesn't stop father time from skin losing collagen and elasticity. The underlying fascia will still droop over time but the actual skin over it will be plump. This treatment simply keeps facial skin cells hydrated and feeling soft and smooth.