Ads allow content creators to provide free useful and compelling content to the public. We may earn money or products from the companies mentioned in this post. See the Affiliates and Disclosures page in the top menu of this website for detailed information.
How to crochet a low stretch bag strap
In this post I will show you how to make a beautiful thermal stitch crochet bag strap in simple steps.
This is a sturdy low stretch bag strap option for your crochet bag pattern.
This strap uses some of the principles I have outlined in my other low and no stretch crochet bag straps that work together to result in a stitch that has minimal stretch.
Table of Contents
The thermal stitch is not only strong but also beautiful, making it a versatile choice for various projects. With its woven appearance, this stitch adds a classic touch to any design, making it suitable for different bag styles. However, its versatility doesn't stop there. The thermal stitch can also be used as a guitar strap, showcasing its adaptability and durability.
One of the advantages of the thermal stitch is its gender-neutral appeal. It is a stitch that can be enjoyed by anyone, regardless of their gender or personal style. Unlike some other stitches used in crochet straps, the thermal stitch is less ornate, making it a more understated option. This simplicity allows the stitch to complement a wide range of bag designs without overpowering them.
Whether you're looking for a sturdy strap for your bag or a unique guitar strap, the thermal stitch is an excellent choice. Its woven appearance adds a touch of elegance to any project, while its strength ensures that it can withstand the demands of everyday use. So, if you're in search of a strong and beautiful stitch for your next crochet strap project, look no further than the versatile thermal stitch.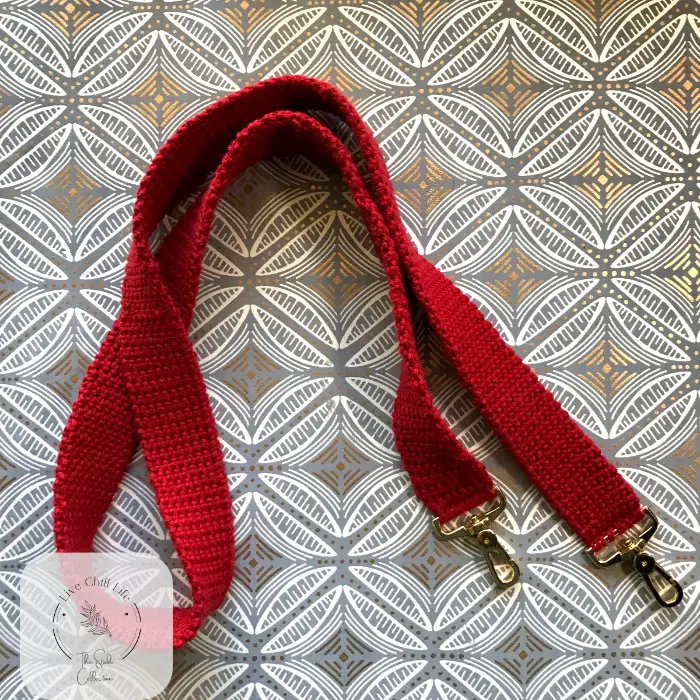 See all five no stretch bag strap options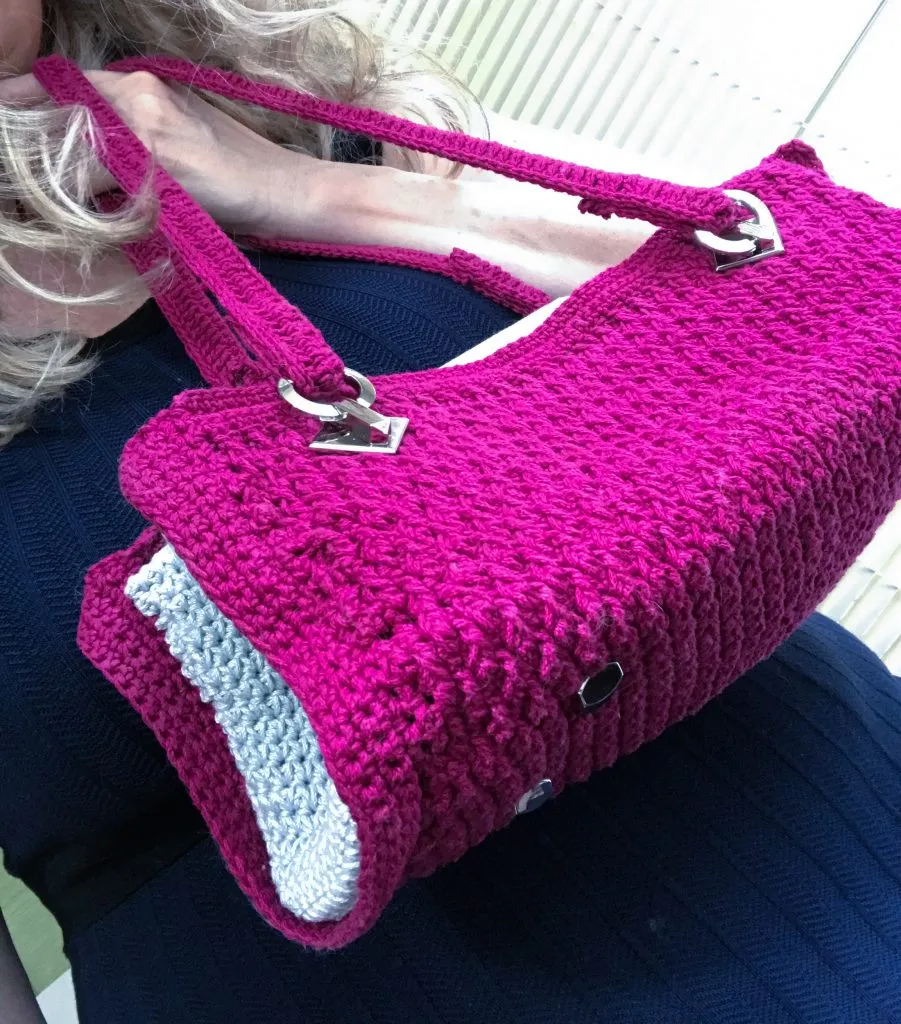 You may find these posts helpful
How to work the thermal stitch bag strap
This version is for a strap that will be worked directly into handbag hardware. Use this if you are using a D- ring or a combination of a D or round ring combined with hinged hardware as shown.
If you like the hardware I used you can find it on amazon via the links below:
If you need a strap that can be worked directly into the bag with no hardware see this version.
Materials to crochet the thermal stitch bag strap
Category 4 yarn
4mm and 6 mm crochet hooks (I am using this 4 mm crochet hook to sharply and smoothly work the corner stitches)
Embroidery scissors
Step 1: Attach first row to hardware. Create a U shape with yarn leaving a 7″ tail. Using your 6 mm hook, pull U through hardware then work a sc that will result in two strands being pulled though the loop. This will secure the tail and work yarn to the hardware.
For convenience, use a piece of tape to attach tail to opposite end of hardware. Working under both the tail and hardware, cast on as many stitches as completely fills the length of the hardware. Do not stitch tightly. Remove tape and release tail (weave in at end of project). See image.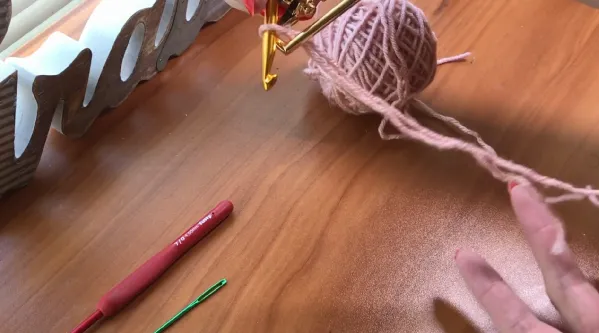 Row 2: Ch 1 turn. Work another row of sc. ch 1 turn. Switch to 4 mm hook.
Row 3: Begin setup row for thermal stitch. Insert hook into back loop AND stitches shown below from row 1. Work across row. Ch 1 turn.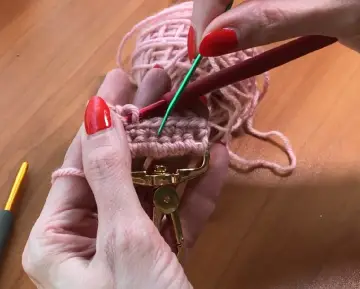 T-shirts and project totes for crocheters available in my Etsy shop!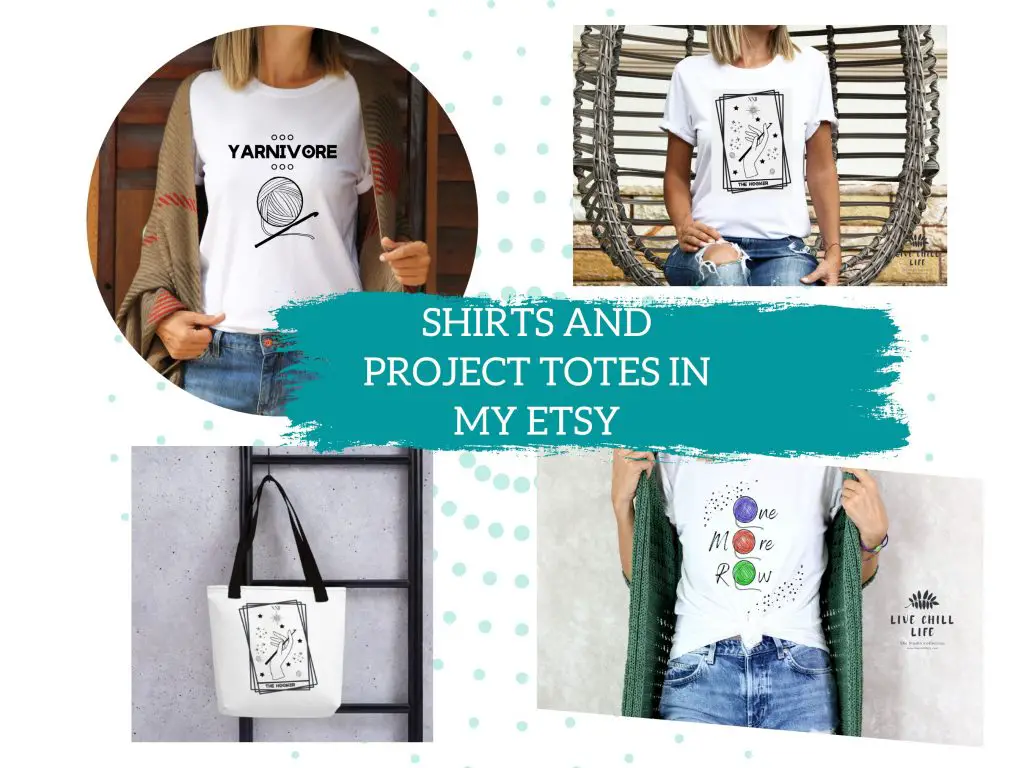 Row 4: Work should look staggered like stadium seating now. See below. Work into back loop only on top row and front loop on bottom, then finish the sc stitch. Ch 1 turn. The corner last stitch will look bunchy but there is a stitch there. Don't miss it. Keep count so each row has the same stitch count.
Using a well pointed crochet hook such as the one I have helps make that easier. Very rounded tips will be more challenging. My hook is linked in the materials section above.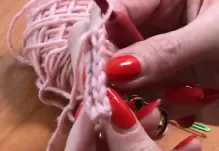 Repeat row 4 until strap is the length you want.
Finishing your no stretch crochet bag strap
Insert hook under entire stitch on top row and front loop of bottom . This will make the work flush (even).
Step 2: Attach to other end of hardware.
Once you've completed the final row, do not chain one. Bring hardware up to base of strap and attach loop on hook to hardware by drawing up a loop and slip stitch to secure. Remove hook, cut 12″ length tail and thread to a tapestry needle.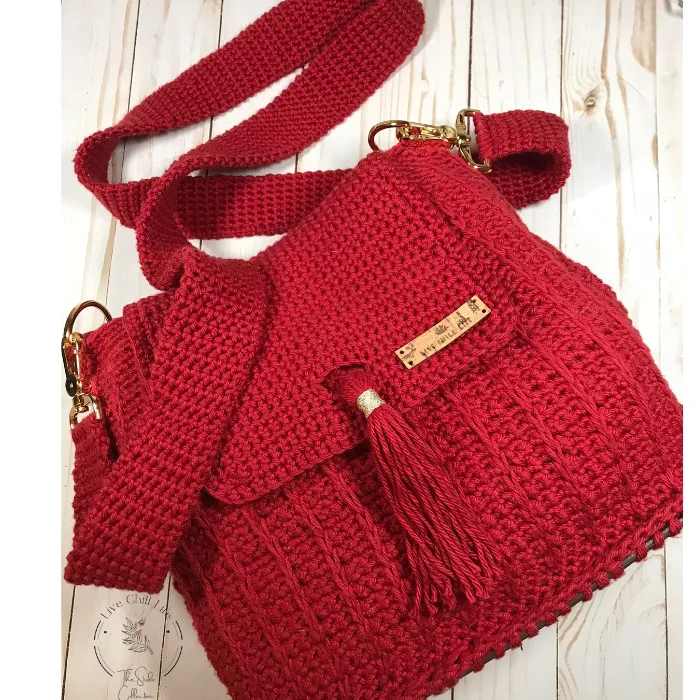 Loop yarn over hardware and insert needle into the corresponding stitch below, keeping yarn snug. After attaching to end of row, securely work long tail into strap body. This anchors the final stitch so don't skimp on weaving this long end in well.
This style of finishing prevents bulk and keeps it closely matched to how the starting end looks.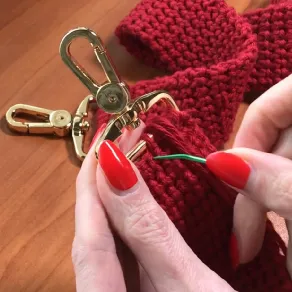 Thermal strap video tutorial