We may earn money or products from the companies mentioned in this post. See the Affiliates and Disclosures page for more information.
An easy cluster stitch blanket free pattern
This cluster stitch blanket is beginner friendly and customizable to any size that fits your needs. This style of cluster lays flat but still gives beautiful visual texture.
I used an ombre yarn for this blanket but a solid color would look lovely as well. Using a series of beginner stitches worked in a two row sequence you can create this cluster texture. It works up fast because of the height of the cluster stitch so you will have a blanket completed more quickly that with regular simple stitches.
You may like this caron latte cakes blanket wrap.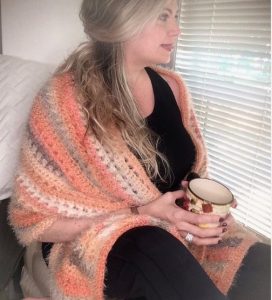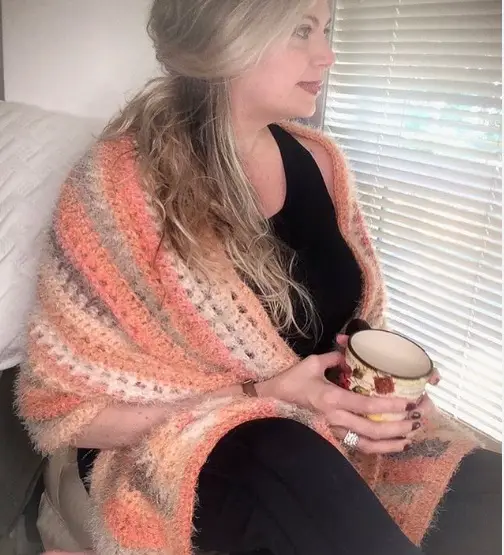 There are different types of cluster stitches and each crocheter may vary them a little or a lot so pay attention to instructions when working a cluster stitch pattern than you like so you get the result you expect.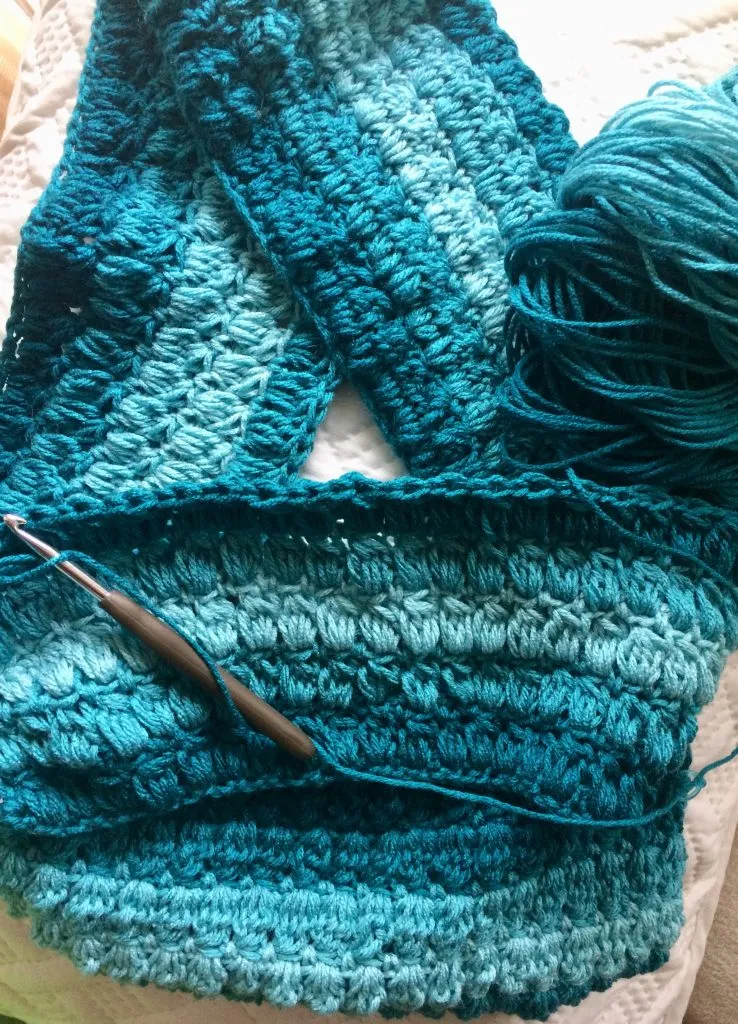 How to crochet the cluster stitch
The cluster stitch is worked as follows:
Yarn over, go into stitch, yarn over pull through two.
Yarn over, go into stitch, pull up a loop (4 loops on hook) , pull through two. Three loops on hook.
Yarn over, go into stitch, pull up a loop (5 loops on hook) pull through two (4 loops on hook), yarn over pull through three, yarn over pull through two.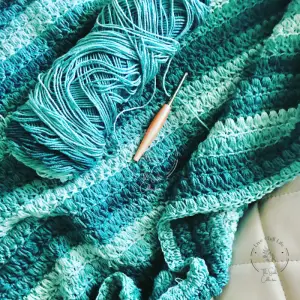 How to make the ocean waves cluster stitch blanket
Materials:
5.5 mm crochet hook
Category 4 yarn. Amount will vary based on size you are making. Yarn shown is Red Heart super saver ombre' yarn in deep teal (if you love the ombre' yarn collection but feel it is too scratchy, view my post on how to soften acrylic yarn. It softens right up!)
Scissors
Gauge: 4″ = 7 clusters W and 7 rows H, 14 sts.
Chain an odd number of stitches to the blanket width you'd like. Use the graphic below as a size guide if you like.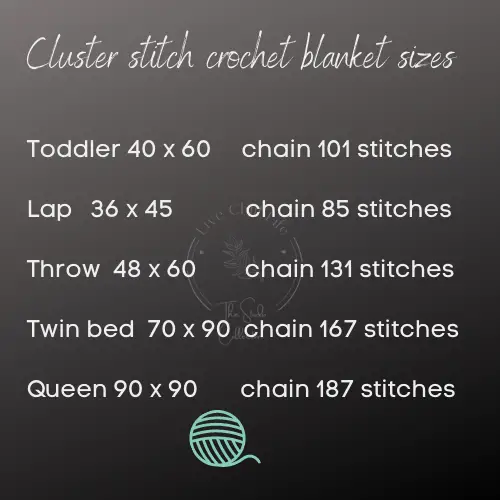 HDC= half double crochet
DC= double crochet
Chain the correct amount to the size you would like as shown in above graphic.
Row 1: In third chain from hook (this counts as first hdc) work a hdc then continue hdc across row. You will end with an odd number of stitches. Example if you chained 131 stitches you will now have 129 stitches. Maintain stitch count throughout.
Row 2: Chain three (counts as a stich), skip first stitch and work cluster stich. Chain 1, skip one stitch then work the cluster stitch. Repeat to end working a DC in last stich.
Row 3: Chain two (counts as a stitch). Skip first stitch, hdc across row.
Row 4: Repeat row 2, working under the chain 1 space in cluster row and not into the stitch.
Repeat row 3 & 4 to desired length.
Work border:
I worked a classic double crochet border for this blanket. Begin by working single crochet stitches around perimeter of blanket, making sure to work 3 stitches into each corner as you go. You may find it helpful to mark the center corner stitch so it is easy to identify as you make your rounds.
At end of sc round, chain 2 then work dc stitches around working 3 stitches into corners.
Repeat 1-2 more double crochet rows if you like until it is the blanket border width that suits the proportion of your finished blanket size.