This pattern is a guideline to how I make this blanket wrap out of caron latte cakes that I had on hand from 2018. This yarn is meant for all the things that touch our skin and keep close to our body.
It is a tricky yarn to work with because of the slip and the fluffy texture but this design makes it less difficult to work with. I will give tips along the way to make it work for beginners. This is a forgiving pattern so you don't have to be precise!
The starting chain of even number of stitches will be the width of your wrap. Mine is about 9-10' long and very generous. It may be too much for smaller statures but I am 5'11 and most wraps and shawls feel skimpy and won't keep me warm when being cozy at home on the sofa.
Crochet this Caron latte cakes shawl
You will need:
Two colors of caron latte cakes yarn. If you're making an average-sized wrap (6' or so) two skeins may be enough. I used three total for a larger wrap- two cakes of pink melon (color 1) and one cake of coconut cream (color 2).
Tip with this yarn: For joining colors or a new skein of yarn leave a 14-16" tail and work it into the stitches as you go (not just along the chain below but using your hook to work it into new stitches vs. weaving it in at the end for a more secure method with this slippery yarn. Because of the texture and self striping it will blend nicely.
8.5mm (size M) crochet hook https://amzn.to/30kfUxq
Notes:
This is a 2 row repeat, starting and ending with color 1.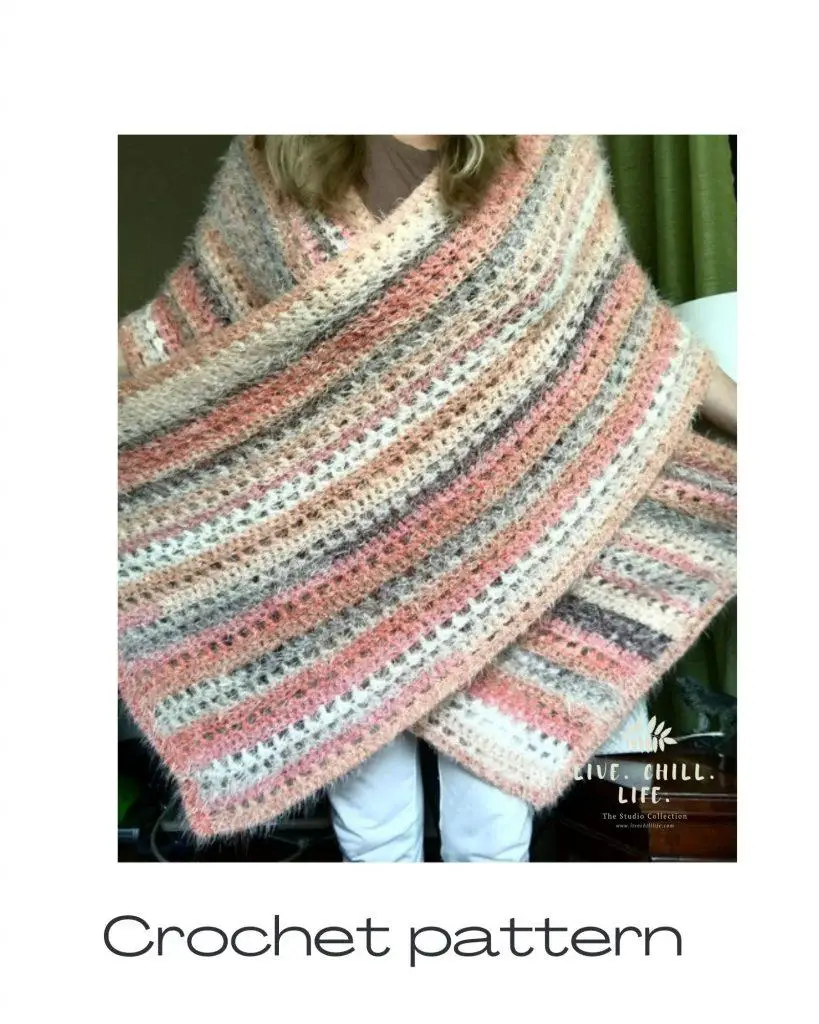 Starting chain in an even number to the length you want your finished wrap to be. I did 204 to get a 9' long wrap. This is a stretchy yarn and will have some weight to it so keep that in mind when starting your base chain. Use color 1 for your base chain.
Continue with color 1.
Row 1: DC in the second chain from hook then every stitch until you reach the end. Ch 2 and turn.
Row 2: DC in the first stitch. Skip next stitch then do a wrapped double crochet in next stitch Wrapped dc creates two stitches). (see video below if you aren't familiar with this stitch). Skip next stitch then repeat the wrapped double crochet continuing this until the last two stitches remain. Do a double crochet in the last stitch. Ch 2 turn.
Use this color chart as guide if you want to replicate the look of my wrap.
Repeat rows 1 and 2 until you reach the width you'd like, ending with a row 1.
Now, without cutting your yarn work a border using your favorite border technique or use mine:
Chain 2. Working in the round dc around all edges. You may stop here and tie off your work. If you want a ribbed border , slip stitch and chain 2. Continuing to work in the round, alternate dc and fpdc stitches one or two rounds.
Cut ends and weave in any loose ends. Enjoy your cozy wrap!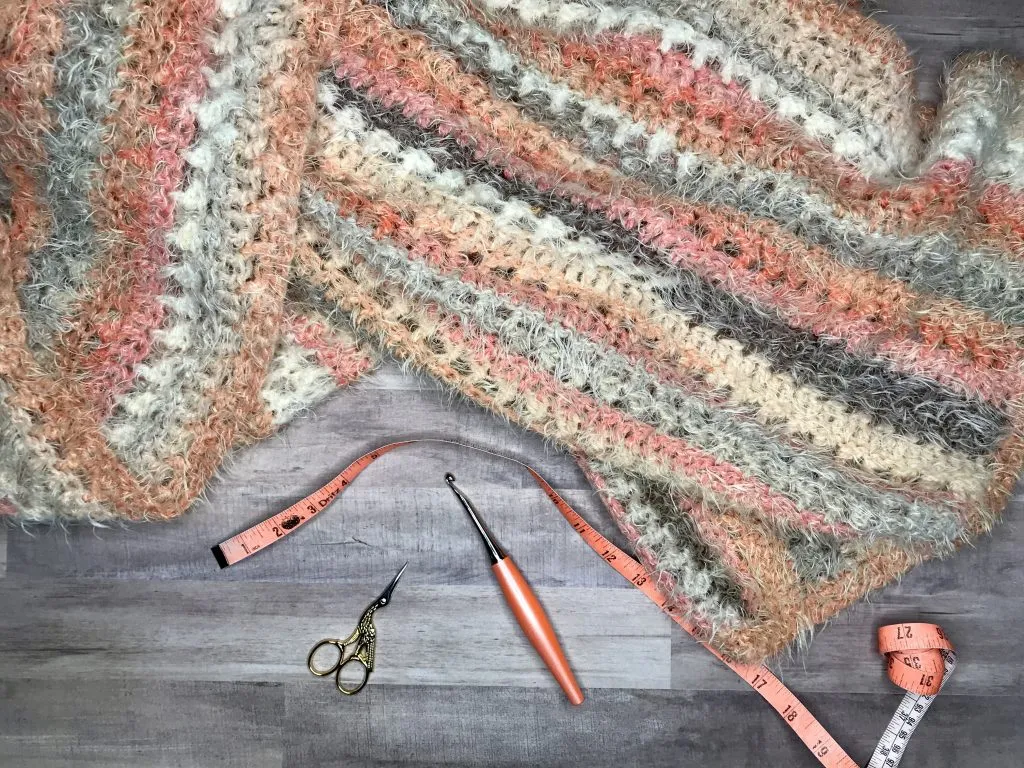 My favorite hook set: ergonomic crochet set.
Written printable pdf structured pattern with border instructions is available for $3.50 here