Ads allow content creators to provide free useful and compelling content to the public. We may earn money or products from the companies mentioned in this post. See the Affiliates and Disclosures page in the top menu of this website for detailed information.
 Insights into Caron Latte Cakes Yarn: A Detailed Review.
A review of caron latte cakes yarn by someone who has used it for multiple projects.
No doubt you've seen this unique yarn on the shelves of a craft store or yarn shop. I found it irresistible when I first saw it a few short years ago and bought several cakes. The colorways are varied with one marshmallow solid off white available. The color options have expanded since it was first launched.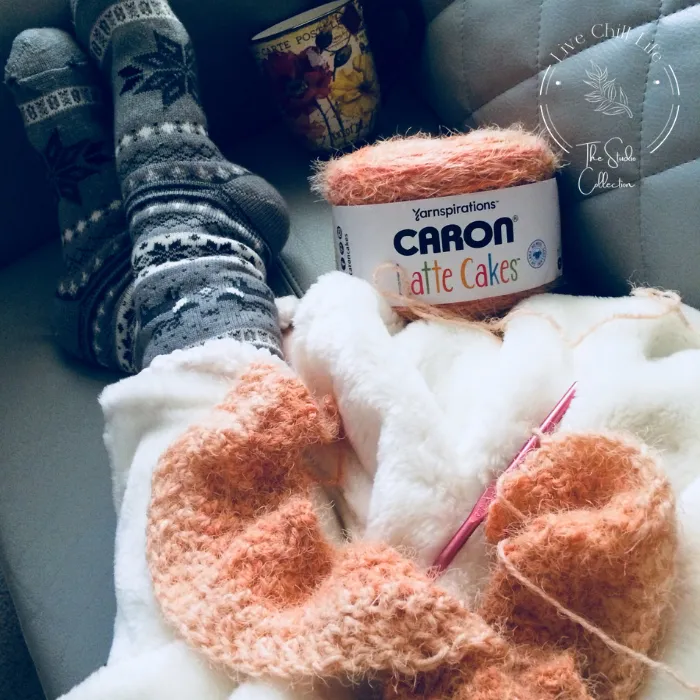 After attempting two projects with this yarn the pros and cons became very clear.
What makes Caron latte cakes so soft and inviting is also what makes it uniquely challenging to work with. The yarn is nearly half nylon. If you are old enough to remember wearing pantyhose or stockings you know how smooth and slippery they are.
The yarn is labeled as a bulky weight when in fact the strand looks closer to something between a 3 and 4 category yarn, not a bulky weight 5. Keep that in mind and work up a test swatch if you're using a pattern that has a gauge swatch and suggests a category 5 yarn so you end up with a good result.
You may find these posts helpful
Caron latte cakes yarn review
The pros of Caron Latte Cakes Yarn
The large size cake. 8.8 ounces! This means less ends to weave in and tends to make it a good value.
2. It is very soft and inviting for things that will touch the skin like sweaters, blankets and wraps.
3. It has a soft drape
4. It washes up nicely. It does become just a bit distressed looking after several washes as the fluffy look becomes a bit more compacted but it still has the soft look texture.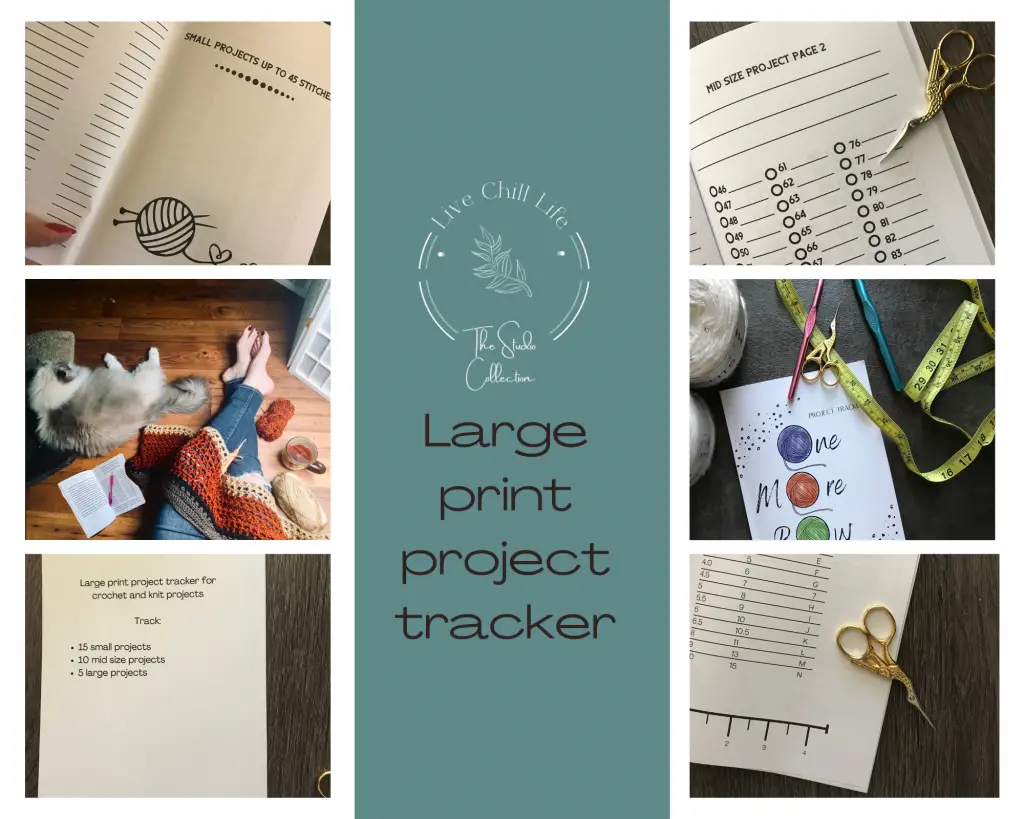 I designed project trackers! This is the large print version for tired eyes. So much easier than using apps, scraps of paper or a plain notebook.
Three project sizes, a handy ruler and hook guide inside the cover and plenty of room for notes in each pattern.
Buy it here.
Regular size print here.
I have had bad eyesight since age 18 so large print is a godsend when you can't see apps and dark yarn, let alone going from one to the other on a crochet-a-thon during a netflix binge.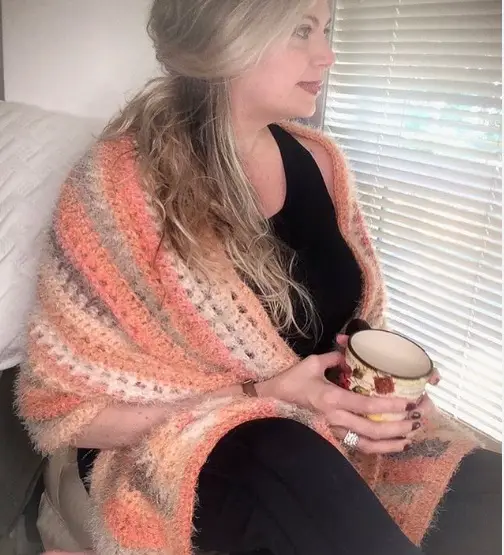 The Cons of Caron Latte Cakes Yarn
Fuzzy yarns in general are more challenging to work with because the stitches are difficult to see. Stitch counts can be off very quickly as you work on a projects. Latte cakes has the same issue. I don't consider this a very beginner friendly yarn.
Because of the very fine nylon threads that gives it the beautiful soft texture, they wind on each other when worked making a row or project difficult to unravel if a mistake is made or you change your mind and decide not to finish a project.
I did design a free crochet caron latte cakes wrap pattern that helps work around some of the issues of seeing stitches and is forgiving when weaving in very long tails. A magic knot is not secure with a slippery yarn like this so a long tail worked into the stitches as you go is the way to go with this yarn.
The yarn is not suited to anything you'd like to have some structure or crispy defined shape. You won't get perfect edges, squares or rectangles with this yarn if that matters to you. Stick to blankets, wraps and scarves for the optimal result.
There are my tips on working with Caron Latte Cakes yarn. If you chose the right pattern, hook size and weave in techniques you won't have much issue with it.
You may also like to read a truboo yarn review.