Ads allow content creators to provide free useful and compelling content to the public. We may earn money or products from the companies mentioned in this post. See the Affiliates and Disclosures page for more information.
Free crochet white and dark chocolate Easter bunny pattern
This Easter, give the perfect gift with a crochet chocolate bunny pattern! This pattern is easy to follow and is sure to delight the recipient of your special gift. With just a few materials and some creativity, you can create a unique and adorable bunny that will make anyone smile.
I just LOVE Easter! No matter how old I get I still delight in the idea of an Easter basket and the star of course is the chocolate bunny. I used my annual favorite chocolate bunny my sister in law sends me from Europe as inspiration. I drew it out in my graphics program and it looks just like my favorite holiday treat!
This versions is a white and dark chocolate bunny pair. Two bunnies are better than one!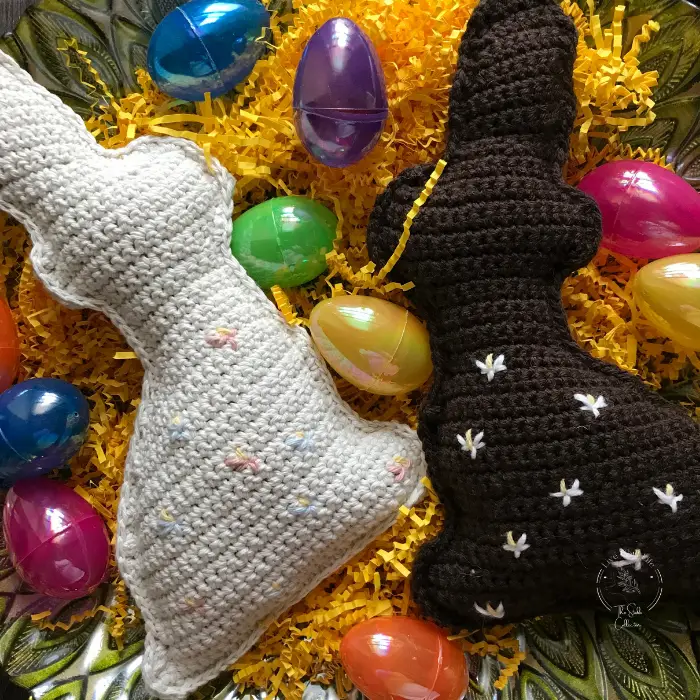 If you like charts, I have included the drawing in chart form in the paid pattern. It also includes the small project tracker page which you can also download on this page for free. It is a sample of what my project tracker books are like which include pages for small, medium and large projects.
I have collected bunnies since my childhood and even had one as a pet with a beautiful chinchilla colored coat and long black eyelashes. A very glamourous bunny indeed!
How to naturally color Easter eggs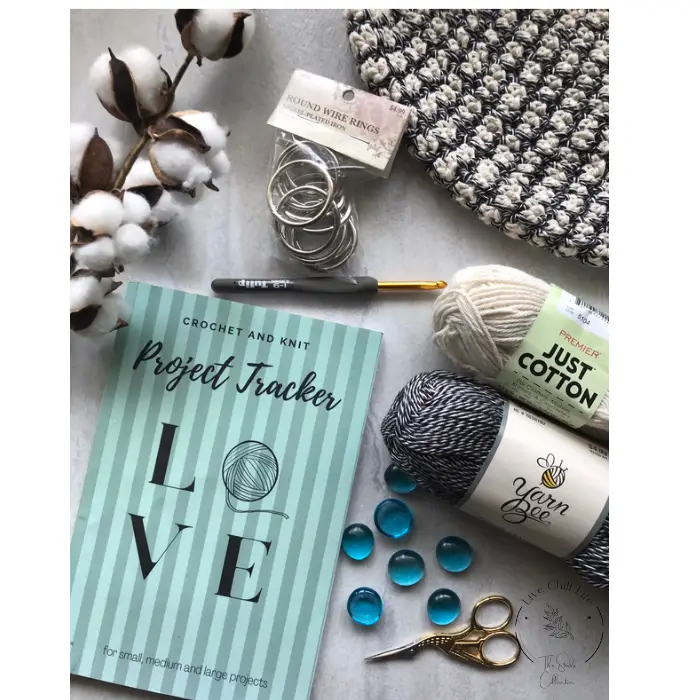 You may find these posts helpful
I encourage you to use the free download of the small project tracker in this post to help you. While some rows are repeats, many have changes and you must follow the pattern to the letter. You will need to make two bunnies and they will need to match up like a mirror image. The project tracker page will help with that. I demonstrate how in the video tutorial.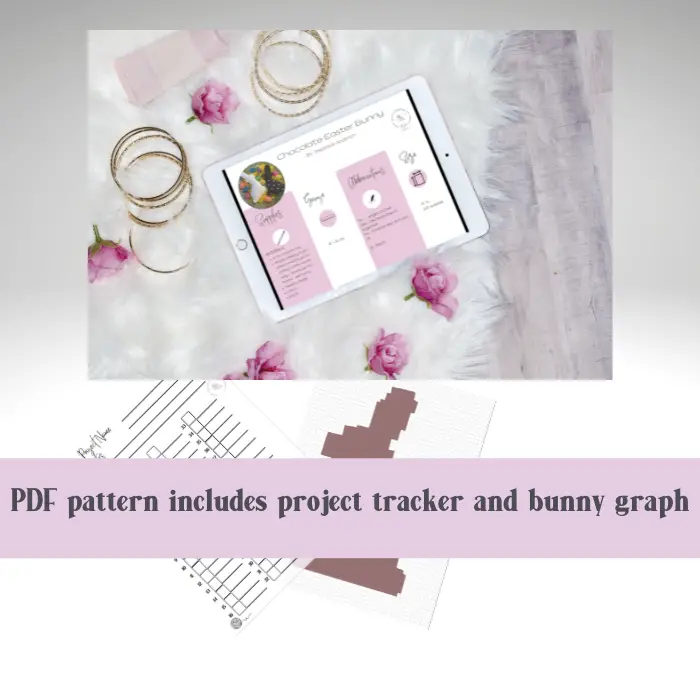 The yarns I used: Dark chocolate bunny- I love This Yarn in Coffee. For white chocolate bunny I used Crafter's Secret in Ivory. Allow 100 yards of yarn for each bunny.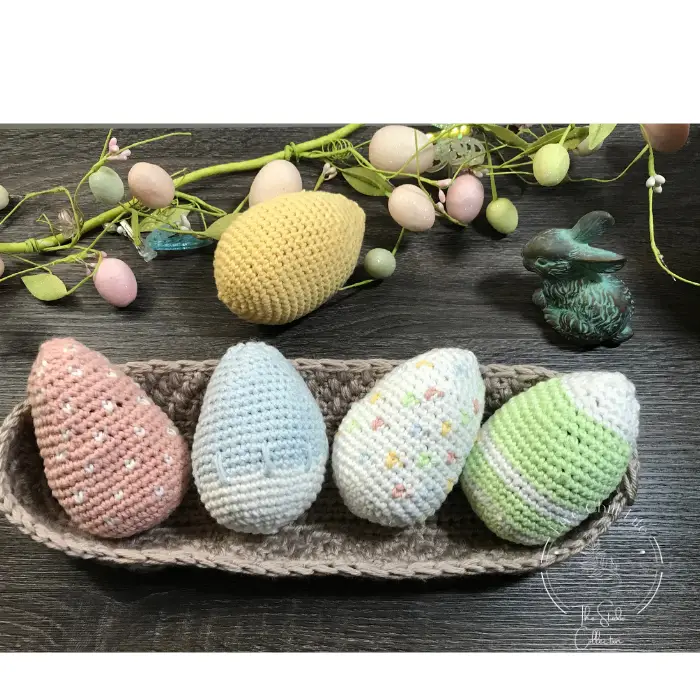 Pattern notes:
Pattern is worked from the bottom up.
Do not chain 1 at start of row unless directed to do so.
Count stitches as you work to ensure you have correct amount at end of each row.
Finished size is 11″ tall x 6.5″ at the base
Directions:
Make 2.
Ch 29
Row 1: in second Ch from hook sc across row ( 28)
Row 2: Ch 1. 2 sc in first, sc 28, 2 sc in last (30)
Row 3: Ch 1, sc across (30)
Row 4: Work two Dec over first 4 sts, 26 sc (28)
Row 5: Ch 1, sc 27 (27)
Row 6: Dec, sc 25 (26)
Row 7: Dec, sc 24 (25)
Row 8-11: Ch 1. sc 23 (23)
Row 12: Ch 1 sc 22 Inc last st (24)
Row 13 – 14: Ch 1 sc 24 (24)
Row 15: Ch 1, sc 23 (23)
Row 16: Dec, sc 20 Inc (23)
T-shirts and project totes for crocheters available in my Etsy shop!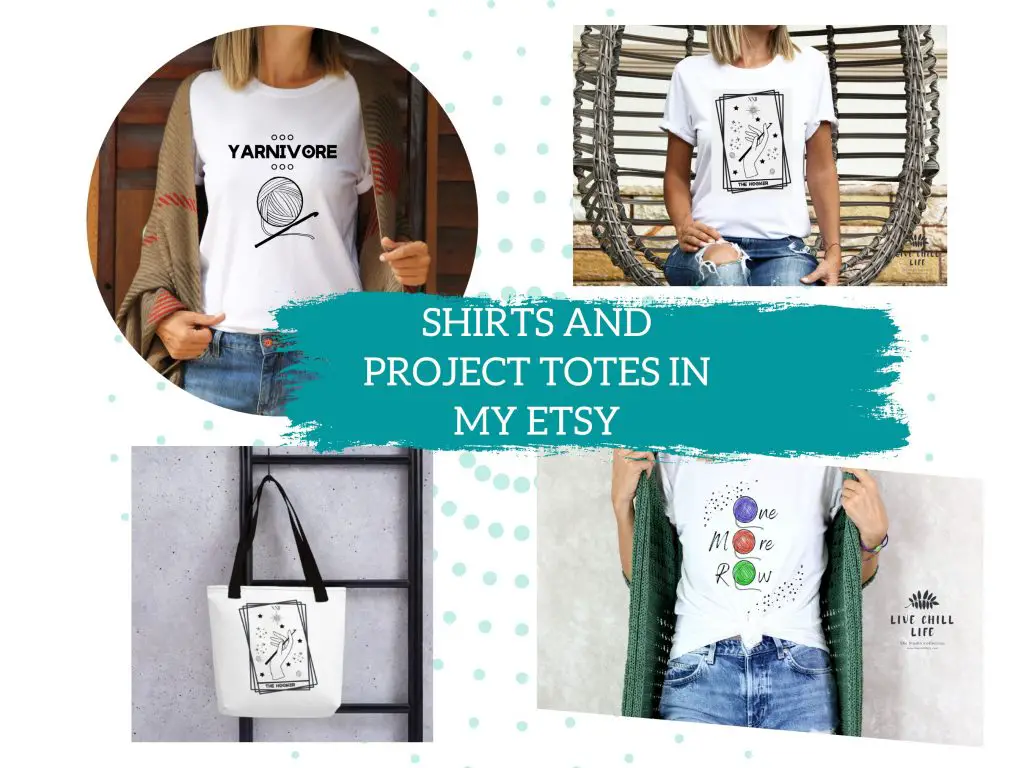 Row 17: Ch 1. sc 22. (22)
Row 18: Dec, sc 20 (21)
Row 19: Ch 1 sc 20 (20)
Row 20: Dec, sc 17 (18)
Row 21: Dec, sc 15, (16)
Row 22: Dec twice, sc 12 (14)
Row 23: Ch 1, sc 13 (13)
Row 24: Dec twice, sc 9 (11)
Row 25-28 : Ch 1, sc 10 (10)
Row 29: Ch 3 sc , second Ch from hook begin 12 sc across (12)
Row 30: Ch 1, 12 sc (12)
Row 31: Ch 4, second Ch from hook, 14 sc, Inc last st (16)
Row 32: Ch 3, second Ch from hook 18 sc (18)
Row 33-36: Ch 1, sc 18 (18)
Row 37: Dec 4 x, 8 sc (12)
Row 38: Ch 1, sc 12 (12)
Row 39: Ch 1, sc 12 (12)
Row 40: Ch 3, second Ch from hook sc 11 (11)
Row 41: Dec 3 x, sc 5 (8)
Row 42: Ch 1 sc 8 (8)
Row 43: Ch 1 sc 8, Inc last st (9)
Row 44 -47: Ch 1 sc 9 (9)
Row 48: Ch 1, Inc, 7 sc (9)
Row 49 Dec, sc 7 (8)
Row 50: Ch 1 sc 8 (8)
Row 51: Dec, sc 5, (6)
Row 52: Ch 1 sc 6 (6)
Row 53: Dec, sc3 (4)
Cut end of first bunny, do not cut end of second half of bunny . Hold the stitch open with a stitch marker while you work the flowers onto the body. You will seam after the adornment is completed.
Add flowers to body before seaming
Using a tapestry needle, place scattered stitches of center flower color. Add in color petals in a star like pattern as show in video. Be careful to stitch the outside facing sides so when you sandwich them together for seaming the pretty sides face outward.
Stitch seaming to create chocolate mold look
Line up both sides with decorated side facing out and using the yarn still attached to second bunny half, begin to sc around the body to create the chocolate mold seam.
Stuff at the midway point to ensure you have access with your stuffing tool to fill each crevice. Continue to stuff sections as you close around the second side finishing the ear stuffing with a wide enough opening to work in filling and stuffing tool.
Cut yarn and weave in end.
Video tutorial: https://youtu.be/JQWL3wl1cS4