Ads allow content creators to provide free useful and compelling content to the public. We may earn money or products from the companies mentioned in this post. See the Affiliates and Disclosures page in the top menu of this website for detailed information.
Chunky yarn crochet slouch hat free pattern
A stylish crochet slouch hat pattern that makes a statement. By using only one skein of yarn to create this hat you can work it up quickly for gifts, markets, or yourself.
Table of Contents
Slouch hats have become increasingly popular among people of all ages and fashion preferences. There are several reasons why people are drawn to these stylish hats. One of the main reasons is the versatility they offer. A slouch hat can be worn with various outfits, whether it's a casual jeans and t-shirt look or a more dressed-up ensemble.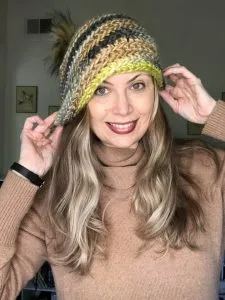 Another reason why people like slouch hats is the unique and dramatic look they provide. The crochet slouch hat pattern mentioned earlier is a perfect example of this. With its slouchy design and statement-making style, it adds a touch of flair to any outfit.
In addition to their style, slouch hats are also practical. The fact that you can create this hat using just one skein of yarn means that it can be made quickly and easily. This makes it a great option for last-minute gifts or for those who enjoy selling their crochet creations at markets.
Whether you're looking to make a fashion statement or simply want a cozy and stylish accessory, a crochet slouch hat is a perfect choice. Its versatility, unique design, and ease of creation make it a favorite among crochet enthusiasts and fashion lovers alike. So why not give it a try and add a touch of style to your wardrobe?
You may find these posts helpful
Let your favorite yarn shine with this slouch hat pattern
This stylish and dramatic crochet slouch hat pattern is perfect for showcasing the beauty of your yarn! While you can certainly create a beautiful single-color hat with this pattern, it truly shines when made with a lively colored super bulky yarn. The vibrant colors and texture of the yarn add an extra element of visual interest to the hat.
The design of this hat is intentionally simple, allowing the yarn to take center stage. It doesn't rely on fancy stitches or intricate patterns. Instead, it lets the yarn speak for itself. This makes it a great project for beginners or for those who prefer a more minimalist style.
By working a simple stitch with two sizes of crochet hooks you will create a dramatic shape.
The yarn colorway used in this pattern is what has made it a favorite of mine the past six years. The super bulky weight creates a cozy and warm hat, perfect for chilly days. The thickness of the yarn also adds to the slouchy look of the hat, giving it that stylish and dramatic flair.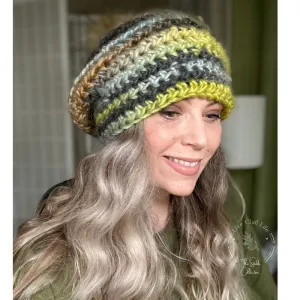 The multi color hat has more slouch, I call it super slouch, and will need a bit more yarn than one skein to add volume to the back.
Whether you're looking to make a statement with a bold and vibrant yarn or prefer a more subtle and neutral color, this crochet slouch hat pattern is versatile enough to accommodate your preferences. It's a fun and satisfying project that will not only keep you warm but also add a touch of style to your winter wardrobe.
You have two options in this pattern. One version is a slightly slouchy hat that can be made with a single skein of category 6 yarn. This is the green hat shown below.
See other projects you can make with only one ball of yarn.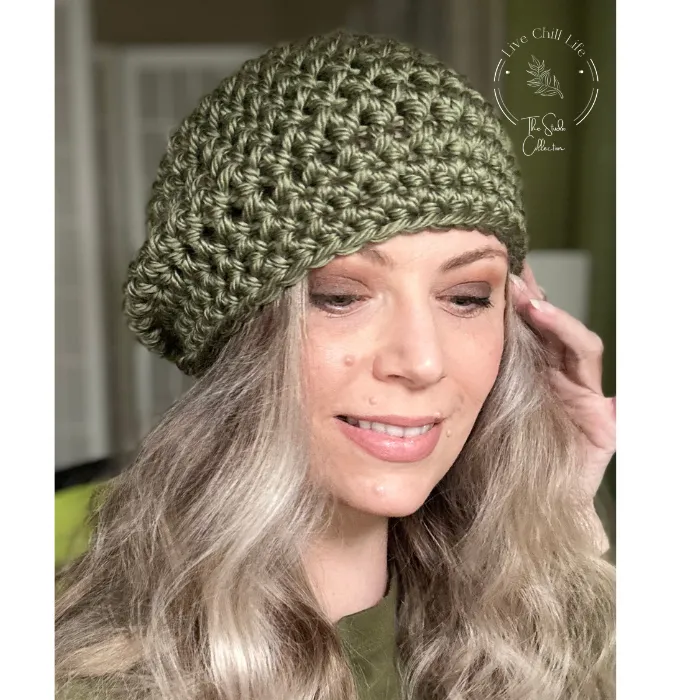 Supplies to make a chunky yarn crochet hat
Category 6 yarn (75-100 yards based on how slouchy you'd like your hat)
8 mm and 12 mm crochet hook (this is the 12 mm hook I have)
Tape Measure
Scissors
Faux fur pom pom, if desired
Hair pin to use as a stitch marker or similar
Yarn shown is Hobby Lobby True colors in September Sage and (now discontinued) Isaac Mizrahi Craft Sutton yarn in York.
Other colorful yarns to consider for this project:
Lion Brand Mandala thick and quick (this is enough to make a dramatic slouch hat)
Malabrigo 100% wool rasta yarn (enough to make a dramatic slouch hat) and colors that are close to the hat shown in this post.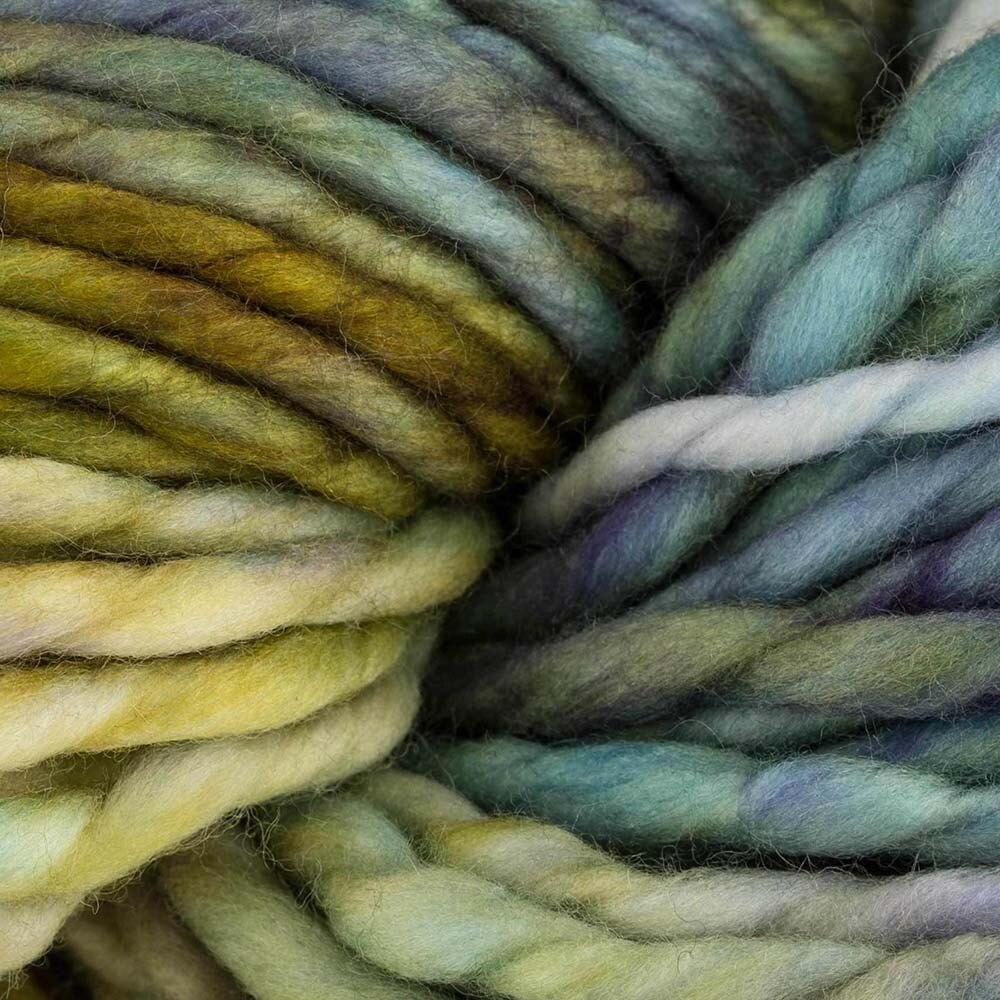 Skill level: Beginner
See tips on working with super bulky yarn in this post.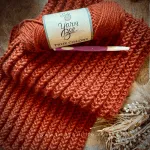 Crochet chunky slouch hat pattern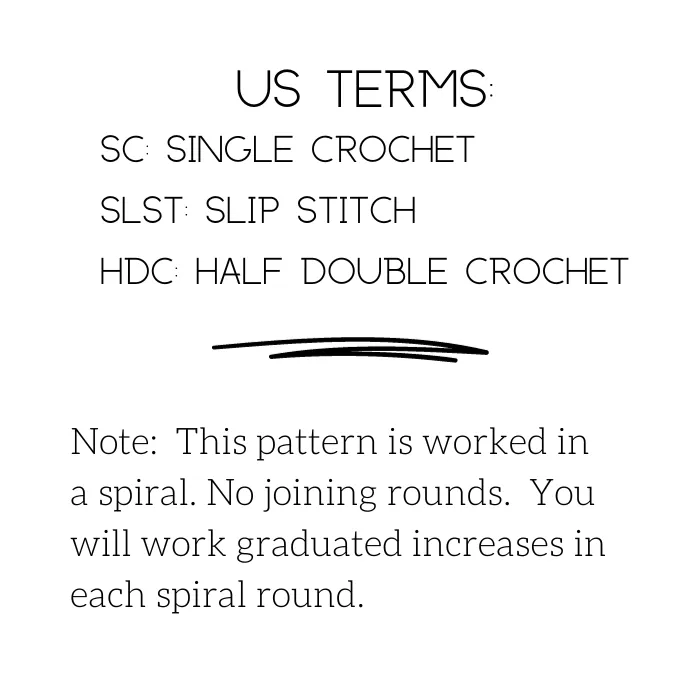 When coming up to end of round where hairpin marker is, if there is a stitch left, continue the sequence you're in (for instance a round where you hdc in third st and pin is at second of the 3 stitch sequence, continue that round before beginning the sequence of working 2 hdc in 4th st. see video)
This pattern is worked by measurement not stitch count.
Begin hat
Make a magic circle. Using 8 mm hook, work 12 hdc into circle and close. Mark 12th st with a hairpin.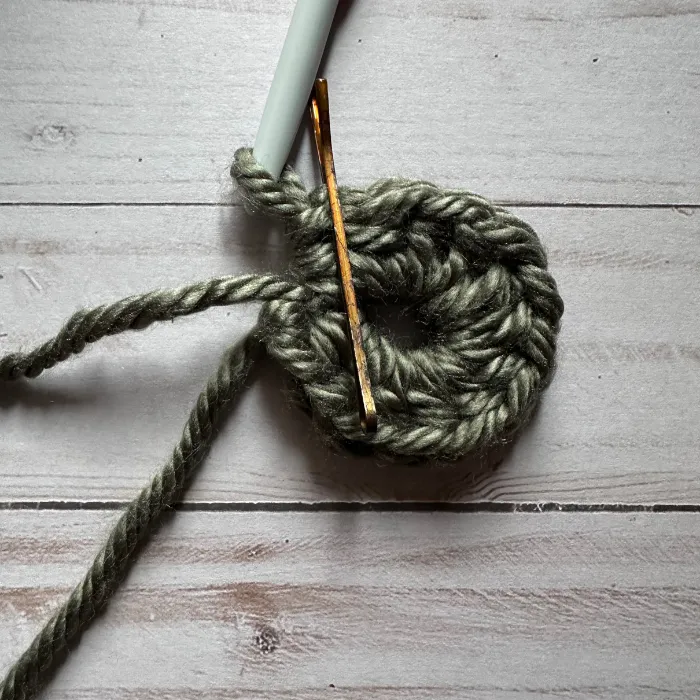 Change to 12 mm crochet hook.
Round 2: Hdc in first, 2 hdc in next. Repeat this sequence to end of round.
Round 3: Hdc in first and second, 2 hdc in third st. Repeat this sequence to end of round.
Round 4: Hdc in first, second and third st, 2 hdc in fourth st.
Round 5: Hdc in first four sts, two hcd in fifth st.
Round 6: Hdc in first five sts, 2 hdc in sixth st.
At this point measure the circumference of hat. For light slouch (solid color hat example) circumference should be 24-24.5″, for dramatic slouch work increase rounds to 29″.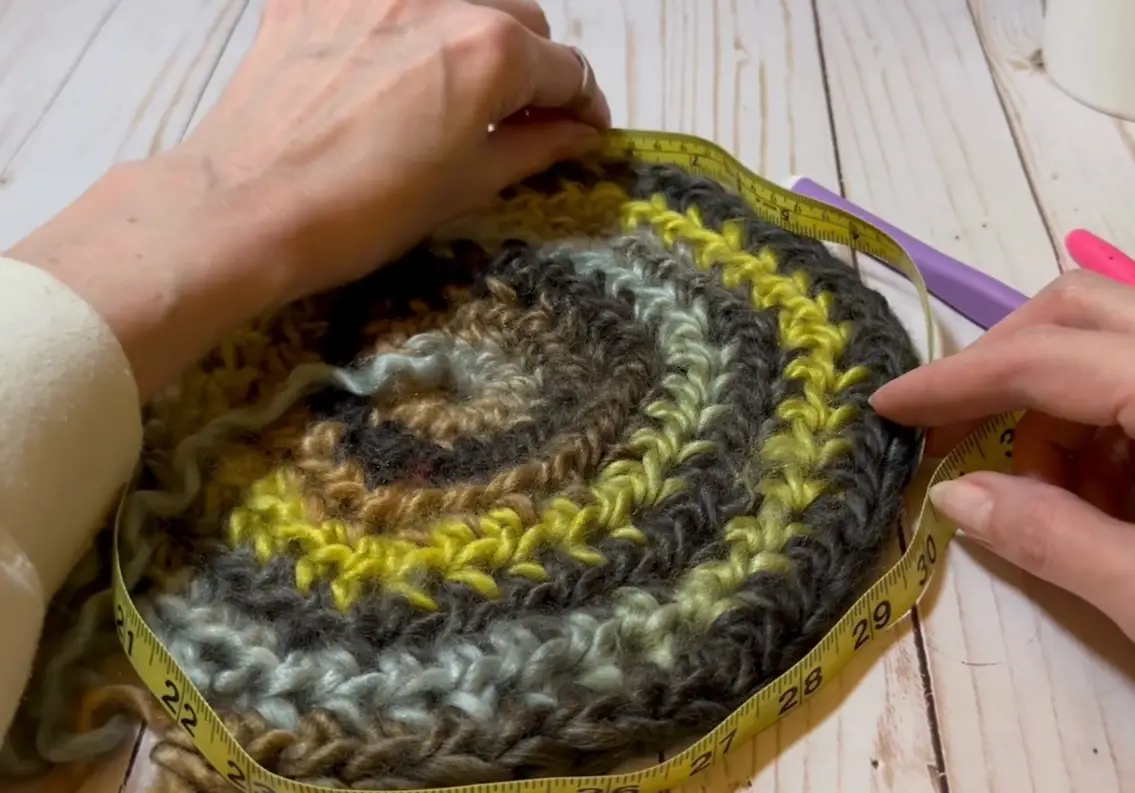 You don't need to finish a full round of increases to reach the measurement. Your yarn will dictate how many increase rounds.
Round 7: Hdc in first six sts, 2 hdc in seventh st, repeat 2-3 times and check measurement again. You shouldn't need to increase after this point.
Once you have reached the desired circumference, begin to hdc without increases until you reach a measurement of 8″ for light slouch and 9-9.5″ for dramatic slouch as shown in in image below. If you are close to a measurement – err on the side of longer rather than shorter.
Move hairpin marker if need be to your stopping point.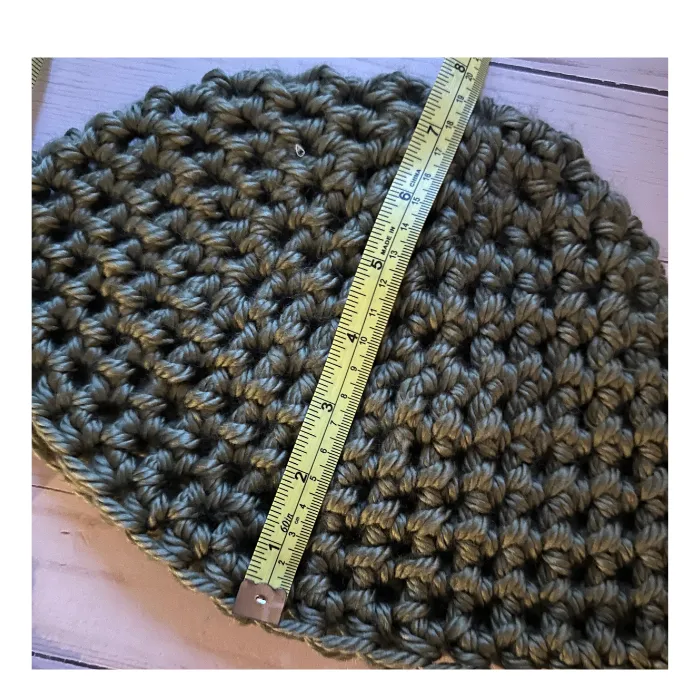 Brim for slouchy crochet hat
Finishing brim section is three full rounds. Modest slouch hat and dramatic slouch hat are each worked a bit differently.
Plan for your finished brim to be 1/2″-1″ bigger than your head measurement.
Change back to 8 mm crochet hook. Hdc around. Check measurement. This change in hook size will have decreased your hat circumference by 1.5-2″. For modest slouch hat you should be right about where you need to be.
Work two more rounds of hdc. Then move on to the last finishing stitches in next section. If you have a yard or two still left you can create a few more hdc if you'd like before working the finishing 5 stitches. Just be sure to leave enough of a tail for weaving in.
For the dramatic slouch hat
For dramatic slouch hat you will need to work decreases over the next three rounds to achieve the measurement you'd like.
Work first round of hat as above. For next round, work sc 2 together in 5 incrementally spaced stitches. For mine, it was 50 stitches so I worked a decrease every 9 sts. Check measurement again.
You may find it useful to use your measuring tape to see how many stitches are in an inch and work as many to decrease if you need another decrease round. Work those decreases in the last (third) round.
If you'd like, work a few more hdc or a full additional round with no decreases. This is a good time to consider, if you're using a multi color yarn, which color you'd like close to your face and work enough stitches for it to display across the head. In the image shown, I wanted chartreuse by the face so I worked 13 additional stitches to make it the final row of the brim.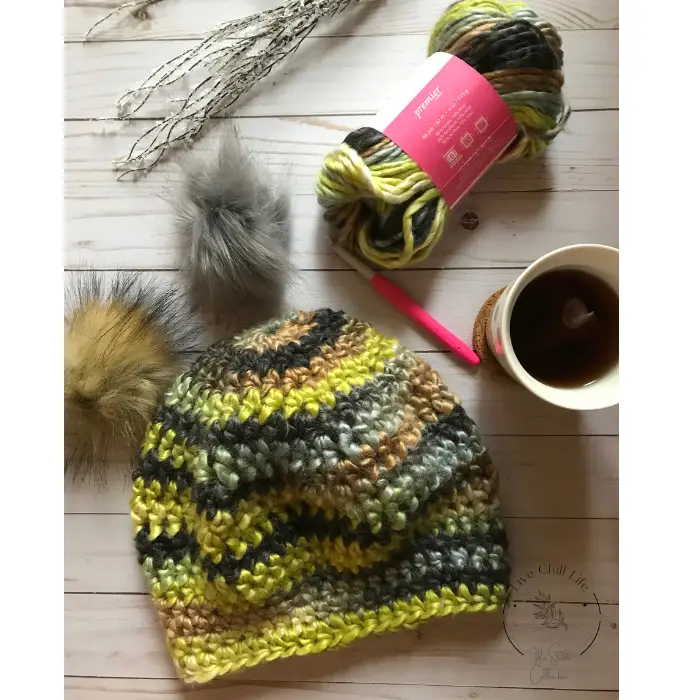 Then move on to final 5 finishing stitches.
Finishing your slouch hat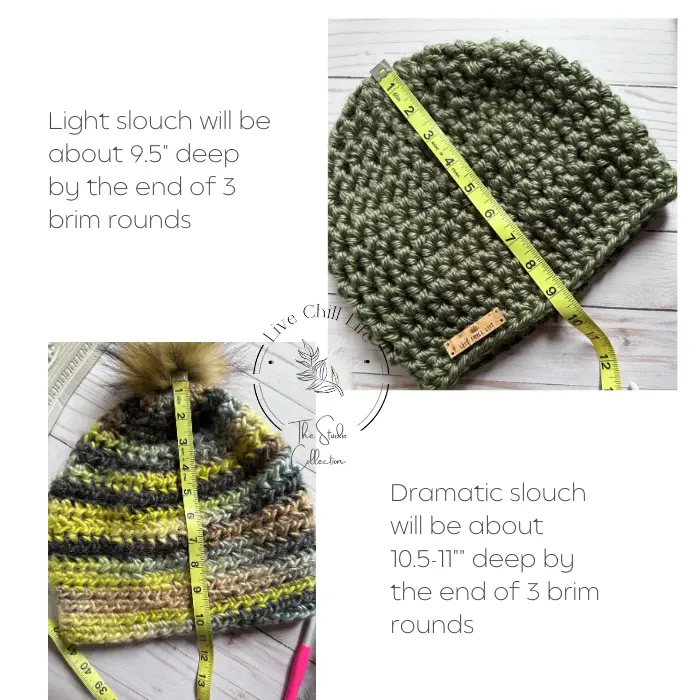 To taper down your last few stitches to blend seamlessly, work 2 sc, then 3 slip stitches.
Weave in the tail using 8 mm hook unless you have a large eye tapestry needle to accommodate super bulky yarn.
Add faux fur pouf if desired.
Slouch hat video tutorial