Ads allow content creators to provide free useful and compelling content to the public. We may earn money or products from the companies mentioned in this post. See the Affiliates and Disclosures page in the top menu of this website for detailed information.
Crochet the chunky ribbed blanket pattern of your dreams
If you want to make a chunky ribbed crochet blanket for your home or for a gift you're in the right place!
In this post I will cover how to get a great result and introduce you to the cozy cabin chunky ribbed crochet blanket.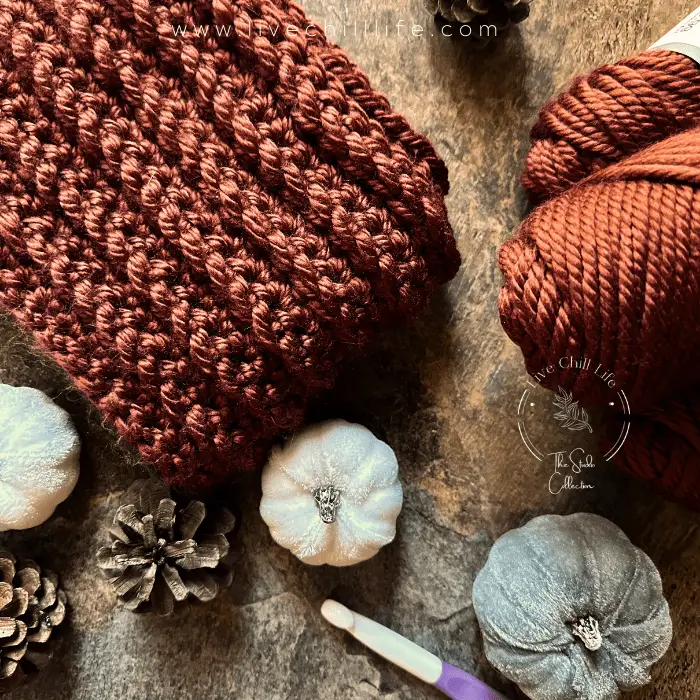 Table of Contents
Working with super bulky or chunky yarn
Category 6 yarn is classified as super bulky weight yarn. Generally, the manufacturer label will have the crochet hook size as an 8 or 9 mm hook. This is simply the hook size used to obtain the gauge that also appears on the label. See this post on how to read yarn labels.
Super bulky yarn doesn't work up quite the same as standard category 3 or 4 yarns that you may be more accustomed to working with. The larger hook and yarn require more shoulder, arm and hand movements that can be more tiring. Take breaks even if you don't think you need them.
See how to prevent crochet and wrist pain – 4 things no one is telling you.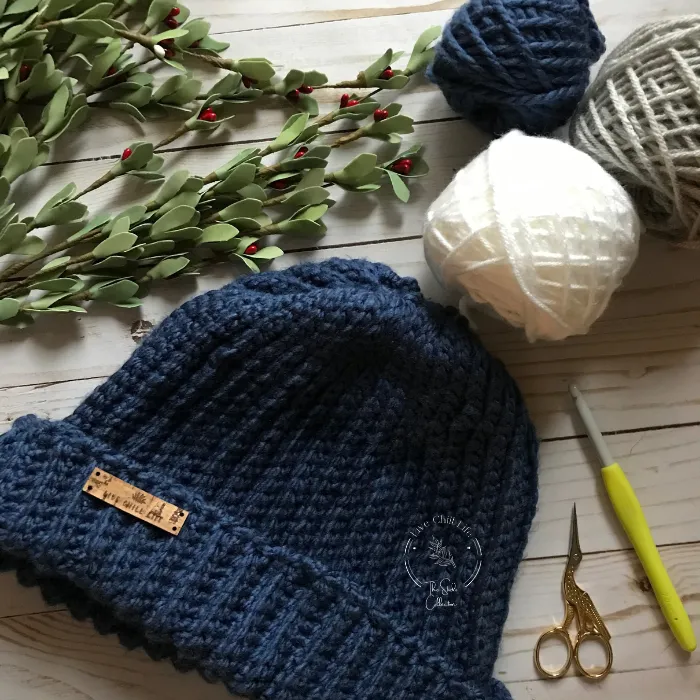 Hook size matters
When crocheting a blanket with super bulky yarn, it's important to consider the hook size. Using a much larger hook than what is recommended on the yarn label is crucial for achieving the drape and softness you want in a dreamy crochet chunky blanket.
Blankets should be flexible and able to mold to the body or furniture they are displayed on. Using a smaller hook can result in dense stitches that don't allow for this flexibility.
Additionally, tight stitches created with the label-size hook can make it difficult to work into and can cause the stitches to look warped. This can and will affect the overall appearance of the finished blanket.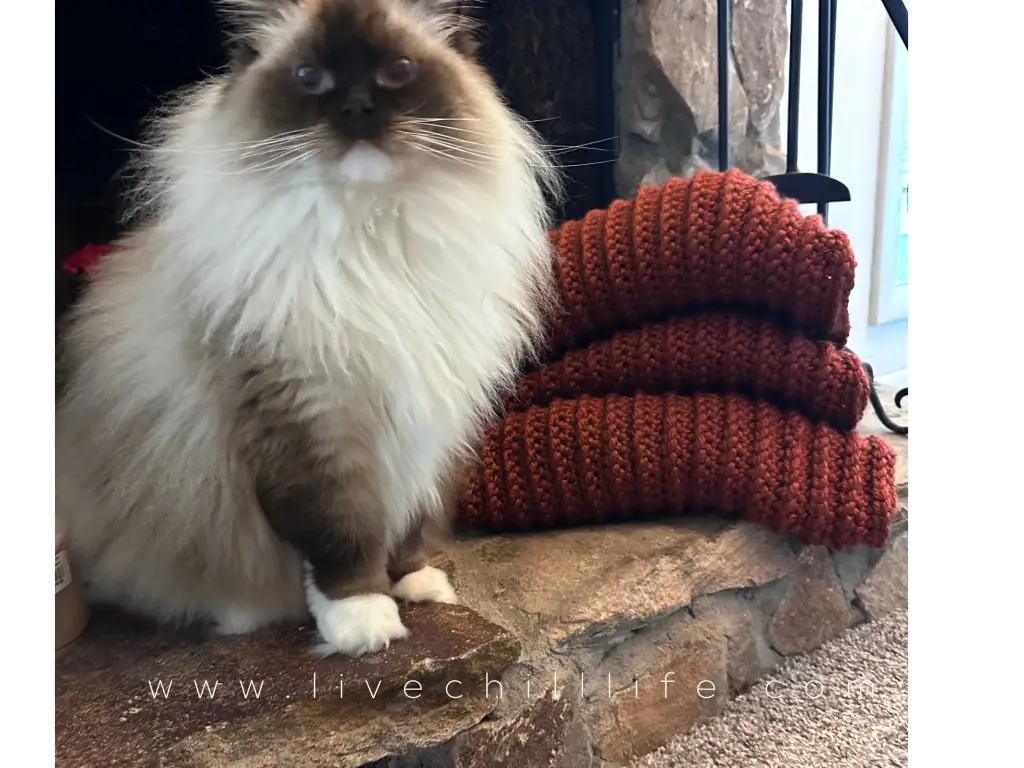 See this post on how to pick the right crochet hook
Not only that, but consistently working tight stitches can lead to pain in the arms and shoulder. Using a larger hook size can help alleviate this discomfort and make the crocheting process more enjoyable. Chunky yarn does work up quickly however, you will likely find that you can't work as long with it as you can with category 3 & 4 yarns.
So, when working on a chunky ribbed crochet blanket, remember that hook size matters. Opt for a larger hook to ensure flexibility, prevent warped stitches, and reduce strain on your arms.
You may like this post that covers how much yarn you need to make a chunky blanket.
Free pattern for super bulky slouch hat that can be made in 2 hours
Keeping edges straight
Chunky blankets often do not have proper borders on them, so keeping straight edges at the ends of rows is important. When working ribbed stitches, there are a variety of ways to achieve a ribbed look. However, if you find that the stitch or multiple stitch row repeat in your pattern instructions is causing the edges to look uneven, there is a simple solution.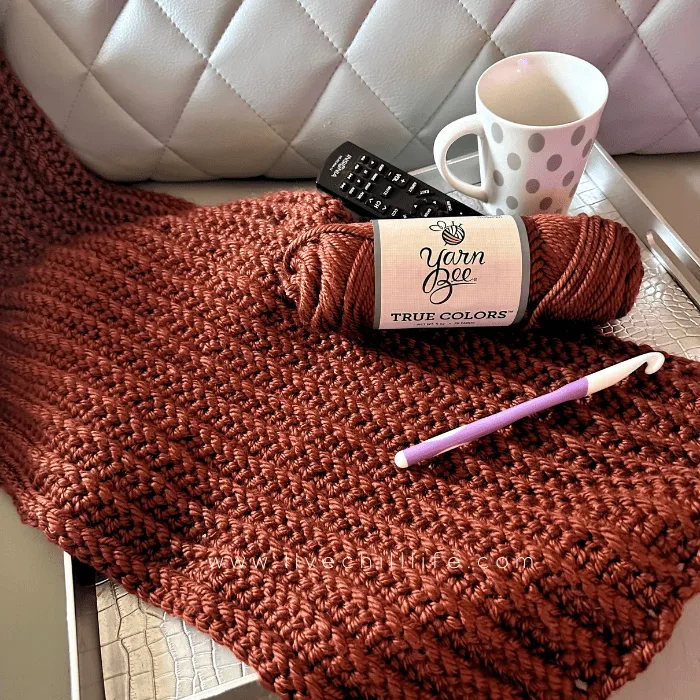 Instead of working the textured stitch into the first and last stitch of each row, try working just a regular stitch. This will give a subtle polished edge to your blanket and help maintain straight edges. By doing this, you can ensure that your chunky ribbed crochet blanket looks neat and professional.
Working regular stitches at the edges of each row helps to create a clean and uniform appearance. It prevents the edges from becoming too bulky or uneven, which can be a common issue when working with chunky yarn. This technique is especially useful if you want to achieve a more refined and polished look for your blanket that won't have a four-sided border to finish it.
Don't forget to count stitches. The end stitch (both starting and end of row) can get missed or worked twice and it will show up quickly if you've miscounted.
So, when crocheting a chunky ribbed blanket, remember to pay attention to the edges. By working regular stitches at the ends of each row, you can keep your blanket looking straight and well-finished.
The best stitch for a chunky ribbed crochet blanket
Upon first thought you may think a back loop only stitch is how to make a ribbed blanket. With chunky yarn, to me, this isn't the best option in my opinion. With this thick yarn, the looseness of a single loop stitch versus the security of a full stitch can be problematic from a usability perspective.
Air can get through that type of stitch so it won't be as warm and the floppiness is exaggerated using a single loop. Also fingers and toes can get caught in these openings.
The cozy cabin chunky ribbed crochet blanket design has more secure stitches that create a braided look while also giving a ribbed texture.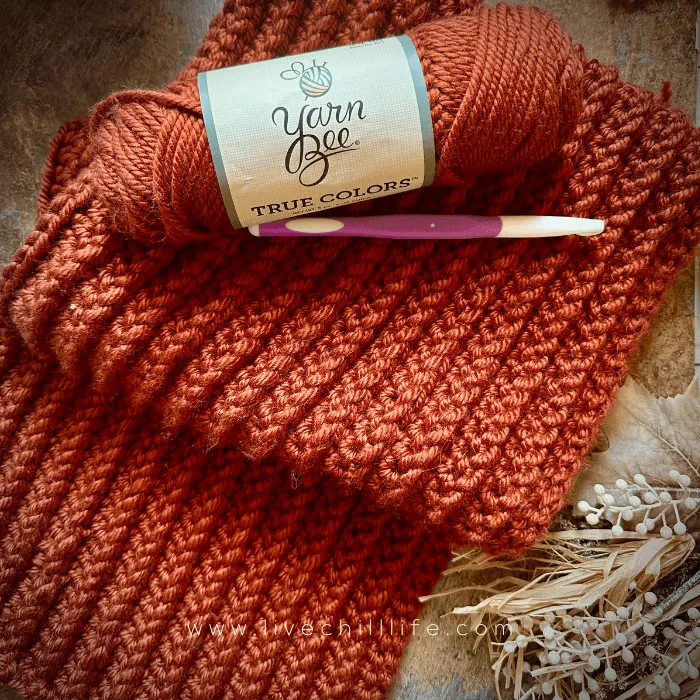 Cozy cabin chunky ribbed crochet blanket pattern
For this design I went up three hook sizes with a category 6 yarn. It creates a wonderful floppy yet still warm and dense elegant texture. I used a 12 mm armor hook that easily slides through stitches.
I cover a few category 6 yarns in this post. I opted for True Colors from yarn bee because of the high end sophisticated look with a beautiful sheen.
Get your pattern download here: