We may earn money or products from the companies mentioned in this post. See the Affiliates and Disclosures page for more information.
Crochet Patterns for the Kitchen
Whether you're a beginner or an expert crocheter, these 10 projects will add a touch of handmade charm to your kitchen.
From pretty dishcloths to colorful coasters and more, there are plenty of creative ideas to choose from to help you give your kitchen a unique look and match your decor perfectly.
1. Crochet kitchen towel
Grab some cotton yarn and get to stitching up a beautiful crochet kitchen towel. I have several free patterns on this website. Maybe my favorite of all the kitchen crochet patterns are kitchen towels.
They are practical and beautiful!
Canterbury kitchen towel pattern
Farmhouse striped kitchen towel free pattern
2. Crochet mop cover
One of the most useful things you may ever crochet is a swiffer mop or swiffer dust cover. Use up scraps of cotton yarn if you don't mind it looking a bit mish mash or use your favorite colors that may match your decor.
Get the free pattern for a crochet mop cover here.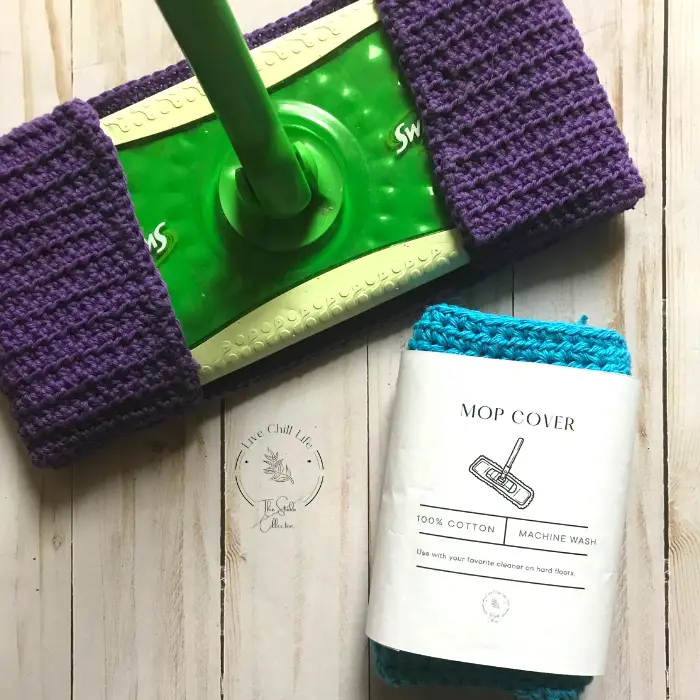 3. Crochet placemat
Whether your taste is modern, rustic, classic or you want some holiday themed design, you're sure to find a dizzying array of crochet placemat patterns in round and rectangle shapes.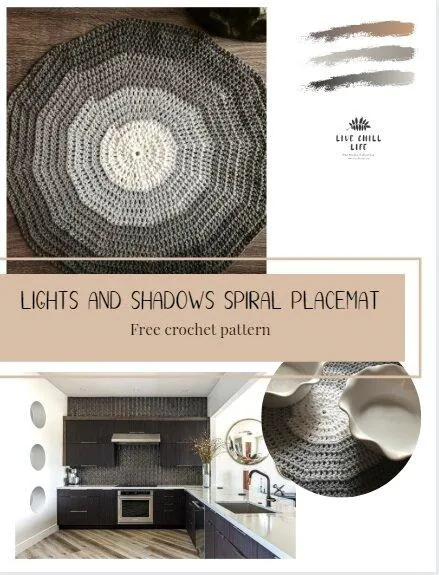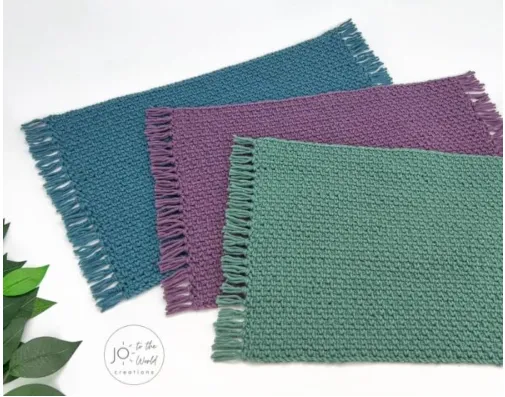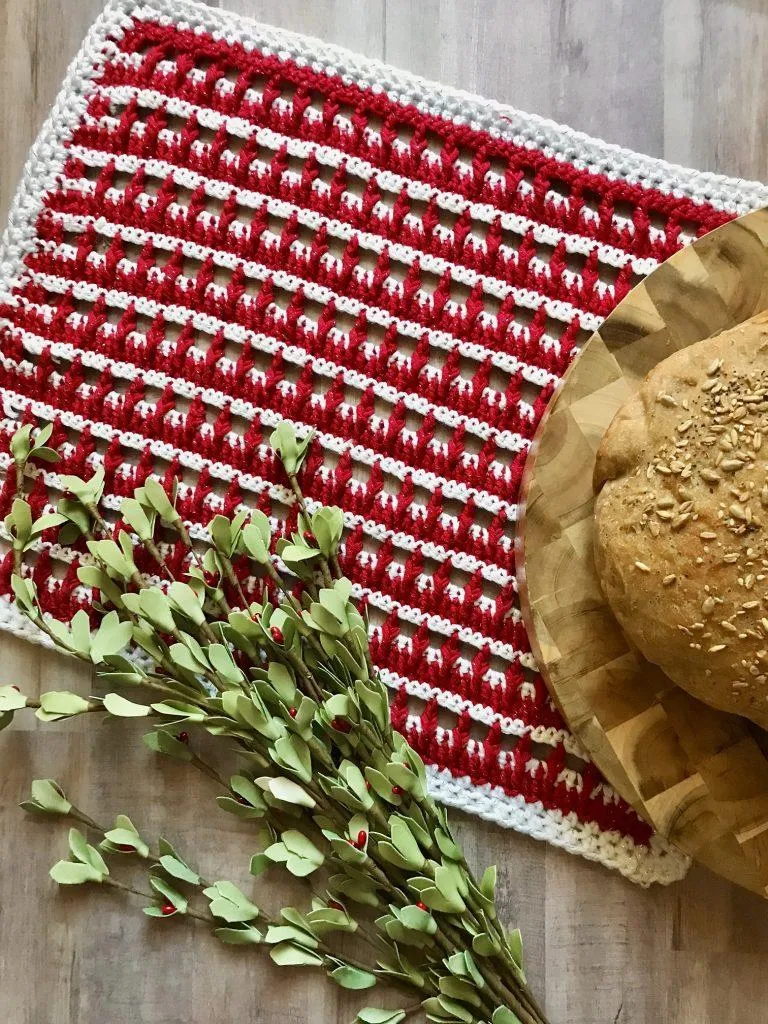 4. Crochet hot pad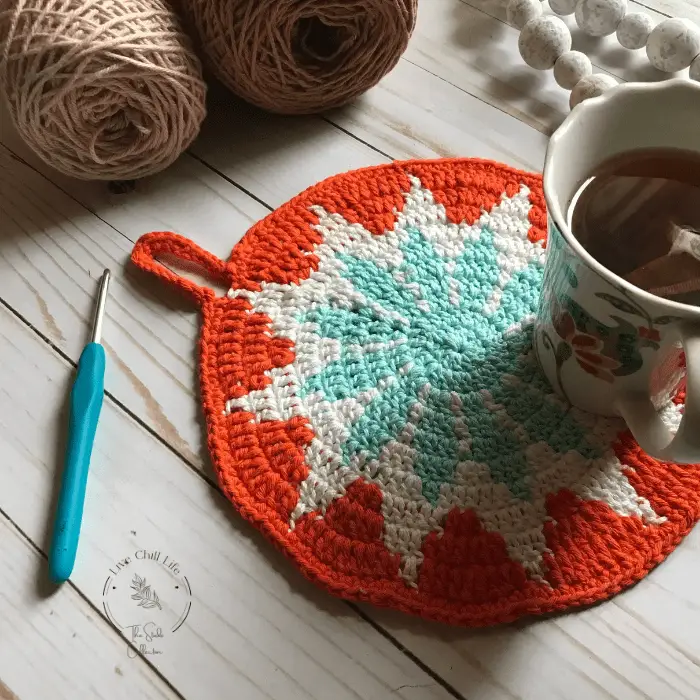 Whether it's a double thick or decorative single thickness, a crochet hotpad will get quite a bit of use in your kitchen. Thinner pads can work as a trivet while double thick styles are the only ones that should be use when removing hot heavy baking pans from the oven.
For some whimsy maybe this double thick large crochet fish potholder suits your decor?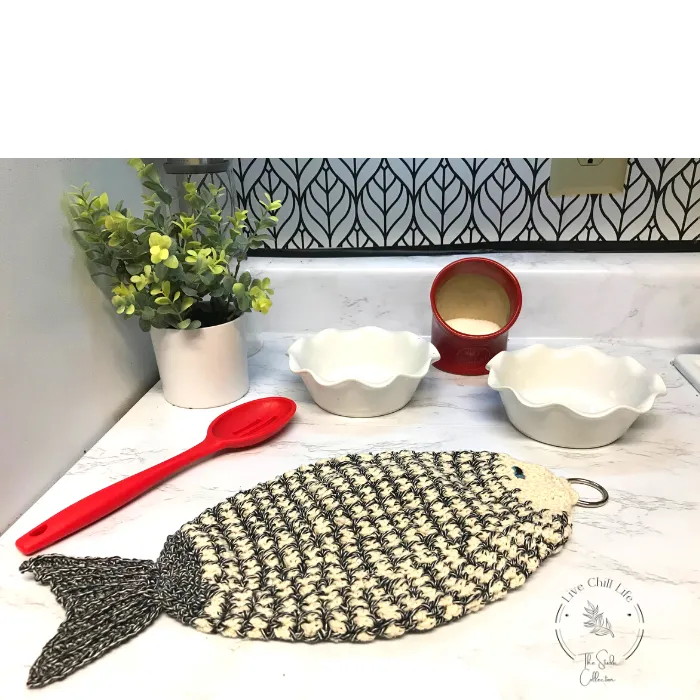 Crochet a handle cover for your iron skillets too.
5. Crochet dishrag
If you don't have cotton dishrags what are you even doing in your kitchen!? Without question these are my favorite crocheted item.
Not only are crochet dishrags great for washing dishes, I have on set aside just for use with my cast iron, one for setting toast on so it absorbs the steam and keeps it crispy, but also as a makeshift light trivet.
For hot dishes, the dishrags absorb heat and steam keeping your surfaces protected.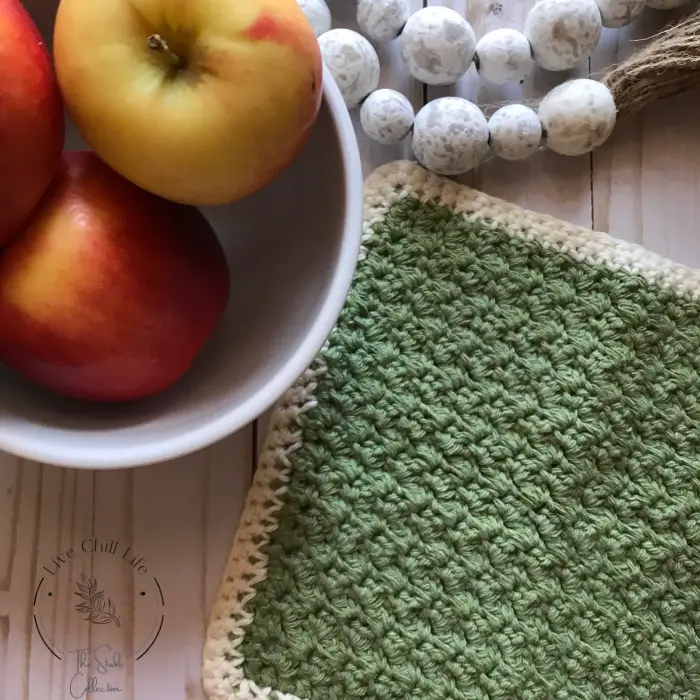 6. Crochet kitchen rug
Something soft and washable underfoot is necessary in every kitchen. This modern yet classic design compliments every kitchen.
To keep it nonslip try grippy shelf liner that you can find at the dollar store, Walmart and grocery stores on the kitchen aisle.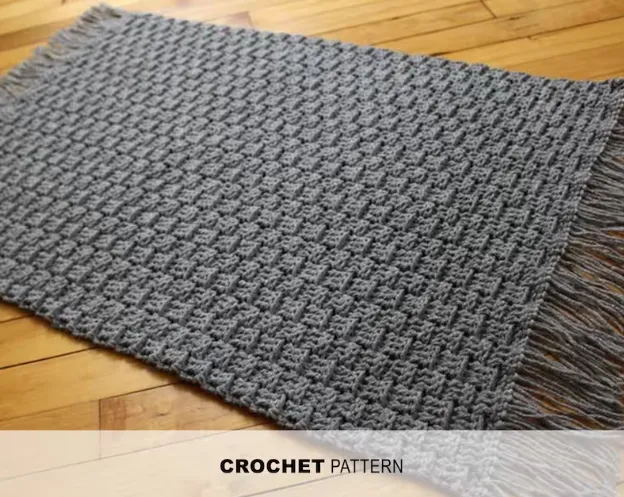 7. Crochet napkin rings
Did you know you can crochet a set of napkin rings to suit the season, your decor and your style? Why not make several sets to keep your table dressing fresh?
This classic set it suitable for all decor styles and occasions.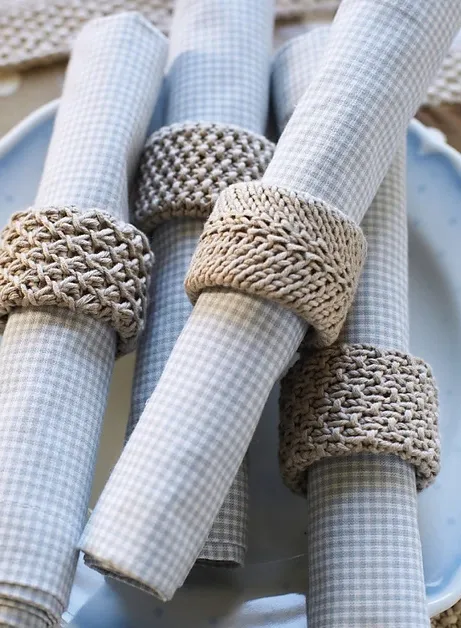 T-shirts and project totes for crocheters available in my Etsy shop!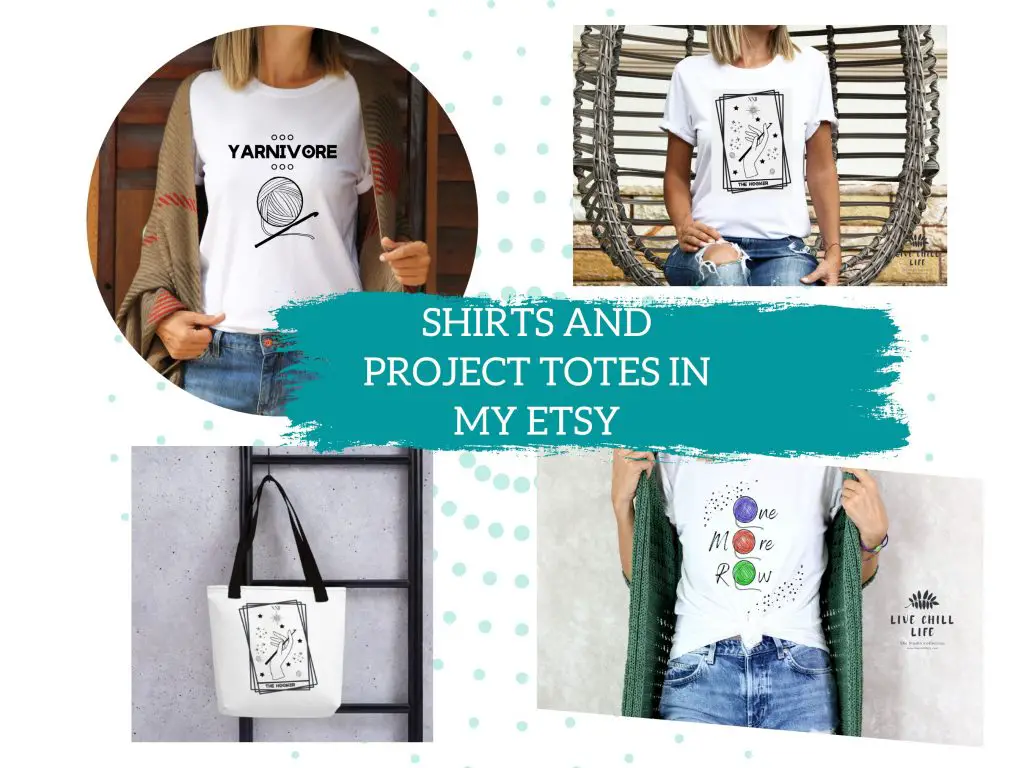 8. Crochet apron
Yes you can crochet aprons of all types. Customize them to suit your needs. A cute heart adorned one for little bakers, a grilling apron with plenty of pockets for grilling gear, a bib apron to protect top and bottom or a simple waist apron (with a pocket or two) to protect the part of you that leans against the counter.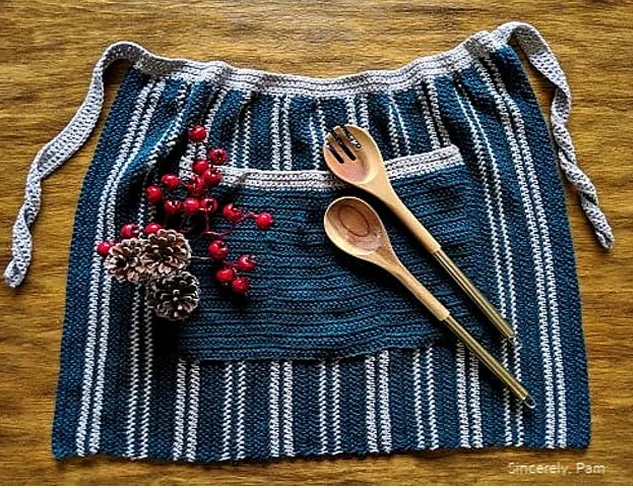 9. Crochet coasters
Useful and adorable, crochet coasters will get lots of use! I even like them stacked as a hostess gift. Make a set that suits the season, your home decor or as a special touch part of a gift set.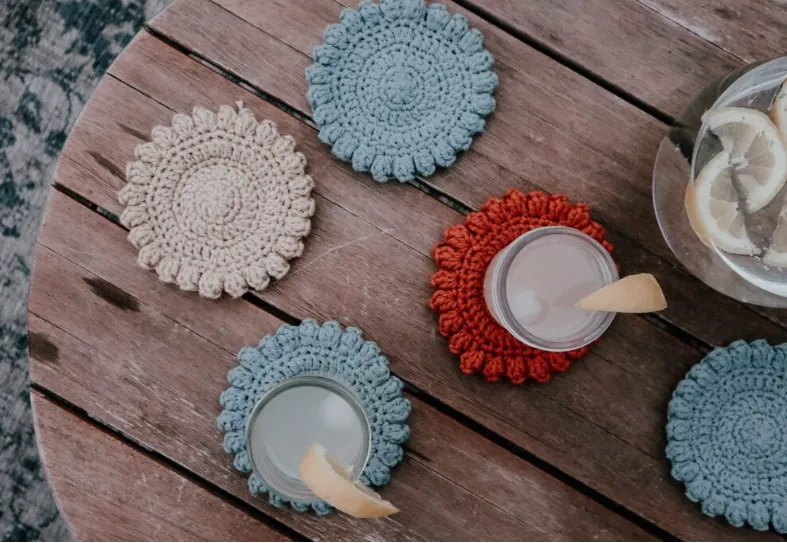 For some whimsey you can consider these cheery crochet apple coasters from a free pattern.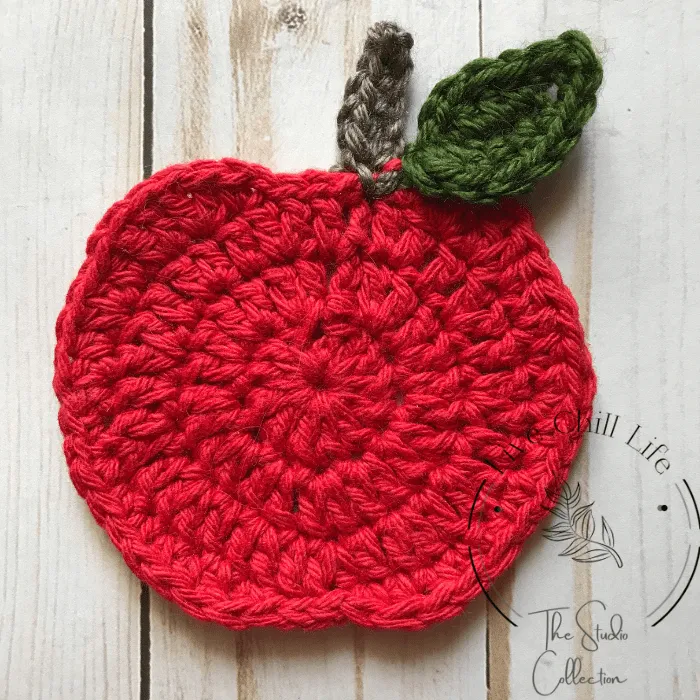 10. Crochet splatter screen cover
To me this is the ultimate useful item! Use your scrap yarn for this because it will get messy but it will also help keep your stovetop and floor from getting greasy.
Splatter screens are very well meaning but they don't stop the oil, fat, and grease from splattering all over the surrounding areas. A cotton crochet splatter screen cover solves the problem. It allows steam to escape but not grease. Imaging frying bacon or chicken and no mess afterwards? Sounds like a dream but with this nifty crochet kitchen item it is a reality!
See the free pattern for this splatter screen cover made with a spiral crochet technique. Make a few so you can change them out every few uses.