We may earn money or products from the companies mentioned in this post. See the Affiliates and Disclosures page for more information.
If stiff crochet dish towels leave you a bit uninspired this may be the towel for you! It has lots of texture that you expect from crochet projects. Using a soft bouncy cotton yarn with the right sized hook creates this floppy and inviting towel texture that will have you reaching for it over and over.
Crochet kitchen towels are not like commercial kitchen towels. If you have made and used one you know. Not only do they give a special touch because of how beautiful they are but they are FUNCTIONAL. They are just a bit thicker than store bought styles and can be used as makeshift pot holder for warm things with two handles (not for oven hot things but shifting a stove top pot from burner to a trivet) but they also can protect your table and countertops. I have even used them as placemats in a pinch.
Being able to customize a crochet hand towel to your home decor is such a treat. If I don't have a cooling rack handy I use them to absorb heat and steam from cookies and freshly baked bread loaves.
They make wonderful gifts for housewarming, hostess gifts, teacher gifts, etc. I like to tuck one in with something I made in the kitchen like simmering spices to scent the home, homemade jar of jam, DIY body scrub, or a loaf of bread or vetebrod.
You may also like this modern farmhouse striped handtowel
For this pattern I used soft bouncy creme cotton from Loops & threads (lion brand mako cotton is similar or do a search for other comparable cotton yarns). You can splurge a bit more on towels because they don't get the wear and tear of kitchen dishwashing cloths.
With a large hook and this style of thick cotton you can work up your towel in a single day! Even if you are a beginner you can make this quickly.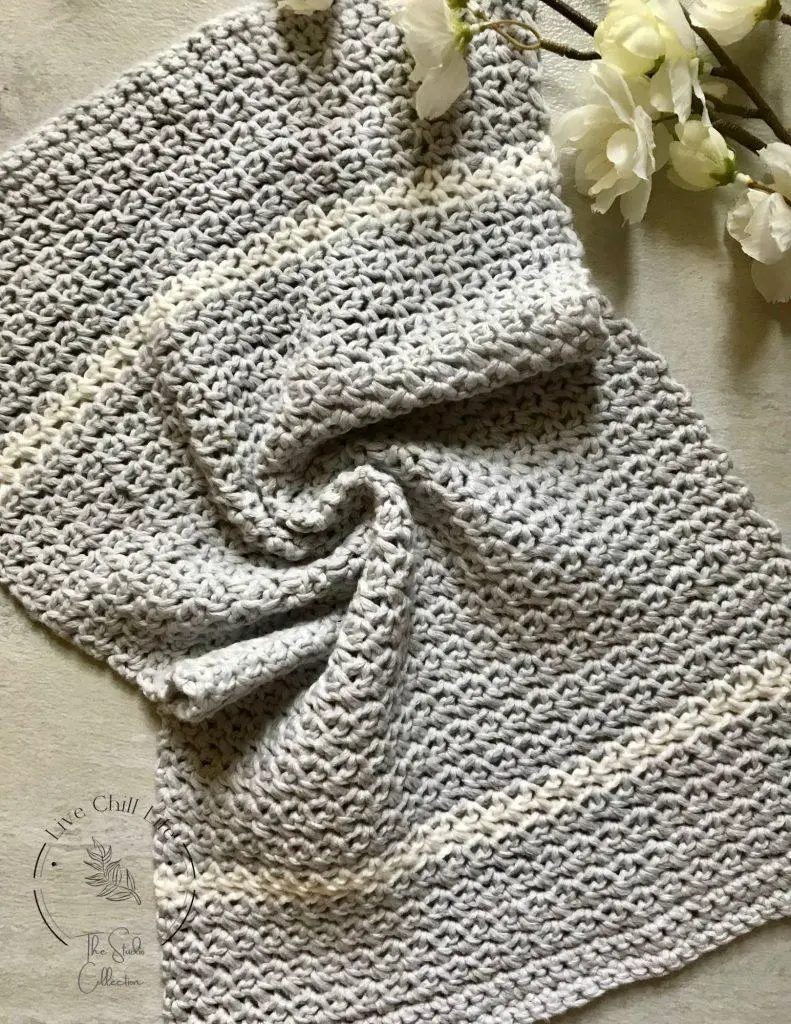 As shown, this soft flexible crochet towel measures 13.5" x 19". You can easily customize the size by chaining more in the starting chain row. It is worked from the bottom up. To increase the width simply chain more. Just keep in mind the yards shown in the supplies list will increase.
You may also like the Canterbury crochet dishtowel free pattern.
Or the Farmhouse striped dishtowel free pattern.
Free crochet hand towel pattern
Supplies:
100 yards of Loops and Threads creme cotton or Lion Brand mako cotton yarn: Color A main color, Color B a contrasting color
6.0 mm & 7.0 mm crochet hook
scissors
tapestry needle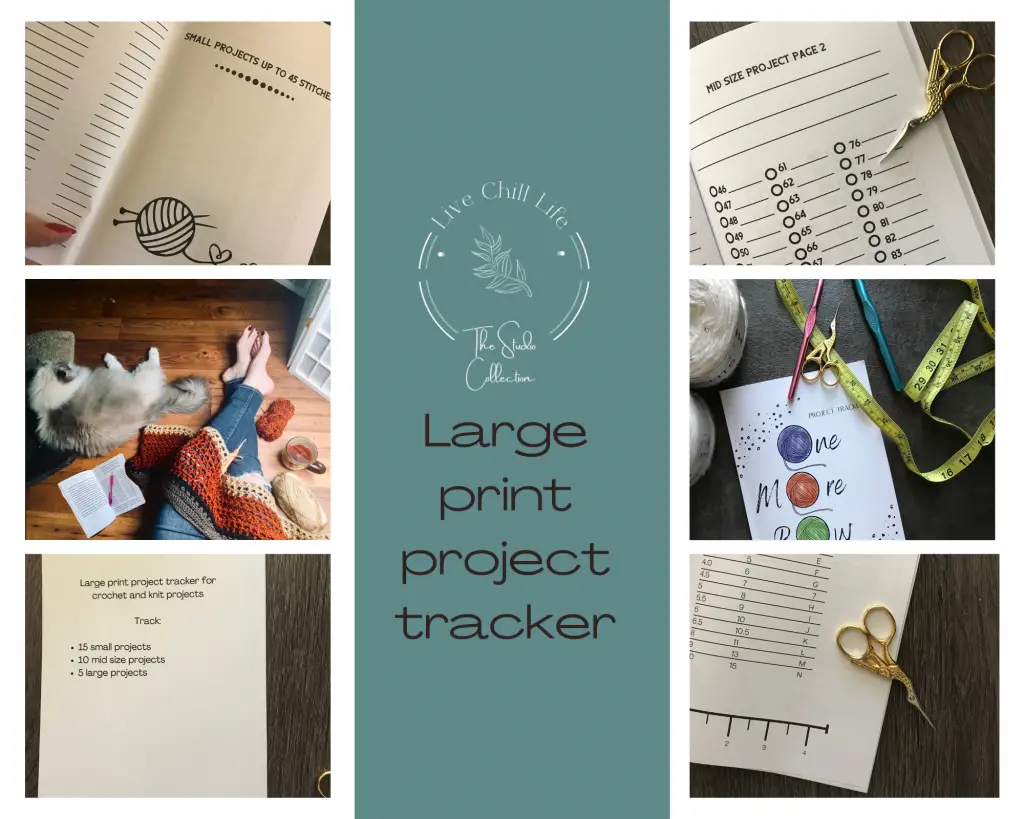 I designed knit and crochet project trackers! Keep track of your cardigan pattern with this tracker.
This is the large print version for tired eyes. So much easier than using apps, scraps of paper or a plain notebook.
Three project sizes, a handy ruler and hook guide inside the cover and plenty of room for notes in each pattern.
Buy the  Large print project tracker.
Buy the regular size print project tracker.
I have had bad eyesight since age 18 so large print is a godsend when you can't see apps and dark yarn, let alone going from one to the other on a crochet-a-thon during a Netflix binge.
Make it:
Using 6 mm hook chain 50 (or to desired width chain an even number of stitches).
Border rows:
Row 1: In second ch from hook work a sc across. Turn. 49 sts. Maintain stitch count throughout.
Row 2 & 3 : Ch 1 turn. work sc across row. turn.
Body rows:
Row 4. Using 7.0 mm hook, Ch 1. sc in first st. Ch 1, skip 1 , sc. Repeat bold sequence to end of row. turn.
Row 5-8. repeat row 4 five times then change to color B (if desired).
Row 9 & 10. Repeat row 4 in color B.
Row 11 – 31. Change back to color A. Repeat row 4.
Row 32-33: Change to color B. Repeat for 4.
Row 34-37 Change to color A. Repeat row 4.
Row 38-40. Using 6.0 mm hook. Ch 1 sc across row. Turn.
Secure ends and weave in all loose ends. Now you can enjoy your soft kitchen towel!