Ads allow content creators to provide free useful and compelling content to the public. We may earn money or products from the companies mentioned in this post. See the Affiliates and Disclosures page in the top menu of this website for detailed information.
Mako cotton is a long staple cotton, meaning the fiber itself is longer than regular cotton fibers. One cotton ball atop a plant has 250,000 fibers! That is a mighty plant! The length of those fibers is what determines the quality of the cotton itself.
I am a little obsessed with cotton yarn. Likely because of the warm climate I live in. Wool, acrylic? Are you kidding? There is no place for those in my world. Cotton, bamboo and the like are virtually all I use so I consider myself somewhat of an expert now.
5 best yarns for summer knit and crochet projects.
What is mako cotton?
It's defined a having a long staple length but what does that mean as opposed to other cotton fibers?
Staple means fiber (interchange those words) as mentioned above. Regular staple cotton is very commonplace, nothing to brag about and certainly perfectly usable when woven well. It's use in clothing, bedding, towels, etc.
Lets compare cotton staple (fiber) lengths: A long staple fiber is between 1 1/8″ and 1 1/4″ long.
An extra-long staple fiber is between 1 3/8″and 2″ long.
Compared to a regular cotton fiber that is only UP TO 1 1/8″, that is quite a difference.
What may seem like a miniscule difference makes a drastic impact on lint, softness and quality.
Loops and threads also has mako cotton yarn, creme cotton. This is a pattern I designed for a soft flexible crochet kitchen towel made with this yarn.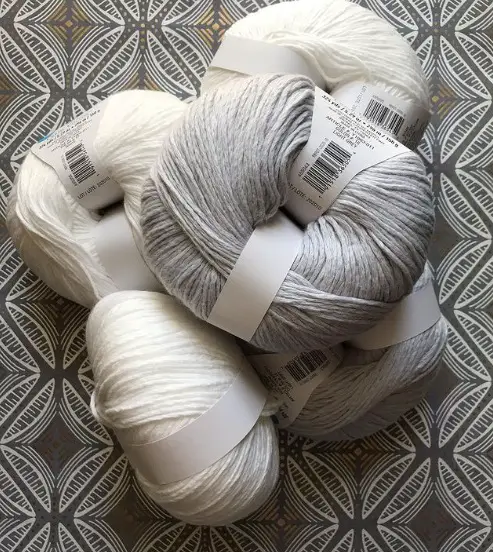 You may like the sweet citrus summer cardigan pattern. One of my most popular cotton crochet designs for a go to piece in your summer wardrobe. Use it to add handmade style over tanks, jeans and even at the beach.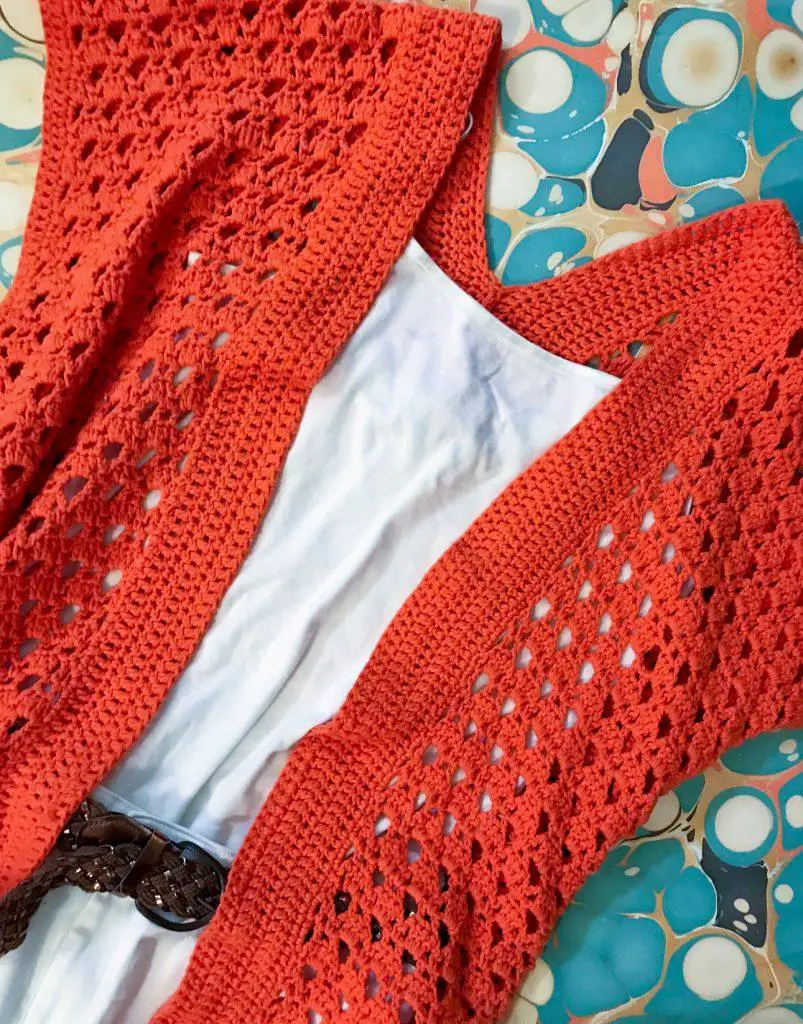 Comparing regular cotton yarn and mako cotton yarn
Feeling like comparing, I bought some Lion Brand orange mako cotton against black I love this cotton yarn from Hobby Lobby. I did not use Lion Brand 24/7 cotton to compare because that cotton yarn is mercerized. Not a fair playing field.
The mako cotton yarn is supposed to be woven for strength and I can't say that I found this particular one to be strong. It is lusciously soft and chubby/fluffy while being light as air. It doesn't split because of how it is woven – a big plus! HUGE BENEFIT.
I also found it difficult to have any sort of drape effect until I stitched it correctly in an open design. Like most every yarn, the stitch and needle /hook size will have a dramatic effect on how the finished work is.
When I had to frog it a time or two as I found the right stitch pattern I found it pull apart like a cotton ball would.
This yarn would be great for a baby blanket, lapghan or summer cardigan.
Hobby lobby has cotton yarn and I have things to say about it.
I did a video review for you to learn about this yarn and see it compared to regular cotton yarn.