Ads allow content creators to provide free useful and compelling content to the public. We may earn money or products from the companies mentioned in this post. See the Affiliates and Disclosures page for more information.
If you're looking to make the most flavorful sourdough loaf you may have to tweak your recipe. Does your sourdough lack personality? Did you find after making a few successful loaves that they aren't as tasty as you'd like? Do you love a textured flavorful loaf?
I have solutions. While I do enjoy my regular sourdough sandwich loaf it left me wanting. One day I decided to alter my regular recipe with some other add ins I know make bread go from regular to full of personality! I am not a simple girl and I don't like simple bread. There I said it.
This bread reminds me of a Dave's killer bread style loaf but you get to make it yourself and save some dollars. Yes dollars. Dave's killer bread near me is upwards of $6 per loaf.
I cook and bake quite a bit, I used to be a professional chef and seem to keep a well stocked pantry. I put my bread making experience to good use and added in some pantry staples and came up with a very satisfying loaf. It has really good texture that makes some heavenly toast!
The crunch factor in homemade sourdough bread that has been toasted is unparalleled.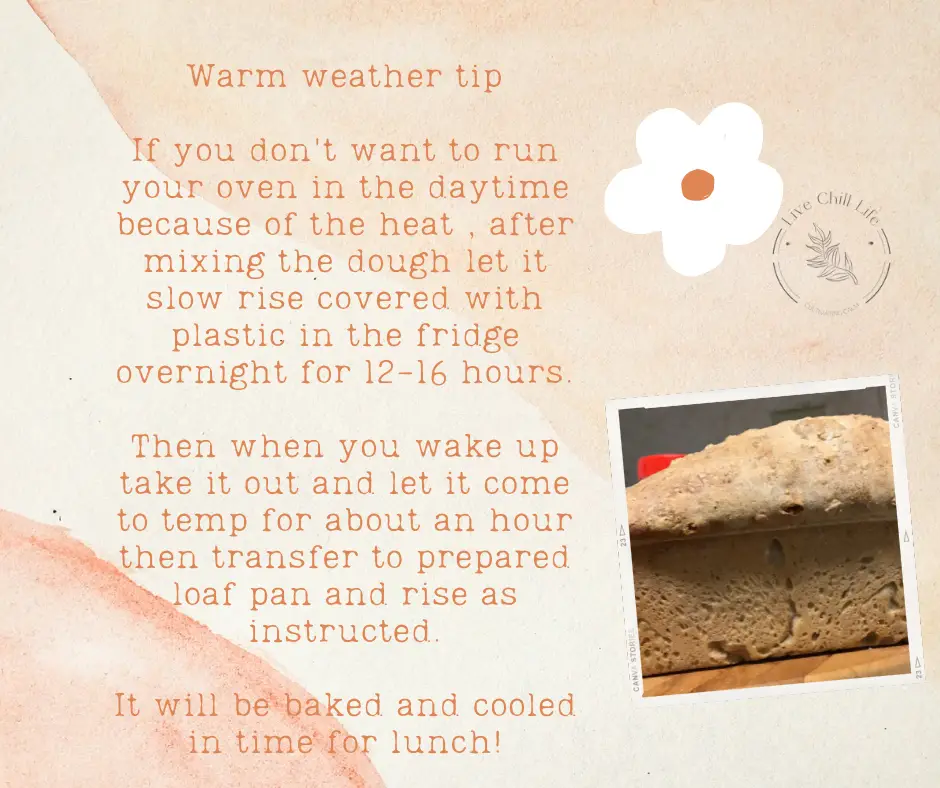 Note: This dough may seem a little wetter than you're used to but not by much. The extra water is to hydrate the oats and grains. Some people like to presoak in hot water but it isn't necessary in this recipe.
The recipe makes one hefty 9″ loaf pan sized loaf:
Most flavorful sourdough loaf recipe
Combine the follow in a mixing bowl with dough hook attachment.
450 gr fed sourdough starter – about 2 cups (see tip below if you don't make 2 cups plus extra to refeed and make a new batch)
1 1/2 tsp instant yeast
11 gr salt
1 1/2 tsp granulated sugar
250 gr all purpose flour
60 gr whole wheat flour
3/4 c lukewarm water
1/4 tsp malic (citric) acid to amp up the sour flavor (I use this one and it's great for cheese making)
2 tbsp rolled oats
3 Tbsp King Arthur flour harvest grains blend or something similar
1 heaping Tbsp nonfat milk powder
1 Tbsp vital wheat gluten (I use this one)
Combine all ingredients and let the mixer knead it for a full 10 minutes on medium speed. Cover bowl and let rise for 45-60 mins. It will be puffy and double in size or almost double.
Grease the 9″ loaf pan including top rim and turn dough into the pan. I don't bother to shape it I just dump it gently into the prepared pan and pat it gently to even out. Spray with water and cover. Let rise until it crowns over the pan by at least half an inch. It will puff up more when it bakes
Bake the flavorful sourdough loaf
Near the end of rise time preheat oven to 350. bake 40-50 mins until thermometer reads 190F.
Remove from pan and cool on a rack before slicing. Chill in fridge overnight if you prefer very tight even slices vs. rustic style.
My keep it crispy and crunch toast hack is to set the freshly toasted bread on a crochet dishcloth to absorb the steam while it is being buttered.