Ads allow content creators to provide free useful and compelling content to the public. We may earn money or products from the companies mentioned in this post. See the Affiliates and Disclosures page in the top menu of this website for detailed information.
Help your splatter screen splatter less with a crochet cover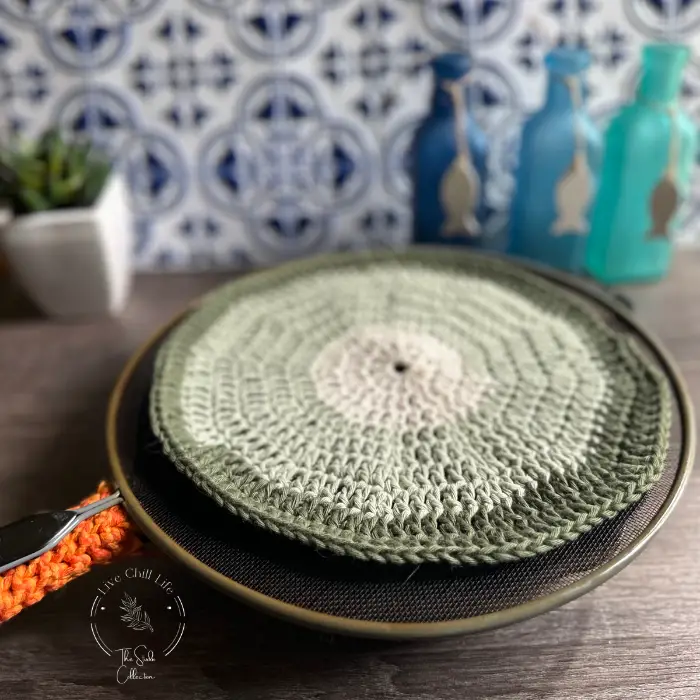 If you fry bacon, are doing keto /carnivore, fry chicken or make any other messy dishes that need a splatter screen you know it doesn't prevent oil from getting on your stove and floor. This crochet splatter screen cover solves many issues.
Why you will find this useful? I cook 2-3 meals at home every single day and nearly all of them have a component of the meal made in my cast iron skillet. Cast iron cooking needs more fat that other types of cookware.
I do like to put a cover over the splatter screen to help things cook more evenly which causes steam. So the mess is oil splattering up to the screen and steam coming down on the screen. A paper towel helps when it's laid over the screen but it's very wasteful and becomes saturated quickly.
The crochet cotton splatter screen cover to the rescue. Make several of them so you can change them out every few cook sessions. Cotton is important here, 100% cotton yarn. Use your scrap yarn as it's going to get dirty there is no need for aesthetics here.
This crochet pattern is loose enough for some heat to escape, and moisture from the food cooking. We don't want to suffocate our food and also keep safe in the kitchen. Cotton is very absorbent and not flammable like acrylic (acrylic melts and is not absorbent)
Tip: You will need to break up the grease in your splatter cover before washing in the washing machine. Regular clothing detergents aren't designed to degrease. Try using Dawn dish liquid in your sink or simple green.
Consider making sizes that exactly fit the pan size not the splatter screen size so steam is allowed to escape.
I use magic knots to change colors out for this cotton yarn project. See how to in video tutorial.
Skill Level: beginner (what crochet skill level are you?)
Materials:
5.5 mm crochet hook
category 4 cotton yarn (scrap yarn, mixed colors or solids to match your kitchen -medium or darker tones are better to hide stains)
a stitch marker
ruler or tape measure
scissors
Using a 5.5 mm hook , chain 3. In third loop from hook make 11 dc so that you have 12 dc total at the end of this round.
Round 2. Work two dc into top of first stich of last row. Mark the first of the two dc with a stitch marker. Continue to work two dc in each stitch until end of round.
Round 3. Take stitch marker out and work a dc into stich and replace marker. Work two dc into next stitch. Then 1 dc, then 2 dc. Repeat alternating single dc and two dc around to end.
Keep increases spaced evenly as directed to ensure a flat circle. This is key to keep your work flat.
Round 4. work 1 dc into first and second stitch. Work two dc into third stitch. repeat one dc, one dc then two dc sequence to end.
Round 5. work a single dc into first three stitches then two dc into fourth stitch. Repeat one dc three times and two dc in every 4th stitch.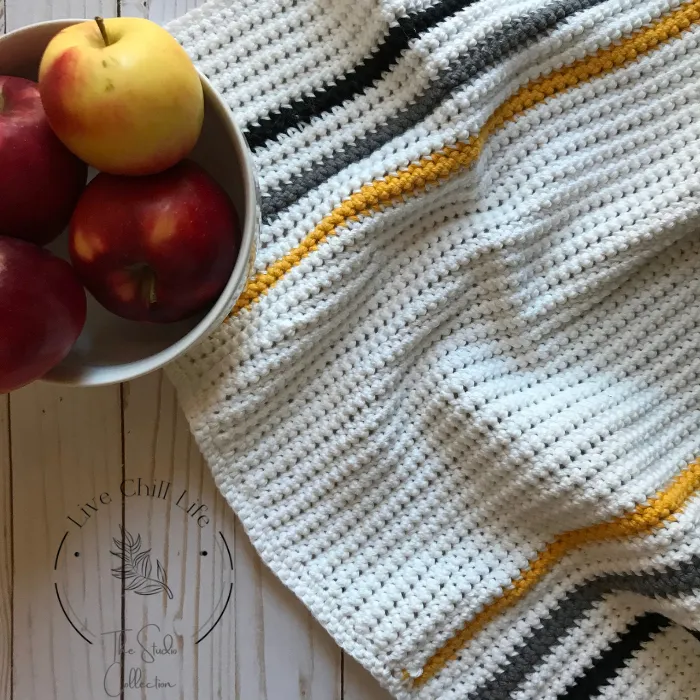 You may also like this crochet dishtowel pattern
Round 6. Work one dc in first four stitches and two into fifth stitch around to end.
Round 7. Work one dc in first five stitches and two into every 6th stich to end.
Round 8. Work one dc into first six stitches and two in every 7th stitch to end.
Round 9. Work one dc into first seven stitches and two in every 8th stitch to end.
Round 9 will make a 9.5″
Round 10. Work one dc into first eight stitches and two dc into every 9th stitch to end.
Round 11. Work one dc into first nine stitches and two dc into every 10th stitch to end.
Round 12. Work one dc into first 10 stitches and two dc into every 11th stitch to end.
To finish I work 3 hdc, then 3 sc to finish the round. Cut yarn and weave in ends.