Ads allow content creators to provide free useful and compelling content to the public. We may earn money or products from the companies mentioned in this post. See the Affiliates and Disclosures page for more information.
Best kitchen gadgets on Amazon
A former professional private chef has LOADS of experience in home kitchens. Day to day cooking is my specialty and which gadgets make things easier have been compiled into this post.
Convenience food, I don't know her but convenience tools I know very well. Let me tell my pick for the best kitchen gadgets right now.
1. Why you will love having an apple slicer
It may seem silly to get a gadget that only cuts apples. However, I would argue if your household consumes fresh apples with any regularity eaten fresh or as part of a dish (in oats, pies, desserts) you will find this little gizmo gets quite a bit of use.
I talk about how to pick the right one and which ones to avoid at all costs in this post about apple slicers.
An apple slicer is instant gratification! It makes easy work of prepping fruit that can be notoriously tedious thus making people eat less fresh fruit than they believe they should.
Just think how quick it would be to have a snack of apples and cheese or apples and peanut butter ready in a matter of seconds? That is what is possible with an apple slicer.
2. Why you will love using a garlic press
While this gadget may at first seem like a one use gadget you can actually do more than press garlic with it!
Garlic is so frequently used by many of us each and every week. Why I like this gadget so much is the texture and flavor that comes from pressing garlic rather than chopping it by hand. You see, when you chop by hand some of that valuable flavor is left behind on the board. Some people don't have the knife skills to get a good chop of garlic and it does take time.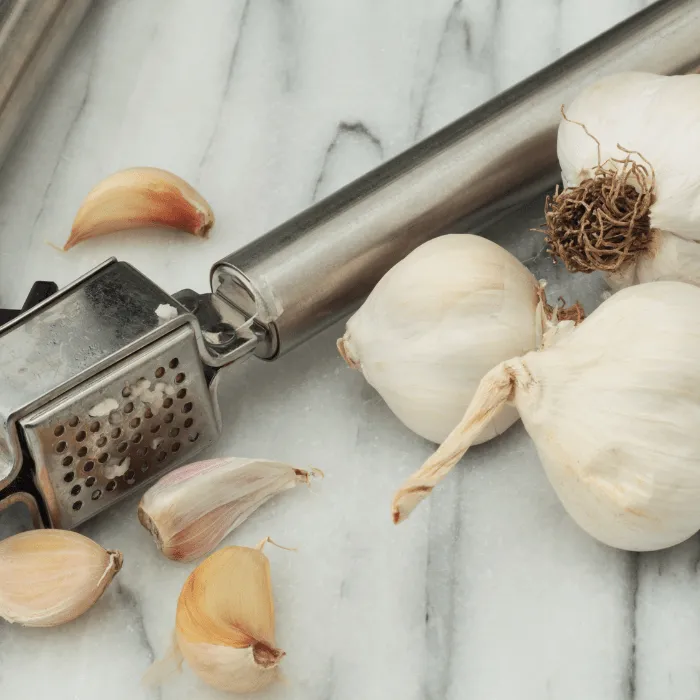 In addition to garlic a press can also be used to crush ginger as well as some nuts and seeds.
I love pressed garlic in salad dressings and ginger juice is great in cocktails or salad dressing as well.
Think you hate cleaning garlic presses? Simple loosen the hamper from the closing and put it in a cup of water while you enjoy your meal. When you're done, the plant cells will have flooded with water making them almost remove themselves from the press. You can peel it out in a single strip. Viola! Clean garlic press.
Read more about garlic presses in this post.
You may also like DIY dishwasher detergent to save up to $150 a year
3. This is why you need a mini rubber spatula
If you have nooks and crannies in your cooking and storage vessels (which you do) this nifty kitchen tool will be one of your most used items! Because silicone is heat safe you can use it in hot pans. Get around edges when making eggs or risotto.
Get into corners and sides when baking in metal or silicone pans where full sized silicone spatulas come in just too thick.
Clean out small and medium sized jars so there is no waste.
This small sized wonder does detail work like a larger version. Think of it as using a paring knife vs a full sized chefs knife. They both have uses but are meant for different cutting tasks. Just look at the size difference below. I have my small spatula near the full sized and they are very different tools indeed.
Get a super handy set of mini silicone spatulas.
4. The many handy uses of a small mesh sieve
A mini mesh sieve gets so much use in my kitchen I don't even putting it away in a drawer. I use it to:
Rinse rice before cooking (1 c. or less)
Strain cottage cheese before eating (I don't like my cottage cheese "wet)
Rinse a serving of blueberries or raspberries before putting them on my yogurt, oatmeal or ice cream
Rinse quinoa
Rinse oil off tuna (water packed doesn't have as much flavor)
Strain custard and gravy if for some reason they didn't fully dissolve the thickener used
Tea strainer
5. Why every kitchen needs a coffee grinder
Any coffee lover knows the difference freshly ground coffee vs preground coffee makes.
Grinding coffee isn't the only thing you can use a coffee grinder for!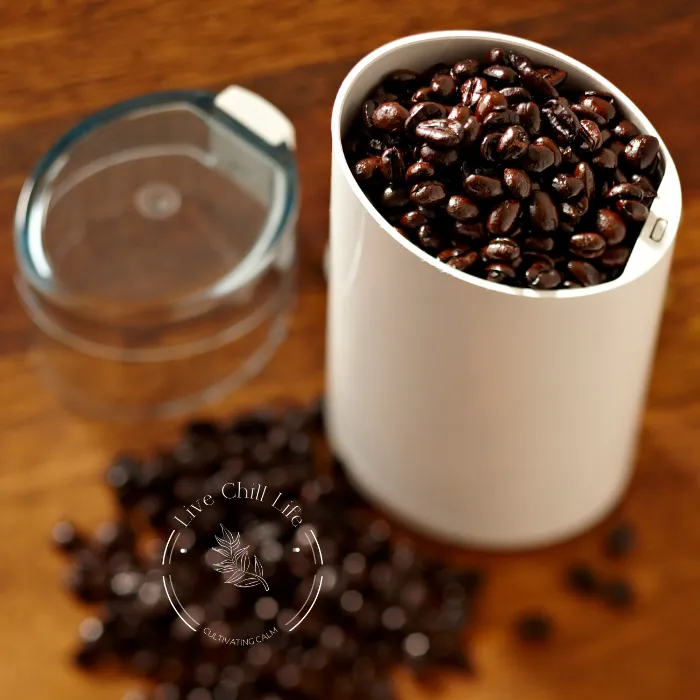 Some other uses I have for my coffee grinder:
Grind oats to make oat flour
Grind spices
Grind flaxseed to make flax meal at home
You may like this post on how to really clean a Chemex.
6. The many uses of an immersion blender
My #1 amazon kitchen gadget
Who wants to bother pulling out and setting up the Kitchenaid or a hand mixer every time something needs mixing? An immersion blender quickly smooths out soups, makes shakes, salad dressings, whips egg whites and more.
I use the cuisinart prep set that has a mini food processor, a whip attachment to whip eggs and cream and of course the stainless steel blender stick itself.
While you can get an immersion blender for under $20 , spending a bit more for this multi use set I use every single day is worth it.
Above you see I used it to make trendy cottage cheese keto ice cream.
7. Prep mats
I have been using prep mats for so long I can't even remember life before them! They save on cleanup (not dirtying cutting boards)!
Easily transfer food from one place to another
Use to slide a pizza into oven
Protect boards and counters from staining when prepping staining foods like beets
Keep chicken from touching other surfaces
Sometimes you will still need the protection of a cutting board under it but for the most part you can chop away on your mat worry free.
How to clear a cloudy blender or vitamix
8. Mise bowls (aka prep bowls)
Prep bowls in several sizes will get so much use in your kitchen. They are microwave save so you can melt small amounts of whatever you need in them (think chocolate and butter). If you weigh out ingredients on a kitchen scale these are great to hold your ingredient.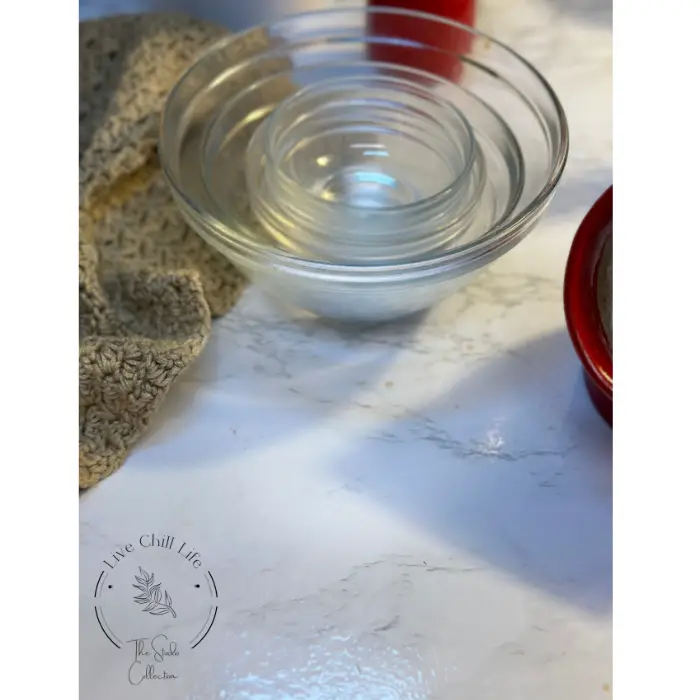 Need to mix up a small amount of dressing, dip or spread? Soften that cream cheese first? Do it a prep bowl. Portion control a snack in them. Prep spices (grams or ounces), mix dry rubs, and so much more.
I have seen them at Dollar tree so they are very budget friendly!
9. Sharpening stone or knife sharpener
People get cut most often because knifes are dull and more force is needed to cut through items. So many people (more than half of you) are not keeping your knives sharp!
While you can take them to some kitchen stores for sharpening (ask your retailer if and when the knife sharpening smith comes in) you can also do it at home.
I like a whet stone but if you don't feel comfortable learning about and using one (Youtube is your friend to learn), there are easy inexpensive draw thru styles that do a decent job and prevent cutting yourself.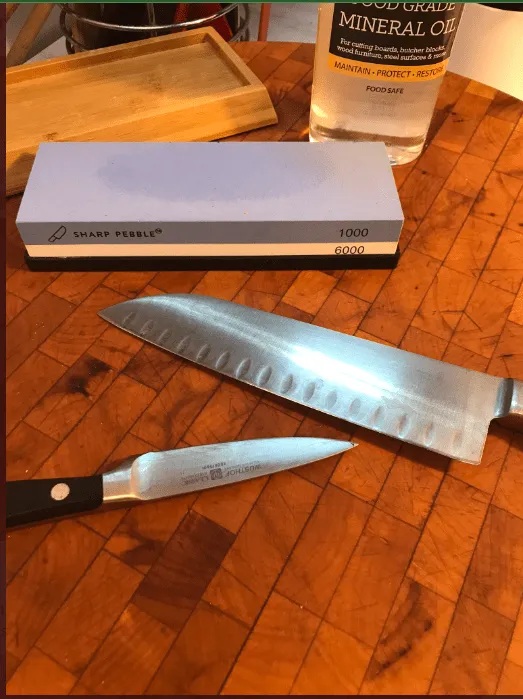 Also sharp knives, in my opinion, make cooking even more fun that it already is. I just love a good chop session!
Countertop draw through knife sharpener
10. Microplane
A handheld fine kitchen grater has a place in every kitchen. Why is this different from larger graters?
What you can use a microplane for:
zesting citrus
freshly grated nutmeg for soups and drinks or cookies
parmesan cheese
grated chocolate for garnish
grating cinnamon fresh for beverages and cocktails
grating hard spices for cookie baking
The microplane being handled also makes it much more comfortable to use than a standing grater. You can hold it directly over a bowl , glass or pot that you want your grated item to land in.