Ads allow content creators to provide free useful and compelling content to the public. We may earn money or products from the companies mentioned in this post. See the Affiliates and Disclosures page for more information.
Easily get your Vitamix blender container clear again
If you're cloudy blender cannister is frustrating you, here is an easy effective cleaning fix.
Vitamix blenders are durable, long-lasting machines that can produce a smoothie or blended soup in just minutes. However, over time, Vitamix blenders can become cloudy and dirty. This is due to residue from hard-to-clean ingredients such as nuts, seeds and leafy greens.
You love your Vitamix and while it likely still works as well as the day you bought it, the cloudy look that happens over time is less than ideal. This method works on other plastic food grade blender cannisters that get cloudy too!
We buy blenders for convenience and the idea of needing a lot of time and elbow grease to get them clean to me is , frankly, absurd.
Why is my blender cloudy?
Your Vitamix is an investment and it can be a bit disheartening to see the blender container become cloudy soon after you start using it. Despite best efforts to clean it there is build up and wear and tear from blending things that create micro abrasions in the plastic blender container.
What method(s) work to restore a Vitamix (blender) cannister to look new again?
If you've tried soap and water, vinegar concoctions and even resorted to the dishwasher you know they clean but don't clear away the cloudy film and build up.
Tried scrubbing with a brush only to add more scratches?
Tried sunshine, baking soda, ice cubes and other kitchen concoctions?
I've got a better method, no scrubbing, no smelly vinegar, no soaking for 48 hours. Seriously that puts our beloved Vitamix out of commission for extended amounts of time. We are busy and need our Vitamix ready to go at any time.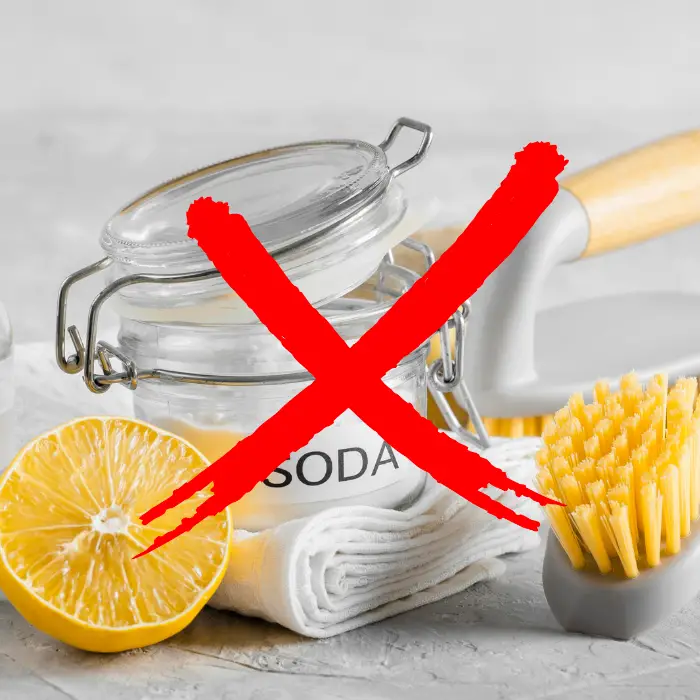 You may also like 7 kitchen hacks to make cooking and cleaning easier
Save up to $150 a year with effective DIY dishwasher detergent!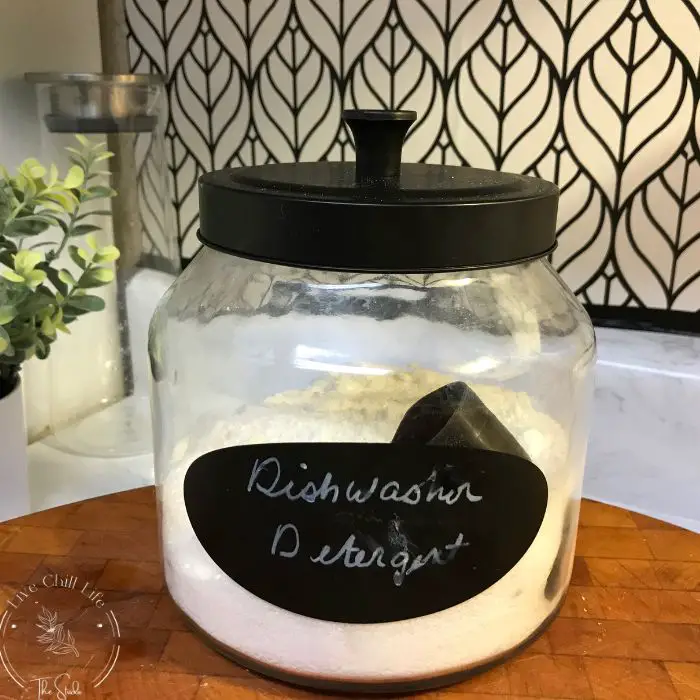 Get rid of cloudy blender buildup
What is needed for this job is something that effectively breaks down film without scrubbing which will further damage the cannister by making tiny scratches.
This is the time to get to the Dollar Tree or Home Depot (or Amazon via this link) and get LA's Totally Awesome cleaner. It breaks down so many things including the build up in your blender. It is much like hard water spots that need a special cleaner to break it down.
You may already have it because you know how well it works for so many things. Didn't think to use it for your cloudy blender? It also works great on cleaning film out of my chemex coffee pot – any glass coffee pot for that matter! See this post on how to really clean a Chemex.
Spray the cleaner into the cannister making sure it coats the sides completely and let it sit for 2-3 minutes. Give it a wipe with toweling of your choice then thoroughly rinse with cool water. No scrubbing. Let the chemical breakdown do the work.
Inspect to see if any tough spots are still remaining (this really shows you how varied those stains are!) and treat those spots again by dabbing more cleaner on with a q tip and give it 3 minutes.