Ads allow content creators to provide free useful and compelling content to the public. We may earn money or products from the companies mentioned in this post. See the Affiliates and Disclosures page for more information.
How to organize your spices (hack)
Tired of the spice container avalanche in your cabinet when you go to look for a particular spice? Don't want to spend a pretty penny? I have an idea for you.
How to make your kitchen more sustainable
Organizing your small items
What I tackled recently are things no way in heck would I allow anyone else to organize and that is my kitchen and my toiletries. We all know how we cook, what we reach for, what gets used the most often, etc. Same process in our day to day grooming.
My seasonings, a possible spice hoarder here (but I use them ALL), were just a virtual nightmare. Those I decided to alphabetize. I also was having the avalanche issue with the toiletries closet and shower.
My linen closet has two shelves that I use for my toiletries and those I grouped by use (hair care, hot tools, face wash and moisturizer, toner and treatments, first aid, body care and dental). I designed labels to fit each chosen method of storage and got to work!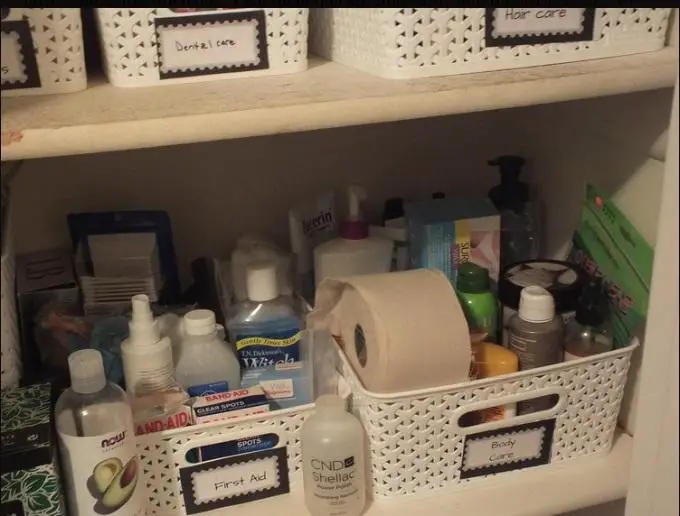 Now for the kitchen spice chaos.
I am not interested in buying all new containers for spices so everything matches. I don't live in an instagram kitchen. I live in a real kitchen that I cook often in. I am not a Dollar Tree regular by any means but this was the only solution I could find after some trial and error.
Pull-out clear bins are fridge can storage holders from dollar tree online. I bought a case from the site and they can ship it to your store. It may take a week or two so keep that in mind before you start taking your cabinet apart. I used 14 of the 24 between the main spice cabinet, a couple others in a different cabinet and a few in the pantry closet. Because the front section is open there is just a narrow space to label. Hence why I designed my own.
If you want to make your own for your dollar store can storage containers, use measurements 3.5" x .75". Keep reading to find the tools I used.
How I grouped is how I cook. Salts have their own box, seasoning blends have their own box, shelf stable boullion has its own box. Baking has two boxes. Small bottles like soy sauce, sesame oil, etc have a box. The others are grouped by the alphabet.
You may like these tips on How to Make Thanksgiving Easy part 1
How to Make Thanksgiving easy part 2
For labels I used these from Avery https://amzn.to/2N8oYy8 and designed them in canva.
With a utility knife (I use these https://amzn.to/2O3aHmh) and a no slip cork backed ruler (I use this one https://amzn.to/2AbGedn), I cut them quickly and easily into the perfect size.
No messing with margins and whatnot.
Live Chill Life is a participant in the Amazon Services LLC Associates Program, an affiliate advertising program designed to provide a means for sites to earn advertising fees by advertising and linking to Amazon.com
This organization hack has made cooking a bit faster and no more avalanches when I go looking for a spice!
How to add cottage core style to your home
Dollar store shower organizer : Bonus
I have a bench in my shower and using these where I group body, hair and face care keeps them together and easy to take out when I need to clean.