Ads allow content creators to provide free useful and compelling content to the public. We may earn money or products from the companies mentioned in this post. See the Affiliates and Disclosures page in the top menu of this website for detailed information.
Keeping stress low the day of the feast is the goat of making Thanksgiving easy
If you did all your prep and precooking as outlined in part 1, today will be a breeze. JUST STICK TO THE LIST. Remember the list is the law.
Table of Contents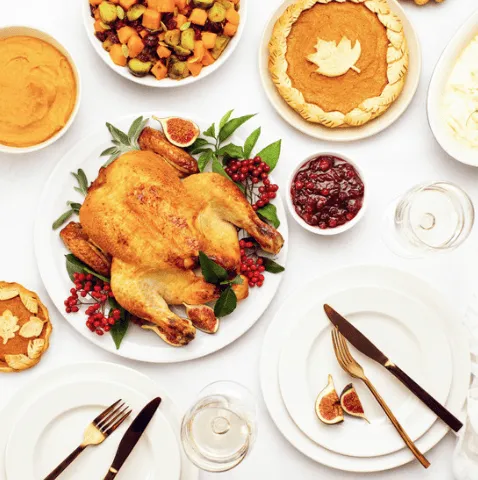 Thanksgiving morning plan
As you sip your morning cup of tea/coffee get your gameplan out and look at today.
What time are you serving your meal? This is where you start your plan and work backward. What will take the longest to cook? What needs time to cool and what needs to be served hot/warm? What will you use to time each item and when? If any overlap make sure you have a way to keep track of different times and timers.
Organize your spices with this Dollar Tree solution
Overcooking will result in dry or burned dishes. Undercooking will result in people potentially getting ill.
Make sure your thermometer is in good working order. Determine safe temp cooking times for turkey, stuffing (if cooking inside bird make sure to test it to make sure no juices from the turkey that seeped into it while cooking are undercooked), casseroles that have egg, etc.
Check the details or you they will nag the back of your mind
Are cold beverages being chilled? Double check that you haven't overlooked any little things like:
Garnishes for platters
Ice
napkins
food storage for leftovers
ice cream or whipped topping for dessert (see this nonfat all natural whipped topping recipe)
anything special you may be offering for a guest with special dietary needs or physical challenges. This will ensure your guest does not feel like a burden and you are not stressed as a host trying to think of how to accommodate a loved one while managing meal preparations.
set up for any children (Neatsheets are great to offer kids and seniors to keep their clothing tidy)
Dinner rolls and salad if serving
DO NOT FORGET THE CRANBERRIES
10 Must-have kitchen gadgets from Amazon under $20
Oven management
Most homes only have a single oven and roasting any size turkey will take up a significant amount of space and time of the oven. While the turkey cools is generally the time to put the casseroles in the oven.
Put casseroles in the oven starting with which will take the longest. Many are in heavy baking dishes that keep warm with the addition of a cover or foil when removed from the oven. If you overcrowd the oven the heat will not circulate efficiently and it may take longer for all dishes to get done.
While the last items are baking, have the table set, put out trivets for hot dishes and get to making the gravy!
Make sure each dish has a serving spoon or fork. If you will have passed dishes and they are warm have potholders next to each casserole.
Bring out beverages before inviting guests to sit down. Don't forget the cranberries!