Ads allow content creators to provide free useful and compelling content to the public. We may earn money or products from the companies mentioned in this post. See the Affiliates and Disclosures page for more information.
How to crochet a fringe top
Are you ready for a flirty fun summer crochet top with fringe ?
The Tahiti Sun fringe top can be worked in any length (even a dress or swim coverup) and has adjustable sleeve option. I will walk you through the process to get the fit that is perfect for you.
Customizable patterns are a passion of mine because being tall I know the struggle of being hard to fit whether it be in shorter or taller height or plus sized. We all share frustration with not finding items that fit and make us feel our best. This pattern, like all my garment designs, explain where to make your adjustments for your best fit.
Skill level: this is for an ambitious beginner/ intermediate see what crochet skill level are you? You should have 3 or more garments in your past crochet project history.
You will need to be comfortable with some shaping, measuring yourself and seaming garments. Pattern is worked as one body piece with side seaming done at the end. This is to keep the shoulder area free of seams to show off your tank top strap and perhaps a summer tan or shades of beautiful brown skin.
How long will it take to make this crochet fringe top? That depends how much time you have each day to make it! I made this one in 8 days, size for a 46″ bust so it's no small piece!
Using a smooth hook help you work through stitches more quickly and I have some tips on how to prevent wrist and hand pain so you get you projects done fast and with ease.
Speaking of skin tones, how about ivory yarn on deep tones, coffee brown on pale skin or amber yarn (as shown) on all shades in between. I suggest using a category 4 mercerized cotton yarn for this project. Nothing with acrylic (no cotton blend or you will be very hot in your easy breezy fringe crochet top!) and bamboo yarn will have too much drape to give enough structure for this stitch.
Now, how long do you want your fringe top to be? A belly shirt? Waist length? Mid hip? Hip? Or a full on dress? You will decide this while working the front section by measuring yourself with a tape measure.
Finished size measurement options:
32″, 36″, 40″, 42″, 48″, 52″, 58″
Recommended yarns:
Materials:
6 mm crochet hook (I use this one)
Category 4 yarn (quantity will vary based on length and size)
Tape measure
Stitch Markers
Scissors
T-shirts and project totes for crocheters available in my Etsy shop!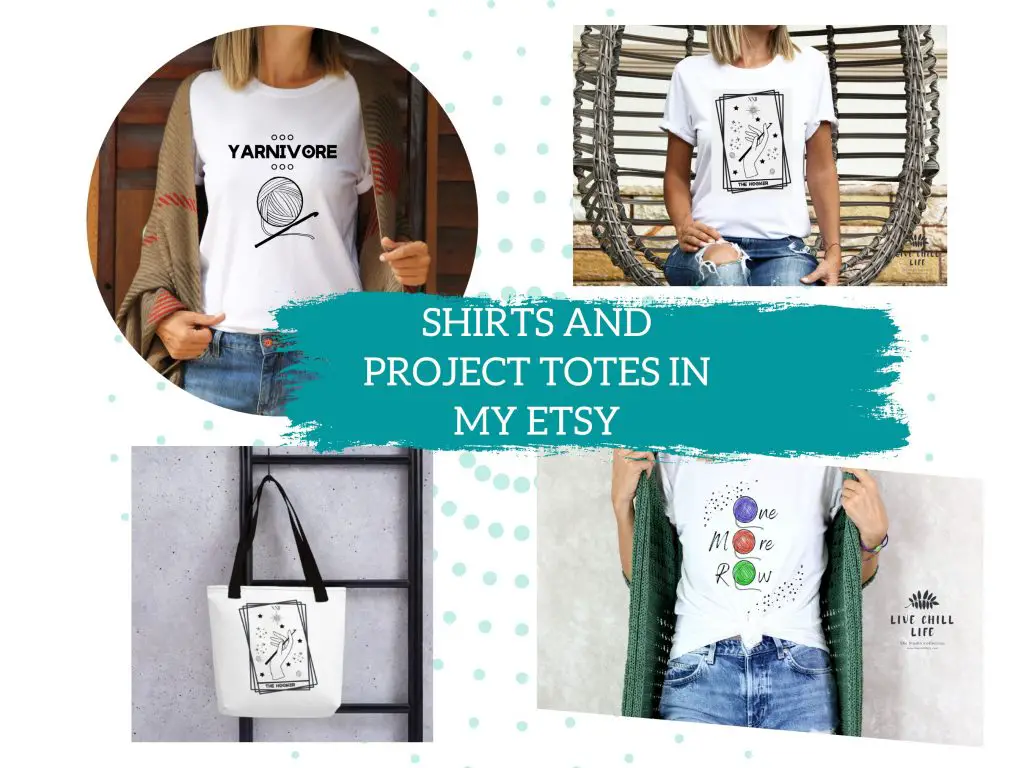 Steps:
1.Work front bottom panel. Decide on how long you want it to be .
2. Work sleeve and neckline and shoulder section as shown in chart.
3. Finish working back section
4. Seam sides and sleeves
5. Add fringe
While the steps seem straightforward I recommend you have experience making crochet garments.
The lacy look is because of the papyrus stitch. This is a 4 row sequence that I cover in this post –How to work the papyrus stitch. The stitch alternates rows of clusters and "tree trunks" to give an open look with a fair amount of drape even with category 4 cotton.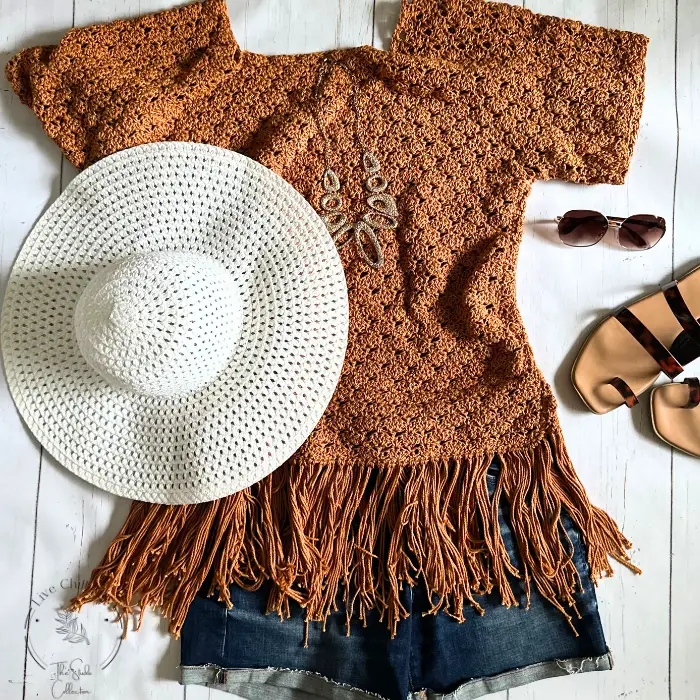 For this top I opted for a long dramatic fringe, about 8″ long. To make long fringe you can use a small book (I used my crochet project tracker! It is 9″ long and slim)
You may also like this stunning and versatile crochet poncho made with truboo yarn. Luxe drape and very warm weather friendly.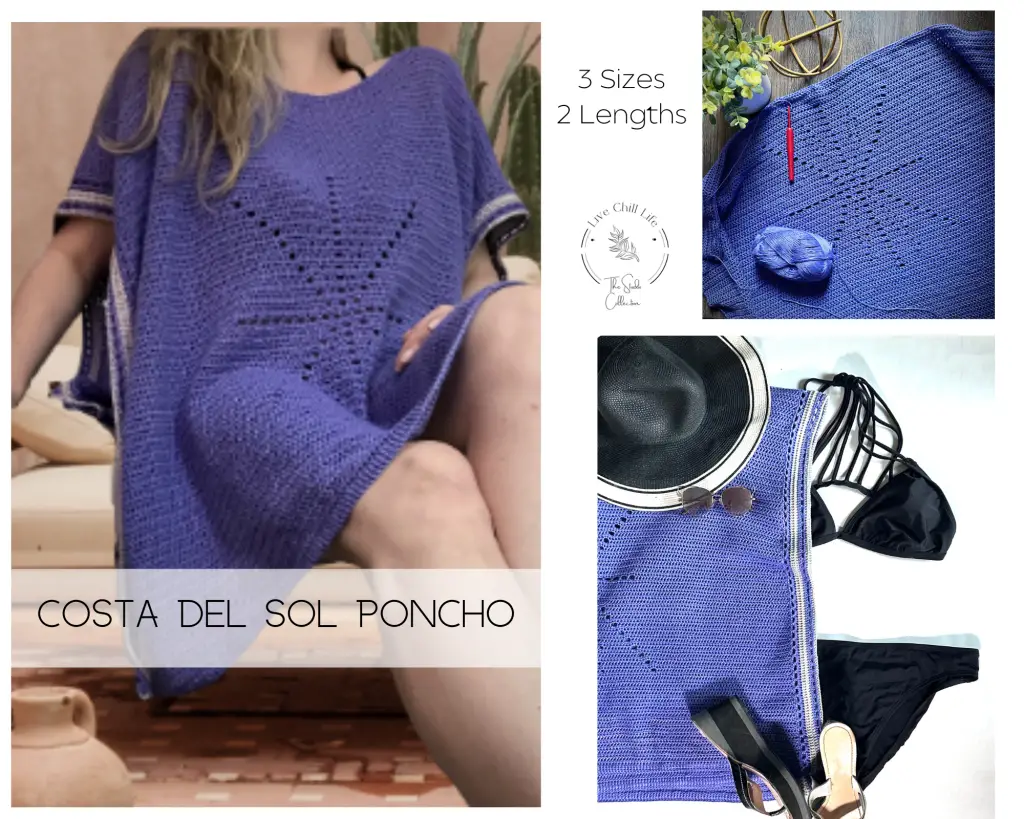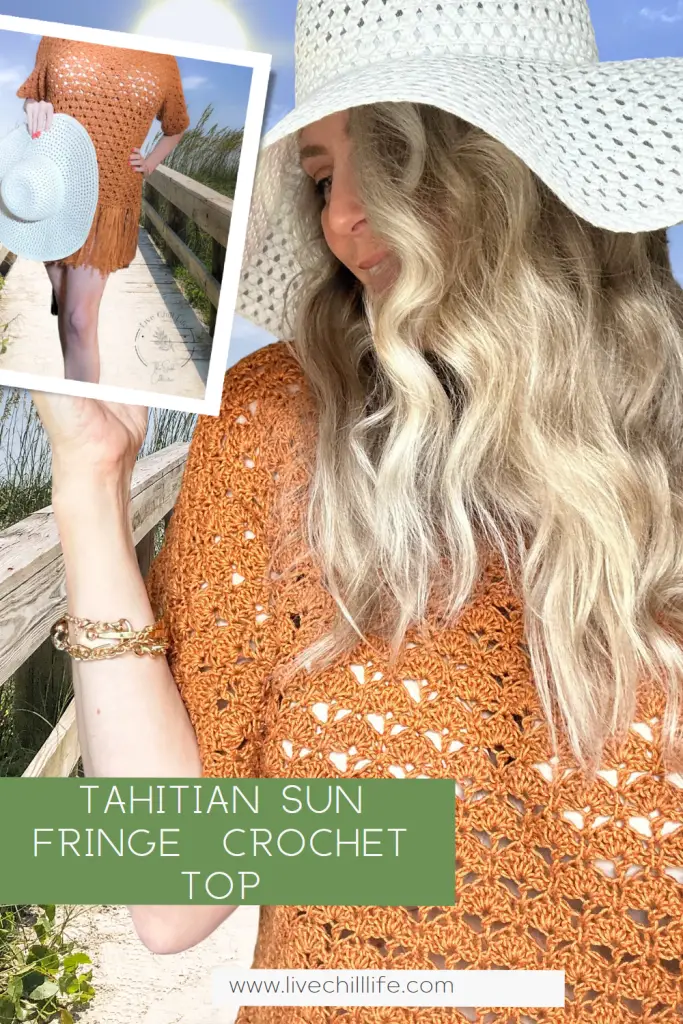 Get the PDF pattern on Ets or on Ravelry.