Ads allow content creators to provide free useful and compelling content to the public. We may earn money or products from the companies mentioned in this post. See the Affiliates and Disclosures page in the top menu of this website for detailed information.
Crochet poncho pattern ideas
Crochet ponchos are a great topper to show your personal style! Whether you crochet one for summer or winter wear, you have many options. Here are a few chic modern crochet poncho patterns to consider as your next project.
New to crochet? You may like this post on How to Read a Crochet Pattern.
With an easy fit you can also make a crochet poncho as a gift because it is so forgiving with regard to sizing. Yarn choice is key for a poncho because drape is so important. See this guide for how to chose yarn.
Crochet hooded poncho pattern
This poncho pattern is big on personal style with texture and whimsical fringe. Very wearable design with many options for yarn based on category. Keep in mind the smaller the yarn category the better the drape in general.
Use breathable yarn like cotton or bamboo if you want it for summer wear or wool or acrylic yarn for cooler weather.
See the hooded crochet poncho pattern from Heart, hook, home.
A sleek poncho that looks like jewelry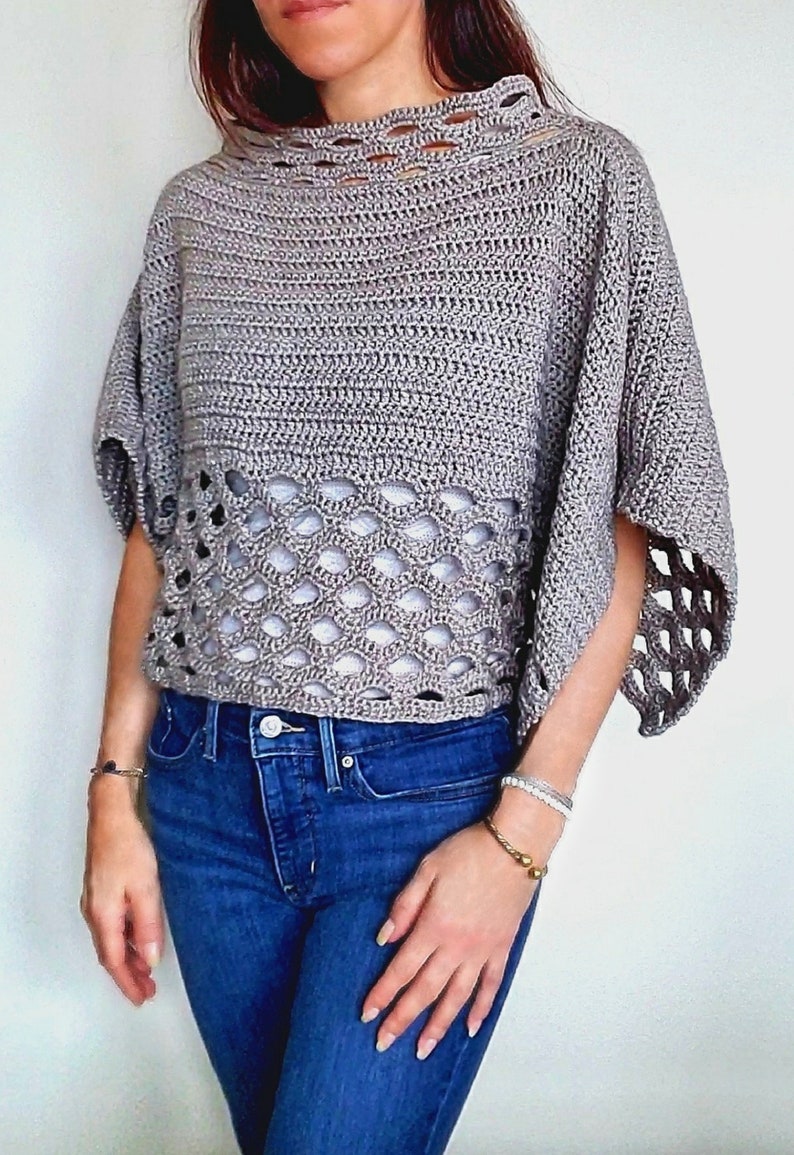 With so much thoughtful detail at the neckline and torse, this poncho pattern looks like a you've been draped in jewels. It doesn't overwhelm the body.
The flattering design is easy breezy as a poncho should be yet still looks tailored and chic.
It is easy and beginner friendly. What is your crochet skill level?
See the pattern for the lightweight shell crochet poncho pattern.
Bamboo yarn crochet poncho
The Costa del Sol crochet poncho features a sunburst on both sides with a contrast side border for extra impact. The softness and superior drape of truboo yarn will have you feeling like a million bucks every time you wear it.
Two lengths and three widths for your best fit. The back is 3″ longer for added visual interest.
An open airy stitch crochet poncho pattern
A dramatic yet beachy poncho that has open airy stitches perfect for a beginner crocheter. Reminiscent of big fishnet, it's a great summer poncho option with lots of versatility. Use as a beach cover up or over your summer essentials.
See the Explorer's club poncho from Two of Wands.
A perfect transition weather crochet poncho
For the early cool days of fall this easy crochet poncho can top your long sleeve tees and have you out the door in style with all day comfort.
If you're on a budget and need to use a value yarn, read how to soften acrylic yarn so your gift recipient will have a soft stylish gift from you that she can wear with a smile.
See the sew easy poncho crochet pattern.
A perfect poncho travel piece
The cross country crochet poncho pattern is a favorite of mine. It is one of the first garments I ever crocheted years ago and even today I wear it many times each summer. Even as a seasonal transition piece it is nearly a year round staple in a warm climate.
When you will wear it and how you will wear it is what determines the yarn. I used 100% cotton. The original designer uses superwash merino which is warm for the part of the country I live in but is versatile for climates with short mild summers.
This pattern is suited for experienced beginners. What crochet skill level are you?
See the cross country poncho crochet pattern.
If you love the boho look of ponchos you may also like this post on festival crochet style.