Ads allow content creators to provide free useful and compelling content to the public. We may earn money or products from the companies mentioned in this post. See the Affiliates and Disclosures page in the top menu of this website for detailed information.
Textured pocket shawl crochet pattern
Crochet pocket shawl patterns are a big trend. I haven't liked the look of any pocket shawls I have seen so I designed one.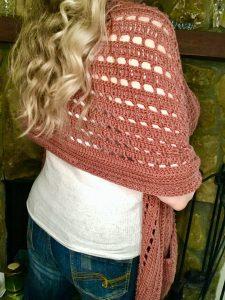 I am viewing many pocket shawls through the eyes of someone who lives in a warm climate. They all look bulky, heavy and hot. That's perfect for cold climate crocheters.
I like the idea of throwing on some pockets because women's clothing is so woefully lacking in pockets often times. What's a gal to do in spring, summer or even early fall before temps drop below 40?
Table of Contents
Warm weather crocheters should have the option to make the trendy and useful crochet pocket shawl too! It's great to be able to slip it over your shoulders and tada! Instant pockets and instant handmade style.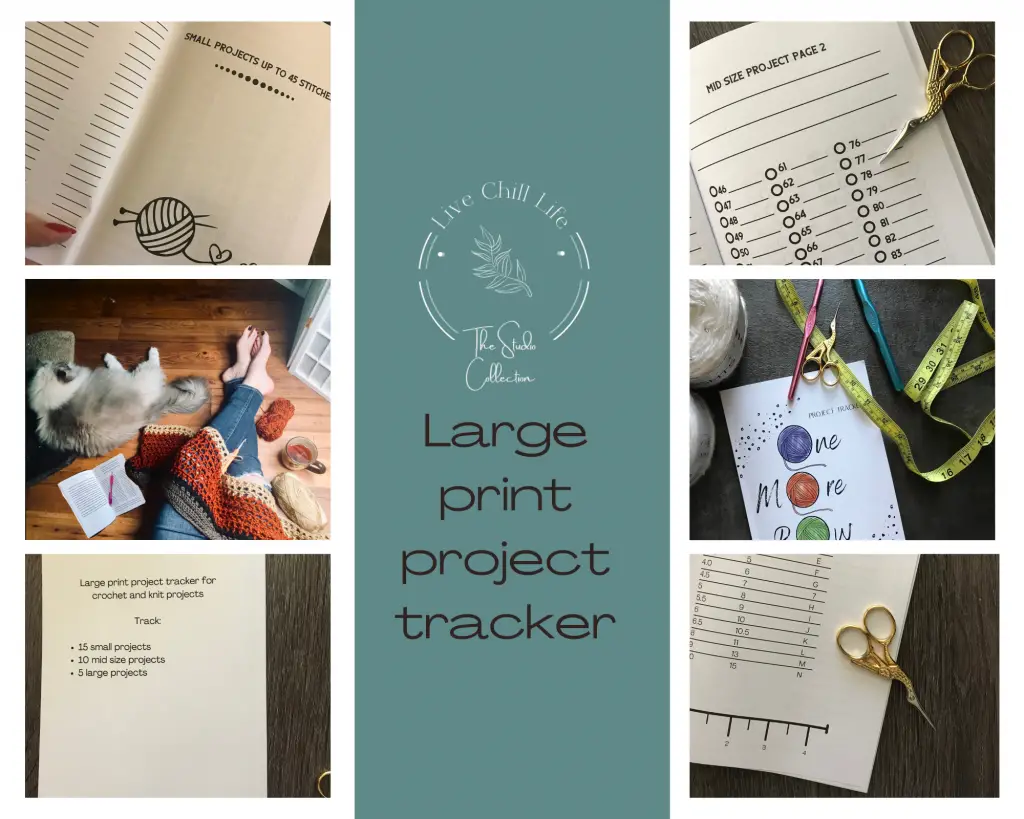 I designed project trackers! This is the large print version for tired eyes. So much easier than using apps, scraps of paper or a plain notebook.
Three project sizes, a handy ruler and hook guide inside the cover and plenty of rooms for notes in each pattern.
Buy it here.
Skill level to make this pocket shawl is an experienced beginner. You should be comfortable with basic stitches and ready to advance to beyond basics.
Materials to crochet a pocket shawl
For this pattern you will be using a 5.5 mm crochet hook, category 3 yarn (I used 100% cotton but you use what works for your climate and how you will use your shawl), stitch markers and finishing tools like scissors and a tapestry needle.
Pocket shawl sizing options
This pattern creates a soft flexible airy texture using a 4 row repeat. The crochet pattern is customized for petite, average and tall heights.
You get a perfect fit in both length and width whether are you petite plus size or taller and slender and every combination in between.
Size before fringe: length options: Petite: 60″ Average: 66″ Tall: 72″ (model is 5'11 in Tall length)
Width options: 16″ 18.5″ 22″
Yarn guide: yarn oz/yds needed for petite 16″ 13 oz/880 yds/ avg 18.5″ 16 oz, 1080 yds /Tall 22″ 20 oz, 1350 yds – plus fringe
Yarn selection for crochet shawl with pockets
As usual, for me in a warm climate the answer is (almost) always cotton yarn. I found a gorgeous color of dk weight cotton and designed a cotton crochet pocket shawl pattern that looks open and airy. Lots of interesting texture without being heavy or bulky looking.
If you are looking for a warmer shawl pattern check out my modern plaid crochet blanket wrap pattern.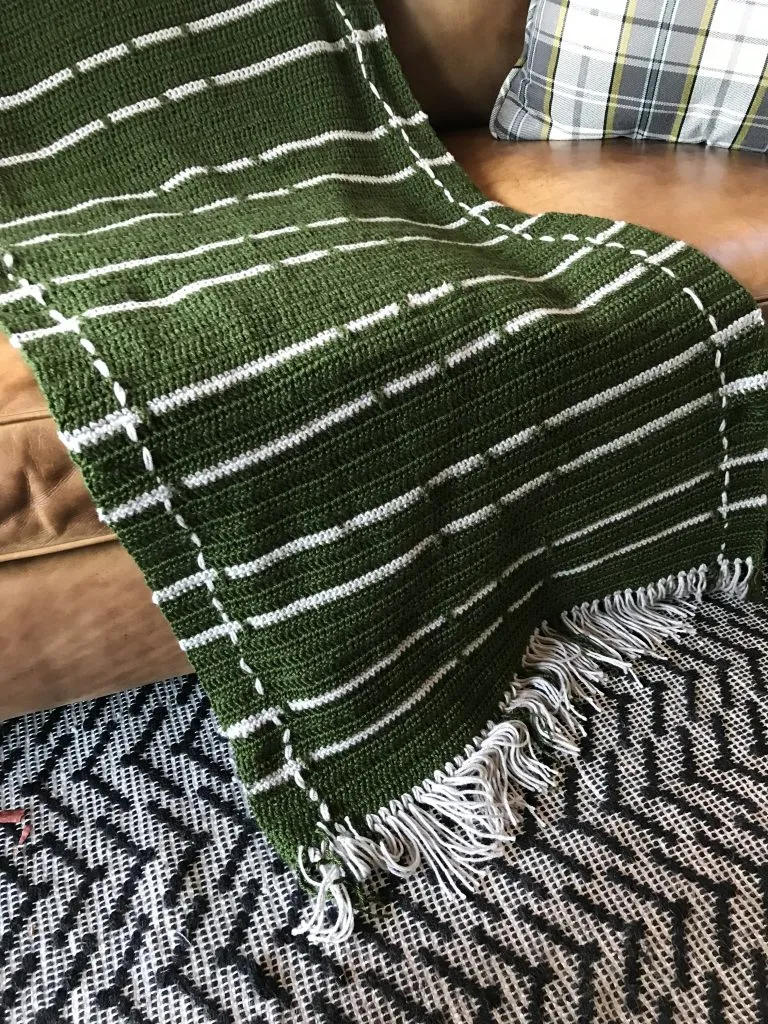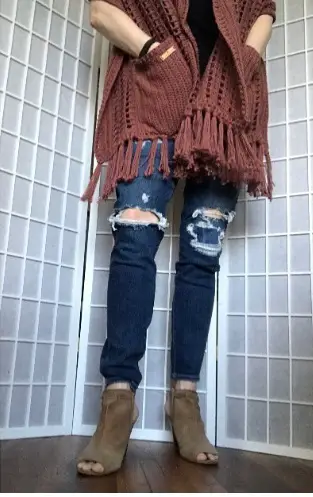 I used Yarnbee Sugarwheel cotton solids for this project in the color nutmeg. I am obsessed with this color! It's a shade where cool meets warm and is very flattering on most skin tones.
Also it comes in hefty 5 oz. skeins so you only need a very few. It's very soft, a slight hint of sheen and easy to work with.
Lion comfy cotton blend is a good choice (it is not 100% cotton so it's a bit warmer) because the thickness is very close to the sugarwheel solids, Paintbox cotton DK or lion brand coboo if you want a cotton bamboo blend. I do not recommend a drapier yarn like bamboo. The stitches aren't structured enough to keep it in shape for those types of yarn.
See this post on the best yarns for summer. It may give you some more ideas to find the perfect color and fiber for your crochet pocket shawl.
T-shirts and project totes for crocheters available in my Etsy shop!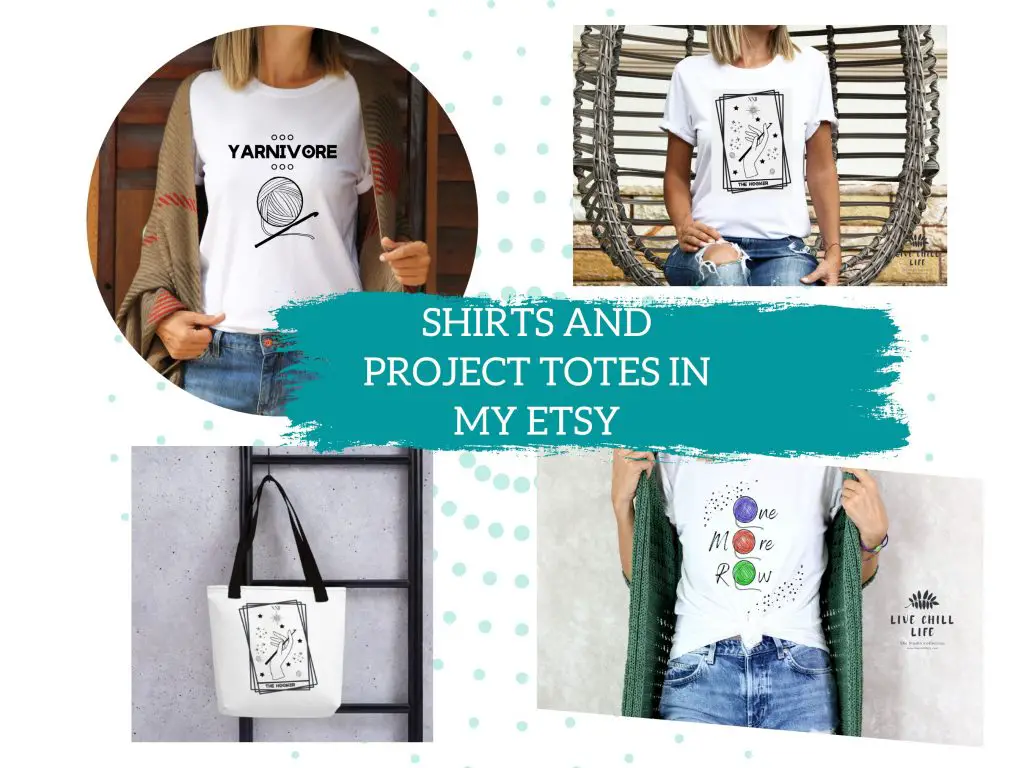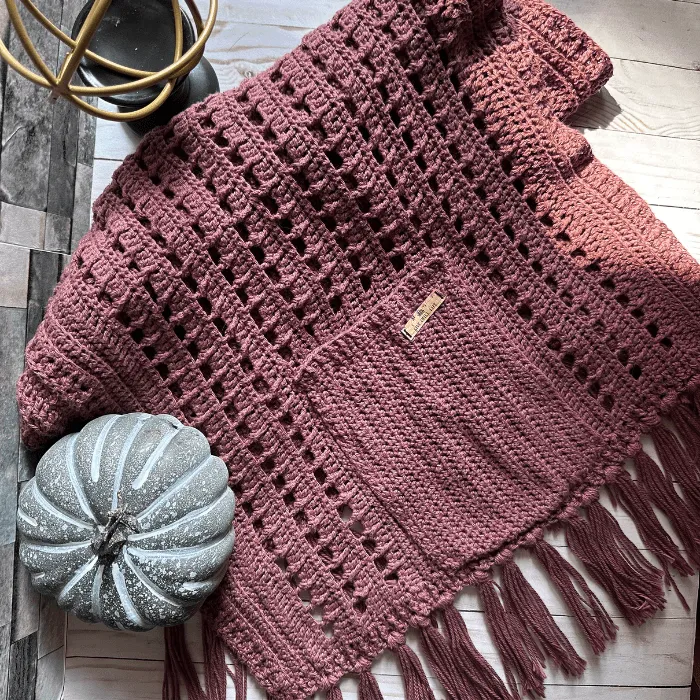 This pattern is written in US terms and you should be very comfortable reading patterns (intermediate level or a very ambitious beginner wanting to push themselves). It uses a 5.5 mm crochet hook to keep this lightweight yarn as flexible as possible while keeping it's shape.
It also features basic and advanced beginner stitches that create a unique texture and visual interest. No boring shawls here! What is your crochet skill level? Read here.
Get the crochet pocket shawl pattern here
Get the PDF Download pattern in one of these locations: Four Seasons Pocket Shawl or here My ravelry
The cozy pumpkin blanket wrap using caron latte cakes yarn is a popular free blanket wrap pattern. Stitch pattern that works with the fuzzy texture making it less frustrating to work with. The end result is a super soft wearable blanket wrap you will reach for again and again.