We may earn money or products from the companies mentioned in this post. See the Affiliates and Disclosures page for more information.
Fishnet cardigan pattern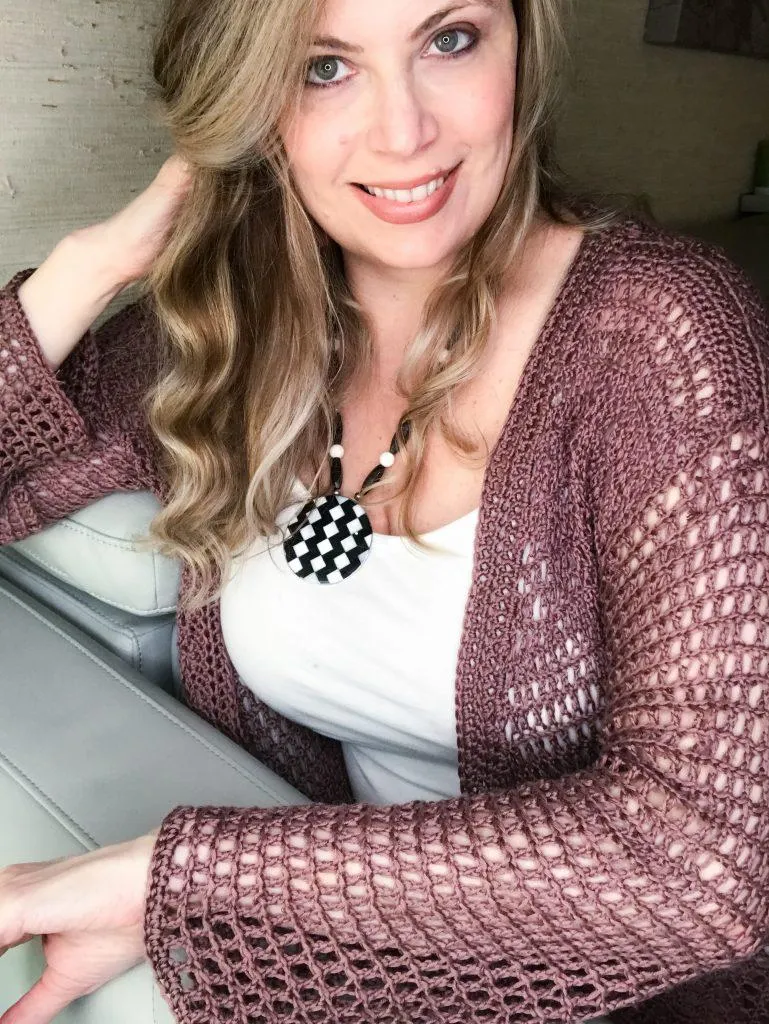 A crochet mesh cardigan is a must have for every crocheter! It adds handmade style to your summer basics like tank tops, shorts, jeans and summer dresses. They are also a great option for a swim coverup.
For me the first step is figuring out which mesh I like for my cardigan.
Mesh can be very simple looking and others are more intricate. This design is another popular meshy short sleeved cardigan I designed.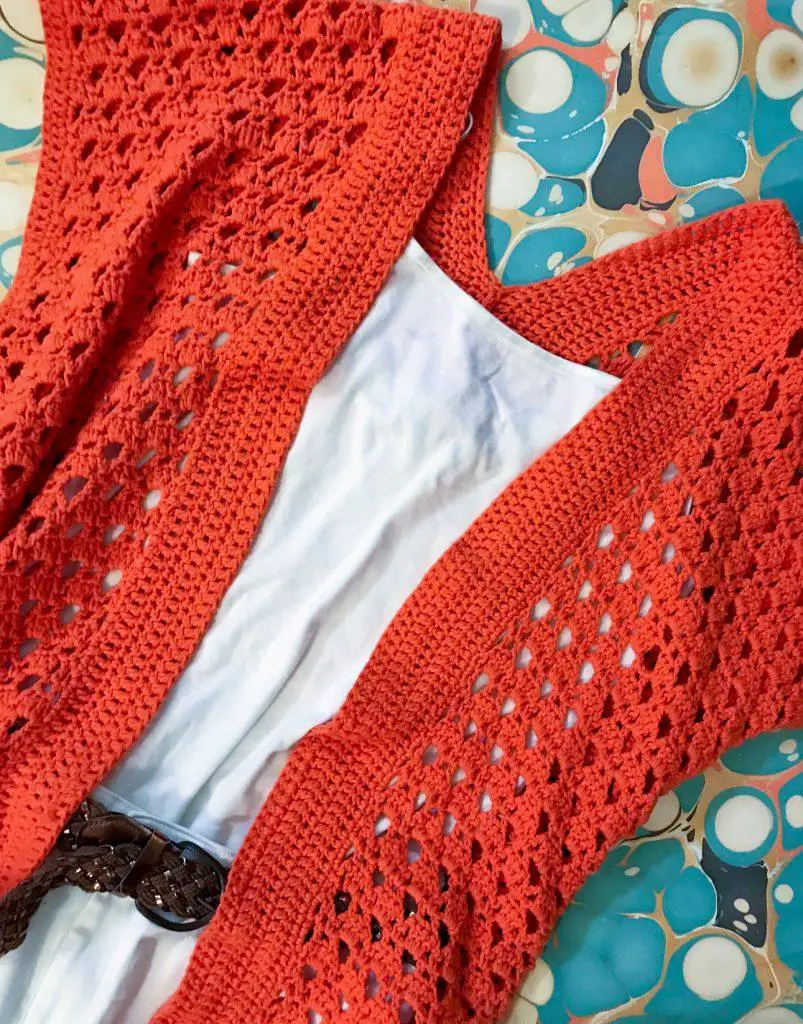 So many natural fiber yarns are available now beyond cotton. You can learn here about the variety of warm weather friendly yarns commercially available. For this design I used a lyocel yarn called nuboo from Lion Brand. It's a plant fiber made from tree pulp.
T-shirts and project totes for crocheters available in my Etsy shop!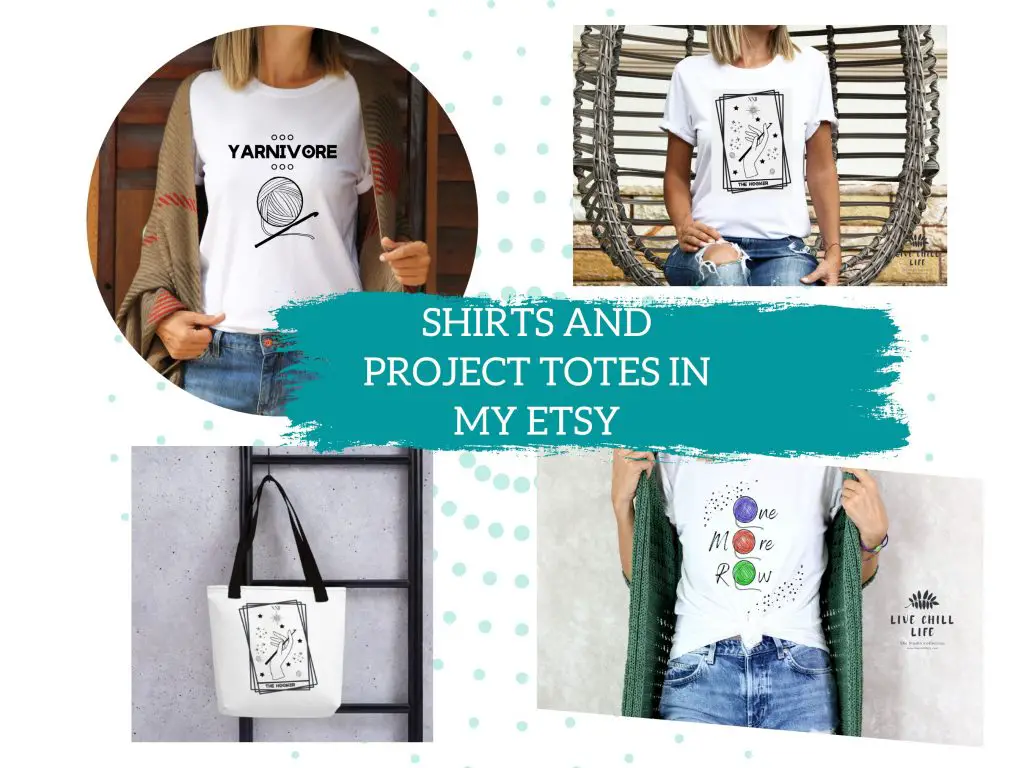 I bought some nuboo yarn sight unseen. It has such an elegant look and drape I couldn't wait to get started on a new garment design with it.
Nuboo yarn used for this pattern
I did a review of nuboo yarn . You can see the bouncy drape and how dramatically it changes after blocking. If you're unsure of overly drapey yarns try making this with cotton or a cotton blend that will hold its shape better. Some types of stitches prevent drape and droop but mesh isn't it. Please watch the video before you commit to this yarn. I love it but if you are new to alternative plant fiber yarn you should understand it and how it behaves.
The linked stitch used in this crochet towel pattern is an example of stitches that don't droop. I used it for texture in this design but I also use it for designs using yarns that tend to droop.
This full length meshy cardigan with long elegant straight sleeves. After wearing it out in warm spring sun and it is just as cool and comfortable as cotton (except it looks pretty when the sun hits it). You can totally customize the sleeve length, width and the length of the cardigan itself.
Garment is meant to drape and be open rather than for full coverage (I think of it as an accessory to summer basics)- if using as a swim cover you may attach a non corrosive clasp such as lucite, plastic or wood.
Customize your crochet cardigan for a perfect fit
As with all my garment patterns it is important to me that I give you control over the fit, not just the size and stitch count of an item. Being hard to fit I get how frustrating it is to make something and have it not fit well in challenging areas or be too tight or too loose overall. This pattern has lots of tweaks to get the fit just right the way a professional tailor would do for you.
Adjust the length, sleeve width and length, neckline and shoulder with simple tweaks and I show you exactly how.
Pattern has inclusive sizing as follows:
1- 32"
2- 36"
3- 40"
4 -44"
5- 48"
6- 52"
To go to a bit more roomy than size 6, instructions are included so you have a comfortable fit that skims curves.
Using a simple stitch sequence you will work up a back panel, two front panels then seam them together like a real cardigan then add the sleeves directly into the main body piece. Make a cap sleeve, mid length or full straight sleeve as shown on model image.
Blocking your summer mesh sweater
You will need blocking materials (mats or a yoga mat you don't mind getting pin prick marks in, blocking combs or pins) for the natural yarns to reach the measurement you need AND to open up the mesh to get that distinctive stitch to show up to its best advantage.
Get your pattern here.