We may earn money or products from the companies mentioned in this post. See the Affiliates and Disclosures page for more information.
Mesh summer short sleeved cardigan crochet pattern
This is an easy beginner friendly crochet cardigan. You can customize the length to go along with sizes sm – 3x .
When you can't find it, make it. Isn't that why we make some of our own crochet garments? Especially if you're anywhere out of the average build. Petite, tall, plus size. Everyone likes pretty things that fit perfectly. Crocheting your own garments can solve some of those issues.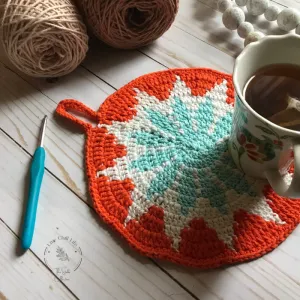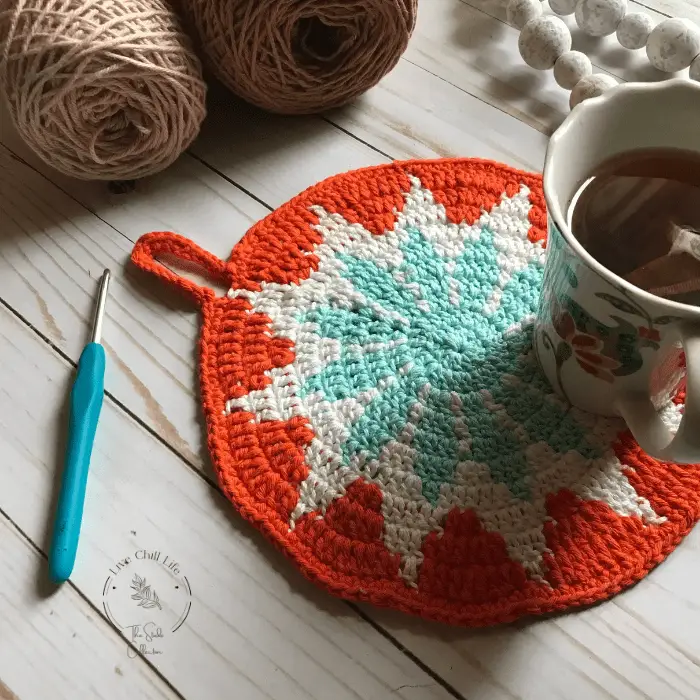 I feel like since I was 12 years old this thought has been in my mind. If you put your mind to it everything can be figured out and that's exactly what happened when I created this pattern.
I wasn't finding any cotton cardigans for summer that appealed to me so I worked out an open lacy stitch that I liked and fashioned it into a garment that fit the bill perfectly.
I also wanted something in orange, one of my favorite cheery colors. I am a big fan of paintbox cotton so I ordered up a set of 10 balls in blood orange and got to work figuring it out!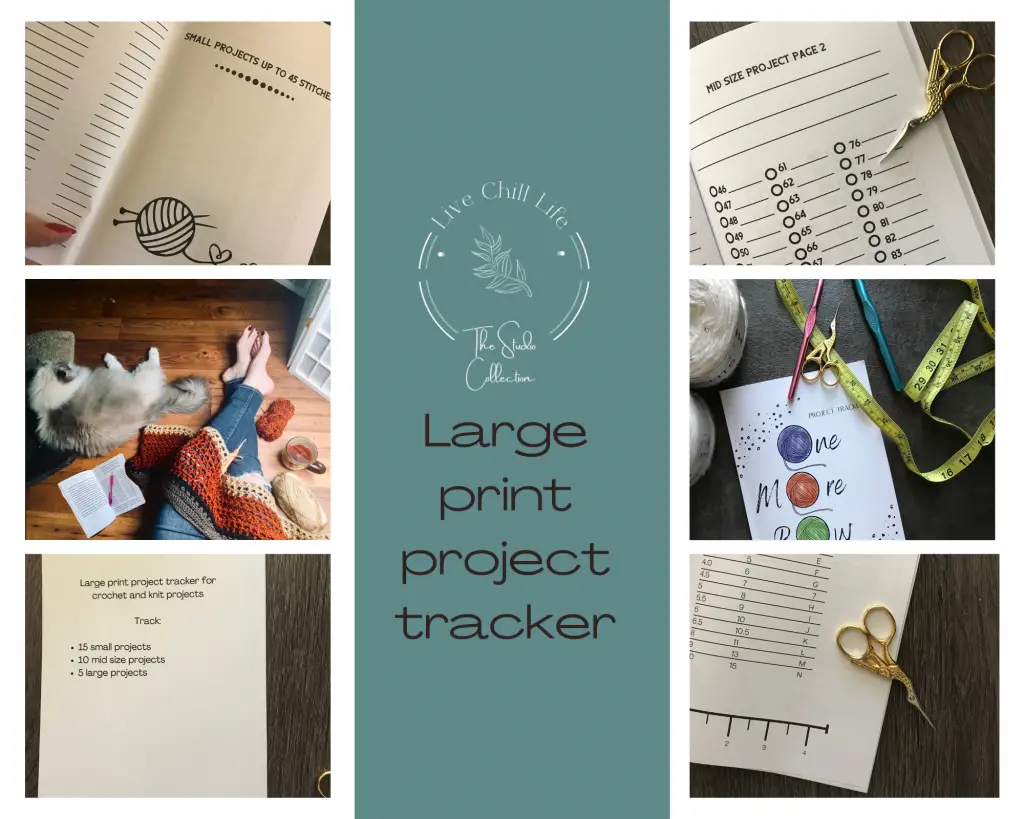 I designed knit and crochet project trackers! Keep track of your cardigan pattern with this tracker.
This is the large print version for tired eyes. So much easier than using apps, scraps of paper or a plain notebook.
Three project sizes, a handy ruler and hook guide inside the cover and plenty of room for notes in each pattern.
Buy the  Large print project tracker.
Buy the regular size print project tracker.
I have had bad eyesight since age 18 so large print is a godsend when you can't see apps and dark yarn, let alone going from one to the other on a crochet-a-thon during a Netflix binge.
This is a easy and stylish sleeveless crochet cardigan pattern that gives summer vibes especially in a vibrant color. If you've never made a garment before but have experience with crochet this will be a good first wearable for you to make.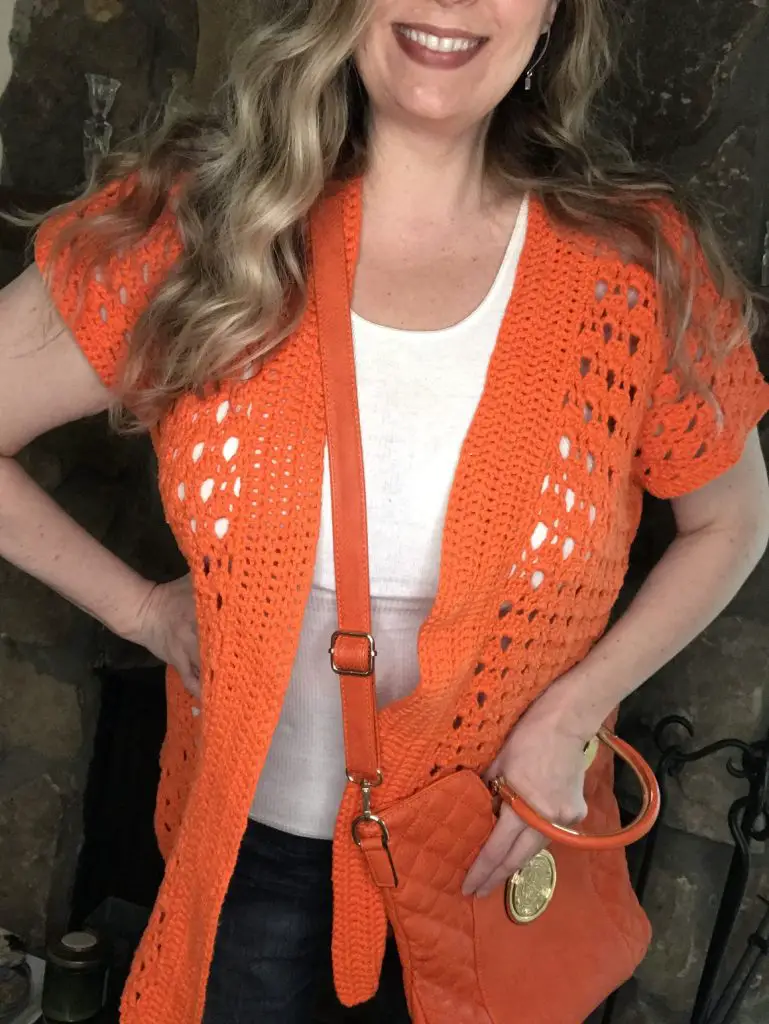 If you're looking for a new fresh addition to your summer handmade wearable wardrobe this pattern will show you how to make it! It's a great breezy cool topper for all your warm-weather wear. Nice over tank tops and sundresses. I have even used it for the beach. Cotton crochet is great for the beach not only as a swim cover but for bags and sunhats too. This will be a go-to in your spring & summer wardrobe.
For winter you may like the ribbed fur trimmed crochet cardigan pattern.
The crochet pattern is full color and includes several images and video tutorial link so you get a perfect fit both in width and length! Sizes are small (32″) up to 3x (64″) . It's in my top 3 best selling patterns.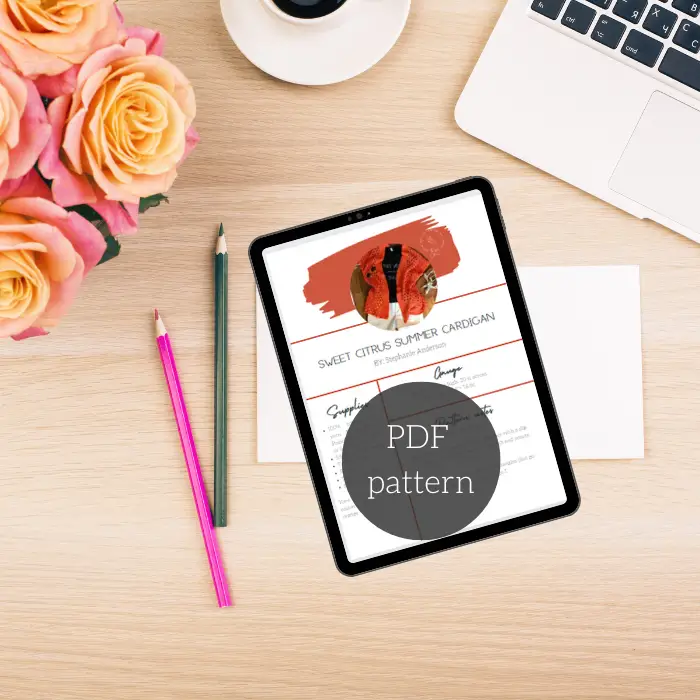 This pattern is written for an experienced beginner level.
You should be very familiar with beginner and intermediate stitches, all of which are shown in the video tutorial.
The sweet citrus cardigan design uses 100% cotton aran for durability, comfort, and washability.
5.5 mm hook is used for this pattern .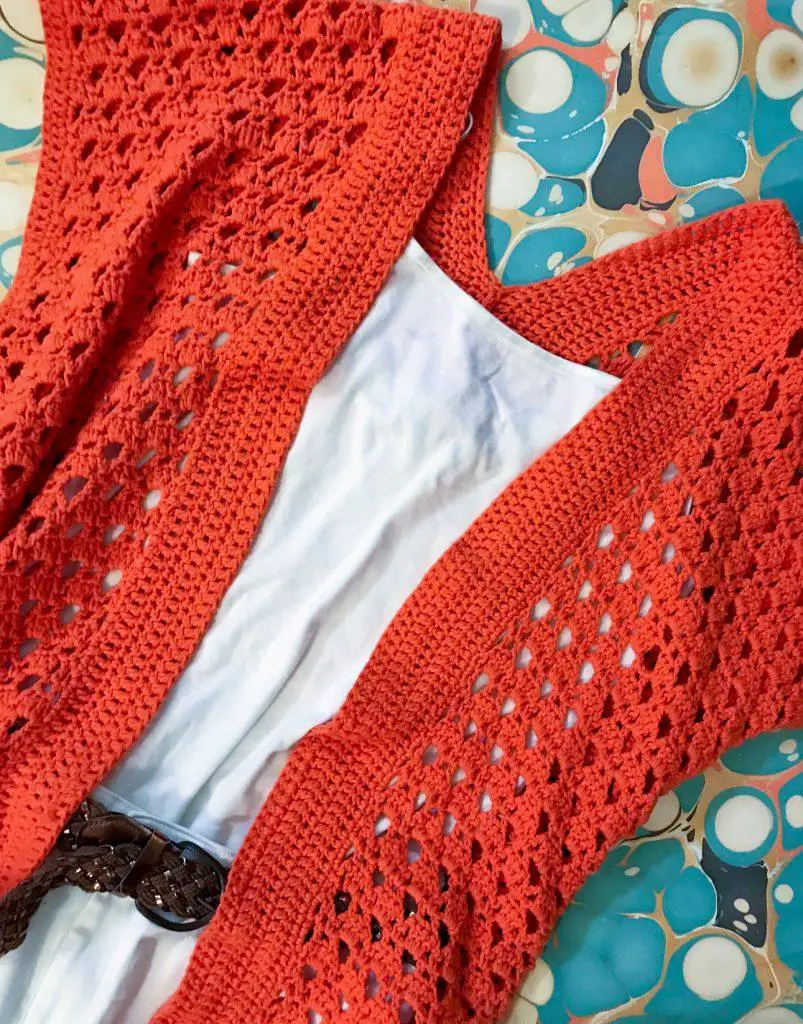 This crochet lacy pattern is a 4-row repeat that I made a video to go along with until you get your groove and can mindlessly do the rows while you watch Netflix. While it's not a new beginner project, it's also not difficult. You just need to know some beginner to intermediate stitches-all in the video.
You may like this mesh cardigan also suited for summer! You can use one of many summer friendly yarns but I used nuboo lyocel yarn. It has great sheen and drape.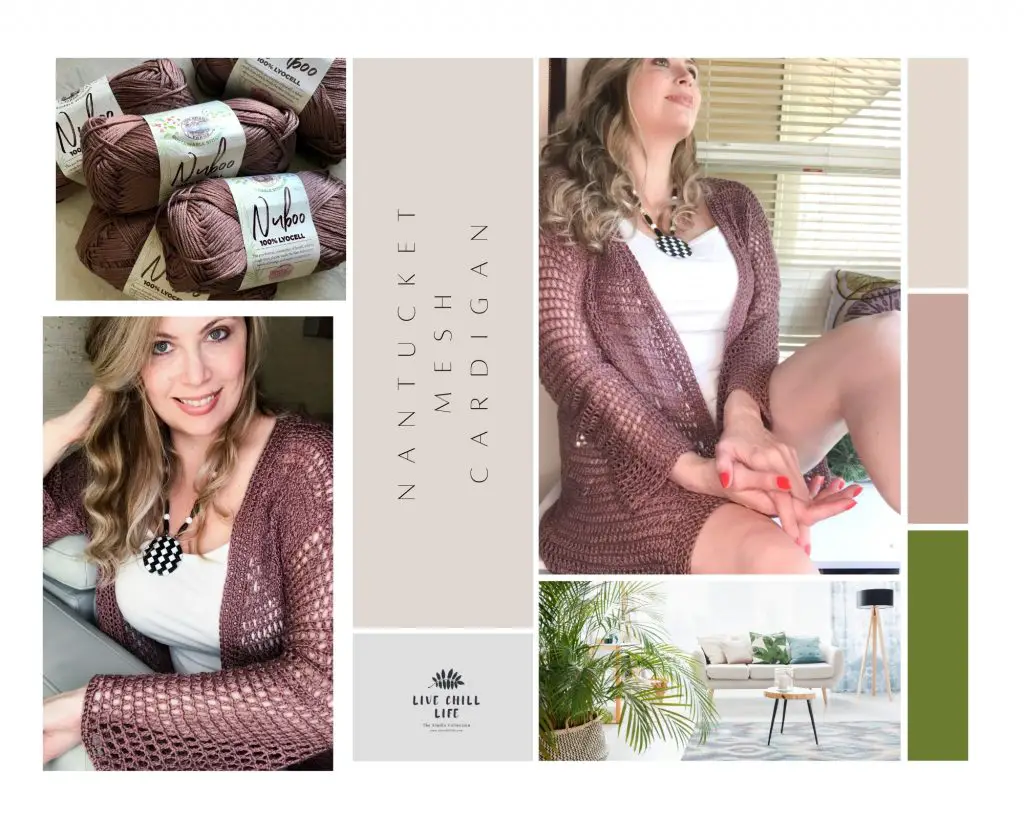 The open weave allows for great movement and drape.
Grab the pattern below:
Link to pattern Buy the mesh cardigan pattern here.