We may earn money or products from the companies mentioned in this post. See the Affiliates and Disclosures page for more information.
Crochet pet collar pattern
Is your pet cat or dog a prince or princess worthy of a crown jewel? How about a whole necklace of jewels in the form of a crochet pet collar? This quick and easy pattern will have your pet looking fit for a royal throne in an hour!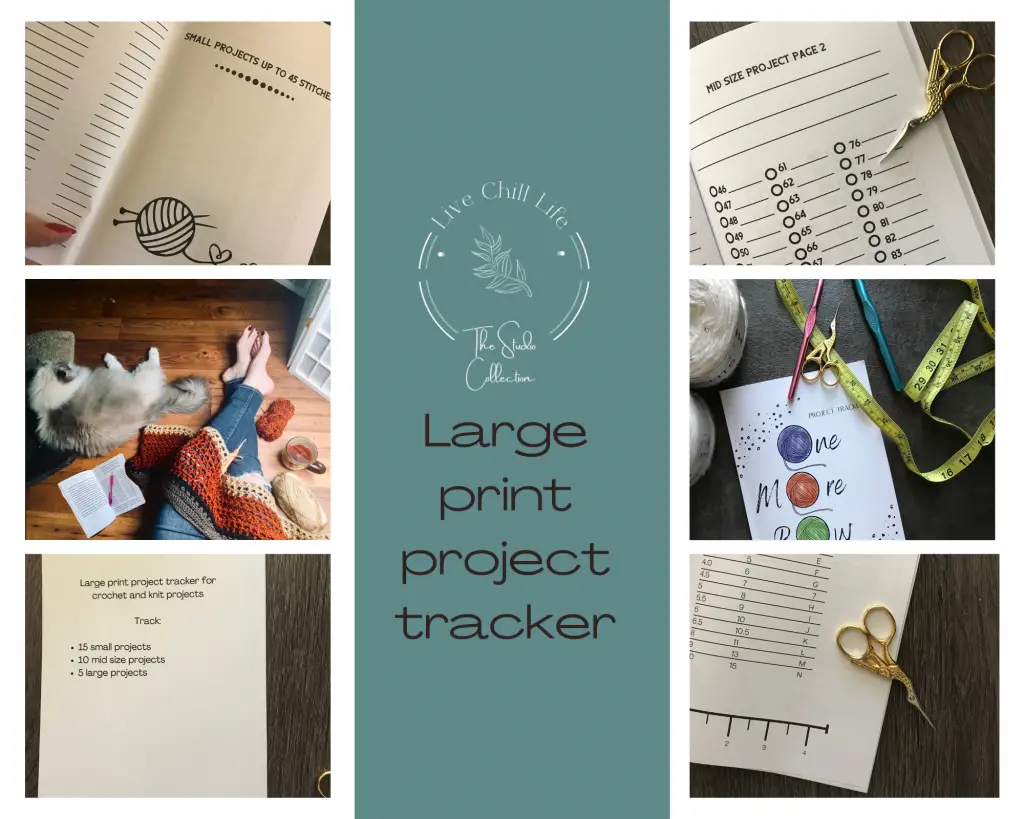 I designed knit and crochet project trackers! Keep track of your cardigan pattern with this tracker.
This is the large print version for tired eyes. So much easier than using apps, scraps of paper or a plain notebook.
Three project sizes, a handy ruler and hook guide inside the cover and plenty of room for notes in each pattern.
Buy the  Large print project tracker.
Buy the regular size print project tracker.
I have had bad eyesight since age 18 so large print is a godsend when you can't see apps and dark yarn, let alone going from one to the other on a crochet-a-thon during a Netflix binge.
This pattern is also a great stash buster because it uses small amounts of yarn. The jewel color is a heart puff stitch and puff stitches use much more yarn so you will need more of that than the other two colors. Amounts needed will vary based on the size collar you are making.
You may also like 15 things you can crochet for your pet.
Get creative with jewel colors! Maybe royal blue sapphire, striking emerald green or as shown the reddest of rubies.
For other yarn stash busters read this post on what to do with leftover yarn.
T-shirts and project totes for crocheters available in my Etsy shop!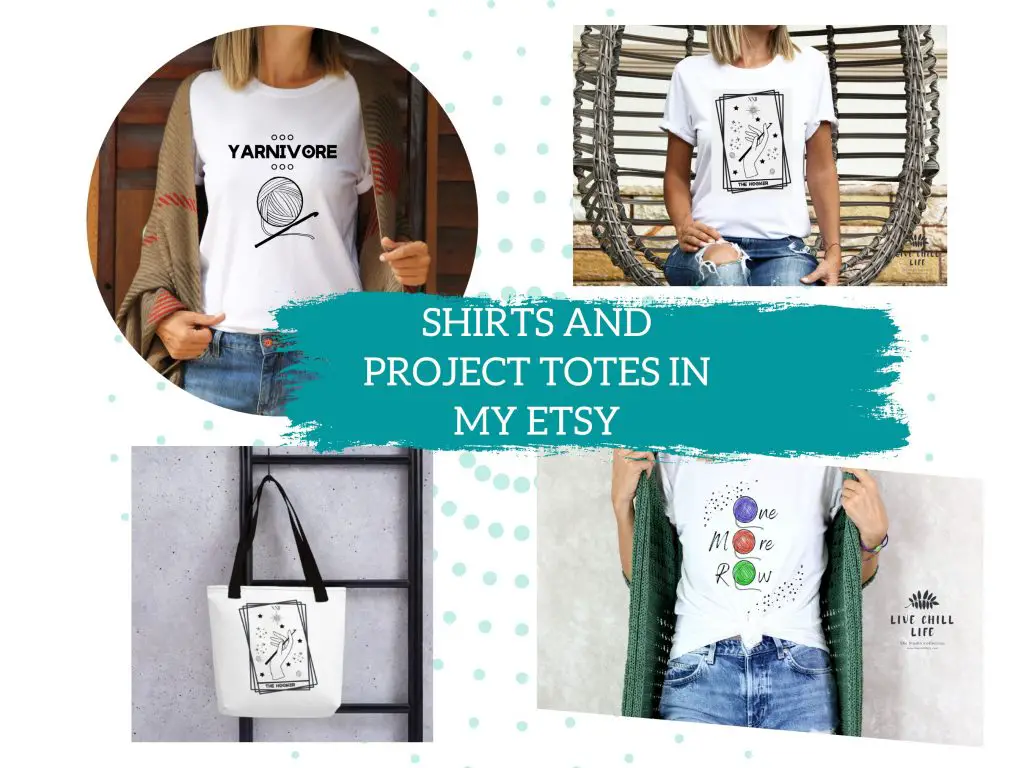 Materials to make a crochet dog collar free pattern
Video tutorial at end of post
4.5 mm crochet hook
3 colors of cotton aran yarn
Base color (tan shade shown)
Heart row color (red shade shown)
Decorative row (light gray shown)
Terms:
Yo: yarn over
Sc: single crochet
Dc: double crochet 
Sl St: slip stitch
Row 1: In second ch from hook sc, ch 1 sk 1. *Two sc, ch 1 sk 1.*   repeat to end with one stitch remaining. End with sc . 30 (33,36, 39) sts
Row 2:  Insert  new color with a slipknot at top of first stitch. Ch 2, work heart puff stitch in ch-1 space.
 Continue to work heart puffs into chain one spaces then slip stitch into the very end stitch of base chain. Cut yarn and leave a tail. It can be woven in row 3.
Row 3: Attach color 3 with a slip stitch at base of row. Bring up tail from row 2 if you would like to weave in the end on this row. Ch 1. *Slip stitch into sc at top of first heart puff.  Work a sc into space between the heart then chain three. Work another sc into chain space to create a small cluster. Slip stitch into top of second half of puff stitch*. Repeat * to* to end of row.
Chain 1, then slip stitch into base chain end stitch. cut yarn and weave in end.
Crochet cat collar free pattern
Create ties:  
With a slipknot, attach base chain color yarn to one end and work as many sc to the length of desired tie.  6" minimum.  Then chain three and in third chain from hook work a dc.  Work two more dc into the same chain.  Then slip stitch into the chain directly below.  Cut yarn leaving a long tail.
Put long tail through a tapestry needle. Work the yarn through the outer edge of the double crochets and cinch to turn it into a ball.  Knot tightly and weave end into ball.  Repeat on other side.
Weave in all ends and go deck out your pet! 
Tag me on instagram  @livechilllife