Ads allow content creators to provide free useful and compelling content to the public. We may earn money or products from the companies mentioned in this post. See the Affiliates and Disclosures page for more information.
Crochet an absorbent dish mat for your pet bowls
If you have a pet who makes a mess at the water bowl or food bowl this is the crochet pet dish mat pattern for you! This thick stitch mat will catch the water splashes and food that escapes the bowl.
Customize this beginner friendly free crochet pattern to fit the bowls, fountain or dishes you use for your pet(s). By using 100% cotton yarn you will have an absorbent mat for your pet bowls.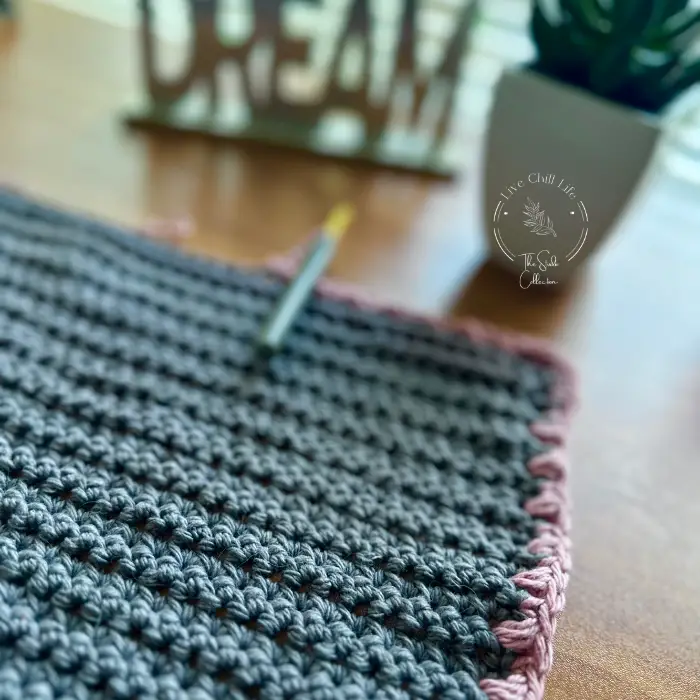 I have large breed cats and one of them mows through a food bowl like a line backer. Another likes to make the water splash before drinking. Pets don't have human table manners and never will so pet owners can help keep the area tidy with a tray or mat.
What I don't like about trays are the fact that they stay wet. My cats don't want to stand on a wet area to drink and water around the bowl will keep them away from it.
You may like 15 things you can crochet for your pet
For this design I used the linked single crochet stitch. Not only is it beautiful but it's 50% denser than a regular single crochet giving it more absorbing power.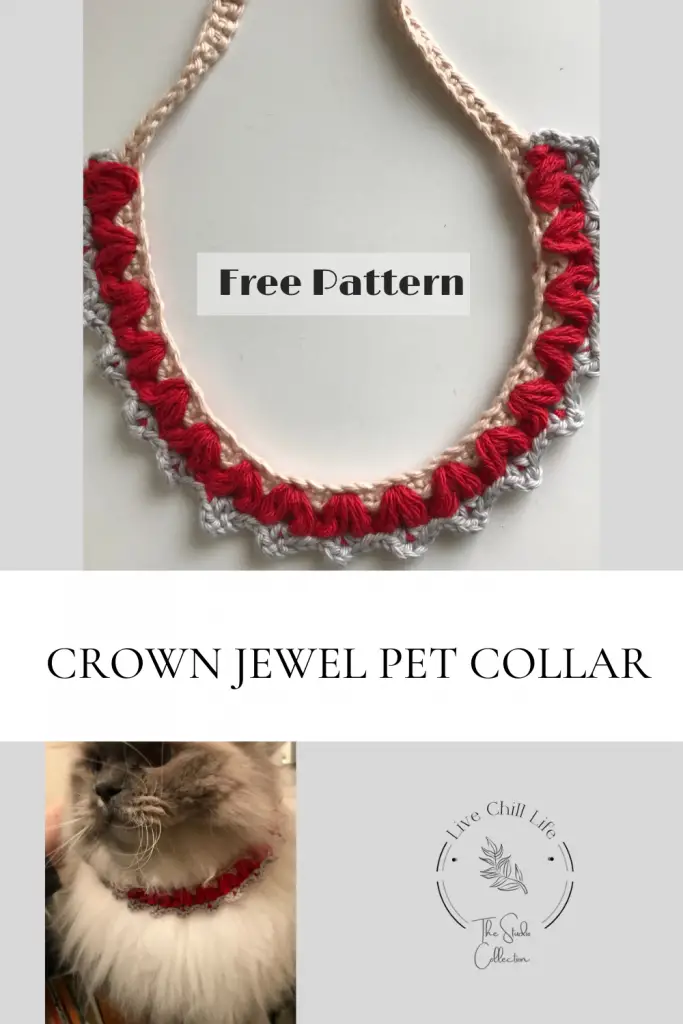 You may like this free pet collar crochet pattern
How to make a crochet pet dish mat
Materials:
Category 4 100% cotton yarn, main color and accent border color. Quantity will vary based on mat size. Stitch used is a dense stitch that uses about 50% more yarn than a standard single crochet
6 mm crochet hook
Tape measure or ruler
Scissors
Yarn used in this project is Lily's sugar n cream in overcast.
Make it:
First, measure your bowl(s) , fountain or bowl stand.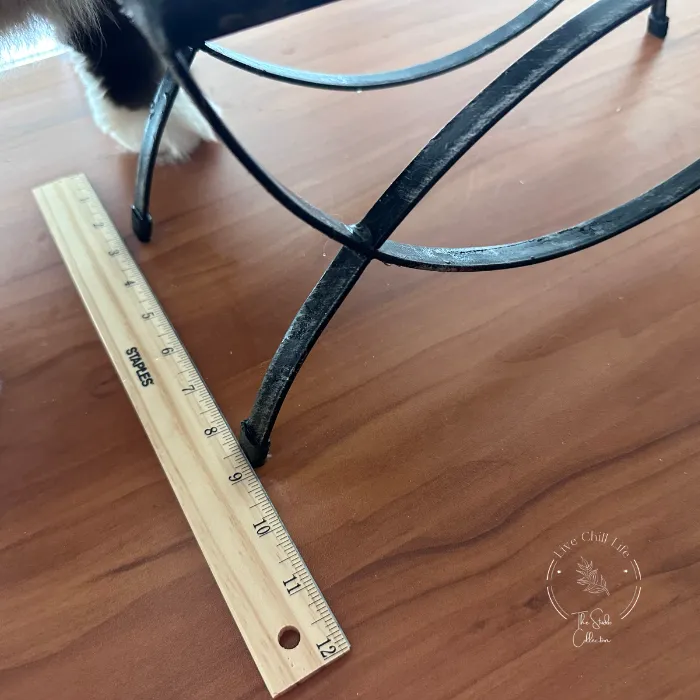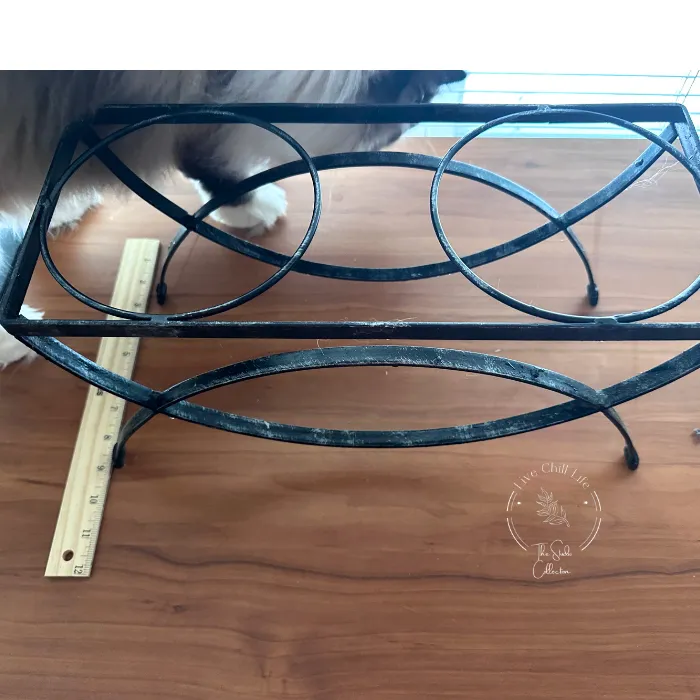 Measure the more narrow side and add 2-4 inches to each side based on how much spillover or "mess" your pet makes when eating or drinking. Image shown is a 6″ bowl stand measurement then I will add 3″ to each side.
This will make my starting chain about 12″.
Chain enough to equal your starting side measurement. Add one extra chain, then turn and work a sc (single crochet) in second chain from hook. Now work linked single crochet stitches:
Put the hook back into the stitch you just worked the first sc. Pull up a loop then go into the next stitch and pull up another loop. Yarn over then pull through all three loops. Continue to work the rest of the row stitches like this (see this post on linked crochet stitches) to the end of the row. Chain 1 and turn.
Sc in first st. Then work linked stitches across the row. Continue these linked stitch rows until your mat reaches the length of the long side of your pet bowl or fountain.
You may like the best brush for mat removal
For water fountain mat shown 13″ x 15″. Check out the stainless steel pet fountain.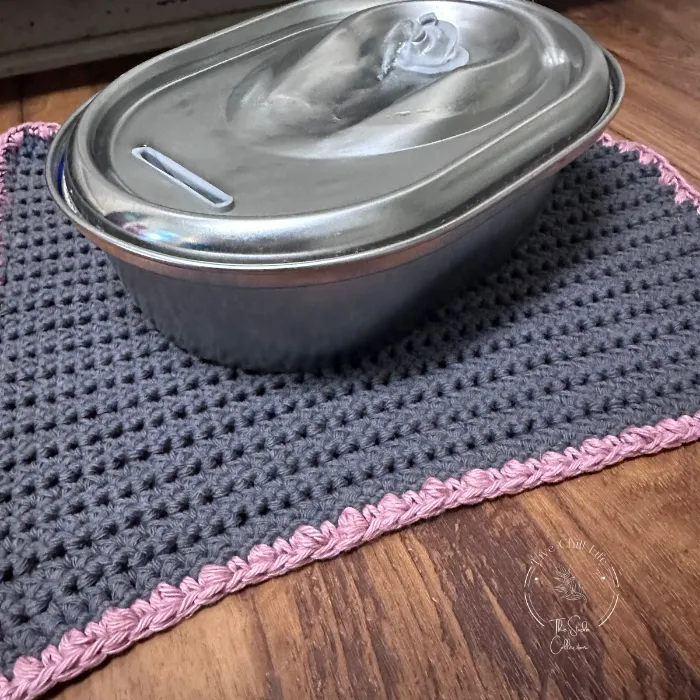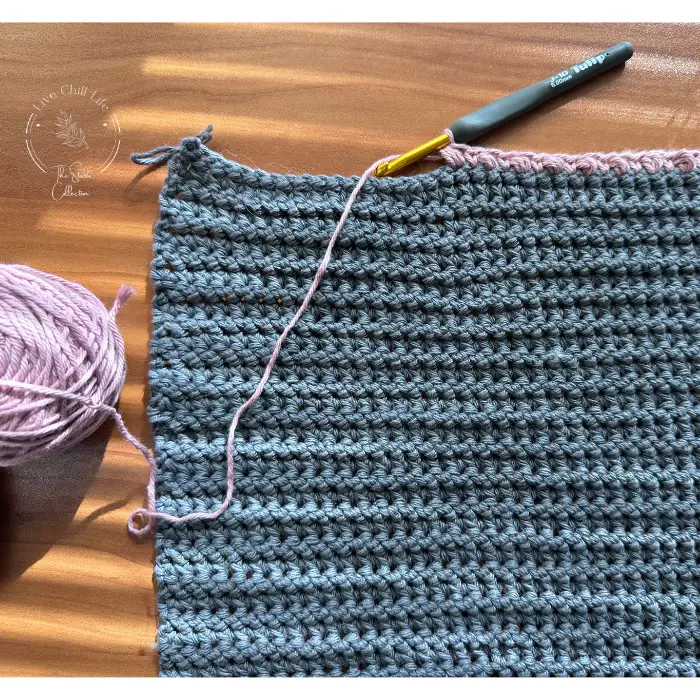 Work the decorative border:
To work border, insert contrast color with a slip knot. Starting at one corner, work a sc. Next work a cluster stitch as follows: Yarn over and go into stitch, pull up a loop, yarn over and go into stitch again and pull up a loop (5 loops on hook), yarn over and go into stitch one more time and pull up a loop (7 loops on hook), yarn over and pull through all 7 loops. Sc next.
Alternate sc and puff stitches around, working 3 sc in each corner with no puff stitch.
End with 3 single crochets in last corner and slip stitch into first stitch. Cut yarn and weave in ends.