Ads allow content creators to provide free useful and compelling content to the public. We may earn money or products from the companies mentioned in this post. See the Affiliates and Disclosures page in the top menu of this website for detailed information.
Crochet cat themed patterns
Are you looking for a fun way to get creative and show your love for cats? Look no further than these adorable crochet cat patterns!
Whether you're a beginner or an experienced crocheter, these patterns will allow you to create something special that both you ( and your cat) will enjoy.
You may also like these 10 cat themed gifts (that aren't crochet)
Crochet cat pillow pattern
A big body pillow sized cat pillow is whimsical and useful! The pattern uses chunky, bulky and aran weight yarns to achieve a finished cat pillow with lots of visual interest and texture.
See the free pattern from coco crochet lee to make the crochet cat pillow.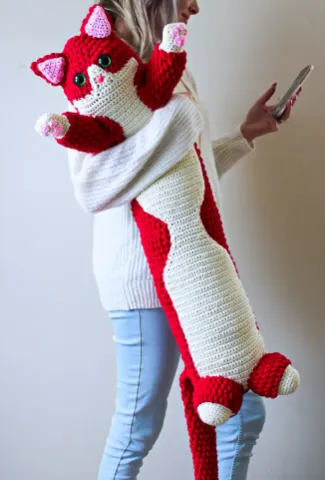 Crochet cat bed pattern
Whether you want to crochet a cat bed for your own cat or the cat of a loved one, this is a nice size for kitty to make themselves right at home and curl up feeling tucked in for a long catnap. At the widest point it is 24″ so larger kitties can spread out a bit.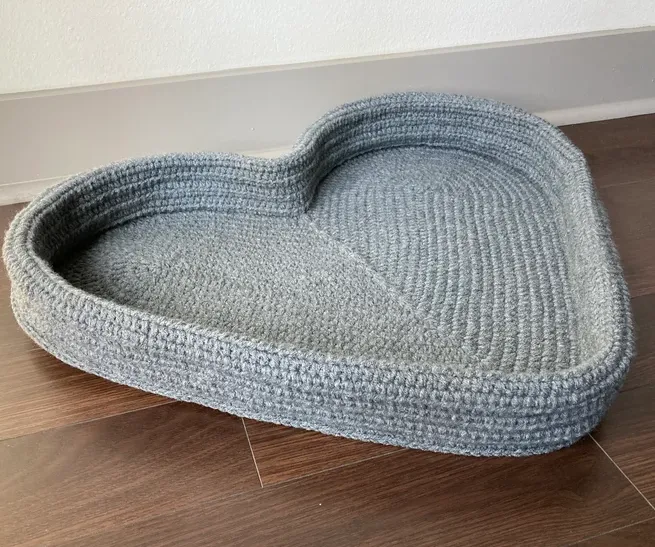 See more details about this crochet cat bed pattern.
A crochet cat blanket pattern
A blanket covered in crochet cat silhouettes is a wonderful way to show your love for cat! classic figures of cats sitting, laying down and spying on us or potential prey.
This blanket pattern uses a corner to corner (C2C) technique and measured 52″ x 69″ when completed. You will make this using category 4 yarn with a 5 mm crochet hook.
See the free pattern from Evelyn and Peter to make this crochet cat blanket.
Crochet cat head pattern
This cat head is modeled after the ragdoll cat. You can customized it to resemble your own cat or make it as you see it on display in the image. This pattern uses fuzzy yarn to give the fluffy cat look that so many people love.
It also included a glam amigurumi crochet eye tutorial that you can use on dolls or other animals for a more impactful look.
See how to make this crochet cat head.
Crochet cat coasters
This adorable cat coaster set would make a cute gift or addition to a gift basket. It's a beginner friendly crochet pattern and will get you experienced working in the round.
See the free pattern for crochet cat coasters.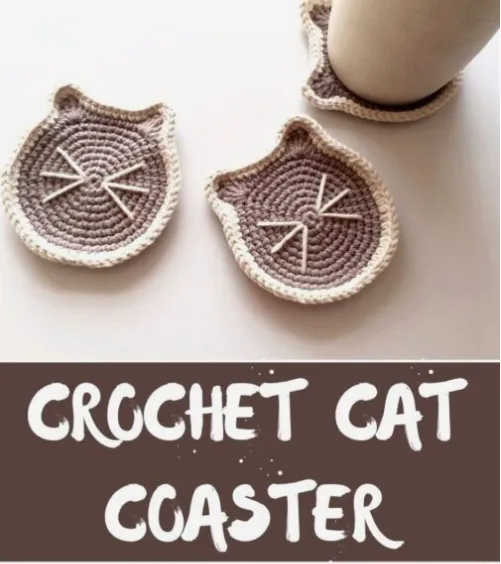 Crochet cat potholder pattern
This whimsical big cat potholder is sure to bring a smile to your kitchen or as part of a gift to a cat loving friend or loved on.
This design is from Blackstone Designs and is free on the website. See the crochet cat potholder pattern.
T-shirts and project totes for crocheters available in my Etsy shop!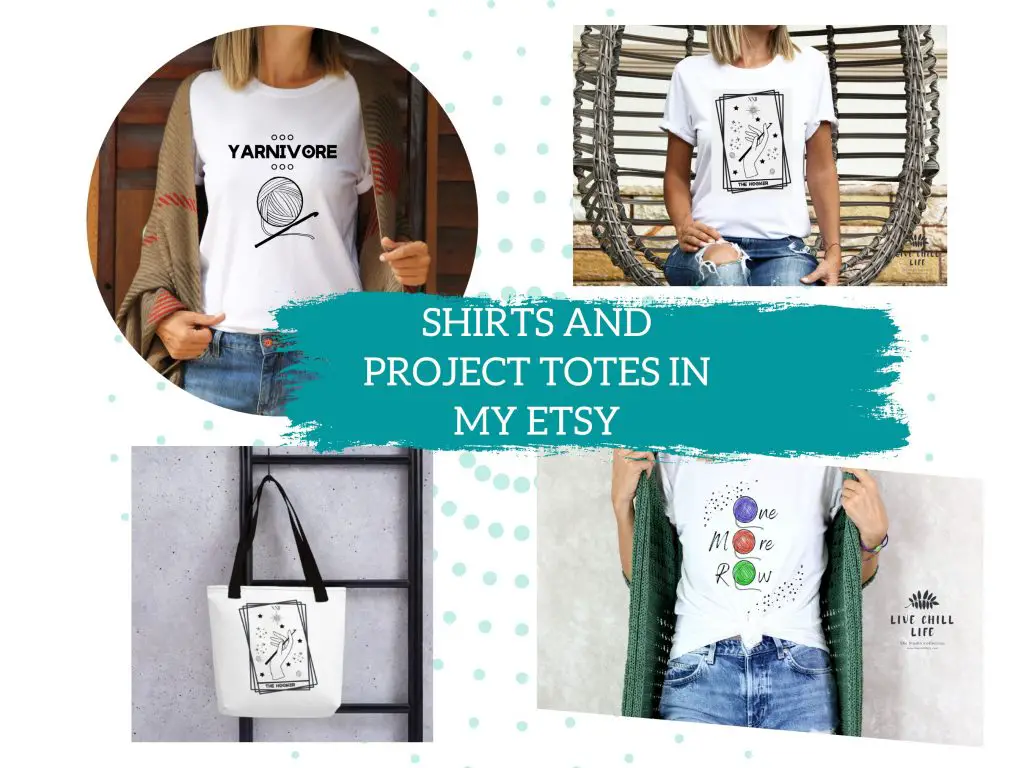 Crochet cat toy pattern
A very sweet stuffie crochet cat pattern. A generous almost 16″ high this is a great crochet gift item for a new baby or young child, or even a teen obsessed with all things cats.
You can use velvet or chenille yarn to get an extra soft look.
Pattern for crochet cat stuffie.
See more crochet baby shower gift ideas.
Crochet cat bag pattern
A cat themed crochet tote is a whimsical way to show off your love of cats. Reminiscent of Hello Kitty, this bag will suit some styles to a T.
See the crochet cat tote bag pattern.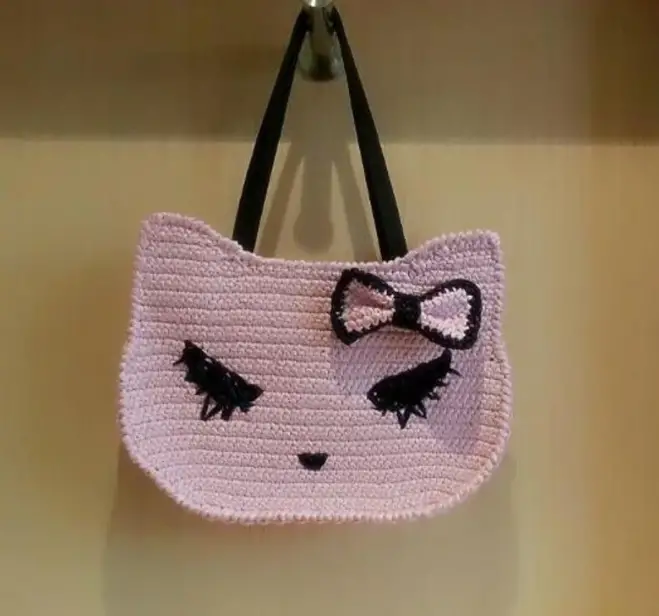 Crochet cat cozy pattern
A cat themed crochet cup cozy to keep your cups hot or cold in full on feline fashion.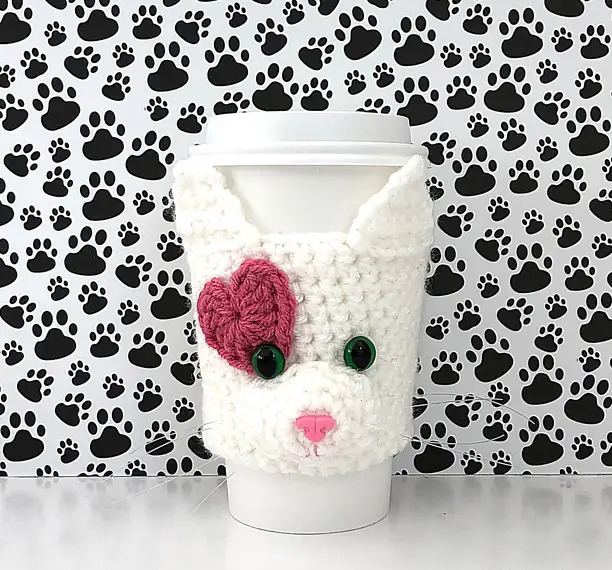 Crochet cat paw pillow
A cat pillow for your sofa, craft chair, bed or cat bed! This classic paw print is unmistakably feline. Cat lovers love the kitty toe beans and this charming pillow is toe bean delight!
See the crochet paw print pillow pattern.