Ads allow content creators to provide free useful and compelling content to the public. We may earn money or products from the companies mentioned in this post. See the Affiliates and Disclosures page in the top menu of this website for detailed information.
Crochet a cute ragdoll cat head
This is a very special pattern for ragdoll owners and ragdoll cat enthusiasts!
It is designed so you have some control over the finished appearance of the face. Some of you will want to closely replicate the markings of your own ragdoll, or a ragdoll you have a crush on. The white part of the face can be adjusted.
Fluffy yarn can be a bit more challenging to work with and this design will help you achieve a good result with minimal frustration. In the video I explain how to pick the right fluffy yarn for this project.
I have used Caron latte cakes (review here) which has nylon making it soft and fuzzy looking but also a bit slippery. This matters because as I have noted in this pattern, working with ends in other types of yarn vs. this yarn are very different. Knots and end weaving don't work well with this yarn .
You may like this crochet collar pattern for your real life pet.
Fear not, this design works around those issues!
Crochet cat head pattern
Finished item is 6.5" H   x 5.5 " W
make the following:
Tools:
4 mm crochet hook
category 4 white cotton yarn
fluffy textured yarn in a color you'd like you cat to be (as close to white yarn thickness, better thinner than thicker)
tapestry needle
polyfill
optional small piece of plastic mesh for base. Adds extra stability however base is broad enough to balance on its own.
A word about fluffy yarn:
If you do not live where Caron latte cakes is available or want to use a different yarn for the fur area, select one that is as close to same weight (use your eyes and not the number 4 on the yarn label).  Latte cakes yarn is categorized as a 5 but it is closer to a category 3.   Some variation in yarn width is expected when using two different textures however they need to be close in size so the finished item looks symmetrical.  I have built in some fixes for any gaps in width.
Latte cakes yarn can be difficult to pull out stitches because the nylon strands that create the lovely fluffy texture tangle on each other as they are stitched.
ch- chain
sc- single crochet
scblo- single crochet back loop only
sts- stitch
dec- decrease
Begin:
Ch 16
In second ch from hook work 2 sc in stitch. sc across row, work 3 sc in end st. 
Continue in round work 2 sc next  11 sc.  2 sc in last. Slip to join. 32 sts.
Round 2: 2 sc in st, 13 sc, 2 sc in st, 4 sc, 2 sc in next,  12 sc, 2 in next st, 1 sc, slip to join. 38 sts.
Round 3. 2 sc in st, 15 sc, 2 sc in next, 3 sc, 2 sc in next st, 14 sc, 2 in next st ,2 sc.42 sts. Slip to join.
 Round 4: 2 sc in st, 15 sc, 2 sc in next, 4 sc, 2 sc in next, 15 sc, 2 sc in next, 4 sc slip to join. 46 sts. 
Work in spiral not slipping at end of round.
Round 5: 2 sc in st, 2 sc in next st,  16 sc, 2 sc in next, 2 sc in next, 5 sc, 2 in next, 2 in next,  14 sc, 2 in next, 2 in next, 3sc, 2 in next.  56 sts
Round 6: scblo around. 56 sts.  
Round 7: increase working 2 sc @ 1,20,  24,  28, 36,51,56,60.  64 sts. 
Round 8: scblo 64 sts
ATTACH TRIANGLE.
Round 9:  Attach color yarn at start of round . Sc to center triangle, slip to join the mask to the color yarn. Work  the same amount of stitches behind the mask joining at the other end then continue the round. 66 sts.  See video work extra spacer stitches if needed counting the mask stitches and not the chain behind it.
Continue working the stitches behind the mask in upcoming rounds.
Round 10-12 : repeat round 9. 66 st. Join triangle with a sc not a slip the remaining rounds.
Round 13: continue around working a decrease at 29 and 58.  64  sts 
Round 14, Dec at 24 and 28. And 52, 56.  58 sts
Round 15; sc around 58 sts
Round 16 :sc around. 58 sts 
Round 17: Dec at 32 and 50.    56 sts
Round 18-21: sc around.
Round 22: Dec at 29 & 35,52, 55.  52 sts
Using pink yarn stitch in nose and mouth. Add some stuffing to determine eye placement then attach eyes with black yarn.
Round 23-24:  sc around  52 sts 
Round 25: Dec at 4,23,31,41.  48 sts
Round 26-38: sc around. 48 sts  (it will start to look like a wide tube at the top of the head, this will create the ear "anchors" when you close it up.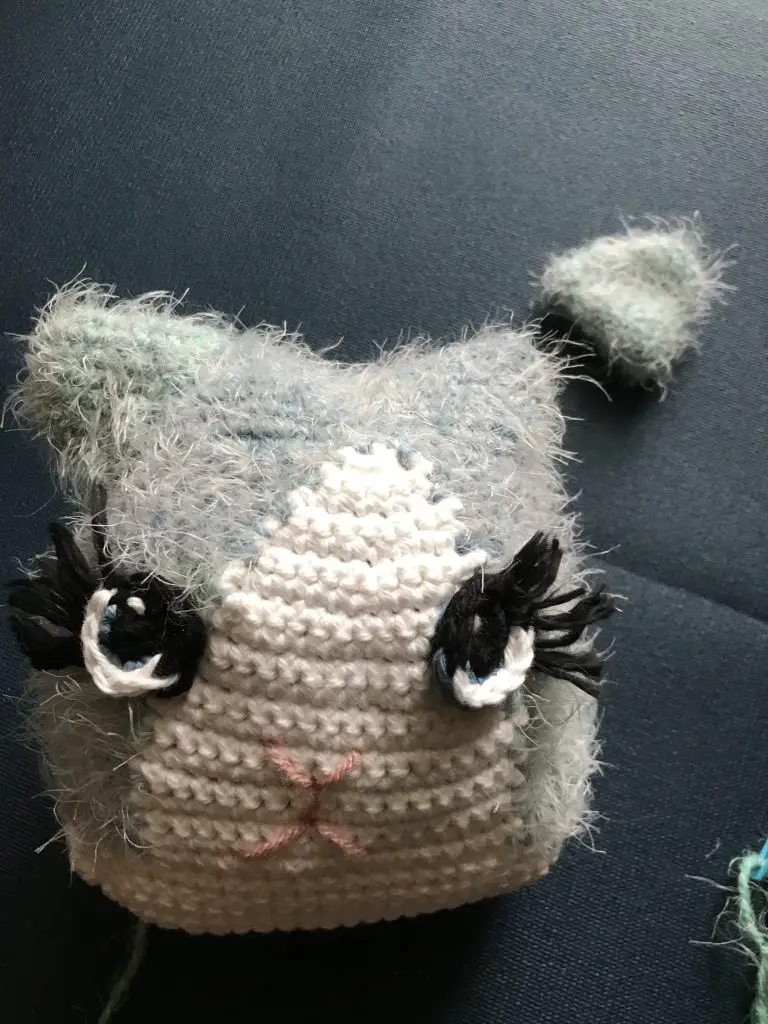 I designed project trackers! This is the large print version for tired eyes. So much easier than using apps, scraps of paper or a plain notebook.
Three project sizes, a handy ruler and hook guide inside the cover and plenty of room for notes in each pattern.
Buy it here.
Regular size print here.
I have had bad eyesight since age 18 so large print is a godsend when you can't see apps and dark yarn, let alone going from one to the other on a crochet-a-thon during a netflix binge.