Ads allow content creators to provide free useful and compelling content to the public. We may earn money or products from the companies mentioned in this post. See the Affiliates and Disclosures page for more information.
Crochet ideas for a bridal shower
Do you want to crochet a gift for an upcoming bridal shower? What can you make or give as appropriate thoughtful crochet bridal shower gifts?
As it turns out, I have ideas for your to make for your loved one to honor the upcoming nuptuals. A personal gift that you crochet is very special and can be kept for many years, even passed down to the next generation.
For a wedding shower, I like to give gifts that a couple will enjoy vs. a bridal shower where you give gifts for the bride only. Keep in mind what the couple enjoys together to make the gift extra special, for instance if you want to add something from the store to round out your handmade item.
I have compiled a list of crochet bridal gift ideas for the newlyweds or just for the bride so you can make what suits your skills and relationship to the bride/couple best.
Table of Contents
Crochet table runner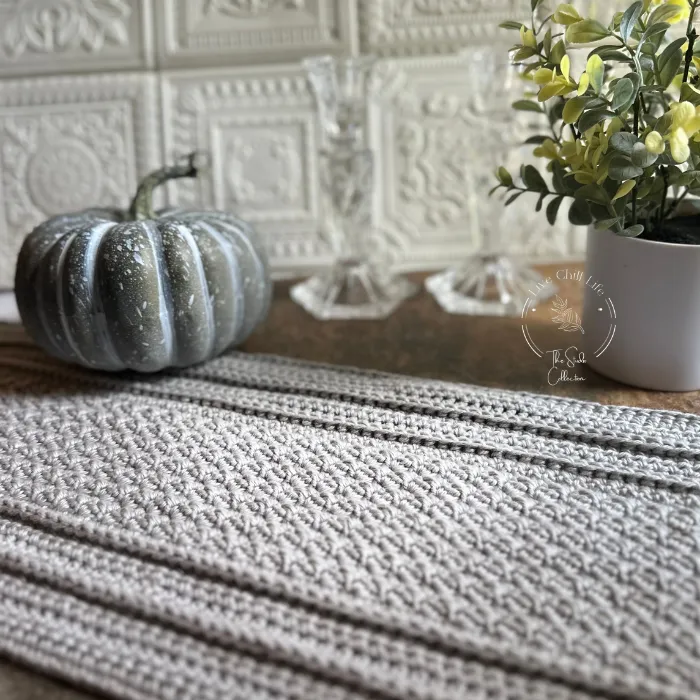 This table runner paired with something for the kitchen or table is a lovely handmade gift. Think of a set of glasses, a centerpiece empty vase, cutting board, cookbook, or even something whimsical like specialty popcorn and popcorn popper/serving bucket.
See the free pattern or buy the pdf version.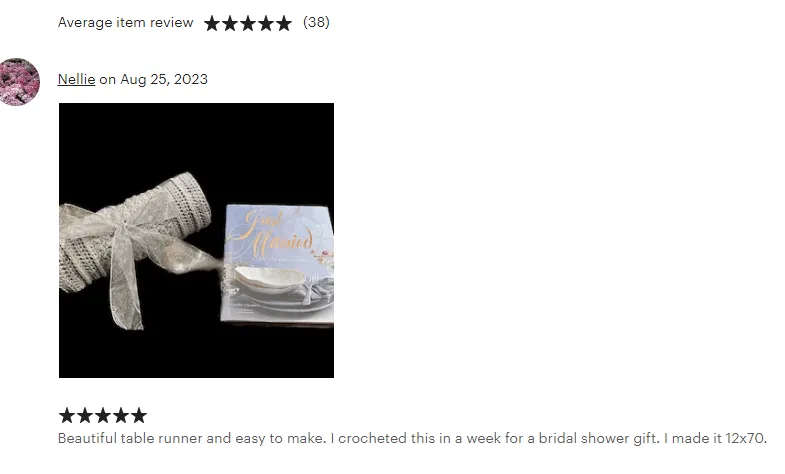 Crochet bridal bouquet cozy – bridal shower crochet pattern
A very personal touch for the bride's bouquet, this will allow the bride to comfortably hold her flowers instead of just a satin ribbon.
It will live on after the flowers are gone. I do have crochet flower patterns later in the post but one crochet gift at a time…
Check out the free Aunt Lydia's pattern. Make it in a shade that matches the bride's gown. You can find crochet thread in white, off white and ivory. If the bride has a less conventional color gown check Etsy for more specific shades.
You may also like this post on 12 crochet wedding dresses.
Monogrammed crochet Christmas tree skirt
A special item to have for the couple's first Christmas and many years to come.
The tree skirt is simple crochet stitches in the round with steady increases. The Monogram is done by topstitching the letters post project completion.
Check out the free Christmas tree crochet skirt pattern by clicking on the image.
A newlywed crochet blanket for the home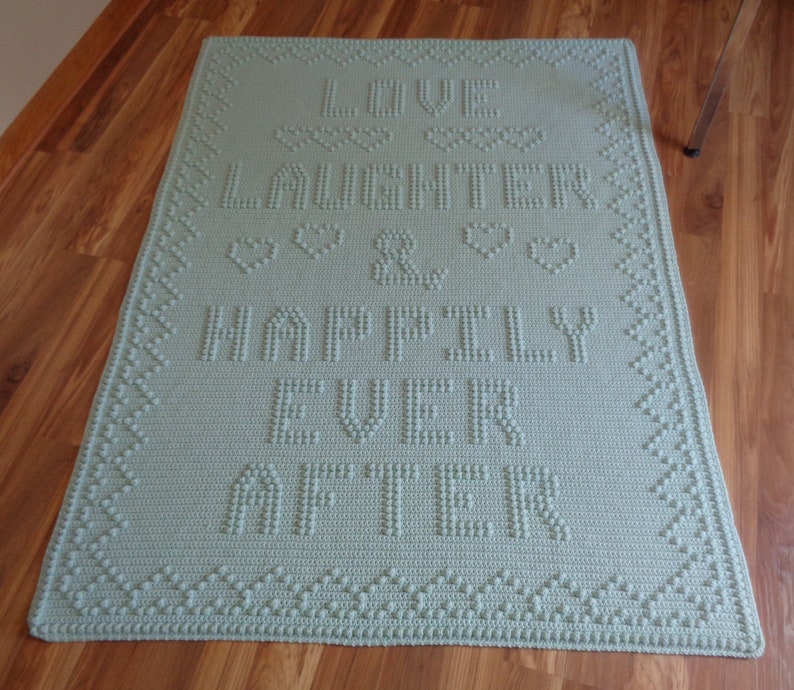 A charming Mr. & Mrs. crochet blanket for the couple to enjoy cozy on the sofa watching a movie. Maybe include some craft popcorn kernels to encourage snuggling!
Check out the blanket pattern.
Other blankets that have a more neutral day to day design would be lovely in a very soft yarn. If you know the couple's colors, something that matches the current bedroom or living room would be lovely.
This easy free pattern for a simple cluster stitch blanket is a free pattern.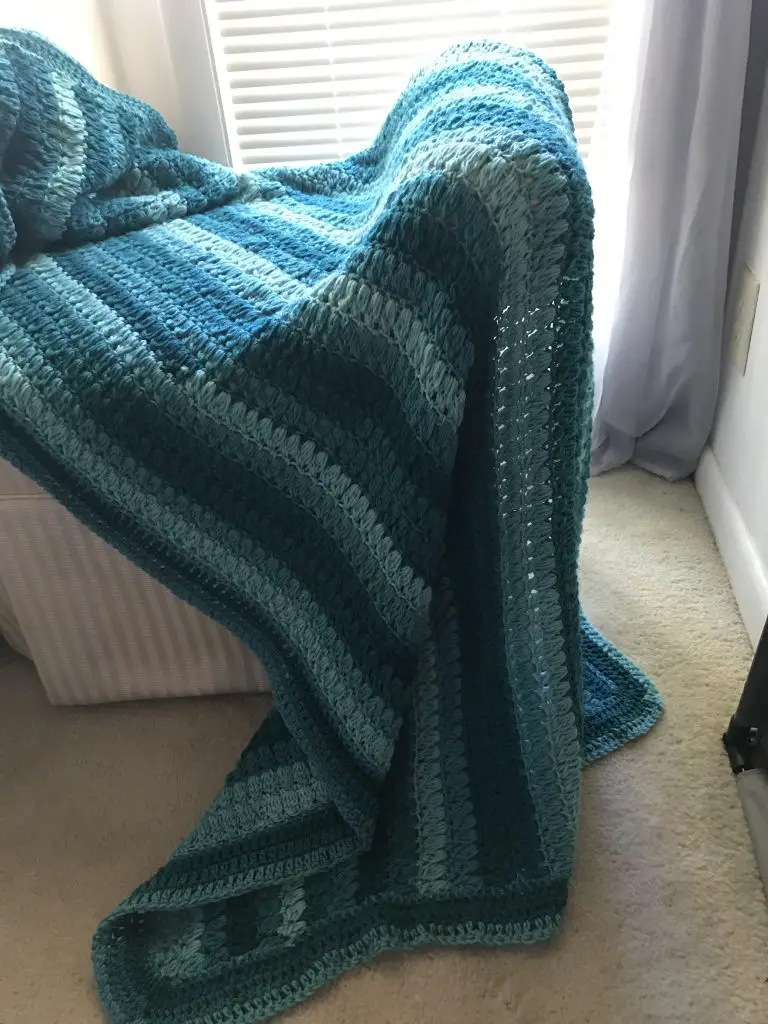 Crochet home set
This set pairs nicely with something like a personalized cutting board. Or a set of day to day drinking glasses to go with the coasters.
The potholders are worked with a double thick thermal stitch for heat protection. The wooden hook is worked directly into the potholder itself.
Check out the harvest home set free pattern
Check out out the personalized cutting board newlywed gift idea.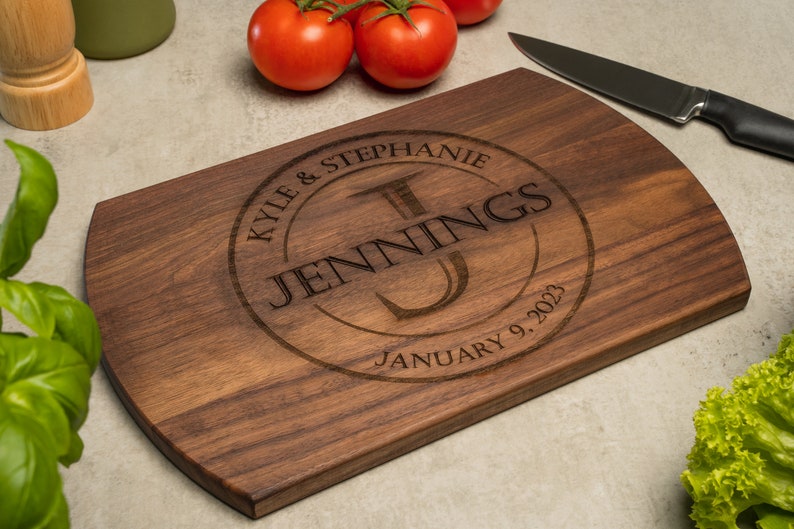 Mr. and Mrs. Newlywed crochet pillow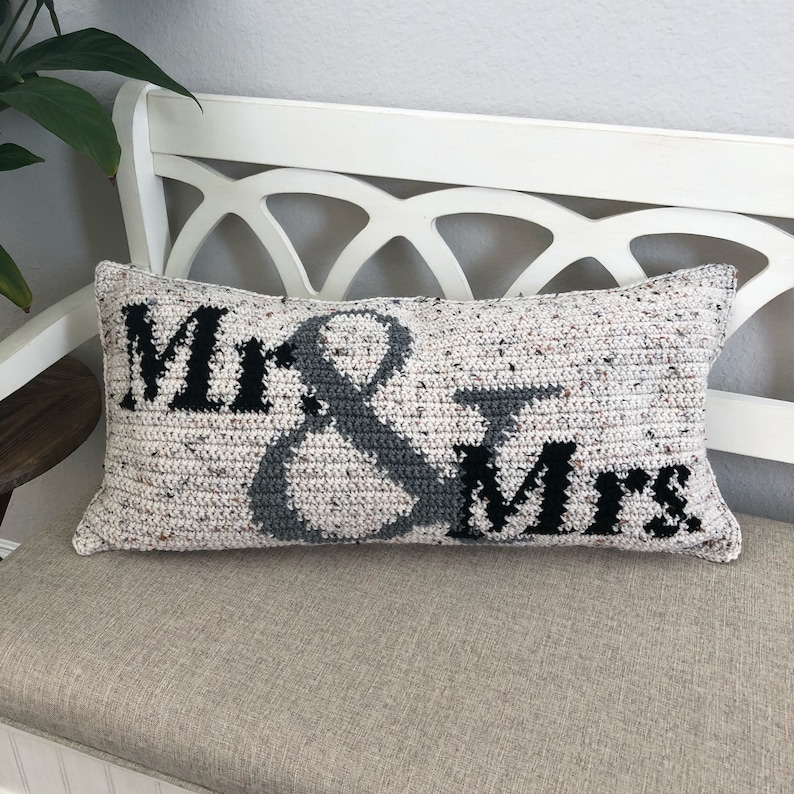 A lovely keepsake for the newlywed home. The couple can display this on a sofa, bed or study.
It is a beginner friendly pattern using tapestry crochet to work the Mr. & Mrs. graphic.
Check out the pillow pattern.
Bride and groom gnomes crochet pattern
These adorable crochet gnomes can sit on the kitchen windowsill of the newlyweds reminding them of their special day.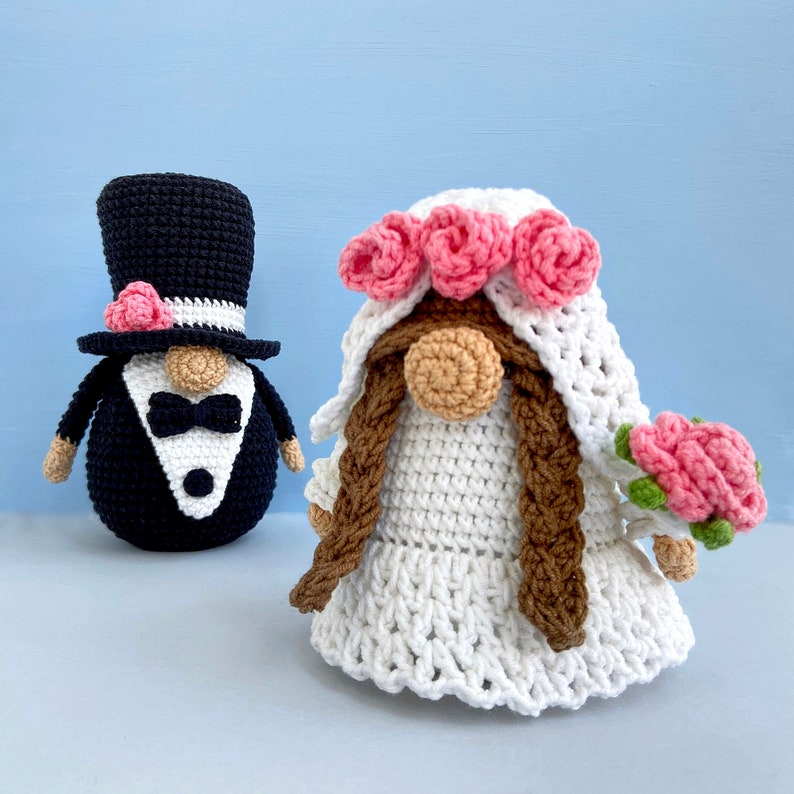 Check out the newlywed gnome pattern
You may also like this free woodland gnome set pattern.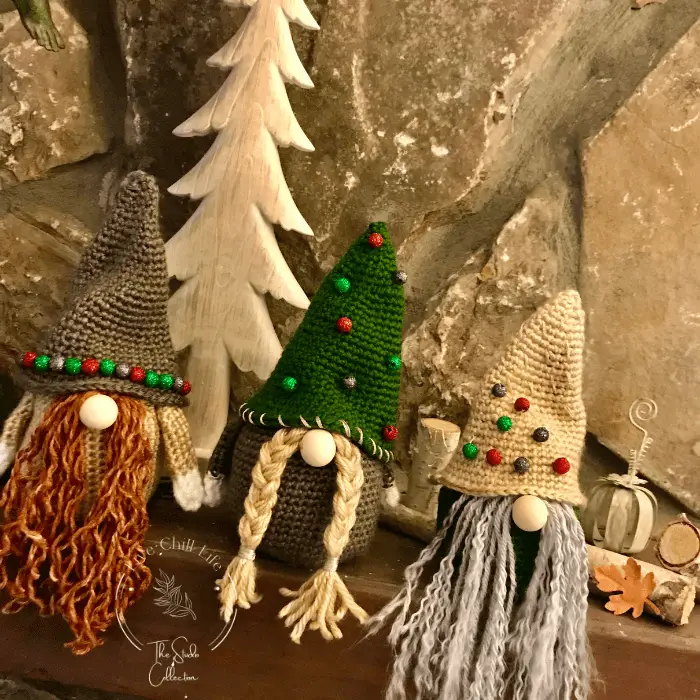 Crochet flowers for the bride
Whether it's crochet bouquets for the reception tables or a housewarming style gift, crochet flowers are a beautiful everlasting gift.
Check out many different crochet flower patterns in this post for inspiration.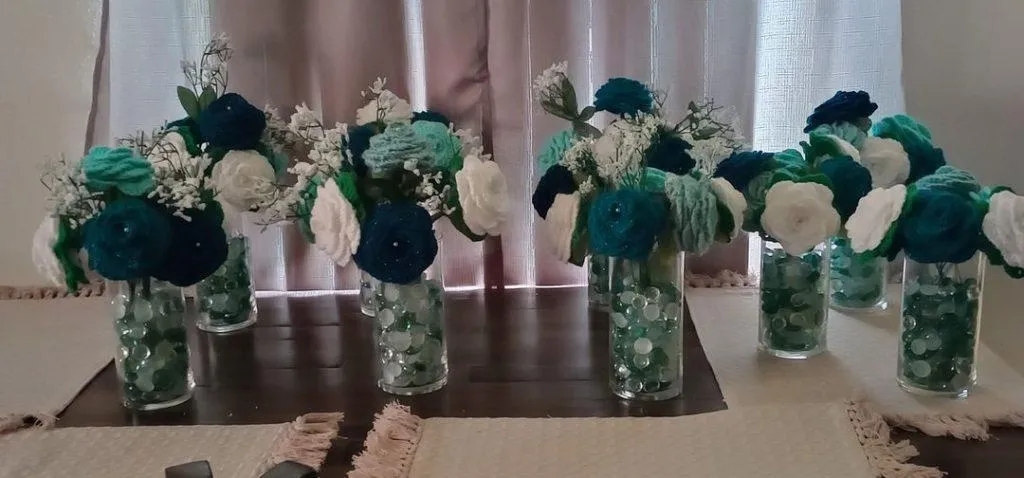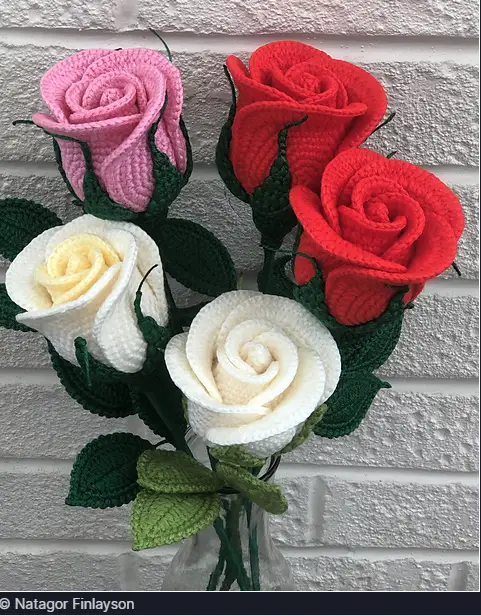 Monogram crochet basket for the home
The initial of the couple's shared last name can be made with this crochet monogram basket pattern.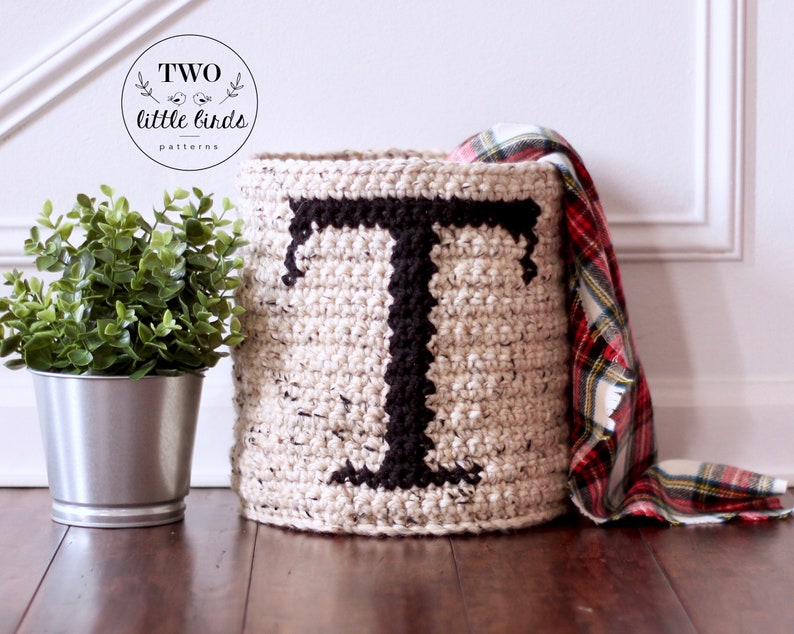 When gifting , tuck inside some goodies both halves can enjoy like a popcorn set, a bottle of something delicious, an assortment of seeds to plant or even some rolled up monogrammed hand towels (or the disposable style like these).