Ads allow content creators to provide free useful and compelling content to the public. We may earn money or products from the companies mentioned in this post. See the Affiliates and Disclosures page for more information.
Crochet wedding dresses and patterns
Do you love the look of a crochet wedding dress? Perfect for the beach bride, a bride that loves romance or just to have something uniquely yours, a crochet wedding dress is an elegant way to celebrate love.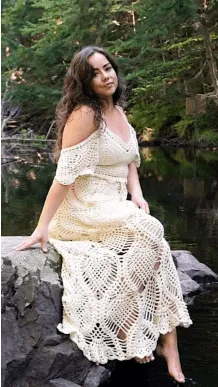 The first section of dresses are made to order and the second section is a selection of patterns you can use to crochet your own wedding dress (or have a loved one crochet it for you).
You may like this collection of crochet bridal shower gift ideas
Table of Contents
Beautiful crocheted wedding dress
Have them made to order or buy them.
The boho look of fringe being the skirt length screams beachy barefoot bride. Gorgeous face framing intricate collar with a carefree bottom makes this a stunning unique bridal look.
See details how to order this crochet wedding dress.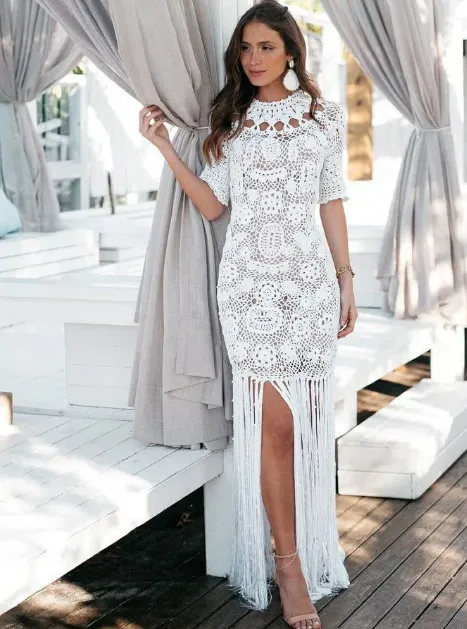 Strappy and beach crochet wedding dress
This pineapple stitch makes for a tremendous amount of visual interest and the flare bottom is romantic and feminine.
A bonus, this "dress" is actually separates which is great if you are different sizes on top and bottom.
See the angel skirt pattern.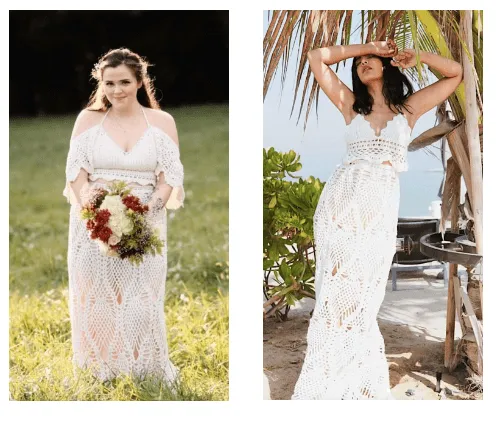 Open back crochet wedding dress
Being covered all over only to reveal the wow factor of an open back is a favorite bridal look. Your guests will see your back as you exchange vows, why not give them something to look at?
See the open back crochet dress.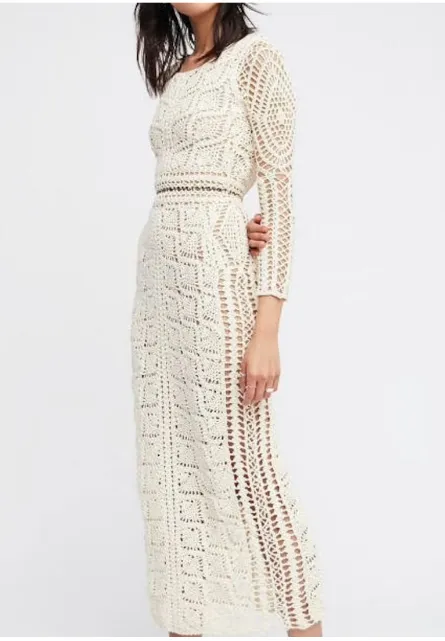 Boho chic crochet wedding gown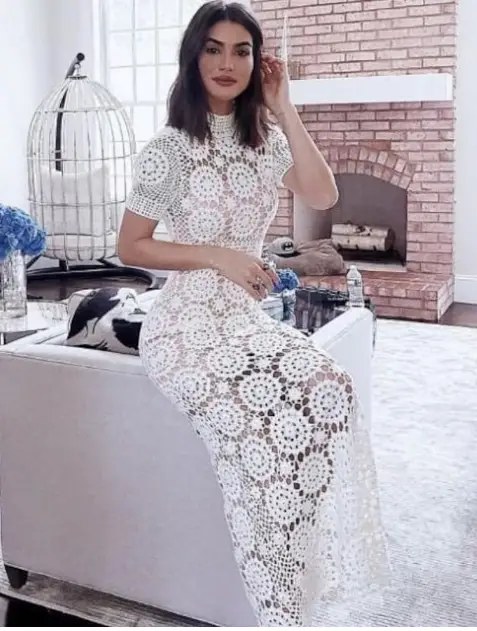 A beautiful sleeve, high neck and cascade of circles reminiscent of the moon and stars make this classic crochet wedding gown stand out.
See details to order this boho wedding gown.
Mid length designer wedding dress
Carolina Herrera has a tea length dress great for brides of all ages. Full coverage balanced out by a bit of lower leg exposed. A real fashion statement while being modest.
See the dress on the Neiman Marcus website.
Crochet mermaid wedding dress
An open criss cross back coupled with a mermaid bottom are the hallmark of this style of crochet dress. A flower crown would make this a beautiful boho wedding look.
See the dress on venus.com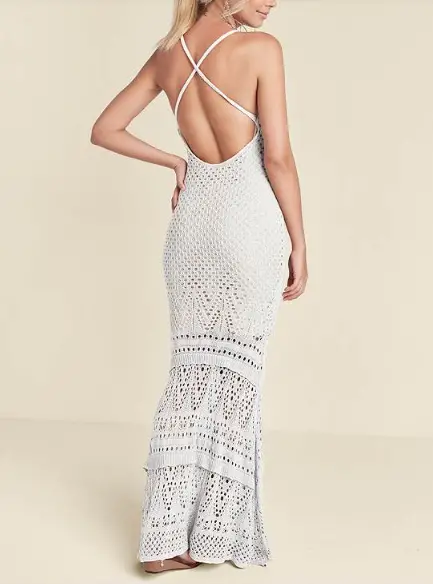 Designer Crochet Halter Wedding Dress
A halter style wedding dress from Ellie Saab. If at the time of reading this post the dress is no longer available many of the custom crocheters online can often replicate it for you. Don't be afraid to send an inquiry.
See the dress at Nordstrom.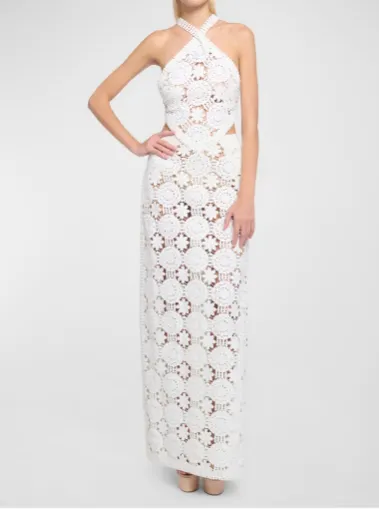 A Lace Lover's Crochet Wedding dress
A beautiful face framing neckline combined with intricate feminine lace makes this a real showstopper even in a shorter length.
The pattern is written in sizes Sm and Med.
Check out the white lotus crochet dress pattern on Ravelry.
You may also like this post about crochet festival wear for lots of boho style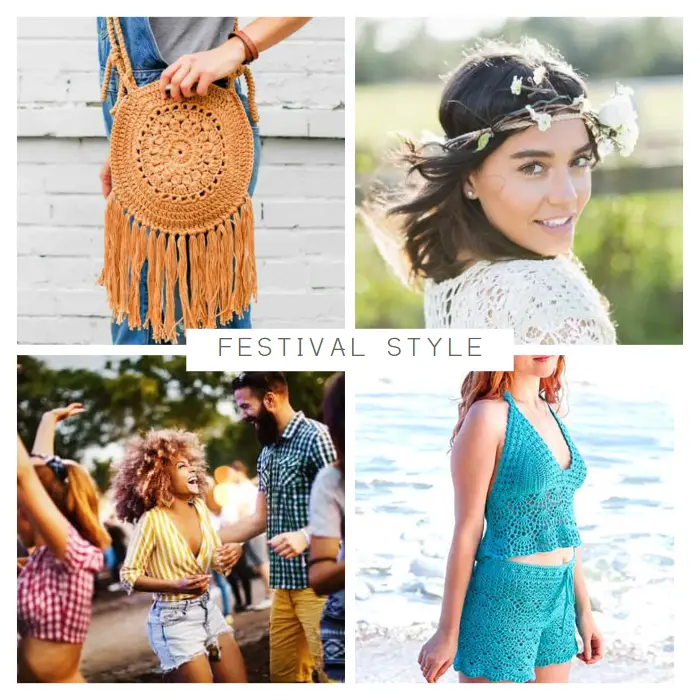 Stunning crochet wedding dress patterns
If you are making your own keep in mind you likely will be working with fine yarn or crochet thread which needs a bit more patience and of course, far more time than projects you may be used to using category 4 or 5 yarn.
On the positive side you will get a gorgeous drape from crochet thread and it is ultra feminine looking. It can feel much softer than synthetic satin or itchy lace. Many crochet threads are made from cotton or silk, even bamboo and feel wonderful against the skin. You won't get hot in the natural fibers if you're having a summer/outdoor wedding.
Warm weather yarns post as a reference to help you decide on the right yarn for your project.
Crochet Wedding Gown with personality
With many great reviews, this long dress is suited to the beach, the chapel or your outdoor garden wedding dream. It uses category two yarn with an array of basic and intermediate crochet stitches.
See the pattern for this dreamy maxi crochet dress.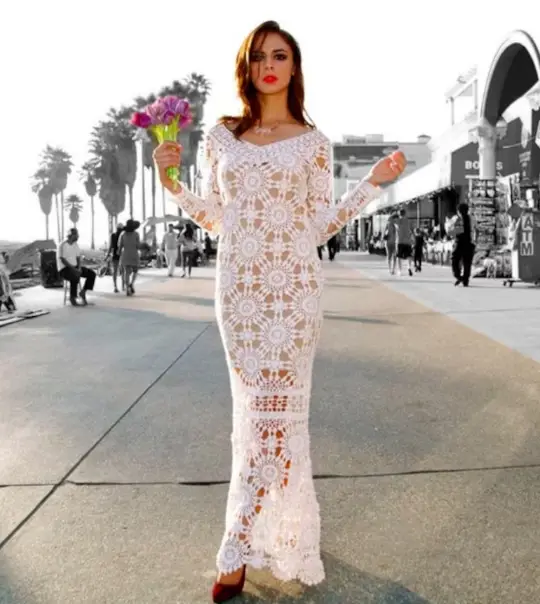 Vintage crochet high neck wedding dress pattern
Using 3.5 and 3 mm hooks along with sport weight yarn you can make this elegant high neck sleeveless gown that has the wow factor below the waist. Get drama without a train that drags in nature outdoor ceremony venues. A nice option for wedding reception too.
See the high neck crochet wedding dress pattern.
Empire waist crochet wedding dress pattern
A streamlined statement dress that has elegant simplicity. This pattern uses crochet thread and several small sized crochet hooks
2.0 mm
2.5 mm
3.0 mm
1.5 mm
See details for the empire waist crochet wedding gown pattern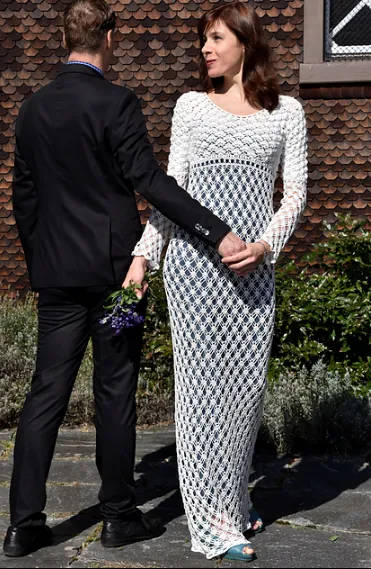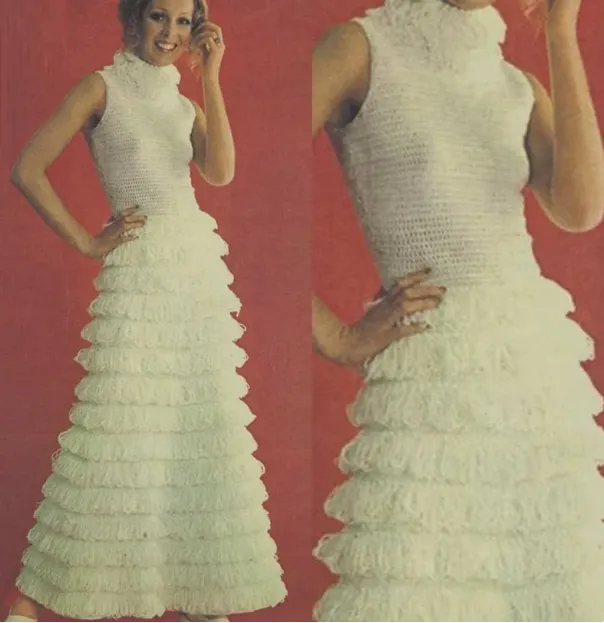 Romantic long sleeve crochet bridal dress pattern
Fancy yourself a fairy princess type of bride? This is reminiscent of popular fantasy period pieces with long open sleeves and fitted bodices.
This pattern is in UK terms so be away of needed to translate them (easily done with the help of google) and allow plenty of time to make it because it is a large piece.
See the enchantress bridal crochet gown pattern.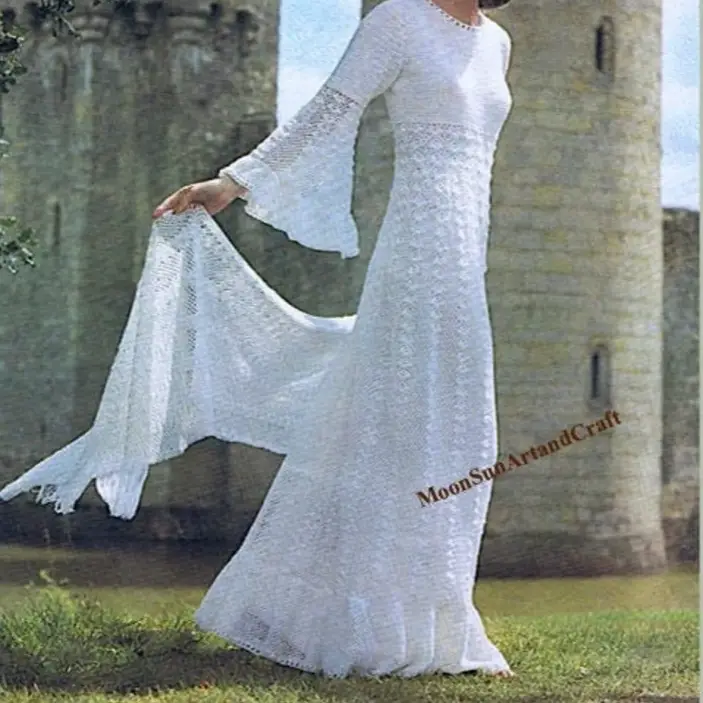 A-Line crochet wedding dress
This grown is an option if the bride doesn't want a close fitting gown. A high neck sleeveless design flows away from the body and will wow guests when the bride turns while dancing or moving.
More forgiving with size due to the design. Pattern is available in English and Russian.
See this crochet wedding dress option pattern on Ravelry.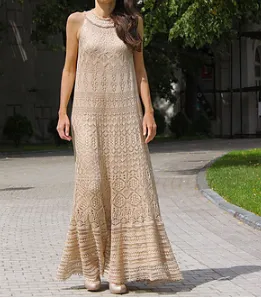 Quiet elegance crochet bridal gown
A bridal gown that has a statement bodice with a pattern repeat skirt. This is lovely for brides of all ages. Flattering and feminine with unmistakable elegance. Dress is worked with fingering weight yarn.
See this elegant crochet bridal gown pattern.