Ads allow content creators to provide free useful and compelling content to the public. We may earn money or products from the companies mentioned in this post. See the Affiliates and Disclosures page for more information.
With the help of Stelrad I've  sought to uncover which trending autumn paint colors in 2023 are best to naturally heat up your home .  Finding hashtags trending are a way to uncover what is popular.
Paint isn't the only way to bring in warmth to a room, in this post you will see some creative ways to get your home on trend in the coziest of ways.
Stelrad has some colorful modern radiators that are so stunning they act as functional décor throughout the home.
You may also like the textured tile trend and how to DIY for less!
Green paint trend
The most popular color group for Autumn is green with a total of 2,915 hashtags on Instagram. Emerald green is the most popular with 2,113 hashtags, but other colors include chalky green, forest green, fresh green, green sheen, moss, olive and ultramarine green.
I used a classic hunter green for this modern plaid blanket wrap/throw pattern.
This shade called Winter Moss is part of ECOS paint Lisa Tharpe collection that makes for a gently inviting sitting room.
How to use emerald green? Emerald green works well with many different colors, including peach, aubergine, rose, ruby red and pink, but it can also work with other shades of green. You should use it as a base, whether this is on your walls only, or integrating varying textures and tones in your accessories. A deep shade of green can work particularly well with natural woody tones, and monochromatic patterns, keeping your color palette sophisticated, and classic but warm.
Yellow paint trend
Yellow comes in second as the most popular color group according to Instagrammers. With a total of 2,292 hashtags, autumn's top trending shade of yellow is caramel with 851 hashtags.
Other popular choices include amber glow, cream, mustard and wheat tones and hues.
How to use caramel? Caramel and similar colors are quite neutral, but they are anything but plain. It works wonders when paired with black accents, but can also create a softness about a room when woodwork is included. To amp up the warmth, you should pair it with other warm colors such as brownish-red or even hints of green.
From ECOS paints this shade called 0935 Yellow Shout will warm up a kitchen.
I used this color in the Topaz crossbody bag pattern earlier this Autumn.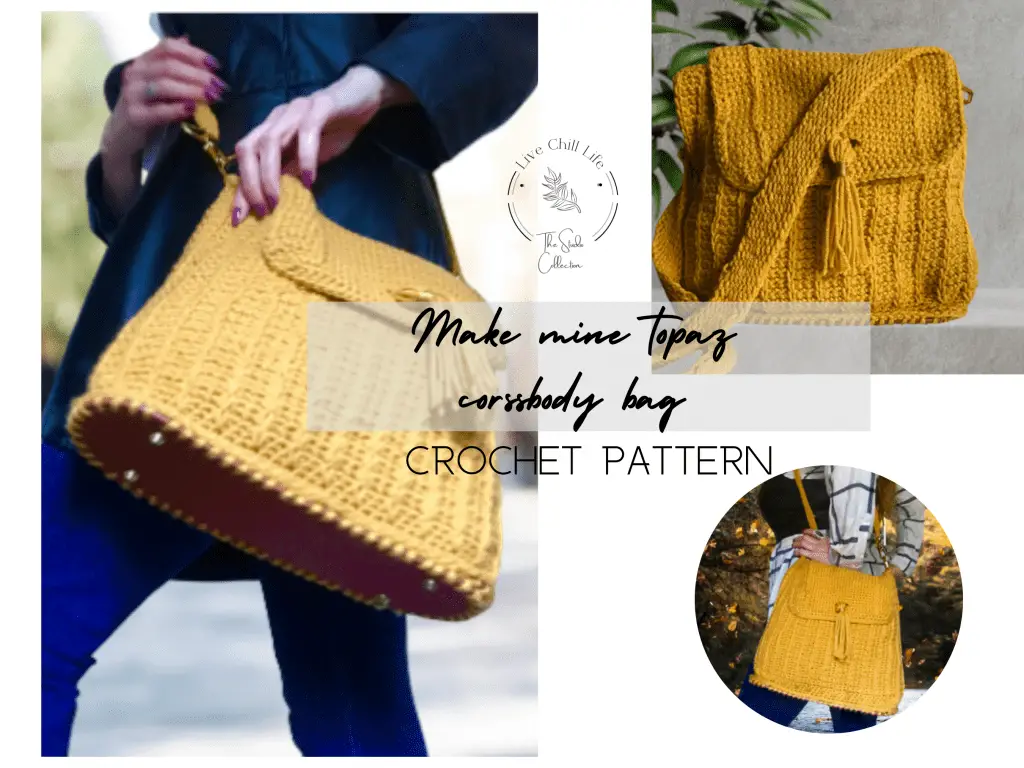 Blue paint trend
Blue placed third, according to Instagram data, with the most popular color indigo. Other top-ranking choices include sky blue, classic blue, denim blue, moody blue, sea blue and watery blue.
How to use indigo?  Many think of indigo blue as a cool color, however, it can be rich and warm, providing a serene atmosphere for your bedroom. If you are after a classic look then mix it with some softer colors, or if you want a modern look then go bright and bold. You can include warm wooden furniture, alongside some bright orange accents as well as red for strong warm accents. Make sure to include a few cozy textiles such as blankets or pillows, as both can easily warm up a room.
A warmer take on blue is seen in this periwinkle shade of crocheted pillow and coordinating blanket and blends well with another trend, gray.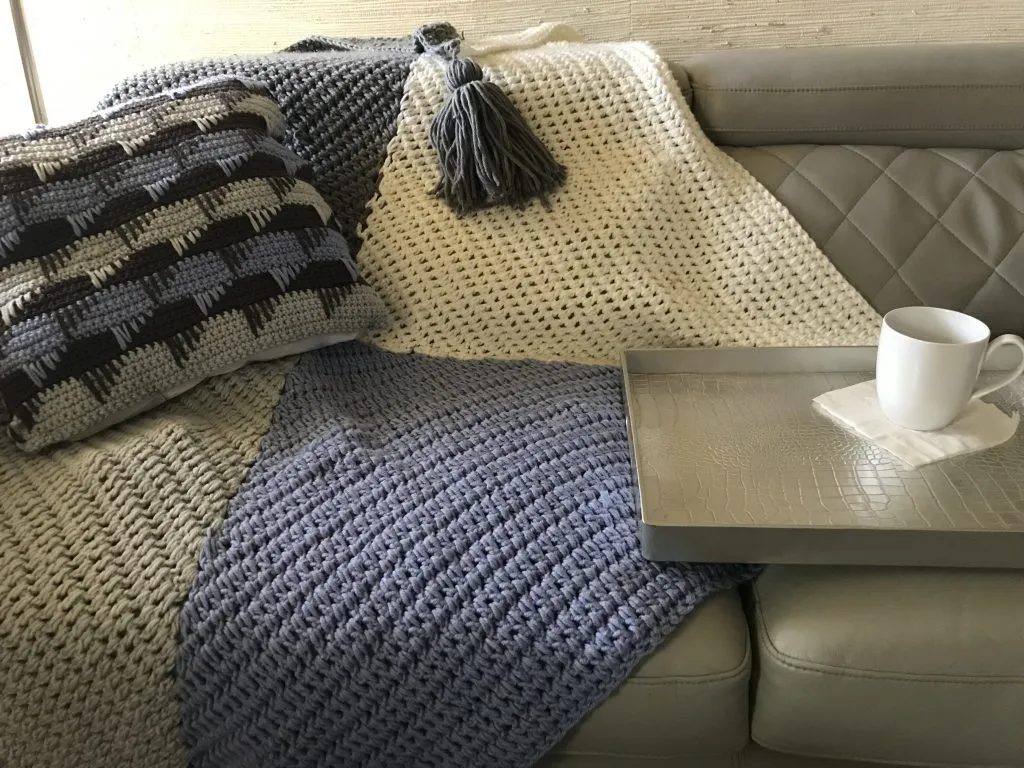 Brown paint trend
In fourth place is the color group brown, with tan being the most popular shade. Brown is inherently a naturally warming color because its base is orange/yellow and with other popular autumnal shades being chocolate brown, rich black brown and taupe, this color palette can be the perfect addition to your home.
This shade from ECOS paint is a gentle brown softened with a bit of pink called bush buck.
How to use tan? Incorporating tan into your home will give off a cozy warmth, especially when paired with white and other neutral tones. It is also the perfect color to act as a base for your home and can therefore be paired with a wide array of accent colors, producing a chic, sophisticated and also modern look.
I styled this tan and white crochet towel set with red accents to enhance each shade. While tan is a great and familiar neutral it showcases pops of color beautifully.
Gray paint trend
Grey is the fifth most popular color group, considering only three specific shades ranked, including dark grey, grey haze and stone. The color stone is the most popular choice for homeowners.
I find the gray trend surprising to be in fifth place. It looks so fresh and modern to my eyes year after year when used correctly.
How to use grey? Grey is a neutral, warming tone that creates a calming effect in any room and can be paired with many different colors. Be sure though to include a grey that has beige, yellow or red undertones in it offering warm accents. You can also add different textures to the room such as toss cushions in a warm color or in a fun pattern, a textured area rug (e.g. following a tone-on-tone approach) or even a throw blanket in a warm yellow.
This mid gray color is called Zen retreat from ECOS paint.
Which colors do you like best? Will you incorporate one or two in your home this season?