Ads allow content creators to provide free useful and compelling content to the public. We may earn money or products from the companies mentioned in this post. See the Affiliates and Disclosures page for more information.
A dairy free keto dessert that will shock you
No dairy, no sugar, no nuts? No problem. This delicious protein and fat packed easy dairy free keto dessert will become a favorite.
If I am honest, everytime I see a keto dessert that looks tasty only to learn it has almond flour, my heart sinks. I love all nuts but not nut flours. What is a low carb king or queen to do when that sweet craving hits or you want a pretty dessert everyone can enjoy (even you, yes you deserve nice things).
You may also like these desserts under 100 calories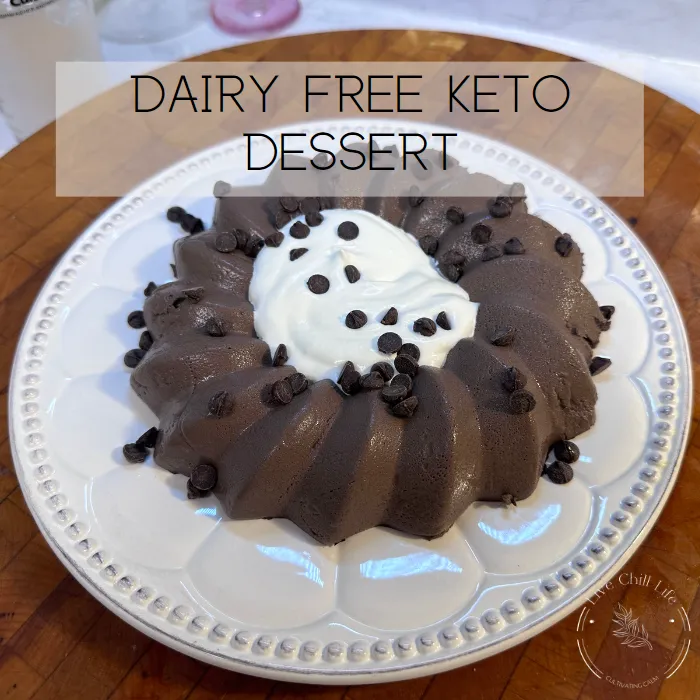 I adapted this from the Two Krazy Keto's channel and website. I found protein powder was messing with my blood sugar too much so I switched things up just a bit to get a result that works perfectly for me.
This pudding sets up so well you can mold it like I did.
Let's look at the players: Eggs when cooked set up beautifully. Check. Coconut milk sets up when cold somewhat due to the high fat content. Check. Xanthan gum is used in many protein drink mixes to enhance mouthfeel meaning it thickens. That is our insurance for a solid set up in this recipe. If you want a slightly looser pudding rather than a set custard use about half the amount of xanthan gum.
I don't LOVE eggs but I want to. This recipe is a way I can eat them and love them.
You may also like this low cal low carb keto ice cream recipe
Ingredients:
7 ounces canned full fat coconut milk
6 whole fresh eggs
1/2 tsp xanthan gum
2 Tbsp (or more to taste) cocoa powder. I use half black cocoa powder and half regular
sweetner of choice to taste
1/2 tsp good vanilla extract. I like this one from Neilson Massey
Pinch Redmond's realsalt
Optional: 1-2 scoops of collagen (should be a very fine easy dissolve collagen powder). This will change the macros.
Optional: for extra flavor try adding orange extract or almond extract for more depth
I cannot guarantee results if substitutions are made.
A high speed blender is needed for this recipe. I use a vitamix.
See how to get a cloudy vitamix clear again.
When you have so few ingredients, the ones you use need to be top notch!
Ingredients may be doubled.
Directions:
Soft scramble eggs over med low heat after you've melted a pat of butter in the pan you're cooking them in. Eggs should still look slightly wet when done. I do this in a saucepan to better control the heat. A wide flat pan can risk drying out the eggs quickly.
How to season a cast iron skillet
Put eggs in blender along with remaining ingredients. Cover and blend on high for one minute. Scrape down sides and check for sweetness. Add more cocoa if desired. Add additional flavorings if desired.
Blend again on high til silky smooth, 30- 60 seconds. Mixture will still be warm from the cooked eggs but will thicken up quite a bit more as it chills.
Pour mixture into a silicone mold as shown or individual ramekins. Clean down or wipe sides and edges of mold or ramekin.
You may also store it in bulk size food storage container and portion out as needed.
Let chill in the fridge until completely set. 4 hours to overnight.
To serve, gently loosen sizes of each nook and cranny of silicone mold for cleanest release.
Garnish the dairy free keto dessert if desired with nondairy whipped topping, heavy whipped cream (if you're not lactose intolerant) and Lily's chips or choczero chips if desired.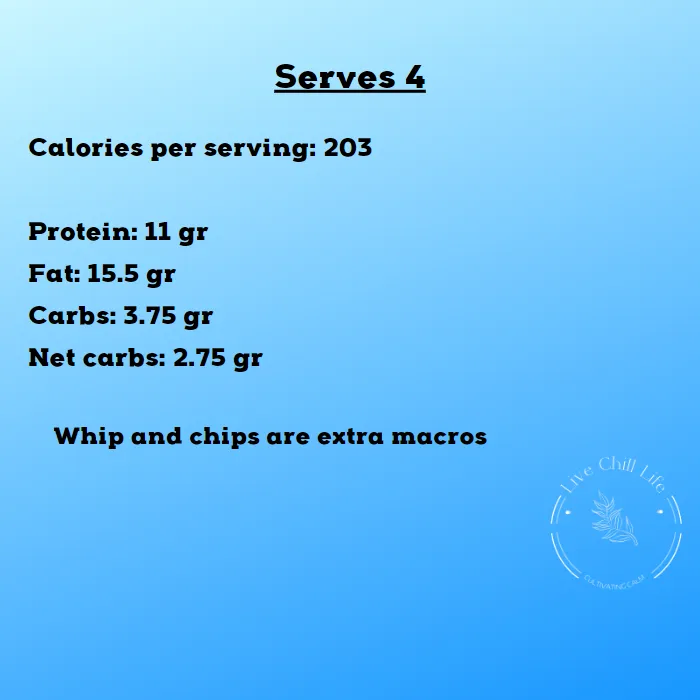 How to make nonfat whipped topping
Video how to make this dairy free keto dessert.