Ads allow content creators to provide free useful and compelling content to the public. We may earn money or products from the companies mentioned in this post. See the Affiliates and Disclosures page in the top menu of this website for detailed information.
Thanksgiving table runner crochet free pattern
This simple colorful Thanksgiving crochet table runner works great for any table as you can customize the size.
Table of Contents
How to design your crochet Thanksgiving centerpiece
When it comes to designing a festive Thanksgiving crochet centerpiece, there are a few key steps to follow. First, consider the size and shape of your centerpiece and how much space you can allow for it on your table. Will it be a large focal point on your table or a smaller accent piece? This will help determine the overall design and materials you will need. (see my tip below for how to have additional space for your platters and casseroles)
Next, think about the theme or style you want to achieve. Are you going for a traditional Thanksgiving look, or something more modern and unique? This will guide your color choices and the types of crochet elements you will create.
Once you have a vision in mind, gather your materials. This may include yarn in various colors, and any additional embellishments you want to add.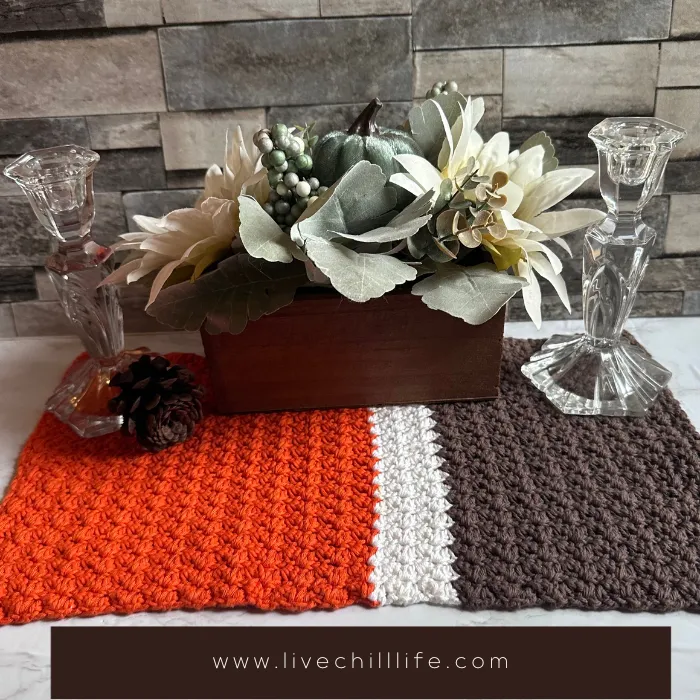 Once your crochet element is complete, assemble your centerpiece. Arrange the pieces in a visually pleasing way, considering height, balance, and symmetry. You can use a base or container to hold your centerpiece together, or simply arrange the pieces directly on your table.
Finally, add any finishing touches or embellishments, such as ribbons, beads, or faux foliage. These extra details will elevate your centerpiece and make it truly festive.
By following these steps and incorporating your own creativity, you can design a beautiful and unique Thanksgiving crochet centerpiece that will impress your guests and add a special touch to your holiday celebration.
You can make this mat in a set for placemats, a long table runner, or a mat for your Thanksgiving centerpiece creation.
Making more room on your Thanksgiving table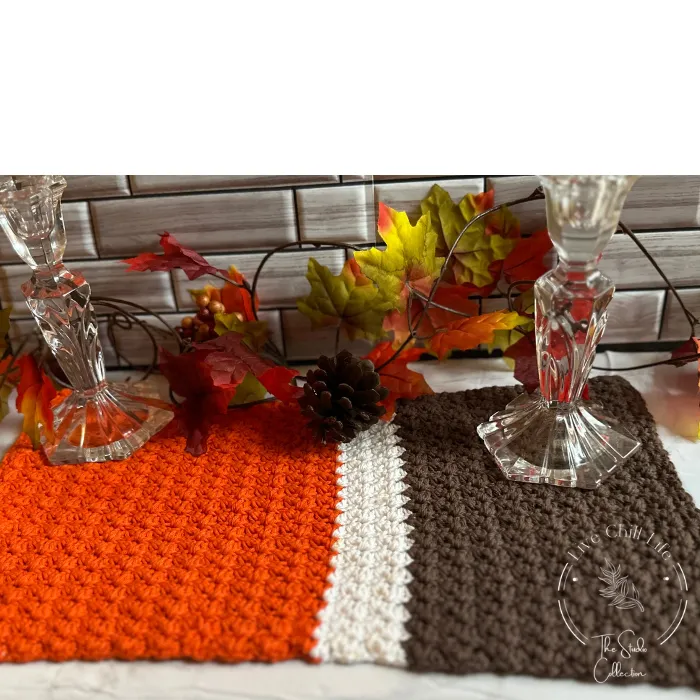 My Thanksgiving table is an average round table that doesn't leave a lot of room for decor so I made a small size crochet centerpiece mat to serve as the base for seasonal adornment. I use a moveable kitchen island next to the table for most of the serving bowls and turkey platter.
It is so useful when I need more counter space for rolling out dough and setting up a rack for baked goods to cool (and my cats can't jump on it).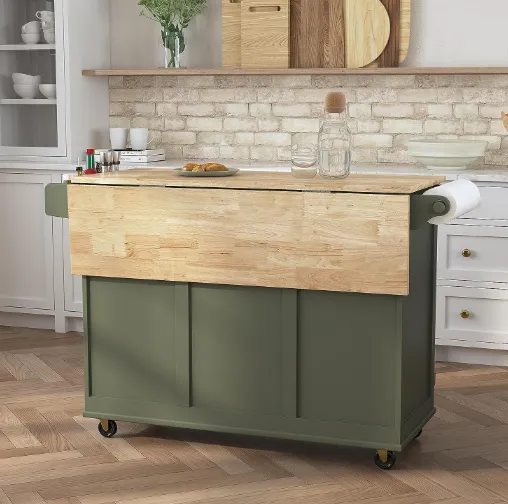 Picking colors for your project
What colors should you use for your crochet centerpiece?
When it comes to designing a festive Thanksgiving crochet centerpiece, choosing the right color combinations is key. The colors you select can set the mood and create a visually appealing centerpiece that complements your Thanksgiving decor.
One popular color combo for Thanksgiving crochet is the classic autumn palette. This includes warm, earthy tones like deep oranges, rich browns, and golden yellows. These colors evoke the feeling of fall and can be incorporated into your centerpiece through crochet pumpkins, leaves, or acorns.
Another option is to go for a more rustic and natural look with a color combo inspired by nature. Think shades of green, brown, and cream. This palette can be used to create crochet elements like pinecones, branches, or even a mini crochet turkey.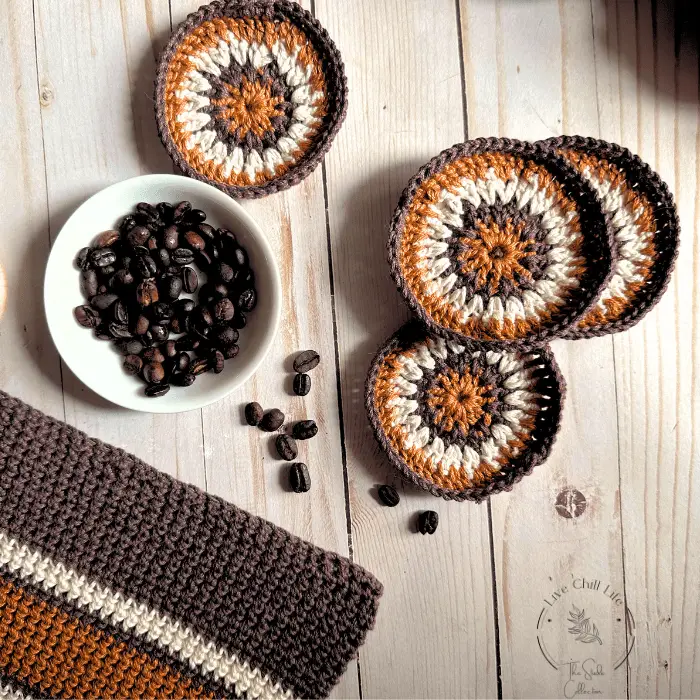 These colors would look great for your Thanksgiving piece. Coffee brown, amber, and cream.
You can find cute affordable centerpiece items at Dollar Tree. I have even seen Dollar Tree cotton yarn in fall friendly colors like sage green and ivory.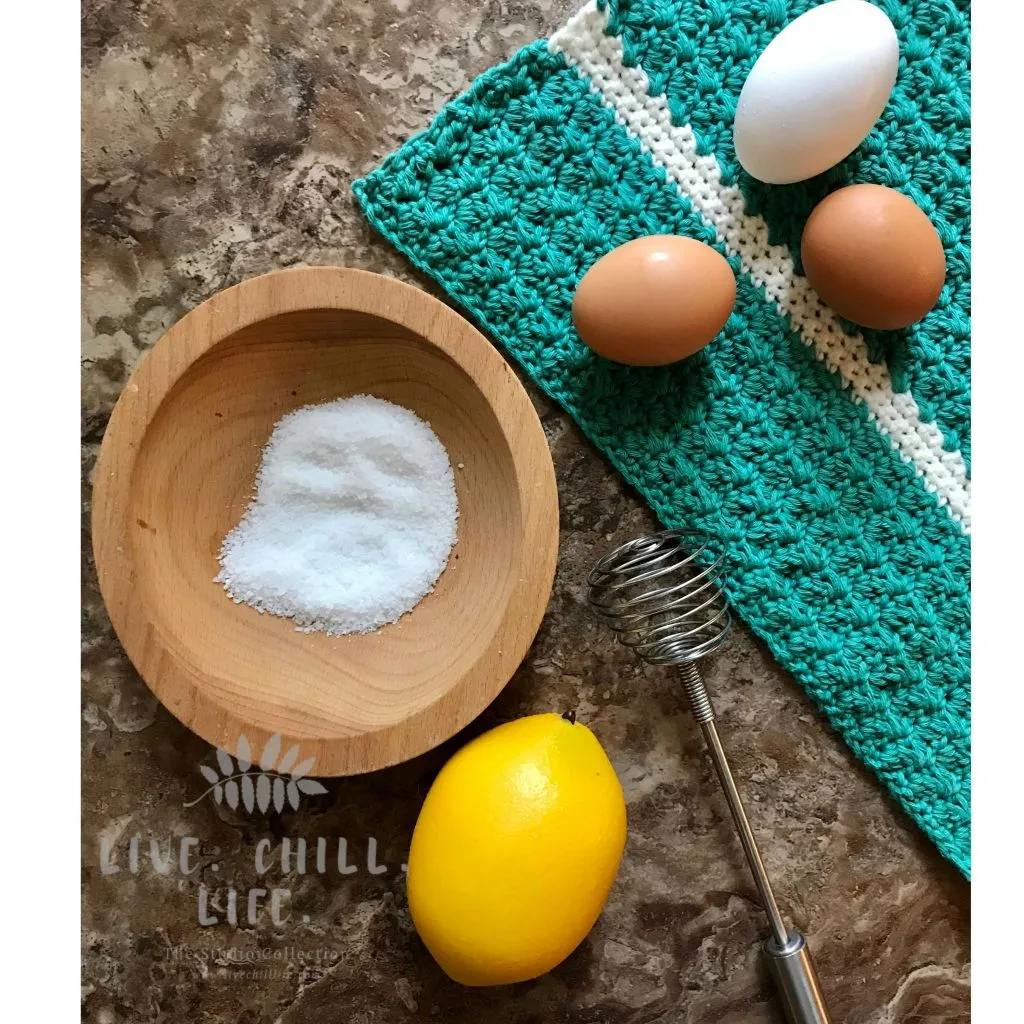 This pattern uses the simple lemon peel stitch that works up quickly in a simple repeat. I used this in the canturbery crochet kitchen towel and my favorite easy crochet dishcloth pattern.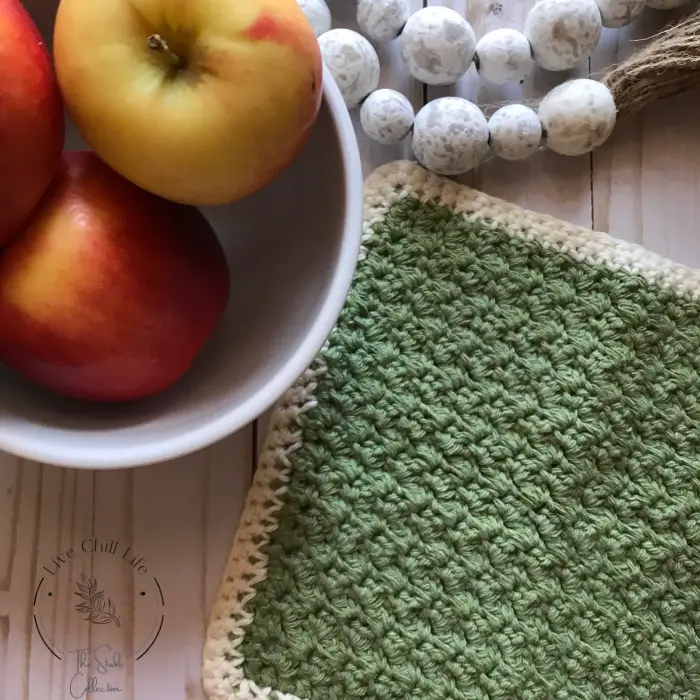 See the chart reference for different table size ideas so you can make one that fits your needs.
Display image shows it used for a centerpiece. I made the center stripe just slightly off center for added visual interest.
Supplies needed:
100% cotton category 4 yarn (shown Paintbox cotton blood orange, hobby lobby I love this cotton white, Lily sugar n' cream in warm brown)
5.5 mm crochet hook
scissors
tapestry needle
tape measure to customize size
Gauge: 4″= 15 sts, 11 rows
Yarn amounts:
Size 1 :180 yards
Size 2: 300 yards
Size 3: 700 yards
Yardage may vary slightly based on brand.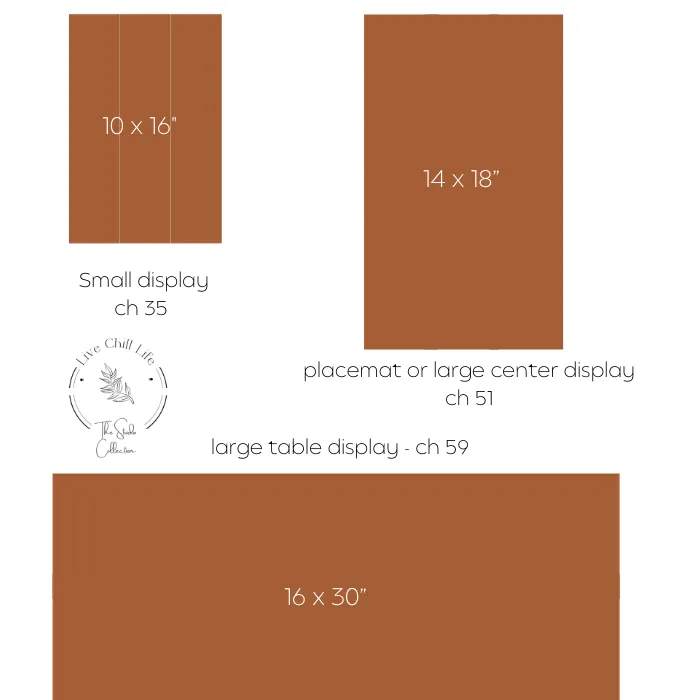 US terms
Sc-single crochet
HDC- half double crochet
DC- double crochet
St- stitch
Ch- chain
Crochet pattern for Thanksgiving centerpiece mat
Ch an odd number of stitches for the width of your piece.
Row 1: In second ch from hook work a hdc, *skip next stitch and work (1 sc, 1 dc) in next st.* Repeat from * finishing with HDC in last st. Ch 1, turn (you will have an even number of stitches now)
Row 2 : Ch 1, HDC in first stitch. *Skip next stitch and work (1 sc, 1 dc) in next st.* Repeat from * finishing with HDC in last st. Ch 1, turn.
Repeat row 2 to deisred length.
Use ruler or tape measure to plot out your color blocks and change colors where indicated as shown in this size example.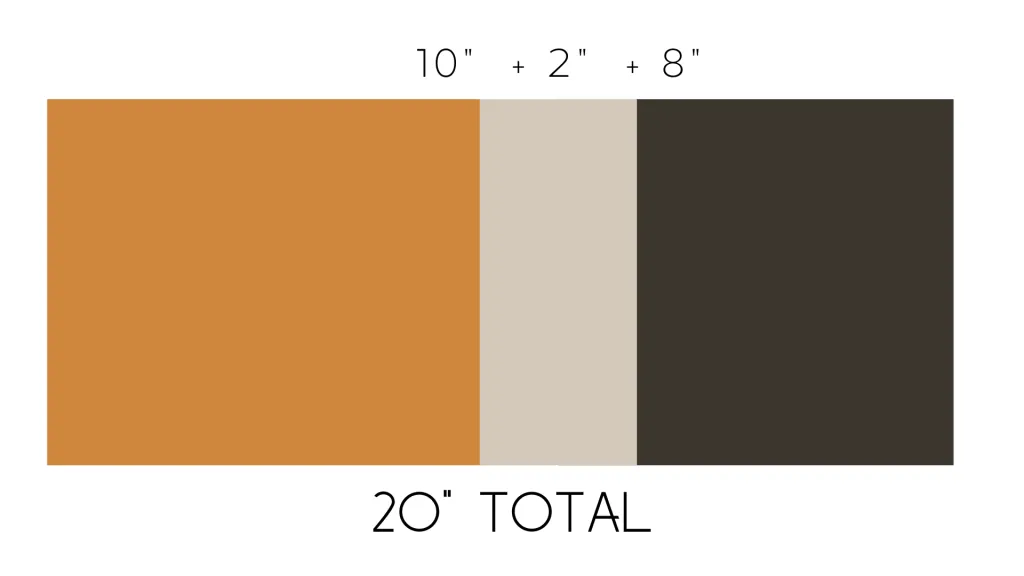 Finish last row with a single crochet.
Optional border: ch 1 and work sc around working 3 sc into each corner stitch.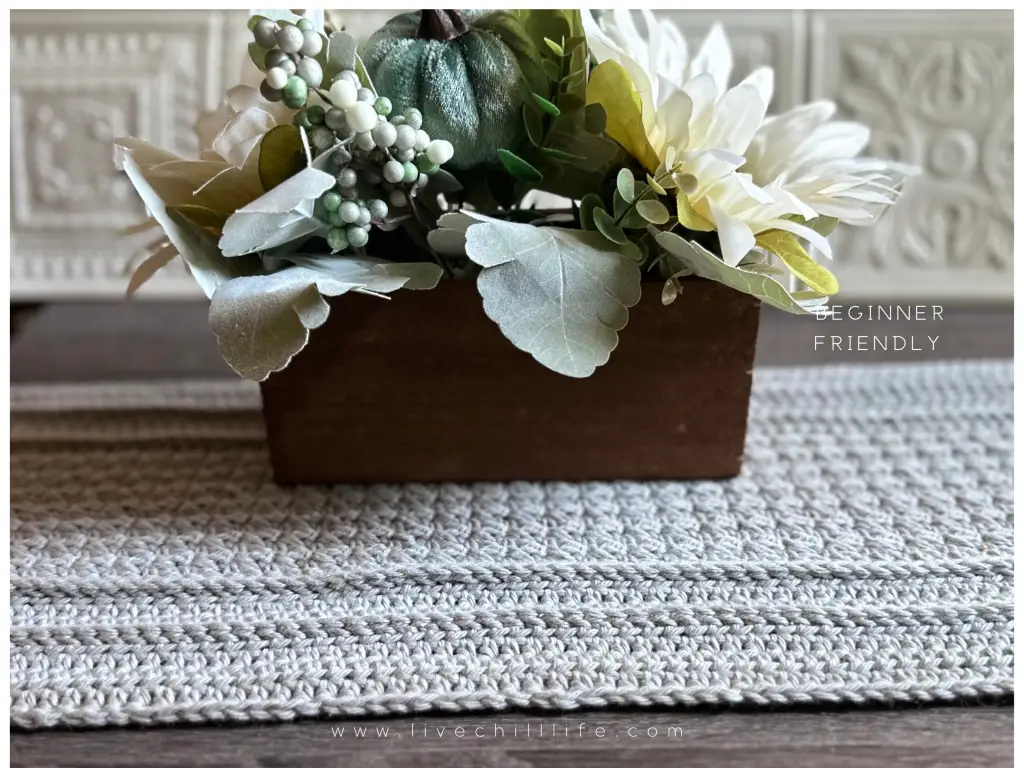 You may also like this free crochet table runner pattern
Thanksgiving crochet table pattern video tutorial